Abstract

Gaming mice are closely related to the intricate interpersonal interactions in online games, in which multicolored images and visually enhanced characteristics support the user's imagination of the cyber space. Gaming mice have various complicated designs for different online games, such as first-person shooter games (FPS), strategy games, and massively multiplayer online role-playing games (MMORPGs), etc. As for the construction of their unique features, a dynamic illustration was given by using qualitative analysis in this study. In computer games, the player can see many interesting correlations between gestures and game actions. The gaming mouse is designed to be complex in response to the player's body movements. To sum up, the different visual elements and control devices in the human-computer interface are used to compensate for the "cybernetic loss" during the process of dematerialization. In addition, players develop their own body strategies that can coordinate the form of the mouse and integrate them into the virtual imaginary world.
Keywords
Gaming mouse

Online game

Human-computer interaction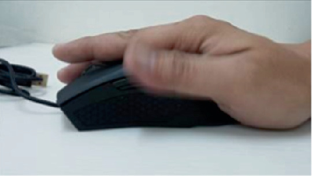 References
Levy, R.: GUI and WYSIWYG: a history of graphic design software. Things 6, 41–59 (1997)

Witkowski, E.: On the digital playing field: how we "do sport" with networked computer games. Games Cult. 7(5), 349–374 (2012)

Besombes, N., Maillot, P.: Body involvement in video gaming as a support for physical and cognitive learning. Games Cult. 15(5), 565–584 (2020)

Calleja, G.: Digital game involvement: a conceptual model. Games Cult. 2(3), 236–260 (2007)

Rush, J.: Embodied metaphors: exposing informatic control through first-person shooters. Games Cult. 6(3), 245–258 (2010)

Reeves, S., Brown, B., Laurier, E.: Experts at play: understanding skilled expertise. Games Cult. 4(3), 205–227 (2009)

Jørgensen, K.: Between the game system and the fictional world: a study of computer game interfaces. Games Cult. 7(2), 142–163 (2012)

Edgerton, D.: From innovation to use: ten eclectic theses on the historiography of technology. Hist. Technol. 16, 111–136 (1999)

Dant, T.: Material Culture in the Social World. Open University Press, Buckingham (1999)

Julier, G.: The Culture of Design, 3rd edn. Sage, London (2014)

Kirkpatrick, G.: Controller, hand, screen aesthetic form in the computer game. Games Cult. 4(2), 127–143 (2009)
Acknowledgments

This research is part of the Ministry of Science and Technology granted project, Republic of China, Taiwan. (MOST 106–2410-H-224–013).
Copyright information

© 2021 The Author(s), under exclusive license to Springer Nature Switzerland AG
About this paper
Cite this paper
Wong, JJ., Liu, JL. (2021). Joining Battles with Mouse: How Gaming Mouse Connects the Virtual World and Body. In: Ahram, T.Z., Falcão, C.S. (eds) Advances in Usability, User Experience, Wearable and Assistive Technology. AHFE 2021. Lecture Notes in Networks and Systems, vol 275. Springer, Cham. https://doi.org/10.1007/978-3-030-80091-8_31
DOI: https://doi.org/10.1007/978-3-030-80091-8_31

Published:

Publisher Name: Springer, Cham

Print ISBN: 978-3-030-80090-1

Online ISBN: 978-3-030-80091-8

eBook Packages: EngineeringEngineering (R0)