Abstract

Music therapy (MT) helps with various diseases through music, where the musical instrument is an essential element, defined as the tool of communication between the patient and the music therapist. Despite the first music therapists began to appear in the twentieth century, there is still a lack of proper instruments and solutions more focused on therapy, and it is usually chosen to make changes to pre-existent instruments. Through research methods, such as bibliographic investigation, interviews and product analysis, the field of MT was investigated, as well as how it can be related to design, involving concepts like emotional design, relaxation and meditation, in order to develop an instrument that can be used in MT sessions, by both therapist and patient. A swinging wood idiophone was developed with a single note, through a Design research based on practice, called innovation inspired by materials adjusting its initial shape and ergonomics according to the desired sound which aims to prolong and oscillate the sound. This paper presents the investigation and process since the definition of shape and the inherent concepts of the proposed product, to the finishes and a brief discussion.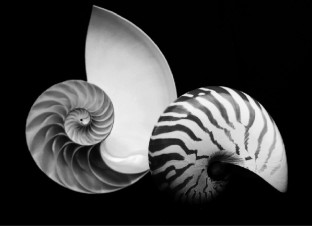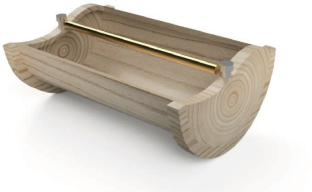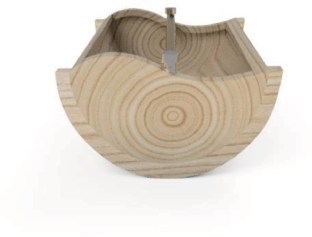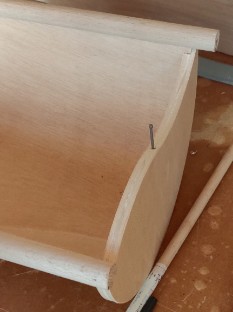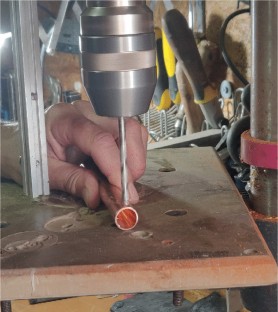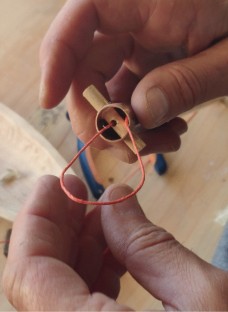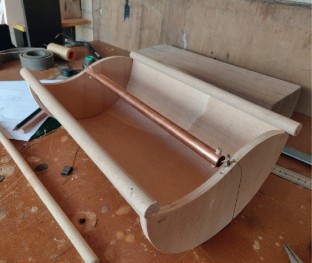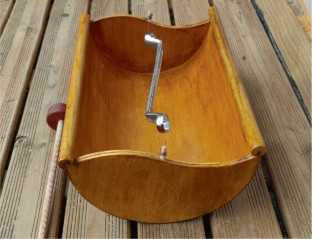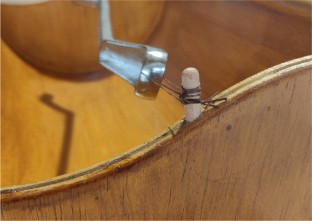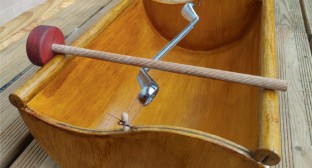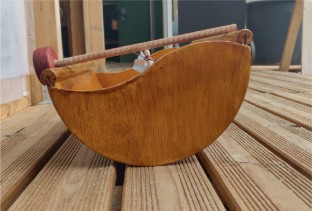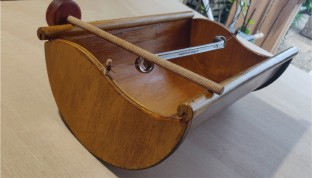 References
Akimoto, K., Hu, A., Yamaguchi, T., & Kobayashi, H. (2018). Effect of 528 Hz music on the endocrine system and autonomic nervous system. Health, 10(09), 1159–1170. https://doi.org/10.4236/health.2018.109088.

Alaniz, T., & Biazzo, S. (2019). Emotional design: The development of a process to envision emotion-centric new product ideas. Procedia Computer Science, 158, 474–484. https://doi.org/10.1016/j.procs.2019.09.078.

Backus, J. (1977). The acoustical foundations of music (2d ed.). Norton.

Brito, A., & Brito, A. (2009). I-O violino-a sublimação da madeira. Ciência e Tecnologia dos Materiais, 21(2/4). http://www.scielo.mec.pt/pdf/ctm/v21n3-4/v21n3-4a09.pdf.

Brown, R., & Gerbarg, P. (2012). The healing power of the breath: Simple techniques to reduce stress and anxiety, enhance concentration, and balance your emotions. Shambhala Publications.

Chimero, F. (2012). The shape of design (1st ed). Shapco Printing.

Cutshall, S. M., Anderson, P. G., Prinsen, S. K., Wentworth, L. J., Olney, T. L., Messner, P. K., Brekke, K. M., Kelly, R. F., & Bauer, B. A. (2011). Effect of the combination of music and nature sounds on pain and anxiety in cardiac surgical patients: A randomized study. Alternative Therapies in Health and Medicine, 17(4), 16–23.

Edwards, K. L. (2003). Materials and design: The art and science of material selection in product design. Materials & Design, 24(5), 401–402. https://doi.org/10.1016/S0261-3069(03)00043-8.

Giambattista, A. (2017). Designing care. How design can improve medical products for a therapeutic wellbeing. The Design Journal, 20(sup1), S2158–S2167. https://doi.org/10.1080/14606925.2017.1352732.

Hagan, A. (2015). The power of music therapy. BURS Papers, 2015, 4.

Hobbs, B. (2014, Junho 16). Resonance: From swings to subatomic strings [Item]. Obtido 16 de Junho de 2020 de. https://www.abc.net.au/science/articles/2014/06/16/4022877.html.

Idiophone | Definition, Examples, Instruments, & Facts. (sem data). Encyclopedia Britannica. Obtido 26 de Junho de 2020, de https://www.britannica.com/art/idiophone.

Koelsch, S. (2010). Towards a neural basis of music-evoked emotions. Trends in Cognitive Sciences, 14(3), 131–137. https://doi.org/10.1016/j.tics.2010.01.002.

Krauss, Z. (2019). The Effects of Music Therapy on individuals suffering from psychiatric disorders: A literature review and look into future prospects. Musical Offerings, 10(2), 61–80. https://doi.org/10.15385/jmo.2019.10.2.2.

Kuttruff, H. (2007). Acoustics an introduction. Taylor & Francis. http://0-marc.crcnetbase.com.fama.us.es/isbn/9781482288438.

Lapp, D. R. (2003). Building a copper pipe «xylophone». Physics Education, 38(4), 316–319. https://doi.org/10.1088/0031-9120/38/4/304.

Lidwell, W., Holden, K., & Butler, J. (2010). Universal principles of design: 125 ways to enhance usability, influence perception, increase appeal, make better design decisions, and teach through design ; [25 additional design principles ] (rev. and updated). Rockport Publ.

Moran, A. (Ed.). (2014). Love objects: Emotion, design, and material culture. Bloomsbury.

Norman, D. A. (2005). Human-centered design considered harmful. Interactions, 12(4), 14–19. https://doi.org/10.1145/1070960.1070976.

Norman, D. A. (2013). The design of everyday things (Revised and expanded edition). Basic Books.

Norman, L., & Norman, E. (2011). Engaging industrial designers with music therapy. Music and Medicine, 3(3), 163–171. https://doi.org/10.1177/1943862111407204.

Oliveira, C., & Gomes, A. (2014). Breve História da Musicoterapia, suas Conceptualizações e Práticas. Atas do XII Congresso da SPCE, 3338. https://apps2.utad.pt/files/SPCE2_EIXOS_BOOK%20CC.pdf.

Park, J. H. (2015). Health care design: Current and potential research and development. Design Issues, 31(1), 63–72. https://doi.org/10.1162/DESI_a_00310.

Pedgley, O., Norman, E., & Armstrong, R. (2009). Materials-inspired innovation for acoustic guitar design. Metu Journal of the Faculty of Architecture, 188.

Raichel, D. R. (2006). The science and applications of acoustics (2nd ed.). Springer.

Rocha, M. (2020). Music Therapist Benenzon Center of Porto [Recording].

Santos, N. (2020). Enterview Benenzon Center of Porto [Recording].

Schaefer, H.-E. (2017). Music-evoked emotions—Current studies. Frontiers in Neuroscience, 11, 600. https://doi.org/10.3389/fnins.2017.00600.

Schifferstein, H. N. J. (2011). Multi sensory design. In Proceedings of the Second Conference on Creativity and Innovation in Design—DESIRE (Vol. 11, p. 361). https://doi.org/10.1145/2079216.2079270.

Vilar, D. (2018). Design para a demência—Música como meio de estimulação de memórias autobiográficas [Master' Dissertation, University of Porto]. https://repositorio-aberto.up.pt/bitstream/10216/117821/2/304186.pdf.

Walter, A. (2011). Designing for emotion. A Book Apart.

Ulrike G. K. Wegst. (2006). Wood for Sound. American Journal of Botany, 93(10), 1439–1448. Retrieved January 16, 2021, from http://www.jstor.org/stable/4123127.

Weththimuni, M. L., Capsoni, D., Malagodi, M., Milanese, C., & Licchelli, M. (2016). Shellac/nanoparticles dispersions as protective materials for wood. Applied Physics A, 122(12), 1058. https://doi.org/10.1007/s00339-016-0577-7.

What is Music Therapy | American Music Therapy Association (AMTA). https://www.musictherapy.org/. Access March 16, 2020.

Wu, T.-Y., & Lee, A. (2018). The study of sound and shape effects on design. In C. Baldwin (Ed.), Advances in neuroergonomics and cognitive engineering (Vol. 586, pp. 123–130). Springer International Publishing. https://doi.org/10.1007/978-3-319-60642-2_11.
Copyright information

© 2021 The Author(s), under exclusive license to Springer Nature Switzerland AG
About this chapter
Cite this chapter
Nunes, B., Rodrigues, I., Pinho, A. (2021). Development of a Musical Instrument to Apply to Music Therapy. In: Correia Castilho, L., Dias, R., Pinho, J.F. (eds) Perspectives on Music, Sound and Musicology. Current Research in Systematic Musicology, vol 10. Springer, Cham. https://doi.org/10.1007/978-3-030-78451-5_20
DOI: https://doi.org/10.1007/978-3-030-78451-5_20

Published:

Publisher Name: Springer, Cham

Print ISBN: 978-3-030-78450-8

Online ISBN: 978-3-030-78451-5