Abstract

This paper presents a design study of the visualization interface to the Myant Skiin Connected Life App (Skiin), a family informatics application which will connect family members, friends, and caregivers, by engaging them together and enabling health and wellness related data sharing and support. It is based on Myant's highly accurate intelligent textiles garments which collect activity and related biomechanical data through knitted sensors on the garment. Our design seeks to deliver a seamless user experience between this complex of technologies through effective data presentation, visualization, and tool tips. One of Skiin's differentiators is the provision of a communication overlay (the Aura) which cues users to view metrics data and engage in dialogue around its meaning. We undertook a comprehensive literature review and examination of related work that included personal informatics, mHealth applications, and family informatics – motivation and social communication, wellness standards for older adults, technology adoption by older adults, effective design, and visualization strategies to support aging individuals, their family, friends, and support team, and issues of privacy. We used iterative prototyping to build and revise the visualization interface. We discuss our visualization methods, detail the resulting Skiin application, our usability testing strategy which combines personas, Talk Aloud and SUS approaches, research outcomes, and next steps.
Keywords
Data visualization

Visual analytics

Wearable technologies

Personal informatics

Family informatics

Seniors informatics

mHealth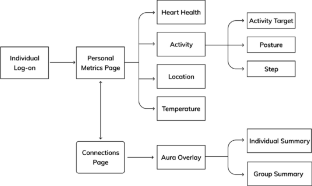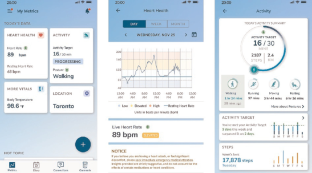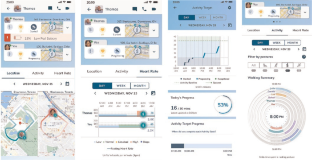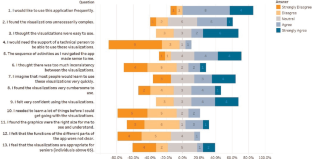 References
https://myant.ca/. (2020)

Cocoon - A private app for the most important people in your life (2020). https://www.producthunt.com/posts/cocoon-6

Alexa Care Hub (2020). https://www.amazon.com/Alexa-Care-Hub/b?ie=UTF8&node=21390531011

Freedom Guardian (2020). https://www.medicalguardian.com/medical-alert-systems/smart-watch-alert-app

Hudson, P., Anne, S., Steve, S., Diamond, S., Bhuvaneswari, A.: Fostering insight and collaboration in long-term healthcare through the collection and visualization of qualitative healthcare data. In: Mobile HCI 2014, Toronto, Ontario (2014)

Le, T.D., Chi, N.-C., Chaudhuri, S., Thompson, H.J., Demiris, G.: Understanding older adult use of data visualizations as a resource for maintaining health and wellness. J. Appl. Gerontol. 37(7), 922–939 (2018)

Rooksby, J., Rost, M., Morrison, A., Chalmers, M.: Personal tracking as lived informatics. In: CHI 2014, One of a CHInd, Toronto, CHI 2014 (2014)

Duan, H., et al.: Using goal-directed design to create a mobile health app to improve patient compliance with hypertension self-management: development and deployment. JMIR Mhealth Uhealth 8(2), e14466 (2020)

Cheng, V.W.S., Davenport, T., Johnson, D., Vella, K., Hickie, I.B.: Gamification in apps and technologies for improving mental health and well-being: systematic review. JMIR Mental Health 6(6), e13717 (2019)

Druce, K.L., Dixon, W.G., McBeth, J.: Maximizing engagement in mobile health studies lessons learned and future directions. Rheum. Dis. Clin. N. Am. 45, 159–172 (2019)

Johnson, D., Deterding, S., Kuhn, K.-A., Staneva, A., Stoyanov, S., Hides, L.: Gamification for health and wellbeing: a systematic review of the literature. Internet Interv. 6, 89–106 (2016)

Munson, S.A., Consolvo, S.: Exploring goal-setting, rewards, self-monitoring, and sharing to motivate physical activity. In: 6th International Conference on Pervasive Computing Technologies for Healthcare (Pervasive Health) and Workshops, San Diego, pp. 25–32 (2012)

Puussaar, A., Wright, P.C., Clear, A.K.: Enhancing personal informatics through social sensemaking. In: CHI 2017, Denver. ACM (2017). ISBN: 978-1-45-034655-9

Epstein, D.A., Jacobson, B.H., Bales, E., McDonald, D.W., Munson, S.A.: From "nobody cares" to "way to go!": a design framework for social sharing in personal informatics. In: CSCW 2014, Vancouver (2015)

Bhargava, Y., Nabi, J.: The opportunities, challenges and obligations of Fitness Data Analytics. Procedia Comput. Sci. 167, 1354–1362 (2020)

Colineau, N., Paris, C.: Family vs. individual profiles in a health portal: strengths and weaknesses. In: Proceedings of HCI 2011, The 25th BCS Conference on Human Computer Interaction (HCI) (2011)

Wang, J., O'Kane, A.A., Newhouse, N., Sethu-Jones, G.R., de Barbaro, K.: Quantified baby: parenting and the use of a baby wearable in the wild. In: PACM HCI, CSCW, vol. 1, p. 19 (2017). Article 108

Mancini, C., et al.: In the best families: tracking and relationships. In: CHI 2011, Vancouver, pp. 2419–2428. ACM (2011). ISBN: 978-1-45-030267-8

Holm, A.L., Severinsson, E.: A qualitative systematic review of older persons' perceptions of health, ill health, and their community health care needs. In: Nursing Research and Practice, p. 12 (2013). Article ID 672702

Mendoza-Núñez, V., et al.: Influence of the self-perception of old age on the effect of a healthy aging program. J. Clin. Med. 7, 1–11 (2018)

Davidson, J., Schimille, C.: Evolving internet use among Canadian seniors. In: Social Analysis and Modeling Division, Statistics Canada, Analytic Studies Branch Research Paper Series, Ottawa (2019). 11F0019M No. 4272019015. ISSN: 1205-9153 ISBN: 978-0-66-031538-6

Etemad-Sajadi, R., Dos Santos, G.: Senior citizens' acceptance of connected health technologies in their homes. In: International Journal of HealthCare Quality Assurance, vol. 32, no. 8, pp. 1162–1174© Emerald Publishing Limited 0952–6862 (2019). https://doi.org/10.1108/IJHCQA-10-2018-02

Srugo, S.A., Jiang, Y., de Groh, M.: Living arrangements and health status of seniors in the 2018 Canadian community health survey. In: Health Promotion and Chronic Disease Prevention in Canada, vol. 40, no. 1. Public Health Agency of Canada, Ottawa (2018)

Schomakers, E.-M., Ziefle, M.: Privacy concerns and the acceptance of technologies for aging in place. In: Zhou, J., Salvendy, G. (eds.) HCII 2019. LNCS, vol. 11592, pp. 313–331. Springer, Cham (2019). https://doi.org/10.1007/978-3-030-22012-9_23

Morey, S.A., Stuck, R.E., Chong, A.W., Barg-Walkow, L.H., Mitzner, T.L., Rogers, W.A.: Mobile health apps: improving usability for older adult users. Ergon. Design 27(4), 4–13 (2019)

Almao, E.C., Golpayegani, F.: Are mobile apps usable and accessible for senior citizens in smart cities? In: Zhou, J., Salvendy, G. (eds.) HCII 2019. LNCS, vol. 11592, pp. 357–375. Springer, Cham (2019). https://doi.org/10.1007/978-3-030-22012-9_26

Lee, B.C., Ajisafe, T.D., Vo, T.V.T., Xie, J.: Understanding long-term adoption and usability of wearable activity trackers among active older adults. In: Zhou, J., Salvendy, G. (eds.) HCII 2019. LNCS, vol. 11592, pp. 238–249. Springer, Cham (2019). https://doi.org/10.1007/978-3-030-22012-9_18

Le, T.D., Aragon, C., Thompson, H.J., Demiris, G.: Elementary Graphical Perception for Older Adults: A Comparison with the General Population in a Dissertation submitted in partial fulfillment of the requirements for the degree of Doctor of Philosophy University of Washington (2014)

Le, T.D.: Design and Evaluation of Health Visualizations for Older Adults, in a Dissertation submitted in partial fulfillment of the requirements for the degree of Doctor of Philosophy University of Washington (2014)

Nielsen, L.: Personas. In: Soegaard, M., Dam, R.F. (eds.) The Encyclopedia of Human-Computer Interaction, 2nd edn. The Interaction Design Foundation, Aarhus (2013). https://www.interaction-design.org/encyclopedia/personas.html

Meirelles, I.: Design for Information: An Introduction to the Histories, Theories, and Best Practices Behind Effective Information Visualizations. Rockport Publishers, Beverly Hills (2013)

Munzner, T.: Visualization Analysis and Design. A K Peters Visualization Series CRC Press, Boca Raton (2014)

Fekete, J.: The infovis toolkit. In: IEEE Symposium on Information Visualization, INFOVIS 2004, pp. 167–174 (2004)

Tulp, J.W.: Designing for small and large datasets. In: New Challenges for Data Design, pp. 377–390 (2014)

Yi, J.S., Kang, Y., Stasko, J.T., Jacko, J.A.: Understanding and Characterizing Insights: How Do People Gain Insights Using Information Visualization? BELIV 2008, Florence (2008)

Fan, C.: The future of data visualization in personal informatics tools. In: Personal Informatics in the Wild: Hacking Habits for Health & Happiness CHI 2013 Workshops. CHI 2013, Paris. ACM (2013). ISBN: 978-1

Noirhomme-Fraiture, M., Randolet, F., Chittaro, L., Custinne, G.: Data Visualizations on small and very small screens (2004). https://www.researchgate.net/publication/228872186_Data_visualizations_on_small_and_very_small_screens/citations

Summers, K.L., Goldsmith, T.E., Kubica, S., Caudell, T.: An experimental evaluation of continuous semantic zooming in program visualization. In: IEEE Symposium on Information Visualization, Seattle (2003)

Szigeti, S., Patrasc, J., Schnitman, D., Diamond, S.: Stacked-stacked bar graph: a new twist on an old visualization. In: InfoVis Conference Proceedings Sara. IEEE (2014)

Zhang, Z., et al.: The Five W's for information visualization with application to healthcare informatics. IEEE Trans. Vis. Comput. Graph. 19, 1895 (2013)

Tapia, A., Beltrán, J., Caro, V.K.: Designing visualization tools to support older adults care process. In: ENC 2016: Mexican International Conference on Computer Science, Chihuahua, p. 4. ACM, New York (2016)

Lugmayr, A., Greenfeld, A., Zhang, D.J.: Selected advanced data visualizations: "The UX-Machine", cultural visualisation, cognitive big data, and communication of health and wellness data. In: 2017 International World Wide Web Conference Committee (IW3C2), WWW 2017 Companion, Perth. ACM (2017). ISBN: 978-1-45-034914-7

Gordon, M.A., Diamond, S., Zheng, M., Carnevale, M.: Compara. In: Encounters in Theory and History of Education, vol. 19. Digital Methods and Media (2018). https://ojs.library.queensu.ca/index.php/encounters/article/view/11867

Jiang, R., Zhang, Z., Xi, X.: A study of the needs and attitudes of elderly people and their caregivers with regards to assistive technologies. In: Zhou, J., Salvendy, G. (eds.) HCII 2019. LNCS, vol. 11592, pp. 200–211. Springer, Cham (2019). https://doi.org/10.1007/978-3-030-22012-9_15

Nielsen, L.: Personas - User Focused Design. Springer, New York (2012). https://doi.org/10.1007/978-1-4471-4084-9

Nielsen, L.: From user to character.an investigation into user-descriptions in scenarios. In: Proceedings DIS 2002 (2002)

O'Leary, C., Mtenzi, F., McAvinia, C.: Towards reusable personas for everyday design. In: CHI 2016, Extended Abstracts, San Jose. ACM (2016). ISBN: 978-1-45-034082-3

Saraiya, P., North, C., Duca, K.: An insight-­-based methodology for evaluating bioinformatics visualizations. IEEE Trans. Vis. Comput. Graph. 11(4), 443–456 (2005)

Brooke, J.: SUS: a retrospective. J. Usability Stud. 8(2), 29–40 (2013)

Talukder, M.S., Sorwar, G., Bao, Y., Ahmed, J.U., Palash, M.A.S.: Predicting antecedents of wearable healthcare technology acceptance by elderly: a combined SEM-Neural Network approach. Technol. Forecast. Soc. Chang. 150, 119793 (2020)
Acknowledgements

This research is supported by the MITACS Accelerate program, Myant, OCAD University's Visual Analytics Lab, and the Canada Foundation for Innovation.
Copyright information

© 2021 Springer Nature Switzerland AG
About this paper
Cite this paper
Diamond, S. et al. (2021). Visualizing Wellness: The Myant Skiin System Connected Life App. In: Gao, Q., Zhou, J. (eds) Human Aspects of IT for the Aged Population. Supporting Everyday Life Activities. HCII 2021. Lecture Notes in Computer Science(), vol 12787. Springer, Cham. https://doi.org/10.1007/978-3-030-78111-8_16
DOI: https://doi.org/10.1007/978-3-030-78111-8_16

Published:

Publisher Name: Springer, Cham

Print ISBN: 978-3-030-78110-1

Online ISBN: 978-3-030-78111-8

eBook Packages: Computer ScienceComputer Science (R0)