Abstract

Walking is fundamental to how we occupy and navigate our world. Our streets are populated by walking, dressed bodies yet the role of walking has been largely overlooked by the field of fashion design. This chapter examines how fashion can play a role in producing experiences and understandings between (dressed) social bodies and urban environments. Firstly, it proposes that walking the city is a critical activity for fashion practice that can be utilised by creative practitioners to build embodied and situated knowledges of place through a methodology of 'urban flâneurie'. Secondly, it demonstrates how a critically reflective approach to walking can enhance how fashion presentations—such as runways and public events—contribute to place-making through engagement with urban environments. These concepts are explored through a case study of a site-responsive fashion project in Victoria Harbour, Australia, entitled Urban Flâneur, which resulted in two creative public events. Here, walking becomes a method for fashion designers to study complex relationships arising between fashion, culture and place, and to produce outcomes that activate the urban site.
Keywords
Fashion

Design practice research

Embodied experience

Flâneur

Situated design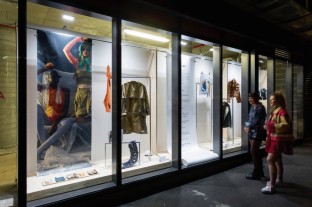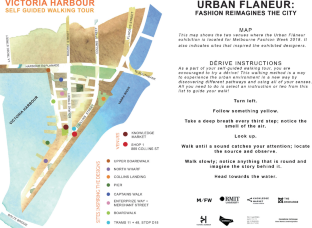 Notes
1.

In the context of this research, sites are specific spatial locations with defined boundaries [31, 30] as well as discursively determined and generated sites that delineate a field of knowledge, cultural exchange or debate [21]. In each instance sites are understood to contain the potential for transformation through design practice, presentation or performance.

2.
References
Barthes R (2013) The language of fashion. Bloomsbury Publishing, London

Baudelaire C (1972) The painter of modern life. Penguin Books, London

Beaumont M (2016) Nightwalking: a nocturnal history of London. Chaucer to Dickens, London, Verso

Benjamin W (2002) The arcades project (trans: Eiland H, McLaughlin K, Tiedemann R (eds)). Belknap Press of Harvard University Press, Cambridge, Massachusetts

Cardiff J (2020) 'Walks', Janet Cardiff George Bures Miller. https://www.cardiffmiller.com/artworks/walks/index.html. Accessed 10 Feb 2020

Casey ES (1997) The fate of place: a philosophical history. University of California Press, Berkeley

de Certeau M (1984) The practice of everyday life. University of California Press, Berkeley

City of Melbourne (2012) Docklands community and place plan. https://www.melbourne.vic.gov.au/SiteCollectionDocuments/docklands-community-place-plan.pdf. Accessed 29 April 2018

Development Victoria (2018) Docklands, http://www.development.vic.gov.au/projects/docklands. Accessed 29 April 2018

Entwistle J (2000) Fashion and the fleshy body: dress as embodied practice. Fashion Theory J Dress Body Culture 4(3):323–348

Fulton H (1978) Roads and paths: Twenty Walks, 1971–1977 and eight photographs of roads. Schirmer-Mosel, Munich

Fulton H, Messner R, Hapkemeier A, Vettese A (2005) Hamish Fulton: keep moving. Charta, Milan

Grosz E (1992) Bodies/Cities. In: Colomina B (ed) Sexuality and space. Princeton Architectural Press, New York, pp 241–254

Handcock T (2014) Skin That Wears: Body-site as a context for designing wearable artefacts. PhD thesis. School of Fashion and Textiles, College of Design and Social Context, RMIT University

Handcock T (2018) Self-guided walking tour map and dérive instructions for Urban Flâneur: Fashion Reimagines the City, Melbourne Fashion Week. Presented 4–17 September 2018, Victoria Harbour, Docklands, Australia

Hayes L (2017) From site-specific to site-responsive: sound art performances as participatory milieu. Organised Sound 22(1):83–92

Ingold T (2016) Lines: a brief history. Routledge, London

Ingold T, Vergunst JL (eds) (2008) Ways of walking: ethnography and practice on foot. Ashgate, London

Kaiser SB (2012) Fashion and cultural studies. Berg, London

Kawamura Y (2005) Fashionology. Berg, Oxford

Kwon M (2004) One place after another: site-specific art and locational identity. The MIT Press, Cambridge, Massachusetts

Lee J, Ingold T (2006) Fieldwork on foot: perceiving, routing, socializing. In: Coleman S, Collins P (eds) Locating the field: space, place and context in anthropology. Bloomsbury Publishing, London, pp 67–86

Lendlease (2017) Sustainability committee charter. https://www.lendlease.com/au/-/media/llcom/investor-relations/governance/sustainability-committee-charter-may2017.pdf. Accessed 5 July 2018

Lendlease (2018) Our approach: sustainability framework. https://www.lendlease.com/au/company/sustainability/our-approach/#/section/anchor-strategicchallenges?animate=true. Accessed 5 July 2018

Long R (2020) Richard Long. http://www.richardlong.org/index.html. Accessed 10 Feb 2020

McCracken G (1986) Culture and consumption: a theoretical account of the structure and movement of the cultural meaning of consumer goods. Journal of Consumer Research, 13(1): 71–84

New Zealand Fashion Museum (2017) A history of walk the walk: fashion in the city. New Zealand Fashion Museum, Auckland

Potvin J (ed) (2009) The places and spaces of fashion, 1800–2007. Taylor & Francis, New York

Quinn B (2003) The fashion of architecture. Berg, Oxford

Rendell J (2010) Site-writing: the architecture of art criticism. I.B. Tauris & Co., London

Rendell J (2006) Art and architecture: a place between

Roach-Higgins EM, Eicher JB (1995) Dress and identity. In: Roach-Higgins ME, Eicher JB, Johnson KKP (eds) Dress and identity. Fairchild Publications, New York, pp 7–18

Rousseau J, Kelly C, Malesherbes CGDLD, Masters RD, Stillman PG (1995) The confessions and, correspondence, including the letters to malesherbes. University Press of New England [for] Dartmouth College, Hanover and London

Simonsen J (2014) Situated design methods. Design thinking, design theory. MIT Press, Cambridge, Massachusetts, London, England

Solnit R (2001) Wanderlust: a history of walking. Verso, London

Titz T (2018) Photo of fashion reimagines the city installation at aperture. Photography. In: McLeod R, Sumartojo S, Anderson C, Sutila N and Hogan S (eds) The Exchange at Knowledge Market. Melbourne Books, Melbourne

Vaughan L (2017) Practice based design research. Bloomsbury Academic, New York

Ware SA (2013) On site, place and specificity. In: Bruhn C (ed) Multitudes. Uro Media, Melbourne, pp 93–144
Acknowledgements

The authors would like to thank the following parties for their support of this project: RMIT University, Lendlease, The Exchange team (Charles Anderson, Komal Lakhanpal, Ross McLeod, Shanti Sumartojo, Natasha Sutila, Bianca Vallentine), consulting disciplinary specialists (Andrea Eckersley, Andy Fergus, Ceri Hann, John MacKinnon, Glen Rollason, Laurene Vaughan), collaborating RMIT Bachelor of Design (Digital Media) students (Tom Harman, Adam Hogan, Rory Tyzack, and sound design project leader Mitchell Waters), alumni of the 2018 RMIT Bachelor of Fashion (Design) (Honours) Urban Flâneur studio, and those who contributed to the Urban Flâneur project public events.
Copyright information

© 2021 Springer Nature Switzerland AG
About this chapter
Cite this chapter
Handcock, T., Joannides, T. (2021). Urban Flâneur: A Site-Responsive Walking Methodology for Fashion Design. In: Piga, B.E.A., Siret, D., Thibaud, JP. (eds) Experiential Walks for Urban Design. Springer Tracts in Civil Engineering . Springer, Cham. https://doi.org/10.1007/978-3-030-76694-8_16
DOI: https://doi.org/10.1007/978-3-030-76694-8_16

Published:

Publisher Name: Springer, Cham

Print ISBN: 978-3-030-76693-1

Online ISBN: 978-3-030-76694-8

eBook Packages: HistoryHistory (R0)