Abstract

In my 2013 book, Orchestrating Human-Centered Design, I was already advocating the need to take into account complexity science and problem-solving techniques to streamline unusual situations where commonly accepted procedures no longer work. This book expands most concepts and methods based on cognitive engineering to a new set based on current developments of human systems integration (HSI). Furthermore, based on experience, "experience-based common sense" (i.e., what I also called educated common sense), must prevail and is appropriately combined with real-world data. This approach is called abduction (Peirce in Collected papers of Charles Sanders Peirce (1931–1958) In: Hartshorne C, Weiss P, Burks A (eds) Harvard University Press, Cambridge, MA), a logical inference mechanism that requires us to anticipate possible futures, choose one, and demonstrate that we can reach it using the means available as well as other ones we develop.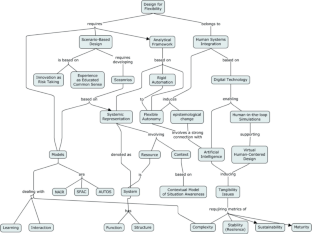 Notes
1.

That is, perceiving what we can pick up with our senses, searching for what we do not understand, making sense of what we can gradually rationalize and finally understand, projecting ourselves into possible futures and those of our environment, modeling them, simulating them, trying to define trajectories that will enable us to reach them, and so on, based on strong experience-based models.

2.

Abductive reasoning is a logical inference that seeks to find the simplest and most likely conclusion from the observations based on heuristics coming from experience. In cognitive psychology, abduction is a form of intuitive reasoning that consists in suppressing improbable solutions. This notion is opposed to a logic of systematic search exploration.

3.

An adjustment variable is a resource used by an economic agent to reduce a temporary imbalance between the means at its disposal and the commitments it has entered into.
References
Amalberti R, Aroy Y, Barach P, Berwick DM (2005) Five system barriers to achieving ultra-safe health care. Ann Intern Med 142(9):756–764

Bainbridge L (1987) Ironies of automation. In: Rasmussen J, Duncan K, Leplat J (eds) New technology and human error. John Wiley & Sons Ltd., Chicester, pp 271–283

Boy GA (2013) Orchestrating human-centered design. Springer, UK

Boy GA (2016) Tangible interactive systems: grasping the real world with computers. Springer, UK. ISBN: 978-3-319-30270-6

Boy GA, Brachet G (2010) Risk taking: a human necessity that needs to be managed. Dossier. Air and Space Academy, France

Fauci AS (2001). Infectious diseases: considerations for the 21st century. Clin Infect Dis 32(5):675–685. https://doi.org/10.1086/319235

Peirce CS (1931–1958) Collected papers of Charles Sanders Peirce. In: Hartshorne C, Weiss P, Burks A (eds) Harvard University Press, Cambridge, MA

Pinet J (2015) Facing the unexpected in flight: human limitations and interaction with technology in the cockpit. CRC Press. ISBN-13: 978-1498718714

Sarter NB, Woods DD, Billings CE (1997) Automation surprises. John Wiley and Sons, Handbook of human factors and ergonomics

Taleb NN (2007) The black swan: the impact of the highly improbable. Random House, New York. ISBN: 978-1-4000-6351-2. Expanded 2nd edn in 2010, ISBN: 978-0812973815
Copyright information

© 2021 The Author(s), under exclusive license to Springer Nature Switzerland AG
About this chapter
Cite this chapter
Boy, G.A. (2021). Introduction. In: Design for Flexibility. Human–Computer Interaction Series(). Springer, Cham. https://doi.org/10.1007/978-3-030-76391-6_1
DOI: https://doi.org/10.1007/978-3-030-76391-6_1

Published:

Publisher Name: Springer, Cham

Print ISBN: 978-3-030-76390-9

Online ISBN: 978-3-030-76391-6

eBook Packages: Computer ScienceComputer Science (R0)