Abstract

This chapter describes the transparent paper and its operative and theoretical contribute to architects' education and practice between 19th and 20th century. Dedicated literature on the topic is currently lacking and many of the sources analyzed refer to impressions and individual attitudes. Anyway, the chapter provides a first, deductive reconstruction of the multifaceted relationship between architects' and transparent paper, a favorite medium. After an historical summary on the techniques for manufacturing, it overviews how the practices of designing, drawing and reproducing were affected by the diffusion of cheap transparent paper. It analyses the use of transparent paper in the architects' daily practice and the diffusion of layer-structured analysis and design tools it inspired, in parallel with the mounting quest for transparency in architecture and media. Transparent paper is then analyzed as a peculiar medium and analogic design environment capable of addressing the choices of the architects. The chapter provides insights about how a new tool is first used as a substitute of the former, generally enhancing efficiency and results, and only later suggests peculiar uses that brings to an actual step forward in the way of thinking and practicing. It also suggests how any further instrumental development, like the CAD mimicking and taking the place of drafting on tracing, can promote a better knowledge of the previous practices.
Keywords
Architectural drawing

Transparent paper

Layers

Transparency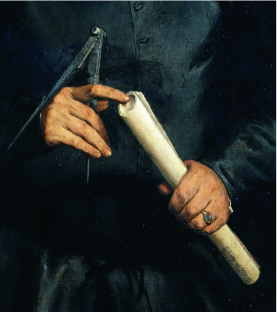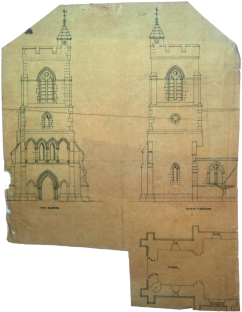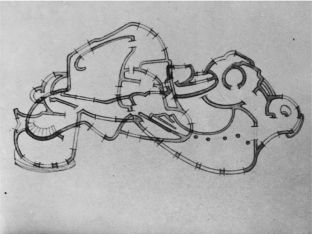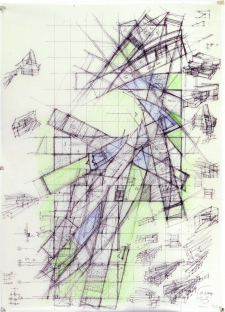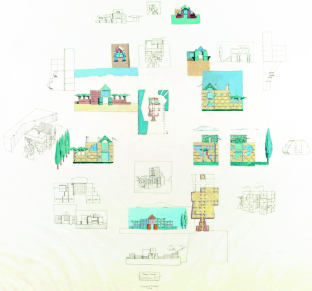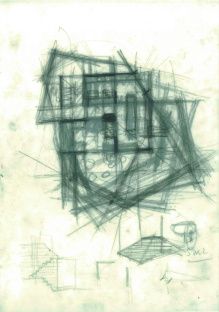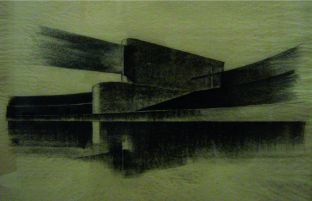 References
von Hofmannsthal H (1929) Buch der Freunde. Insel Verlag, Leipzig

Bolter JD, Gruisin RA (2000) Remediation: understanding new media. The MIT Press, Cambridge

Manovich L (2013) Software takes command: extending the language of new media. Bloomsbury Publishing, New York and London

Page S (1997) Conservation of nineteenth-century tracing paper: a quick practical approach. Book Paper Group Annu 17:67–73

Homburger H, Korbel B (1998) Architectural drawings on transparent paper: modifications of conservation treatments. Book Paper Group Annu 18:25–33

Laroque C (2000) Transparent papers: a technological outline and conservation review. Rev Conserv 1:21–31

Laroque C (2004) History and analysis of transparent papers. Paper Conserv 28:17–32

Olcott Price L (2015) Line, shade and shadow: the fabrication and preservation of architectural drawings. Oak Knoll Press and Winterthur Museum, New Castle

Recht R (2000) Il disegno d'architettura. Origine e funzioni. Jaca Books, Milan

Carpo M (2001) Architecture in the age of printing: orality, writing, typography, and printed images in the history of architectural theory. The MIT Press, Cambridge

Filarete A (1972) Averlino known as: Trattato di architettura. Il Polifilo, Milano

Mussolin M (2012) In controluce: alcune osservazioni sull'uso della carta nei disegni architettonici di Michelangelo in Casa Buonarroti. In: Mauerer G, Nova A (eds) Michelangelo e il linguaggio dei disegni di architettura. Marsilio, Venezia, pp 287–311

Alberti LB (1972) On painting and on sculpture: the Latin texts of 'De pictura' and 'De statua'. Phaidon, London

da Vinci Leonardo (1947) Trattato della Pittura. Carabba editore, Lanciano

Cennini C (1954) Il Libro dell'Arte: the craftsman's handbook. Dover, New York

Friendly M. Milestones in the history of thematic cartography, statistical graphics, and data visualization. http://datavis.ca/milestones. Accessed 21 Dec 2020

Ware M (1999) Cyanotype: the history, science and art of photographic printing in Prussian blue. Science Museum, London

Wigley M (2005) Back to black. In: Brayer MA, Migayrou F, Nanjo F (eds) Archilab's urban experiments, radical architecture, art and the city. Thames and Hudson, London, pp 48–53

Ortenberg A (2010) The project of architecture and the tools of its construction: the shifts and delays in the history of drawing media and equipment. In: Goodwin B, Kinnard J (eds) Rebuilding: 98th ACSA annual meeting proceedings. Association of Collegiate Schools of Architecture, Washington DC, pp 668–677

Bingham N (2018) A blueprint is… blue. Drawing Matter, 24.01.2018. https://drawingmatter.org/a-blueprint-is-blue. Accessed 21 Dec 2020

Dunn AE, Ives C, Shelley M (2018) Delacroix drawing: the Karen B. Cohen collection. Metropolitan Museum of Art, New York

Galassi P, Varnedoe K (1987) Caillebotte's space. In: Varnedoe K (ed) Gustave Caillebotte. Yale University Press, New Haven, pp 20–26

Kendall R (1996) Degas beyond impressionism. National Gallery Publications, London

Krivenko M (2015) Valentin Serov's drawings at the Tretyakov Gallery. The Tretyakov Gallery Magazine 48, 3. https://www.tretyakovgallerymagazine.com/articles/3-2015-48/valentin-serov-drawings-tretyakov-gallery. Accessed 17 July 2019

Pai H (2002) The portfolio and the diagram. Architecture, discourse, and modernity in America. The MIT Press, Cambridge

Semper G (1852) Wissenschaft, Industrie und Kunst. Vorschläge zur Anregung Nationalen Kunstgefühles. F. Vieweg und Sohn: Braunschweig

Stenvert R (1994) Tracing architectural history. In: Tzonis A, White I (eds) Automation based creative design: research and perspectives. Elsevier, Amsterdam, pp 281–300

Frascari M (2010) A reflection on paper and its virtues within the material and invisible factures of architecture. In: Frascari M, Hale J, Starkey B (eds) From models to drawings: imagination and representation in architecture. Routledge, London, pp 23–33

Bruschi A (2001) L'insegnamento della storia nella Facoltà di Architettura di Roma e le sue ripercussioni nella progettazione e nella storiografia". In: Franchetti Pardo V (ed) La Facoltà di Architettura dell'Università di Roma "La Sapienza" dalle origini al Duemila. Discipline, docenti, studenti. Gangemi, Roma, pp 75–84

Baudez B (2015) De l'usage du calque d'architecture à la fin du XVIIIe siècle, outil de conception ou mémoire de representation. In: Mignot C (ed) Le dessin d'architecture dans tous ses états, II. Société du Salon du Dessin; L'Echelle de Jacob, Paris, pp 89–96

Baudez B (2020) Usages du calque dans le voyage de Naples, architectes et peintres au tournant des XVIIIe et XIXe siècles. In: Cuneo C, Brucculieri A (eds) À travers l'Italie. Attraverso l'Italia. Édifices, villes, paysages dans les voyages des architectes français. Edifici, città, paesaggi nei viaggi degli architetti francesi, 1750–1850. Silvana, Cinisello Balsamo, pp 166–173

Bortolozzi A. Copies, Traces and Transparent Paper in the Workshop of an 18th-Century Swedish Architect. Paper presented at The Tools of the Architect, Conference at Delft University of Technology, 22/11/2017

Brownlee DB (1986) Friedrich Weinbrenner architect of Karlsruhe. A catalogue of the drawings in the architectural archives of the University of Pennsylvania. University of Pennsylvania, Philadelphia

Wells MJ. Anthony Salvin. Drawing Matter, 2017/12/18 December. https://www.drawingmatter.org/sets/drawing-week/anthony-salvin. Accessed 21 Dec 2020

Gebhard D, Nevins D (1977) 200 years of American architectural drawing. Whitney Library of Design, New York

Carpiceci M, Colonnese F (2018) Between antinomy and symmetry. Architectural drawings of presentation and comparison in the XVI century. In: Marcos C (ed) EGA graphic imprints: the influence of representation and ideation tools in architecture. Springer, Cham, pp 66–78

Lucas R (2017) The discipline of tracing in architectural drawing. In: Johannessen CM, Van Leuuwen TJ (eds) The materially of writing: a trace-making perspective. Routledge, London, pp 116–137

Kakinuma M (2019) Transparency and opacity: recto-verso works by Paul Klee. Zwitscher-Maschine 7:4–23

Pehnt W (1973) Die Architektur des Expressionismus. Gerd Hatje, Stuttgart

Hysler-Rubin N (2016) Patrick Geddes and town planning: a critical view. Routledge, London

Steinitz C, Parker P, Jordan L (1976) Hand-drawn overlays: their history and prospective uses. Landsc Archit 66(5):444–455

Darroch M (2008) Bridging urban and media studies: Jaqueline Tyrwhitt and the Explorations Group, 1951–1957. Can J Commun 33:147–169

Tyrwhitt J (1950) Surveys for planning. In: APRR (ed) Town and country planning textbook. The Architectural Press, London, pp 146–196

MacHarg I (1969) Design with nature. Natural History Press, Garden City New York

Turner T (1996) City as landscape: a post post-modern view of design and planning. Taylor & Francis, London

Koolhaas R (2004) Content. Taschen, Köln

Koolhaas R, Mau B (1998) S, M, L, XL. The Monacelli Press, New York

Asar H, Stapenhorst C (2020) Zvi Hecker: drawing on drawing. Arch Des Res 33(3):45–53

Huhtamo E (2013) Illusions in motion: media archaeology of the moving panorama and related spectacles. The MIT Press, Cambridge

Canemaker J (2015) The lost notebook: Herman Schultheis and the secrets of Walt Disney's movie magic. Weldon Owen, San Francisco

Ruskin J (1885) The seven lamps of architecture. Lovell, New York

Watkin D (1984) Morality and architecture. University of Chicago Press, Chicago

Colomina B (2018) X-Screens: Roentgen architecture. In: Hvattum M, Hultzsch A (eds) The printed and the built: architecture, print culture and public debate in the nineteenth century. Bloomsbury Visual Arts, London, pp 121–142

Moholy-Nagy L (1947) Vision in motion. P. Theobald, Chicago

Rowe C, Slutzky R (1963) Transparency: literal and phenomenal. Perspecta 8:45–54

Carpiceci M, Colonnese F (2018) Teoria e procedure info-grafiche per il rilievo e la rappresentazione dello spazio nell'architettura rupestre. In: Porcari VD (ed) CICOP2018: XIV Congresso Internazionale di Riabilitazione del Patrimonio. La conservazione del patrimonio artistico, architettonico, archeologico e paesaggistico. Luciano Editore, Napoli, pp 55–66

Krasny E (2008) The force is in the mind. The making of architecture. Birkhauser, Basel

Graves M. Architecture and the lost art of drawing. New York Times, 2012/9/1. https://www.nytimes.com/2012/09/02/opinion/sunday/architecture-and-the-lost-art-of-drawing.html. Accessed 21 Dec 2020

Behnisch und Partner (1987) Bauten und Projekte, 1952–1987. Cantz, Stuttgart

Behnisch und Partner (1996) Bauten und Projekte, 1987–1997. Ostfildern, Ruit

Simitch A, Warke V (2014) The language of architecture. Rockport Publishers, Beverly

Voet C, Vandermarliere K, De Caigny S, Schrijver L (2016) Autonomous architecture in Flanders. Leuven University Press, Leuven

Mindrup M (2016) The Resistance of Factures in Drawing out Architectural Constructions. In: Mindrup M (ed) The material imagination: reveries on architecture and matter. Routledge, London

Drozd C, Meunier V, Simonnot N, Hégron G (2009) What tools and modes of representation to reflect an architectural atmosphere? Paper presented at the 9th Conference on architectural visualization (EAEA) Cottbus, Germany. https://hal.archives-ouvertes.fr/hal-01275083. Accessed 21 Dec 2020

Betts MB (2000) From sketch to architecture: drawings in the Cass Gilbert Office. In: Heilbrun M (ed) Inventing the skyline: the architecture of Cass Gilbert. Columbia University Press, New York, pp 7–79

Schumacher P (2011) The autopoiesis of architecture: a new framework for architecture, 2 vols. Wiley, London

Lau W. Architects' beloved yellow trace becomes a mobile app. J Am Inst Architects, 2012/9/27. https://www.architectmagazine.com/technology/architects-beloved-yellow-trace-becomes-a-mobile-app_o. Accessed 21 Dec 2020

Colonnese F (2016) Human figure as a cultural mediator in architectural drawings. In: Koç Yıldız G, Claes M-Th, Christiansen B (eds) Cultural influences on architecture. IGI Global, Hershey, pp 90–129
Acknowledgements

An early version of this work has been presented at The Tools of the Architect, a conference organized by the Delft University of Technology, Het Nieuwe Instituut HNI and The European Architectural History Network (EAHN) in Delft, 22–24 November 2017. I would like to thank Anya Neuefeind, Basile Baudez, and Anna Bortolozzi for their kindness.
Copyright information

© 2022 The Author(s), under exclusive license to Springer Nature Switzerland AG
About this chapter
Cite this chapter
Colonnese, F. (2022). Between the Layers. Transparent Paper as a Modernist Architectural Design Environment. In: Bartolomei, C., Ippolito, A., Vizioli, S.H.T. (eds) Digital Modernism Heritage Lexicon. Springer Tracts in Civil Engineering . Springer, Cham. https://doi.org/10.1007/978-3-030-76239-1_4
DOI: https://doi.org/10.1007/978-3-030-76239-1_4

Published:

Publisher Name: Springer, Cham

Print ISBN: 978-3-030-76238-4

Online ISBN: 978-3-030-76239-1

eBook Packages: EngineeringEngineering (R0)