Abstract

This contribution analyzes changes in public opinion attitudes towards homosexuality and LGBTI rights in Latin America over the last three decades. Using data from the World Values Survey and the Latin American Public Opinion Project, we show the evolution of those attitudes between the 1990s and 2017, their relationship with economic development and democratization in the region and the individual factors that helps us to explain the prevalence and changes of negative and positive attitudes toward LGBTI people.
Keywords
LGBTI rights

Homosexuality

Public opinion

Social attitudes

Latin America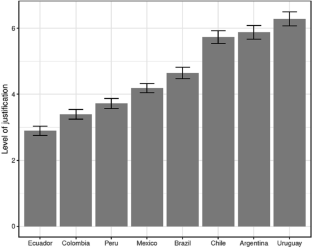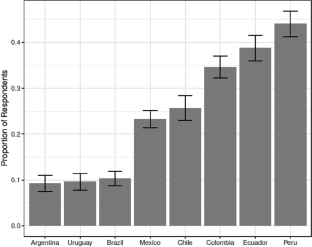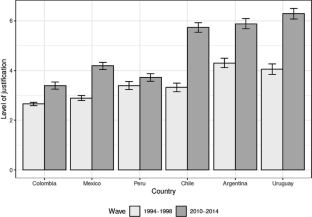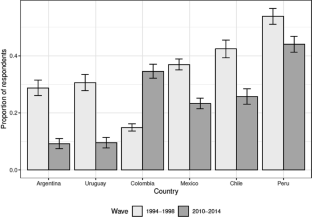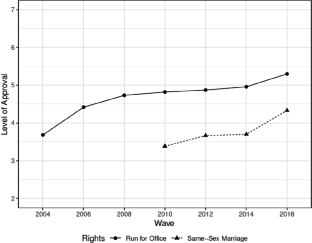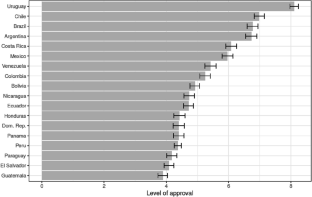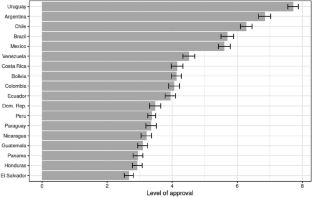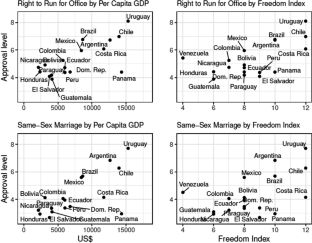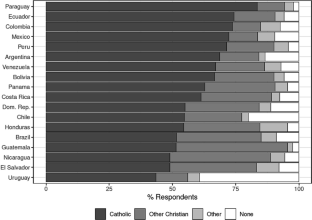 Notes
1.

We thank the Latin American Public Opinion Project (LAPOP) and its major supporters (the United States Agency for International Development, the Inter-American Development Bank, and Vanderbilt University) for making the data available.

2.

Mexico has not approved national legislation in those matters, but some subnational entities, notably Mexico City, have recognized same-sex partnership since 2007 and same-sex marriage since 2009 (International Lesbian, Gay, Bisexual, Trans and Intersex Association et al., 2017, pp. 68–70).

3.

"CitizenGo" in several countries; "Movimiento Vida y Familia" (Ecuador, Colombia, Mexico, Paraguay); "Con mis Hijos no te Metas" and "Coordinadora Pro-Familia" (Peru); "Red por la Vida y la Familia" (Bolivia); "Padres Objetores de Chile" and "El Observatorio Legislativo Cristiano" (Chile); "Comisión Nacional de Pastoral de Familia y de Vida" (Costa Rica); "ProFamilia" (Dominican Republic); "Familia, Desarrollo y Población" (Guatemala); "La Alianza Panameña por la Vida y la Familia" (Panama); "Movimiento Pro Vida" (Honduras, El Salvador); among others.

4.

Figure 5 shows the mean approval level of all the countries included in each wave's sample. To calculate the regional mean each country mean has the same weight.

5.

In order to calculate the "Freedom Index", we reversed the original values of Freedom House's "Political Rights" (PR) and "Civil Liberties" (CL) indexes, and then added them into a single index with a theoretical 0–12 range. In its original form, lower PR or CL values indicate higher levels of freedom (Freedom House, 2018).

6.

According to LAPOP 2014 wave, among "Other Christians", 57% were evangelicals and 38% other protestant denominations.
References
Andersen, R., & Fetner, T. (2008a). Cohort differences in tolerance of homosexuality: Attitudinal change in Canada and the United States, 1981–2000. Public Opinion Quarterly, 72(2), 311–330. https://doi.org/10.1093/poq/nfn017

Andersen, R., & Fetner, T. (2008b). Economic inequality and intolerance: Attitudes toward homosexuality in 35 democracies. American Journal of Political Science, 52(4), 942–958.

Baliamoune-Lutz, M. (2011). Trust-based social capital, institutions, and development. The Journal of Socio-Economics, 40(4), 335–346. https://doi.org/10.1016/j.socec.2010.12.004

Bishin, B. G., Hayes, T. J., Incantalupo, M. B., & Smith, C. A. (2016). Opinion backlash and public attitudes: Are political advances in gay rights counterproductive? Opinion backlash and public attitudes. American Journal of Political Science, 60(3), 625–648. https://doi.org/10.1111/ajps.12181

Bureekul, T., & Thananithichot, S. (2012). Trust and social cohesion, the key to reconcile Thailand's future. The International Journal of Social Quality, 2(2), 81–97. https://doi.org/10.3167/IJSQ.2012.020206

Cigler, A., & Joslyn, M. R. (2002). The extensiveness of group membership and social capital: The impact on political tolerance attitudes. Political Research Quarterly, 55(1), 7–25. https://doi.org/10.1177/106591290205500101

Coleman, J. (1988). Social capital in the creation of human capital. American Journal of Sociology, 94(1988), S95-120.

Collier, K. L., Horn, S. S., Bos, H. M. W., & Sandfort, T. G. M. (2015). Attitudes toward lesbians and gays among American and Dutch adolescents. The Journal of Sex Research, 52(2), 140–150. https://doi.org/10.1080/00224499.2013.858306

Corrales, J. (2015a). The politics of LGBT rights in Latin America and the Caribbean: Research agendas. European Review of Latin American and Caribbean Studies/revista Europea De Estudios Latinoamericanos y Del Caribe, 100, 53–62.

Corrales, J. (2015b). LGBT rights and representation in Latin America and the Caribbean: The influence of structure, movements, institutions, and culture. LGBT Representation and Rights Initiative at the University of North Carolina at Chapel Hill. https://globalstudies.unc.edu/files/2015/04/LGBT_Report_LatAm_v8-copy.pdf

Decco, E. (2014). Changing attitudes toward homosexuality in the United States from 1977 to 2012 [MSc]. Brigham Young University.

Djupe, P. A., & Calfano, B. R. (2012). American Muslim investment in civil society: Political discussion, disagreement, and tolerance. Political Research Quarterly, 65(3), 516–528. https://doi.org/10.1177/1065912911401417

Ellison, C. G., & Musick, M. A. (1993). Southern intolerance: A fundamentalist effect? Social Forces, 72(2), 379–398. https://doi.org/10.1093/sf/72.2.379

Finch, W. H., Bolin, J. E., & Kellet, K. (2014). Multilevel modeling using R. CRC Press. http://www.crcnetbase.com/isbn/9781466515864

Flores, A. R. (2014). National trends in public opinion on LGBT rights in the United States. The Williams Institute UCLA. https://escholarship.org/uc/item/72t8q7pg

Flores, A. R., & Barclay, S. (2016). Backlash, consensus, legitimacy, or polarization: The effect of same-sex marriage policy on mass attitudes. Political Research Quarterly, 69(1), 43–56. https://doi.org/10.1177/1065912915621175

Freedom House. (2021). Freedom in the world. Freedom House. https://freedomhouse.org/report/freedom-world

Halman, L., & van Ingen, E. (2015). Secularization and changing moral views: European trends in church attendance and views on homosexuality, divorce, abortion, and Euthanasia. European Sociological Review, 31(5), 616–627. https://doi.org/10.1093/esr/jcv064

Herek, G. M. (2002). Heterosexuals' attitudes toward bisexual men and women in the United States. Journal of Sex Research, 39(4), 264–274. https://doi.org/10.1080/00224490209552150

Hicks, G. R., & Lee, T.-T. (2006). Public attitudes toward gays and lesbians: Trends and predictors. Journal of Homosexuality, 51(2), 57–77. https://doi.org/10.1300/J082v51n02_04

Hooghe, M., Claes, E., Harell, A., Quintelier, E., & Dejaeghere, Y. (2010). Anti-gay sentiment among adolescents in Belgium and Canada: A comparative investigation into the role of gender and religion. Journal of Homosexuality, 57(3), 384–400. https://doi.org/10.1080/00918360903543071

Inglehart, R. (1997). Modernization and postmodernization: Cultural, economic, and political change in 43 societies. Princeton University Press.

Inglehart, R., & Welzel, C. (2005). Modernization, cultural change, and democracy: The human development sequence. Cambridge University Press.

Inglehart, R., Haerpfer, C., Moreno, A., Welzel, C., Kizilova, K., Diez-Medrado, J., Lagos, M., Norris, P., Ponarin, E., & Puranen, B. (2020). World values survey: All rounds—Country-pooled datafile. JD Systems Institute & WVSA Secretariat. http://www.worldvaluessurvey.org/WVSDocumentationWVL.jsp

International Lesbian, Gay, Bisexual, Trans and Intersex Association, Carroll, A., & Mendos, R. (2017). State sponsored homophobia 2017: A world survey of sexual orientation laws: Criminalisation, protection and recognition (No. 12). ILGA. https://ilga.org/downloads/2017/ILGA_State_Sponsored_Homophobia_2017_WEB.pdf

Jones, P. (2006). Toleration, recognition and identity*. Journal of Political Philosophy, 14(2), 123–143. https://doi.org/10.1111/j.1467-9760.2006.00246.x

Kazyak, E., & Stange, M. (2018). Backlash or a positive response? Public opinion of LGB issues after Obergefell v. Hodges. Journal of Homosexuality, 1–25. https://doi.org/10.1080/00918369.2017.1423216

Latin American Public Opinion Project. (2021). The Americas barometer. http://www.LapopSurveys.org

Lee, F. L. F. (2014). "Tolerated one way but not the other": Levels and determinants of social and political tolerance in Hong Kong. Social Indicators Research, 118(2), 711–727. https://doi.org/10.1007/s11205-013-0433-5

Manalastas, E. J., Ojanen, T. T., Torre, B. A., Ratanashevorn, R., Chee Hong, B. C., Kumarezan, V., & Veeramuthu, V. (2017). Homonegativity in Southeast Asia: Attitudes toward lesbians and gay men in Indonesia, Malaysia, the Philippines, Singapore, Thailand, and Vietnam. Asia-Pacific Social Science Review, 17(1), 25–33.

Mott, L., Michels, E., & Paulinho. (2017). Mortes violentas de LGBT no Brasil: Relatório 2017. Grupo Gay da Bahia. https://homofobiamata.files.wordpress.com/2017/12/relatorio-2081.pdf

OECD. (2014). Society at a glance 2014: OECD social indicators. OECD. https://doi.org/10.1787/soc_glance-2014-en

Parekh, R., Maleku, A., Fields, N., Adorno, G., Schuman, D., & Felderhoff, B. (2018). Pathways to age-friendly communities in diverse urban neighborhoods: Do social capital and social cohesion matter? Journal of Gerontological Social Work, 61(5), 492–512. https://doi.org/10.1080/01634372.2018.1454564

Pew Research Center. (2013a). The global divide on homosexuality. http://www.pewglobal.org/2013/06/04/the-global-divide-on-homosexuality/

Pew Research Center. (2013b). The global divide on homosexuality. http://www.pewglobal.org/2013/06/04/the-global-divide-on-homosexuality/

Putnam, R. D. (1996). The strange disappearance of civic America. (Cover Story). The American Prospect, 24, 34.

Redman, S. M. (2018). Effects of same-sex legislation on attitudes toward homosexuality. Political Research Quarterly, 106591291775307. https://doi.org/10.1177/1065912917753077

Romero, C. (1996). World values survey—Wave 3, questionnaire Peru. http://www.worldvaluessurvey.org/WVSDocumentationWV3.jsp

Romero, C. (2013). Las Creencias Religiosas y el Cambio Cultural: Evidencia de Perú. In A. Moreno & M. Carballo (Eds.), El Cambio de Valores en América Latina. Hallazgos de la Encuesta Mundial de Valores (pp. 127–152). Centro de Estudios Sociales y de Opinión Pública.

Romero, C. (2016). El Perú, País de Diversidad Religiosa. In C. Romero (Ed.), Diversidad Religiosa en el Perú: Miradas Múltiples (pp. 13–40). Centro de Estudios y Publicaciones; Pontificia Universidad Católica del Perú.

Schirmer, W., Weidenstedt, L., & Reich, W. (2012). From tolerance to respect in inter-ethnic contexts. Journal of Ethnic and Migration Studies, 38(7), 1049–1065. https://doi.org/10.1080/1369183X.2012.681448

Slootmaeckers, K., & Lievens, J. (2014). Cultural capital and attitudes toward homosexuals: Exploring the relation between lifestyles and homonegativity. Journal of Homosexuality, 61(7), 962–979. https://doi.org/10.1080/00918369.2014.870848

Smith, T. W., Son, J., & Kim, J. (2014). Public attitudes towards homosexuality and gay rights across time and countries. NORC—University of Chicago; The Williams Institute—UCLA. https://williamsinstitute.law.ucla.edu/wp-content/uploads/public-attitudes-nov-2014.pdf

Stevenson, M. (Ed.). (1988). Promoting tolerance for homosexuality: An evaluation of intervention strategies. Journal of Sex Research, 25(Nov 88), 500–511.

Sullivan, J. L., & Transue, J. E. (1999). The psychological underpinnings of democracy: A selective review of research on political tolerance, interpersonal trust, and social capital. Annual Review of Psychology, 625.

van den Akker, H., van der Ploeg, R., & Scheepers, P. (2013). Disapproval of homosexuality: Comparative research on individual and national determinants of disapproval of homosexuality in 20 European countries. International Journal of Public Opinion Research, 25(1), 64–86. https://doi.org/10.1093/ijpor/edr058

Whitley, B. E., Jr., & Aegisdóttir, S. (2000). The gender belief system, authoritarianism, social dominance orientation, and heterosexuals' attitudes toward lesbians and gay men. Sex Roles, 42(11/12), 947–967.

Wise, J., & Driskell, R. (2017). Tolerance within community: Does social capital affect tolerance? Social Indicators Research, 134(2), 607–629. https://doi.org/10.1007/s11205-016-1449-4

World Bank. (2021). World dataBank. http://databank.worldbank.org
Copyright information

© 2021 Springer Nature Switzerland AG
About this chapter
Cite this chapter
Sulmont, D., Castaman, K. (2021). Rainbows in Latin America: Public Opinion and Societal Attitudes Towards Homosexuality. In: Almakaeva, A., Moreno, A., Wilkes, R. (eds) Social Capital and Subjective Well-Being. Societies and Political Orders in Transition. Springer, Cham. https://doi.org/10.1007/978-3-030-75813-4_6
DOI: https://doi.org/10.1007/978-3-030-75813-4_6

Published:

Publisher Name: Springer, Cham

Print ISBN: 978-3-030-75812-7

Online ISBN: 978-3-030-75813-4