Abstract

The velvety fruit, apricot, is native to China and is known for its characteristics taste and appearance. The fruit is relatively high in carbohydrates and proteins but low in fats. Apricot is known to contain selenium, an element of huge medicinal importance due to its active participation in selenoprotein formation. Apricots have analgesic, anthelmintic, anti-asthmatic, antipyretic, antiseptic, antispasmodic, demulcent, emetic, emollient, expectorant, laxative, ophthalmic, pectoral, sedative, tonic and vulnerary effects due to its various constituents.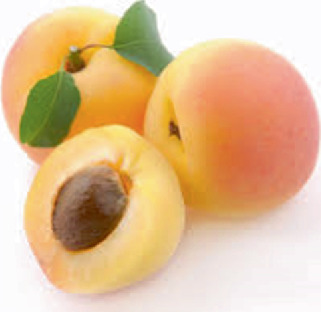 | | |
| --- | --- |
| Family | Rosaceae |
| Genus: | Prunus |
| Sub-genus: | Prunophora |
| Species: | Prunes armeniaca |
| Local Names | Khubani, Cheeri |
References
Ali, M., Mehdi, M., Lakdan, S., Dolkar, T., Stanzen, L., Singh, P., & Hussain, S. (2018). Status of area and production of apricot (Prunus armeniaca L.) in cold arid Ladakh. Journal of Pharmacognosy and Phytochemistry, 7(2), 593–595.

Ali, S., Masud, T., & Abbasi, K. S. (2011). Physico-chemical characteristics of apricot (Prunus armeniaca L.) grown in Northern areas of Pakistan. Scientia Horticulturae, 130(2), 386–392.

Aller, R., de Luis, D. A., Izaola, O., La Calle, F., del Olmo, L., Fernandez, L., Arranz, T., & Hernandez, J. G. (2004). Effect of soluble fiber intake in lipid and glucose leves in healthy subjects: A randomized clinical trial. Diabetes Research and Clinical Practice, 65(1), 7–11.

Chang, H. K., Yang, H. Y., Lee, T. H., Shin, M. C., Lee, M. H., Shin, M. S., Kim, C.-J., Kim, O.-J., Hong, S.-P., & Cho, S. (2005). Armeniacae semen extract suppresses lipopolysaccharide-induced expressions of cycloosygenase-2 and inducible nitric oxide synthase in mouse BV2 microglial cells. Biological and Pharmaceutical Bulletin, 28(3), 449–454.

Chiu, C. J., & Taylor, A. (2007). Nutritional antioxidants and age-related cataract and maculopathy. Experimental Eye Research, 84(2), 229–245.

Fatima, T., Bashir, O., Gani, G., Bhat, T. A., & Jan, N. (2018). Nutritional and health benefits of apricots. International Journal of Unani and Integrative Medicine, 2(2), 5–9.

Femenia, A., Rossello, C., Mulet, A., & Canellas, J. (1995). Chemical composition of bitter and sweet apricot kernels. Journal of Agricultural and Food Chemistry, 43(2), 356–361.

Gurrieri, F., Audergon, J. M., Albagnac, G., & Reich, M. (2001). Soluble sugars and carboxylic acids in ripe apricot fruit as parameters for distinguishing different cultivars. Euphytica, 117(3), 183–189.

Hasib, A., Jaouad, A., Mahrouz, M., & Khouili, M. (2002). HPLC determination of organic acids in morocan apricots. Cienc Technol Aliment, 3(4), 207–211.

Hegazi, S. M., & Salem, S. A. (1972). Amino acid pattern of the Egyptian apricot fruits (Hamawy). Journal of the Science of Food and Agriculture, 23(4), 497–499.

Hodgson, J. M., & Croft, K. D. (2006). Dietary flavonoids: Effects on endothelial function and blood pressure. Journal of the Science of Food and Agriculture, 86(15), 2492–2498.

Ishaq, S., Rathore, H. A., Majeed, S., Awan, S., & Zulfiqar-Ali-Shah, S. (2009). The studies on the physico-chemical and organoleptic characteristics of apricot (Prunus armeniaca L.) produced in Rawalakot, Azad Jammu and Kashmir during storage. Pakistan Journal of Nutrition, 8(6), 856–860.

Jittanit, W., Niti-Att, S., & Techanuntachaikul, O. (2010). Study of spray drying of pineapple juice using maltodextrin as an adjunct. Chiang Mai Journal of Science, 37(3), 498–506.

Kalyoncu, I. H., Akbulut, M., & Coklar, H. (2009). Antioxidant capacity, total phenolics and some chemical properties of semi-matured apricot cultivars grown in Malatya, Turkey. World Applied Sciences Journal, 6(4), 519–523.

Kan, T., & Bostan, S. Z. (2010). Changes of contents of polyphenols and vitamin a of organic and conventional fresh and dried apricot cultivars (Prunus armeniaca L.). World Journal of Agricultural Sciences, 6(2), 120–126.

Leccese, A., Bartolini, S., & Viti, R. (2007). Total antioxidant capacity and phenolics content in apricot fruits. International Journal of Fruit Science, 7(2), 3–16.

Leccese, A., Viti, R., & Bartolini, S. (2011). The effect of solvent extraction on antioxidant properties of apricot fruit. Open Life Sciences, 6(2), 199–204.

Lee, S. K., & Kader, A. A. (2000). Preharvest and postharvest factors influencing vitamin C content of horticultural crops. Postharvest Biology and Technology, 20(3), 207–220.

Lichou, J., Jay, M., Vaysse, P., Lespinasse, N. (2003). Reconnaitre les variétésd, apricots (p. 17–29). Editions Ctifl.

Neuhouser, M. L. (2004). Dietary flavonoids and cancer risk: Evidence from human population studies. Nutrition and Cancer, 50(1), 1–7.

Noonan, D. M., Benelli, R., & Albini, A. (2007). Angiogenesis and cancer prevention: A vision. Cancer Prevention, 219–224

Otsuka, T., Tsukamoto, T., Tanaka, H., Inada, K., Utsunomiya, H., Mizoshita, T., Kumagai, T., Katsuyama, T., Miki, K., & Tatematsu, M. (2005). Suppressive effects of fruit-juice concentrate of Prunus mume Sieb. et Zucc.(Japanese apricot, Ume) on Helicobacter pylori-induced glandular stomach lesions in Mongolian gerbils. Asian Pacific Journal of Cancer Prevention, 6(3), 337.

Ozturk, F., Gul, M., Ates, B., Ozturk, I. C., Cetin, A., Vardi, N., Otlu, A., & Yilmaz, I. (2009). Protective effect of apricot (Prunus armeniaca L.) on hepatic steatosis and damage induced by carbon tetrachloride in Wistar rats. British Journal of Nutrition, 102(12), 1767–1775.

Parlakpinar, H., Olmez, E., Acet, A., Ozturk, F., Tasdemir, S., Ates, B., Gul, M., & Otlu, A. (2009). Beneficial effects of apricot-feeding on myocardial ischemia-reperfusion injury in rats. Food and Chemical Toxicology, 47(4), 802–808.

Pramer, C., & Kaushal, M. K. (1982). Wild fruits of Sub-Himayalyan Region. Kalyani Publishers

Rasmussen, H. M., & Johnson, E. J. (2013). Nutrients for the aging eye. Clinical Interventions in Aging, 8, 741–748.

Ross, R. (1993). The pathogenesis of atherosclerosis: A perspective for the 1990s. Nature, 362(6423), 801–809.

Ruiz, D., Egea, J., Tomás-Barberán, F. A., & Gil, M. I. (2005). Carotenoids from new apricot (Prunus armeniaca L.) varieties and their relationship with flesh and skin color. Journal of Agricultural and Food Chemistry, 53(16), 6368–6374.

Schieber, A., Stintzing, F. C., & Carle, R. (2001). By-products of plant food processing as a source of functional compounds—recent developments. Trends in Food Science & Technology, 12(11), 401–413.

Singh, A. (2009). Fruit physiology and production. Kalyani Publishers

Tamura, M., Ohnishi, Y., Kotani, T., & Gato, N. (2011). Effects of new dietary fiber from Japanese Apricot (Prunus mume Sieb. et Zucc.) on gut function and intestinal microflora in adult mice. International journal of molecular sciences, 12(4), 2088–2099.

Wang, X. D., & Russell, R. M. (1999). Procarcinogenic and anticarcinogenic effects of β-carotene. Nutrition Reviews, 57(9), 263–272.
Copyright information

© 2021 The Author(s), under exclusive license to Springer Nature Switzerland AG
About this chapter
Cite this chapter
Hussain, S.Z., Naseer, B., Qadri, T., Fatima, T., Bhat, T.A. (2021). Apricots (Prunus Armeniaca)—Morphology, Taxonomy, Composition and Health Benefits. In: Fruits Grown in Highland Regions of the Himalayas. Springer, Cham. https://doi.org/10.1007/978-3-030-75502-7_7