Abstract

Resilience is defined as "the intrinsic ability of a system to adjust its functioning prior to, during, or following changes and disturbances, so that it can sustain required operations under both expected and unexpected conditions" (Woods & Hollnagel, 2006, p. xxxvi). If there was ever an industry that has demonstrated this ability, it is the aviation industry. The industry has continually demonstrated the ability to adjust and sustain operations after unexpected events, and has improved both reliability and safety in the midst of increasing complexity of the aircraft, economic challenges, and aviation systems that are dependent on a range of different organizations to succeed (Høyland & Aase, 2008). It has been proposed that resilience is a characteristic of system performance, not the system itself (Hollnagel, 2011), and therefore it is fitting to examine the aspects of aviation that enable it to demonstrate resilient performance. This chapter presents a discussion of resilient performance in aviation, including what resilient performance looks like in aviation, how it is currently achieved, and methods to further advance resilient performance in the future.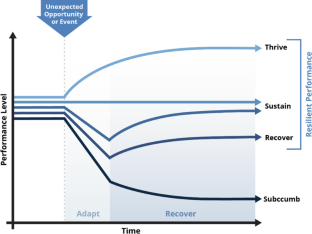 References
Billings, C. E., Lauber, J. K., Funkhouser, H., Lyman, E.G., & Huff, E. M. (1976). NASA Aviation Safety Reporting System quarterly report. 76, April 15, 1976 - July 14, 1976. (Report No. NASA TM X-3445). U.S. Government Printing Office.

Blunk, S. S., Clark, D. E., & McGibany, J. M. (2006). Evaluating the long-run impacts of the 9/11 terrorist attacks on U.S. domestic airline travel. Applied Economics, 38(4), 363–370.

Bonanno, G. A., & Mancini, A. D. (2012). Beyond resilience and PTSD: Mapping the heterogeneity of responses to potential trauma. Psychological Trauma: Theory, Research, Practice, and Policy, 4(1), 74.

Caracena, F., Ortiz, R., & Augustine, J. A. (1986). The crash of Delta Flight 191 at Dallas-Fort Worth International Airport on 2 August 1985: Multiscale analysis of weather conditions. https://repository.library.noaa.gov/view/noaa/9503/noaa_9503_DS1.pdf

Carroll, M., Hale, K., Stanney, K., Woodman, M., DeVore, L., Squire, P., & Sciarini, L. (2012). Framework for training adaptable and stress-resilient decision making. Proceedings of the Interservice/Industry Training, Simulation, and Education Conference (I/ITSEC) Annual Meeting. Orlando, FL.

Carroll, M., Winslow, B., Padron, C., Surpris, G., Murphy, J., Wong, J. & Squire, P. (2014). Inducing stress in warfighters during simulation-based training. Proceedings of the Interservice/Industry Training, Simulation, and Education Conference (I/ITSEC) Annual Meeting. Orlando, FL.

Carver, C. S. (1998). Resilience and thriving: Issues, models, and linkages. Journal of Social Issues, 54(2), 245–266.

Crichton, M. T., Flin, R., & Rattray, W. A. (2000). Training decision makers–tactical decision games. Journal of Contingencies and Crisis Management, 8(4), 208–217.

Cusick, S. K., Cortes, A. I., & Rodrigues, C. C. (2017). Commercial aviation safety. McGraw Hill Professional.

Federal Aviation Administration. (2007). Volume 11 Flight Standards Programs, Chapter 2- Voluntary Safety Programs, Section 2-Flight Operational Quality Assurance (FOQA). http://fsims.faa.gov/wdocs/8900.1/v11%20afs%20programs/chapter%2002/11_002_002_chg_0a.htm

Federal Aviation Administration. (2018). Out front on airline safety: Two decades of continuous evolution. [Fact sheet] https://www.faa.gov/news/fact_sheets/news_story.cfm?newsId=22975

Federal Aviation Administration. (2019). Boeing 737 MAX flight control system joint authorities technical review (JATR): Observations, findings, and recommendations. https://www. .gov/news/media/attachments/Final_JATR_Submittal_to_FAA_Oct_2019.pdf

Franke, M., & John, F. (2011). What comes next after recession?–Airline industry scenarios and potential end games. Journal of Air Transport Management, 17(1), 19–26.

Hale, A., & Heijer, T. (2006). Defining resilience. Resilience Engineering. CRC Press, 35–40.

Hollnagel, E. (2011). RAG-The Resilience Analysis Grid. Resilience engineering in practice: A guidebook. Ashgate.

Hollnagel, E. (2015). Introduction to the Resilience Analysis Grid. https://www.ida.liu.se/~729A71/Literature/Resilience_M/Hollnagel_2015.pdf

Høyland, S., & Aase, K. (2008). Does change challenge safety? Complexity in the civil aviation transport system. Proceedings of the ESREL 2008 & 17th SRA Europe Annual Conference, 22-25.

International Air Transport Association. (2013). Evidence-based training implementation guide. IATA.

International Civil Aviation Association. (2013). Manual of evidence-based training. ICAO.

Kaminski-Morrow, D. (2019). How Airbus fought its own pitch battle against rogue air data: European experience reflects key difference over 737 MAX's design and service length. Flight International. https://www.flightglobal.com/analysis/analysis-how-airbus-fought-its-own-pitch-battle/132358.article

Kirschbaum, C., Pirke, K. M., & Hellhammer, D. H. (1993). The 'Trier Social Stress Test'--A tool for investigating psychobiological stress responses in a laboratory setting. Neuropsychobiology, 28(1-2), 76–81.

Lambregts, A.A. (2013). Flight envelope protection for automatic and augmented manual control. Proceedings of the EuroGNC, 1364-1383.

McClernon, C. K., McCauley, M. E., O'Connor, P. E., & Warm, J. S. (2011). Stress training improves performance during a stressful flight. Human Factors, 53(3), 207–218.

McNeil, J. A., & Morgan, C. A. (2010). Cognition and decision making in extreme environments. In J. Moore & C. H. Kennedy (Eds.), Military Neuropsychology (pp. 361–382). Springer Publishing.

Mosier, K. L., & Fischer, U. M. (2010). Judgment and decision making by individuals and teams: Issues, models, and applications. Reviews of Human Factors and Ergonomics, 6(1), 198–256.

Muller, P., Schmorrow, D., & Buscemi, T. (2008). The Infantry Immersion Trainer: Today's holodeck. Marine Corps Gazette, 23.

National Aeronautics and Space Administration. (2008). Columbia crew survival investigation report. https://www.nasa.gov/langley/100/breaking-the-sound-barrier-fast-as-you-can

National Business Aviation Association. (2019). Voluntary reporting hazards often leads to corrective actions that make a difference in day-to-day operations. (2019). Business Aviation Insider. https://nbaa.org/news/business-aviation-insider/making-real-life-safety-improvements/

National Transportation Safety Bureau. (1978). Aircraft accident report. https://www.ntsb.gov/investigations/AccidentReports/Reports/AAR7907.pdf Rapoport,

National Transportation Safety Bureau. (2019). Safety recommendation report. https://www.ntsb.gov/investigations/AccidentReports/Reports/ASR1901.pdf

Rapoport, R., & Malmquist, S. (2019). Angle of attack: Air France 447 and the future of aviation safety. Lexographic Press.

Rasmussen, J. (1983). Skills, rules, and knowledge; signals, signs, and symbols, and other distinctions in human performance models. IEEE Transactions on Systems, Man, And Cybernetics, 3, 257–266.

Staal, M.A. (2004). Stress, cognition, and human performance: A literature review and conceptual framework. (NASA Tech. Memorandum 212824). NASA Ames Research Center.

United States Congress. (1988). Safe skies for tomorrow: Aviation safety in a competitive environment, (OTA-SET-381). Office of Technology Assessment, Government Printing Office, 183.

Winslow, B. D., Carroll, M. B., Martin, J. W., Surpris, G., & Chadderdon, G. L. (2015). Identification of resilient individuals and those at risk for performance deficits under stress. Frontiers in Neuroscience, 9(328), 1–10.

Woods, D. D., & Hollnagel, E. (2006). Prologue: resilience engineering concepts. Resilience Engineering: Concepts and precepts, 1, 1–6.
Copyright information

© 2022 The Author(s), under exclusive license to Springer Nature Switzerland AG
About this chapter
Cite this chapter
Carroll, M., Malmquist, S. (2022). Resilient Performance in Aviation. In: Nemeth, C.P., Hollnagel, E. (eds) Advancing Resilient Performance. Springer, Cham. https://doi.org/10.1007/978-3-030-74689-6_7
DOI: https://doi.org/10.1007/978-3-030-74689-6_7

Published:

Publisher Name: Springer, Cham

Print ISBN: 978-3-030-74688-9

Online ISBN: 978-3-030-74689-6

eBook Packages: EngineeringEngineering (R0)