Abstract
How does interaction between the variables of ethnicity, farmer–herder conflict, and nation-building impact the Nigerian state? This question formed the major puzzle which this study intended to solve, and appeared an interesting analysis, especially in the wake of the many clashes that have been experienced in the recent past between groups of farmers and herders in many communities in the "Giant of Africa." The study was undertaken using the descriptive survey design; secondary data were sourced from texts, journal articles, and other publications that were of relevance to the subject matter under investigation. The study found that there was not sufficient literature that interrogated the mutual reinforcement of the variables of ethnicity, farmer–herder conflicts, and nation-building, and their implications for sustainable peace and development in developing African state generally and Nigeria in particular. The study also found that ethnicity significantly complicates the conflicts between farmers and herders, and negatively affects nation-building efforts, especially in Nigeria. The study concluded that nation-building in Nigeria must pay attention to the implications of ethnicity particularly on farmer–herder conflicts, along with other such issues. The study recommended that deliberate effort should be made by media and educational institutions to enlighten Nigerians against irrational ethnic sentiments, and government should pay attention to the ethnic dimensions of farmer–herder conflicts in Nigeria.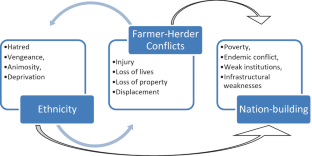 References
Adekanye, J. B. (2007). Linking conflict diagnosis, conflict prevention, and conflict management in contemporary Africa: Selected essays. Ababa Press Ltd., Lagos and CEGGAD.

Agbese, P. O., & Keih, G. K., Jr. (Eds.). (2007). Reconstituting the state in Africa. Palgrave Macmillan.

Andebrhan, W. G. (2010). Nation-building state construction and development in Africa: The case of Eritrea, an on-going book project. Friedrich-Ebert-Stiftung. www.fes.de/Africa.

Ayatse, F. H., & Akuva, I. I. (2013). The origin and development of ethnic politics and its impacts on post-colonial governance in Nigeria. European Scientific Journal, 9(17), 178.

Baye, F. M. (2002). Rural institutions, access to primary assets and poverty in two villages in Cameroon. Pakistan Economic and Social Review, 40(2), 121–152.

BBC. (2016, May 5). Making sense of Nigeria's Fulani-farmer conflict. Available at www.bbc.com/news/world-africa-36139388. Accessed 25 Jan 2018.

Bello, A. U. (2013). Herdsmen and farmers conflicts in north-eastern Nigeria: Causes, repercussions and resolutions. Academic Journal of Interdisciplinary Studies, MCSER-CEMAS-Sapienza University of Rome, 2(5), 129.

Chabal, P., Gentili, A. M., & Engel, U. (Eds.). (2005). Is violence inevitable in Africa? Theories of conflict and approaches to conflict prevention. Brill.

Collier, P. (2009). Wars, guns and votes: Democracy in dangerous places. Harper.

Collier, P., & Hoeffler, A. (2000). Greed and grievance in Civil War. Policy Research Working Paper Series 2355, The World Bank. Available at https://openknowledge.worldbank.org/bitstream/handle/10986/18853/multi_page.pdf?sequence=1.

Duru, P. (2016). Suspected Fulani herdsmen kill 26 persons, injure many in Benue Vanguard Newspaper. http://www.vanguardngr.com/2016/06/suspected-fulani-herdsmen-kill-26-persons-injure-many-benue/. Accessed 24 Jan 2018.

Egharevba, M. E., & Iruonagbe, C. T. (2015). Ethnic/religious insurgencies and nation-building in Nigeria. International Affairs and Global Strategy, 29, 2015. www.iiste.org.

Federal Ministry of Agriculture and Rural Development. National Agricultural Sample Survey 2011.

Gambari, A. I. (2008). The challenge of nation building: The case of Nigeria. First year Anniversary Lecture, Mustapha Akanbi Foundation, Sheraton Hotels, Abuja, February 7, 2008.

Ingawa, S. A., Ega, L. A., & Erhabor, P. O. (1999). Farmer-pastoralist conflict in core-states of the National Fadama Project, FACU, Abuja. Retrieved from http://www.docstoc.com/docs/30459435/CASE-STUDY-ON-FADAMA-CONFLICT-ISSUES. Accessed Jan 2018.

International Crisis Group. (2017). Herders against Farmers: Nigeria's Expanding Deadly Conflict. Report No. 252, Africa. 17 September 2017. https://www.crisisgroup.org/africa/west-africa/nigeria/252-herders-against-farmers-nigerias-expanding-deadly-conflict. Accessed January 2018.

Johnson, A. I., & Okunola, B. T. (2017). Pastoralism as a new phase of terrorism in Nigeria. Global Journal of Human-Social Science, 17(4), 50–54.

Lind, J., & Sturman, K. (Eds.). (2002). Scarcity and surfeit: The ecology of Africa's conflicts. Institute for Security Studies.

Manu, I. N., Bime, M., Fon, D. E., & Nji, A. (2014). Effects of farmer-grazer conflicts on rural development: A socio-economic analysis. Scholarly Journal of Agricultural Science, 4(3), 113–120.

Miguel, E. (2004). Tribe or Nation? Nation building and public goods in Kenya versus Tanzania. World Politics, 56(3), 327–362.

Moritz, M. (2010). Understanding herder-farmer conflicts in West Africa: Outline of a processual approach. Human Organization, 69(2), 138–148.

Ndambi, O. A., Tchouamo, I., Bayemi, P. H., & Hemme, T. (2008). Milk production amongst Fulani grazers in the Western Highlands of Cameroon: Constraints and development perspectives. Livestock Resource for Rural Development, 20(1), 5–10.

Nnoli, O. (1978). Ethnic politics in Nigeria (reversed edition 2008). Enugu Fourth Dimension Publishes.

Ofuoku, A. U., & Isife, B. I. (2009). Causes, effects and resolution of farmers-nomadic cattle herders conflict in Delta State, Nigeria. International Journal of Sociology and Anthropology, 1(2), 47–54.

Ogu, M. I. (2016). Pastoral/agricultural conflicts, small arms proliferation, and insecurity in Nigeria. Unpublished Doctoral thesis, Babcock University, Ogun State, Nigeria.

Osaghae, E. E. (1995). Structural adjustment and ethnicity in Nigeria. Nordic African Institute.

Pate, A. U. (2013, December 15–18). Ethics and nation building in Nigeria. Paper delivered at the National Conference and Annual General Meeting of the Nigerian Institute of Public Relations (NIPR), Abuja, Shehu Musa Yar'Adua Centre.

Punch. (2016, May 7). Fulani herdsmen: Farmers amass arms to combat killings. Available at http://www.punchng.com/fulani-herdsmen-farmersamass-arms-combat-killings/.

Punch. (2017, May 9). Herdsmen's menace could lead to war, CAN warns FG. The Punch. Available at http://www.punchng.com/herdsmens-menace-could-lead-to-war-can-warns-fg/.

Richards, P. (2005). New war: An ethnographic approach. In P. Richards (Ed.), No peace, no war: An anthropology of contemporary armed conflicts (pp. 1–21). Ohio University Press.

Sahara Reporters. (2016). Governor Fayose declares war on Fulani Herdsmen. Available at http://saharareporters.com/2016/05/04/governor-fayosedeclares-war-fulani-herdsmen. Accessed 24 Jan 2018.

SB Morgen. (2016). Death and the Herdsmen. Available at http://sbmintel.com/wp-content/uploads/2016/03/201604_Herdsmen-attacks.pdf. Accessed 23 Jan 2017.

Thomson, A. (2000). An introduction to African politics. Routledge.

Tonah, S. (2006). Managing farmer-herder conflicts in Ghana's Volta Basin. Ibadan Journal of Social Sciences, 4(1), 33–45.
Copyright information
© 2022 The Author(s), under exclusive license to Springer Nature Switzerland AG
About this chapter
Cite this chapter
Ogu, M.I. (2022). Ethnicity, Farmer–Herder Conflicts, and Nation-Building in Nigeria. In: Oloruntoba, S.O. (eds) The Political Economy of Colonialism and Nation-Building in Nigeria. Palgrave Macmillan, Cham. https://doi.org/10.1007/978-3-030-73875-4_14
DOI: https://doi.org/10.1007/978-3-030-73875-4_14

Published:

Publisher Name: Palgrave Macmillan, Cham

Print ISBN: 978-3-030-73874-7

Online ISBN: 978-3-030-73875-4