Abstract

The necroempowered agents in North America not only continually commit murder and profit from it, but—literally and worse still—lawfully get away with it. This chapter argues that it is essential—and urgent—to develop an understanding of the mechanisms producing and sustaining necropower and disposability in North America at the epistemic level, and to do so in a way that breaks free from the epistemic coloniality that plagues most research. Four epistemic mechanisms sustaining the order of necropowers in the region are identified and analyzed: normalization of violence and death, masculinization, marketization and derision. Shedding light on these four epistemic mechanisms allows the researcher to bring forward three contributions. First, theoretically, a better understanding of the epistemological frame constructing and perpetuating this particular organization of death by design can foster more effective documentation of necropowers' empirical materializations. Second, this epistemological understanding has organizational and managerial implications for those—leaders, policymakers, associations, civil society—seeking to resist instances, knowledge claims, discourses and agents of necropower. Finally, this develops an epistemological contribution by thinking such matters from the 'margins', with a critical and transformational purpose.
Keywords
Necropower

North America

Epistemic mechanisms

Disposability

Critical management studies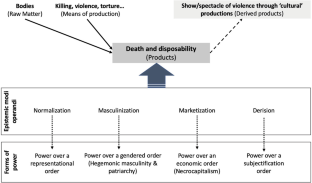 Notes
1.

I will also consider internal discrepancies of First World bubbles and enclaves adjoining Third World slums, borderlands, and waste areas.

2.

3.

4.

By means of an illustration, we can cite some notable examples in the past decades: Un dia sin mexicanos (a Day without a Mexican) (2004) by Sergio Arau; Babel (2006) by Alejandro González Iñárritu; Ambiguity: Crónica de un Sueño Americano (2015) by Grisel Wilson.

5.

It forces asylum seekers to remain in Mexico while their request is being processed, where they almost irrevocably fall victims to cartels—often the very reality they are fleeing from in the first place.

6.

7.

A neologism coined by Lacan: speech-being or speaking-being, from the verbal noun être ('being') and the verb parler ('to speak').

8.
References
Banerjee, Subhabrata Bobby. 2006. "Live and let die: colonial sovereignties and the death worlds of necrocapitalism", Borderlands, 5:1–7.

Banerjee, Subhabrata Bobby. 2008. "Necrocapitalism". Organization Studies. 29, (12):1541–63.

Bauman, Zygmunt. 2014. Wasted Lives. London: Polity.

Biehl, Joao. (2005) Vita: Life in A Zone of Social Abandonment. Los Angeles, CA: University of California Press.

Bloom, Peter and Carl Rhodes. 2018. CEO Society: The Corporate Takeover of Everyday Life. London: Zed Books Ltd.

Boltanski, Luc. 1999. Distant Suffering: Morality, Media and Politics, Translated by G. Burchell. Cambridge: Cambridge University Press.

Bouilloud, Jean-Philippe, Pérezts, Mar, Viale, Thierry, and Valentin Schaeplynk. 2019. "Beyond the stable image of institutions: using Institutional Analysis to tackle classic questions in Institutional Theory". Organization Studies. 41 (2): 153–174.

Bowden, Charles. 2010. Murder City: Ciudad Juarez and the Global Economy's New Killing Fields. New York: Nation Books.

Castoriadis, Cornelius. 1997. The Imaginary Institution of Society. Cambridge: MIT Press

Connell, Raewyn. 2007. Southern theory: The global dynamics of knowledge in social science. Sydney: Allen & Unwin.

Courpasson, David. 2016. "Looking Away? Civilized Indifference and the Carnal Relationships of the Contemporary Workplace". Journal of Management Studies. 53: 1094–110.

Debord, Guy. 1992. La société du spectacle. Paris: Gallimard.

Escobar, Arturo. 2004. "Beyond the Third World: imperial globality, global coloniality and anti-globalisation social movements". Third World Quarterly, 25 (1): 207–230.

Estévez, Ariadna. 2015. "The Endriago subject and the dislocation of state attribution in human rights discourse: the case of Mexican asylum claims in Canada", Third World Quarterly, 36 (6):1160–1174.

Estévez, Ariadna. 2017. "As US closes borders, thousands of Haitian refugees trapped in Mexico lose hope", The Conversation, February 2, 2017. https://theconversation.com/as-us-closes-borders-thousands-of-haitian-refugees-trapped-in-mexico-lose-hope-73248

Estévez, Ariadna. 2019. "The fight for life in the face of US Necropower", Norteamérica, Revista Académica Del CISAN-UNAM, 14 (2). https://doi.org/10.22201/cisan.24487228e.2019.2.383

Faria, Alex, Ibarra-Colado, Eduardo, and Ana Guedes. 2010. "Internationalization of management, neoliberalism and the Latin America challenge". Critical Perspectives on International Business, 6 (2/3): 97–115.

Faÿ, Eric. 2008. "Derision and Management." Organization. 15(6): 831–850.

Faÿ, Eric. 2011. "Le management au risque de la dérision" Projet. (Septembre): 69–75.

Fotaki, Marianna and Ajnesh Prasad. 2015. "Questioning neoliberal capitalism and economic inequality in Business Schools", Academy of Management Learning & Education. 14(4) 556–575.

Fotaki, Marianna, Kenny, Kate, and Sheena Vacchani. 2017. "Thinking critically about affect in organization studies: why it matters". Organization 24(1): 3–17.

Fotaki, Marianna, Long, Susan, and Howard S. Schwartz. 2012. "What can psychoanalysis offer organization studies today? taking stock of current developments and thinking about future directions". Organization Studies, 33(9): 1105–1120.

Foucault, Michel. 1966. Les Mots et les Choses: Une archéologie des sciences humaines, Paris: Gallimard.

Franklin, Sarah and Faye Ginsburg. 2019. "Reproductive politics in the age of Trump and Brexit", Cultural Anthropology, 34(1):3–9.

Fregoso, Rosa-Linda and Cynthia Bejarano, eds. 2010. Terrorizing Women: Feminicide in the Ámericas. Durham and London: Duke University Press.

Gabriel, Yannis. 1998. "An Introduction to the Social Psychology of Insults in Organizations". Human Relations 51(11): 1329–54.

George, Gerard, Howard-Grenville, Jennifer, Joshi, Aparna, and Laszlo Tihanyi. 2016. "Understanding and tackling societal grand challenges through management research". Academy of Management Journal, 59: 1880–1895.

Giroux, Henry A. 2012. Disposable Youth, New York: Routledge.

Giroux, Henry A. 2014. Neoliberalism and the machinery of disposability, Truthout April 8th 2014, http://www.truth-out.org/news/item/22958-neoliberalism-and-the-machinery-of-disposability, Accessed March 2nd 2017.

Haraway, Donna. 1988. "Situated Knowledges: The Science Question in Feminism and the Privilege of Partial Perspective sheds light on Haraway's vision for a feminist science." Feminist Studies. 14 (3):575–599.

Höpfl, Heather. 2000. "The suffering mother and the miserable son, organizing women and organizing women's writing". Gender, Work and Organization 7(2):98–105.

Ibarra-Colado, Eduardo. 2006. "Organization Studies and Epistemic Coloniality in Latin America: Thinking Otherness from the Margins". Organization. 13(4): 463–488.

Latour, Bruno. 2004. "How to Talk About the Body? The Normative Dimension of Science Studies". Body & Society. 10(2–3): 205–229.

Lawreniuk, Sabina. 2020. "Necrocapitalist networks: COVID-19 and the 'dark side' of economic geography". Dialogues in Human Geography, 10(2):199–202.

Lugones, Maria. 2010. "Toward a decolonial feminism". Hypatia, 25(4): 742–759.

Lussault, Michel. 2009. De la lutte des classes à la lutte des places. Paris: Grasset (Mondes vécus).

Mbembe, Achille J. 2016. "Decolonizing the university: New directions." Arts & Humanities in Higher Education. 15(1): 29–45.

Mbembe, Achille J. 2003. "Necropolitics". Public Culture, 15(1)11–40.

Mignolo, Walter D. 2009. "Epistemic Disobedience, Independent Thought and Decolonial Freedom". Theory, Culture & Society. 26(7–8):159–181.

Mignolo, Walter D. 2012. Local Histories/Global Designs: Coloniality, Subaltern Knowledges, and Border Thinking. Princeton, NJ: Princeton University Press.

Misra, Amalendu. 2018. Towards a Philosophy of Narco Violence in Mexico. London: Palgrave Macmillan.

Moncada Ochoa, Carlos. 2012. Oficio de muerte: periodistas asesinados en el pais de la impunidad. Mexico: Penguin Random House Group.

Murphy, Jonathan, and Jingqi Zhu. 2012. "Neo-colonialism in the academy? Anglo- American domination in management journals". Organization, 19(6): 915–927.

Núñez-González, Marco Alejandro. 2017. "Masculinidades en la narcocultura: el machismo, los buchones y los mangueras". Revista Conjeturas Sociológicas. 5: 109–126.

Pannetier-Leboeuf, Gabrielle. 2017. "¿Víctimas del necropoder? La construcción del cuerpo femenino en el cine mexicano sobre narcotráfico". Comunicación y Medios, 36: 43–54.

Polletta, Francesca, and Jessica Callahan. 2017. "Deep Stories, Nostalgia Narratives, and Fake News: Storytelling in the Trump Era". American Journal of Cultural Sociology. 5, 392–408.

Prasad, Ajnesh. 2016. "Cyborg Writing as a Political Act: Reading Donna Haraway in Organization Studies". Gender, Work & Organization. 23(4): 431–446.

Quijano, Anibal. 2000. "Coloniality of Power, Eurocentrism and Latin America", Nepantla: Views from the South. 1(3): 533–80.

Ramos, Samuel. 1934/1995. El Perfil del Hombre y la Cultura en México, México: Espasa Calpa, Colección Austral.

Ross, Andrew S. and Damian J. Rivers. 2018. "Discursive Deflection: Accusation of 'Fake News' and the Spread of Mis- and Disinformation in the Tweets of President Trump", Social Media+Society, (April 2018). https://doi.org/10.1177/2056305118776010.

Salazar, Salvador. 2020. "(Des)militarization and political violence: forced disappearance as a dispositive of necropower in northern Mexico". London Journal of Research in Humanities and Social Sciences. 20(3) Compilation 1.0

Sartori, Giovanni. 1997. Homo videns. Televisione e post-pensiero, Roma: Laterza.

Simmel, Georg. 1900/2011. The Philosophy of Money. Translated by Tom Bottonmore and David Frisby. London and NY: Routledge Classics.

Spivak, Gayatri Chakravorty. 1999. A critique of postcolonial reason: Toward a history of the vanishing present. Cambridge, Mass: Harvard University Press.

Tlostanova, Madina V. and Walter D. Mignolo. 2012. Learning to unlearn: decolonial reflections from Eurasia to the Americas, Ohio: Ohio State University Press.

Valencia, Sayak. 2010. Capitalismo Gore. Barcelona: Editorial Melusina.

Vasse, Denis. 1999. La dérision et la joie. Paris: Seuil.

Vulliamy, Ed. 2011. Amexica: War Along the Borderline. London: Vintage Books.

Wright, Melissa W. 2011. "Necropolitics, narcopolitics and femicide: gendered violence on the Mexico-U.S. border", Signs, 36(3):707–731.
Copyright information

© 2021 The Author(s), under exclusive license to Springer Nature Switzerland AG
About this chapter
Cite this chapter
Pérezts, M. (2021). Getting Away with Murder: Unpacking Epistemic Mechanisms of Necropower and Disposability in North America. In: Estévez, A. (eds) Necropower in North America. Palgrave Macmillan, Cham. https://doi.org/10.1007/978-3-030-73659-0_6
DOI: https://doi.org/10.1007/978-3-030-73659-0_6

Published:

Publisher Name: Palgrave Macmillan, Cham

Print ISBN: 978-3-030-73658-3

Online ISBN: 978-3-030-73659-0

eBook Packages: Social SciencesSocial Sciences (R0)