Abstract

Scholars regard the proliferation of omnibus legislative packages as an important institutional change with various implications for democratic governance. After first considering the reasons why omnibus packages are employed in the U.S. Congress and the best way to measure omnibus legislating, this paper examines the aggregate trends in omnibus usage from 1948–2018 and the effect of omnibus usage on presidential-congressional relations. The trend data show an explosion of omnibus use in the U.S. national legislature from 1979–1996, followed by a contraction in omnibus use since that time. However, large bill usage continues and is especially robust around the annual budget reconciliation bill in Congress and there is a persistent incentive to use the technique to package many of the 12–14 U.S. appropriations bills together in larger measures. Unlike the apparent trend in other democratic systems, wherein the executive benefits disproportionately from omnibus usage to the detriment of the legislature, omnibus bills by and large benefit Congress more than the president. Within Congress, majority party members benefit more from their use than do minority party members. The discussion section explores the good and bad of the omnibus technique for American governance.
Keywords
Omnibus legislation

Presidential-congressional relations

Party leaders

Divided government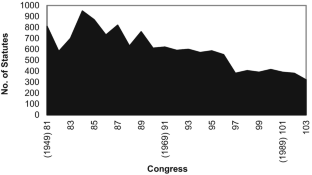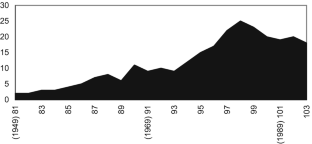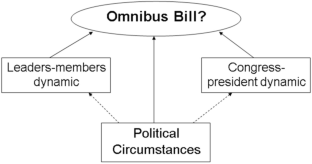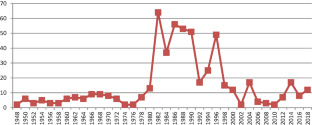 Notes
1.

2.

3.

4.

5.

This slight decline and leveling-off in raw numbers is somewhat misleading. Omnibus bills are indeed even larger after the mid-1980s than before.

6.

Seriously considered measures are legislative initiatives (most of which are bills) receiving coverage in Congressional Quarterly Almanac.

7.

8.

9.

10.

11.

Brady and Volden (1998), ch. 1.

12.

Sarasohn (1982), p. 2382.

13.

Congressional Quarterly (1982 [1980–1988]), p. 142.

14.

15.

16.

17.

18.

19.

20.

Bach and Smith (1988), ch. 1.

21.

22.

23.

24.

Baumgartner et al. (1998), p. 3.

25.

The major areas of the Baumgartner and Jones topic coding scheme are:

Macroeconomics Civil Rights and Liberties, Minority Issues

Health Agriculture

Labor, Employment, and Immigration Education

Environment Energy

Transportation Law, Crime, and Family Issues

Social Welfare Community Development and Housing

Banking, Finance, and Commerce Defense

Foreign Trade Space/Science, Technology, Communication

International Affairs and Foreign Aid Government Operations

Public Lands and Water Management

Underneath each of these major-topic areas are numerous sub-topic areas.

26.

27.

28.

29.

30.

31.

Edwards et al. (1997), p. 557.

32.

33.

U.S. Government Printing Office (1989), p. 86.
References
Bach S, Smith SS (1988) Managing uncertainty in the house of representatives: adaptation and innovation in special rules, Ch. 1. The Brookings Institution, Washington

Baumgartner FR, Jones BD, Krutz GS, Rosenstiehl MC (1997) Trends in the production of legislation, 1949–1994. Paper presented at the American Political Science Association meetings, Washington

Baumgartner FR, Jones BD, MacLeod MC (1998) New issues and old committees: jurisdictional change in Congress, 1947–1993. Paper presented at the Midwest Political Science Association meetings, Chicago, April 1998

Brady DW, Volden C (1998) Revolving gridlock: politics and policy from Carter to Clinton. Westview, Boulder

Browne WP (1995) Cultivating Congress: constituents, issues, and interests in agricultural policymaking. University Press of Kansas, Lawrence

Congressional Quarterly, Inc., Congressional Quarterly Almanac, 1980–1988. Congressional Quarterly, 1981–1989 annually, Washington

Edwards GC, Barrett A, Peake JS (1997) The legislative impact of divided government. Am J Polit Sci 41:545–563

Hager G (1998) House passes spending bill. The Washington Post, 21 October 1998, sec. A, p 1

Jones CO (1994) The presidency in a separated system. Brookings, Washington

Krehbiel KK (1991) Information and legislative organization. University of Michigan Press, Ann Arbor

Krutz GS (2001) Hitching a ride: omnibus legislating in the U.S. Congress. Ohio State University Press, Columbus

Krutz GS (2005) Issues and institutions: 'Winnowing' in the U.S. Congress. Am J Polit Sci 49:313–326

Larocca R (1995) Measuring presidential influence on the congressional agenda. Paper presented at the Midwest Political Science Association meetings, Chicago

Mayhew DR (1974) Congress: the electoral connection. Yale University Press, New Haven

Mayhew DR (1991) Divided we govern. Yale University Press, New Haven

Neustadt R (1960) Presidential power. Wiley, New York

Oleszek WJ (1989) Congressional procedures and the policy process, 3rd edn. Congressional Quarterly Press, Washington, DC

Oleszek WJ (1996) Congressional procedures and the policy process, 4th edn. Congressional Quarterly, Washington

Peterson MA (1990) Legislating together. Harvard University Press, Cambridge

Sarasohn J (1982) Airport program slipped into tax bill. Congressional Q Weekly Rep 40(39, Sept. 25):2382–2383

Sinclair B (1992) The emergence of strong leadership in the 1980s house of representatives. J Polit 54:657–684

Sinclair B (1997) Unorthodox lawmaking: new legislative processes in the U.S. Congress. Congressional Quarterly, Washington, p 64

Smith SS (1989) Call to order: floor politics in the house and senate. The Brookings Institution, Washington

Tate D (1982) Use of omnibus bills burgeons despite members' misgivings. Congressional Quarterly Weekly Report 25:2379–2383

Taylor A (1998) Domestic agenda-setting, 1947–1994. Legis Stud Q 22:373–398

U.S. Government Printing Office, Public Papers of the Presidents of the United States, 1988 (1989) United States Government Printing Office, Washington, DC
Copyright information

© 2021 The Author(s), under exclusive license to Springer Nature Switzerland AG
About this chapter
Cite this chapter
Krutz, G.S. (2021). Omnibus Legislating in the U.S. Congress. In: Bar-Siman-Tov, I. (eds) Comparative Multidisciplinary Perspectives on Omnibus Legislation. Legisprudence Library, vol 8. Springer, Cham. https://doi.org/10.1007/978-3-030-72748-2_2