Abstract

For information systems to be successful, it is important to involve and consider the perspective of all stakeholders. In the accessible tourism market, higher education institutions (HEI) are a very important stakeholder, playing a major role in training and research. This work intends to explore the information requirements that are most valued by higher education institutions in order to conceptualize a Web-based information system which is capable of promoting more accessible tourism conditions for visitors with disabilities (VwD). To achieving this goal, questionnaires were applied to a sample of students and directors of tourism in HEI. Generally speaking, both groups understood the need for a Web platform and also revealed interest in using it. Regarding information to retrieve from the platform, accessible market characteristics and training opportunities were highlighted, while inputs connected to research sharing were the best regarded. Overall, this work allows a general view of information technologies in education, for the specific case of accessible tourism.
Keywords
Accessible tourism

Higher education institutions

Information systems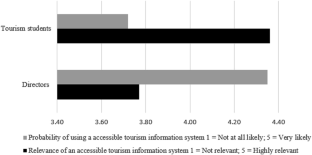 References
Irestig, M., Timpka, T.: Politics and technology in health information systems development: a discourse analysis of conflicts addressed in a systems design group. J. Biomed. Inform. 41, 82–94 (2008). https://doi.org/10.1016/j.jbi.2007.05.009

Levy, Y., Ellis, T.J.: A systems approach to conduct an effective literature review in support of information systems research. Informing Sci. 9, 181–212 (2006). https://doi.org/10.28945/479

Bizjak, B., Knežević, M., Cvetrežnik, S.: Attitude change towards guests with disabilities: reflections from tourism students. Ann. Tour. Res. 38, 842–857 (2011). https://doi.org/10.1016/j.annals.2010.11.017

Liasidou, S., Umbelino, J., Amorim, É.: Revisiting tourism studies curriculum to highlight accessible and inclusive tourism. J. Teach. Travel Tour. 19, 112–125 (2019). https://doi.org/10.1080/15313220.2018.1522289

Card, J.A., Cole, S.T., Humphrey, A.H.: A comparison of the accessibility and attitudinal barriers model: travel providers and travelers with physical disabilities. Asia Pac. J. Tour. Res. (2006). https://doi.org/10.1080/10941660600727566

Michopoulou, E., Buhalis, D.: Information provision for challenging markets: the case of the accessibility requiring market in the context of tourism. Inf. Manag. 50, 229–239 (2013). https://doi.org/10.1016/j.im.2013.04.001

Devile, E., Kastenholz, E.: Accessible tourism experiences: the voice of people with visual disabilities. J. Policy Res. Tour. Leis. Events 10, 265–285 (2018). https://doi.org/10.1080/19407963.2018.1470183

Waschke, S.: Labeling im Barrierefreien Tourismus in Deutschland – Vergleichende Analyse auf Basis Europäischer Beispiele. Thesis. Universität Lüneburg (2004)

Domínguez Vila, T., Alén González, E., Darcy, S.: Accessible tourism online resources: a Northern European perspective. Scand. J. Hosp. Tour. 19, 140–156 (2018). https://doi.org/10.1080/15022250.2018.1478325

Silveiro, A., Eusébio, C., Teixeira, L.: Heterogeneity in accessibility of travel agency websites: a study in the central Portugal region. RISTI - Revista Iberica de Sistemas e Tecnologias de Informação 35, 18–34 (2019). https://doi.org/10.17013/risti.35.18-34

Mohammad Arif, A.S., Du, J.T.: Understanding collaborative tourism information searching to support online travel planning. Online Inf. Rev. 43, 369–386 (2019). https://doi.org/10.1108/OIR-05-2017-0141

Schryen, G., Benlian, A., Rowe, F., Gregor, S., Larsen, K., Petter, S., Paré, G., Wagner, G., Haag, S., Yasasin, E.: Literature reviews in IS research: what can be learnt from the past and other fields? Commun. Assoc. Inf. Syst. 41, 759–774 (2017). https://doi.org/10.17705/1CAIS.04130

Jiang, J., Shi, P., An, B., Yu, J., Wang, C.: Measuring the social influences of scientist groups based on multiple types of collaboration relations. Inf. Process. Manag. 53, 1–20 (2017). https://doi.org/10.1016/j.ipm.2016.06.003

Buhalis, D., Amaranggana, A.: Information and communication technologies in tourism 2012, pp. 553–564 (2012). https://doi.org/10.1007/978-3-7091-1142-0

World Health Organization: World report on disability - summary. World Rep. Disabil. 2011, 1–23 (2011)

European Commision: Economic impact and travel patterns of accessible tourism in Europe (2014)

United Nations: World population ageing 2015 (2015)

Darcy, S., Dickson, T.: A whole-of-life approach to tourism: the case for accessible tourism experiences. J. Hosp. Tour. Manag. 16, 32–44 (2009). https://doi.org/10.1375/jhtm.16.1.32

Kastenholz, E., Eusébio, C., Figueiredo, E.: Contributions of tourism to social inclusion of persons with disability. Disabil. Soc. 30, 1259–1281 (2015). https://doi.org/10.1080/09687599.2015.1075868

Bauer, I.: When travel is a challenge: travel medicine and the 'dis-abled' traveller. Travel Med. Infect. Dis. 22, 66–72 (2018). https://doi.org/10.1016/j.tmaid.2018.02.001

Michopoulou, E., Darcy, S., Ambrose, I., Buhalis, D.: Accessible tourism futures: the world we dream to live in and the opportunities we hope to have. J. Tour. Futur. 1, 179–188 (2015). https://doi.org/10.1108/JTF-08-2015-0043

Boxall, K., Nyanjom, J., Slaven, J.: Disability, hospitality and the new sharing economy. Int. J. Contemp. Hosp. Manag. 30, 539–556 (2018). https://doi.org/10.1108/IJCHM-09-2016-0491
Acknowledgments

This work was developed in the scope of the research project ACTION - POCI-01-0145-FEDER-030376 - funded by FEDER, through COMPETE2020 - Programa Operacional Competitividade e Internacionalização (POCI), and by national funds (OE), through FCT/MCTES.
Copyright information

© 2021 The Author(s), under exclusive license to Springer Nature Switzerland AG
About this paper
Cite this paper
Teixeira, P., Alves, J., Eusébio, C., Teixeira, L. (2021). The Role of Higher Education Institutions in the Accessible Tourism Ecosystem: Requirements for the Conceptualization of an Information System. In: Rocha, Á., Adeli, H., Dzemyda, G., Moreira, F., Ramalho Correia, A.M. (eds) Trends and Applications in Information Systems and Technologies . WorldCIST 2021. Advances in Intelligent Systems and Computing, vol 1367. Springer, Cham. https://doi.org/10.1007/978-3-030-72660-7_15
DOI: https://doi.org/10.1007/978-3-030-72660-7_15

Published:

Publisher Name: Springer, Cham

Print ISBN: 978-3-030-72659-1

Online ISBN: 978-3-030-72660-7