Abstract

Wind-blown (or aeolian) dust emissions of arid/semi-arid areas contribute about 1–3 billion tons to the global atmospheric mineral dust load. The Sahara Desert is responsible for more than 50% of the global dust emissions, as well as the dust storms, which reach Europe. This research focuses on two such dust events which occurred in January and April 2018 and aims to identify the possible source areas of those dust storms using geological methods and HYSPLIT application. The intensity of the discussed dust events can be explained by the unusual stationary behavior of major pressure systems and blocking mechanisms.
Keywords
Siliciclastics

Sediments

Laser diffraction

X-ray powder diffraction

Automated static image analysis

Scanning electron microscopy

Sahara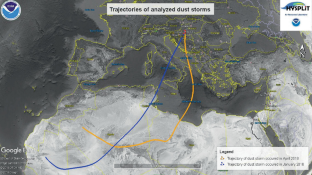 References
Ahmed, M., Al-Dousari, N., Al-Dousari, A.: The role of dominant perennial native plant species in controlling the mobile sand encroachment and fallen dust problem in Kuwait. Arab. J. Geosci. 9, 134 (2016)

Al-Awadhi, J.M., Al-Dousari, A.M., Khalaf, F.I.: Influence of land degradation on the local rate of dust fallout in Kuwait. Atmosph. Clim. Sci. 4, 403–437 (2014)

Al-Dousari, A.M.: Causes and indicators of land degradation in northwestern part of Kuwait. Arab. Gulf J. Sci. Res. 23(2), 69–79 (2005)

Al-Dousari, A.M., Aba, A., Al-Awadhi, S., Ahmed, M., Al-Dousari, N.: Temporal and spatial assessment of pollen, radionuclides, minerals and trace elements in posited dust within Kuwait. Arab. J. Geosci. 9, 95 (2016)

Al-Dousari, A., Doronzo, D., Ahmed, M.: Types, indications and impact evaluation of sand and dust storms trajectories in the Arabian Gulf. Sustainability 9, 1526 (2017)

Al-Hemoud, A., Al-Dousari, A., Al-Shatti, A., Al-Khayat, A., Behbehani, W., Malak, M.: Health impact assessment associated with exposure to PM10 and dust storms in Kuwait. Atmosphere 9, 6 (2018)

Blott, S.J., Al-Dousari, A.M., Pye, K., Saye, S.E.: Three-dimensional characterization of sand grain shape and surface texture using a nitrogen gas adsorption technique. J. Sediment. Res. 74, 156–159 (2004)

Draxler, R.R., Rolph, G.D.: HYSPLIT (Hybrid Single-Particle Lagrangian Integrated Trajectory) Model Access via NOAA ARL READY Website. NOAA Air Resources Laboratory, Silver Spring, MD (2012). http://ready.arl.noaa.gov/HYSPLIT.php. Last accessed 2019/03/20

Varga, G., Cserháti, C., Kovács, J., Szeberényi, J., Bradák, B.: Unusual Saharan dust events in the Carpathian Basin (Central Europe) in 2013 and early 2014. Weather 69, 309–313 (2014)

Varga, G., Cserháti, C., Kovács, J., Szalai, Z.: Saharan dust deposition in the Carpathian Basin and its possible effects on interglacial soil formation. Aeolian Res. 22, 1–12 (2016)
Acknowledgements

Support of the National Research, Development and Innovation Office NKFIH KH130337 and K120213 is gratefully acknowledged.
Copyright information

© 2022 The Author(s), under exclusive license to Springer Nature Switzerland AG
About this paper
Cite this paper
Kovács, A., Varga, G., Gammoudi, N., Kovács, J. (2022). Granulometric, Mineralogical, and HYSPLIT Analysis of Siliciclastic Sediments Derived from Sahara. In: , et al. New Prospects in Environmental Geosciences and Hydrogeosciences. CAJG 2019. Advances in Science, Technology & Innovation. Springer, Cham. https://doi.org/10.1007/978-3-030-72543-3_14
DOI: https://doi.org/10.1007/978-3-030-72543-3_14

Published:

Publisher Name: Springer, Cham

Print ISBN: 978-3-030-72542-6

Online ISBN: 978-3-030-72543-3