Abstract
This chapter offers an empirical test of the Professor Pundit approach to political coverage. We used two survey embedded experiments on national population samples to test reaction to academics featured in television news coverage of political events. Our expectation is that audiences will have a generally positive impression of these academics when they cite findings from scholarly research (and without making partisan references). In relating these findings, academics put their expertise forward in the service of audience understanding of politics—thereby fulfilling our view of how academics can rehabilitate punditry's use and reputation. Across analysis from both experiments, the news stories featuring academics referencing research findings received substantially more positive response from audiences than academics offering what might be best termed "conventional punditry."
With Jeffrey Layne Blevins and Kevin Swift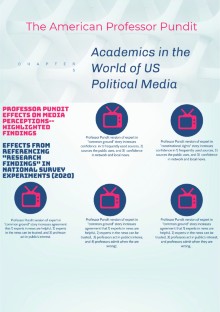 References
Abramowitz, Alan I. 2010. The disappearing center: Engaged citizens, polarization, and American democracy. New Haven, CT: Yale University Press.

Abramowitz, Alan I., and Kyle L. Saunders. 2008. Is polarization a myth? The Journal of Politics 70 (2): 542–555.

Aldridge, Meryl, and Julia Evetts. 2003. Rethinking the concept of professionalism: The case of journalism. British Journal of Sociology 54 (4): 547–564.

Allport, Gordon W. 1979. The nature of prejudice (25th anniversary ed.). Reading, MA: Addison-Wesley.

Anderson, Ashley A., Dominique Brossard, Dietram A. Scheufele, Michael A. Xenos, and Peter Ladwig. 2013. The 'nasty effect:' Online incivility and risk perceptions of emerging technologies. Journal of Computer-Mediated Communication 19: 373–387.

Arceneaux, Kevin, and Martin Johnson. 2013. Changing minds of changing channels? Partisan news in an age of choice. Chicago: University of Chicago Press.

Austin, Erica Weintraub, and Qingwen Dong. 1994. Source v. content effects on judgments of news believability. Journalism Quarterly 71 (4): 973–983.

Batts, S., N.J. Anthis, and T. Smith. 2008. Advancing science through conversations: Bridging the gap between blogs and the economy. PLoS Biology 6: 240.

Bennett, W.Lance, Regina G. Lawrence, and Steven Livingston. 2007. When the press fails: Political power and news media from Iraq to Katrina. Chicago: University of Chicago Press.

Besley, John C., and M. Chris Roberts. 2010. Cuts in newspaper staffs change meeting coverage. Newspaper Research Journal 31 (3): 22–35.

Birkner, Thomas. 2016. Journalism 1914: The birth of modern journalism in Germany a century ago. Journalism History 42 (3): 153–163.

Blanchard, Antoine. 2011. Science blogs in research and popularization of science: Why, how, and for whom? In Common knowledge: The challenge of transdisciplinarity, ed. Moria Cockell, Jerome Billote, Frederic Darbellay, and Francis Waldvogel, 219–232. Boca Raton, FL: Taylor and Francis.

Botes, Johannes. 1996. Journalism and conflict resolution. Media Development 43: 6–9.

Briller, Bert. 1993. The Tao of tabloid journalism. Television Quarterly 26: 51–61.

Brown, Anna. (2018). Most Americans say higher ed is heading in wrong direction, but partisans disagree on why. Pew Research Center. https://www.pewresearch.org/fact-tank/2018/07/26/most-americans-say-higher-ed-is-heading-in-wrong-direction-but-partisans-disagree-on-why/.

Carah, Nicholas, and Eric Louw. 2012. Inundated by the audience: Journalism, audience participation, and the 2011 Brisbane flood. Media International Australia 144 (1): 137–145.

Cloitre, M., and T. Shinn. 1985. Expository practice: Social, cognitive and epistemological linkages. In Expository science: Forms and functions of popularization, ed. M. Cloitre and T. Shinn. Dordrecht, Netherlands: Reidel.

Cross, Kathleen Ann. 2010. Experts in the news: The differential use of sources in election television news. Canadian Journal of Communication 35: 413–429.

Dahman, Nicole Smith. 2018. Visually reporting mass shootings: U.S. newspaper photographic coverage of three mass school shootings. American Behavioral Scientist 62 (2): 163–180.

Dionne Jr., E.J. 2012. Our divided political heart: The battle for the American idea in an age of discontent. New York: Bloomsbury Publishing.

Dominick, Joseph R., Alan Wurtzel, and Guy Lometti. 1975. Television journalism vs show business: A content analysis of eyewitness news. Journalism Quarterly 52 (2): 213–218.

Engelke, Katherine M., Valerie Hase, and Florian Wintterlin. 2019. On measuring trust and distrust in journalism: Reflection of the status quo and suggestions for the road ahead. Journal of Trust Research 9 (1): 66–86.

Entman, Robert M. 2004. Projections of power: Framing news, public opinion, and U.S. foreign policy. Chicago: University of Chicago Press.

Fingerhut, Hannah. 2017. Republicans much 'colder' than Democrats in views of professors. Pew Research Center. https://www.pewresearch.org/fact-tank/2017/09/13/republicans-much-colder-than-democrats-in-views-of-professors/.

Fiorina, Morris P., Samuel J. Abrams, and Jeremy C. Pope. 2004. Culture war: The myth of a polarized America. New York: Longman.

Goffman, Erving. 1959. The presentation of self in everyday life. New York: Doubleday.

Graber, Doris A. 1994. The infotainment quotient in routine television news: A director's perspective. Discourse in Society 5: 483–508.

Gripsrud, Jostein (ed.). 1999. Television and common knowledge. New York: Routledge.

Guess, Andrew, Brendan Nyhan, and Jason Reifler. 2018. All media trust is local: Findings from the 2018 Poynter Media Trust Survey. St. Petersburg, FL: Poynter Institute.

Gutmann, Amy, and Dennis Thompson. 2012. The spirit of compromise: Why government demands it and campaigning undermines it. Princeton, NJ: Princeton University Press.

Han, Lori Cox, and Brian Robert Calfano. 2018. Conflict and candidate selection: Game framing voter choice. American Politics Research 46 (1): 169–186.

Hansen, Glenn J., and Hyunjung Kim. 2011. Is the media biased against me? A meta-analysis of the hostile media effect research. Communication Research Reports 28 (2): 169–179.

Hayes, Danny, and Matt Guardino. 2010. Whose views made the news? Media coverage and the march to war in Iraq. Political Communication 27: 59–87.

Hovland, Carl Iver, Irving Lester Janis, and Harold H. Kelley. 1953. Communication and persuasion: Psychological studies of opinion change. New Haven: Yale University Press.

Jamieson, Kathleen Hall, and Joseph N. Capella. 2008. Echo chamber: Rush Limbaugh and the conservative media establishment. New York: Oxford UP.

Jaschik, Scott. 2018. Poll: Most Americans see higher ed headed in wrong direction. Inside Higher ED. https://www.insidehighered.com/news/2018/07/27/survey-most-americans-think-higher-ed-headed-wrong-direction.

Kerbel, Mathew Robert. 2018. If it bleeds, it leads: The anatomy of television news. New York: Routledge.

Kramer, Nicole C., and Stephan Winter. 2008. Impression management 2.0. Journal of Media Psychology 20 (3): 106–116.

Leary, Mark R., and Barry R. Schlenker. 1981. Self-presentation in a task-oriented leadership situation. Representative Research in Social Psychology 11: 152–158.

Lee, Tien-Tsung. 2005. The liberal media myth revisited: An examination of factors influencing perceptions of media bias. Journal of Broadcasting and Electronic Media 49 (1): 43–64.

Levin, Peter. 1996. Public journalism and deliberation. Report from the Institute for Philosophy and Public Policy 16 (1): 1–5.

Lupia, Arthur, and Matthew D. McCubbins. 1998. The democratic dilemma: Can citizens learn what they need to know?. New York: Cambridge University Press.

Maguire, Brendan, Georgie Ann Weatherby, and Richard A. Mathers. 2002. Network news coverage of school shootings. The Social Science Journal 39: 465–470.

Mann, Thomas E., and Norman J. Ornstein. 2012. It's even worse than it looks: How the American constitutional system collided with the new politics of extremism. New York: Basic Books.

Martin, Gregory J., and Joshua McCrain. 2019. Local news and national politics. American Political Science Review 113 (2): 372–384.

Murray, Caroline, and Natalie Jomini Stroud. 2018. Making strangers less strange. Center for Media Engagement, Moody College of Communication. University of Texas at Austin.

Nelson, Thomas E., Rosalee A. Clawson, and Zoe M. Oxley. 1997. Media framing of a civil liberties conflict and its effect on tolerance. American Political Science Review 91 (3): 576–583.

Nyhan, Brendan, and Jason Reifler. 2010. When corrections fail: The persistence of political misperceptions. Political Behavior 32 (2): 303–330.

Ozguness, Neslihan, and Georgios Terzis. 2000. Constraints and remedies for journalists reporting national conflict: The case of Greece and Turkey. Journalism Studies 1 (3): 405–426.

Parker, Kim. 2019. The growing partisan divide in views of higher education. Pew Research Center. https://www.pewsocialtrends.org/essay/the-growing-partisan-divide-in-views-of-higher-education/.

Perloff, Richard M. 2003. The dynamics of persuasion: Communication and attitudes in the 21st century, 2nd ed. Hillsdale, NJ: Lawrence Erlbaum.

Perse, Elizbeth M., and Jennifer L. Lambe. 2017. Media effects and society. New York: Routledge.

Peters, Hans Peter, Sharon Dunwoody, Joachim Allgaier, Yin-Yeh Lo, and Dominique Brossard. 2014. Public communication of science 2.0. Science & Society 15: 749–753.

Popkin, Samuel L. 1991. The reasoning voter: Communication and persuasion in presidential campaigns. Chicago: University of Chicago Press.

Schneider, David J. 1969. Tactical self-presentation after success and failure. Journal of Personality and Social Psychology 13: 262–268.

Tedeschi, James T. 1981. Impression management theory and social psychological research. New York: Academic Press.

Tsfati, Yariv, and Joseph N. Cappella. 2003. Do people watch what they do not trust? Exploring the association between news media skepticism and exposure. Communication Research 30 (5): 504–529.

Wulfemeyer, K. Tim. 1982 [2019]. Developing and testing method for assessing local TV newscasts. Journalism Quarterly 59 (1): 79–82.

Zaller, John R. 1992. The nature and origins of mass opinion. New York: Cambridge University Press.
Copyright information
© 2021 The Author(s), under exclusive license to Springer Nature Switzerland AG
About this chapter
Cite this chapter
Calfano, B.R., Martinez-Ebers, V., Ramusovic, A. (2021). The Public's Views of Professor Punditry. In: The American Professor Pundit. Palgrave Macmillan, Cham. https://doi.org/10.1007/978-3-030-70877-1_5
DOI: https://doi.org/10.1007/978-3-030-70877-1_5

Published:

Publisher Name: Palgrave Macmillan, Cham

Print ISBN: 978-3-030-70876-4

Online ISBN: 978-3-030-70877-1