Abstract
This chapter transitions to the consideration of how media professionals look at the contributions of academics in political coverage. We draw on the expertise of news directors and other media leaders across platforms and organizations to first assess what these leaders consider to be useful approaches to political news. We then transition to a series of interviews with current news anchors and journalists about their preferences for political news and how they see academics fulfilling a key role in providing analysis, perspective, and research expertise as Professor Pundits.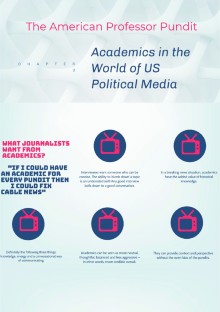 References
Baum, Matthew. 2003. Soft news goes to war: Public opinion and American foreign policy in the new media age. Princeton, NJ: Princeton University Press.

Bennett, W. Lance. (2007). News: The politics of illusion, 7th ed. New York, NY: Pearson Longman.

Cook, Timothy E. 2005. Governing the news: The news media as a political institution. Chicago, IL: University of Chicago Press.

Gamson, William A. 2001. Promoting political engagement. In Mediated politics: Communication in the future of democracy, ed. W. Lance Bennett and William A. Gamson, 56–74. New York, NY: Cambridge University Press.

Graber, Doris. 1989. Mass media and American politics, 3rd ed. Washington, DC: CQ Press.

Hickey, Neil, 2001. Doing local news. Columbia Journalism Review 40: 50–65.

Kernell, Samuel. 1997. Going public: New strategies of presidential leadership. Washington, DC: CQ Press.

Lee, Tien-Tsung. 2005. The liberal media myth revisited: An examination of factors influencing perceptions of media bias. Journal of Broadcasting and Electronic Media 49: 43–64.

Nimmo, Dan, and James E. Combs. 1992. The political pundits. New York, NY: Praeger.

Patterson, Thomas E. 2000. Doing well and doing good: How soft news and critical journalism are shrinking the news audience and weakening democracy–And what news outlets can do about it. Shorenstein Center on the Press, Politics, and Public Policy, Harvard University.

Rosenstiel, Tom, Marion Just, Todd Belt, Atiba Pertilla, Walter Dean, and Dante Chinni. 2007. We interrupt this newscast: How to improve local news and win ratings, too. Cambridge University Press.

Tompkins, Al. 2012. Aim for the heart: Write, shoot, report, and produce for TV and multimedia. Washington, DC: CQ Press.
Copyright information
© 2021 The Author(s), under exclusive license to Springer Nature Switzerland AG
About this chapter
Cite this chapter
Calfano, B.R., Martinez-Ebers, V., Ramusovic, A. (2021). Where Pundits Fit in Political News Coverage. In: The American Professor Pundit. Palgrave Macmillan, Cham. https://doi.org/10.1007/978-3-030-70877-1_3
DOI: https://doi.org/10.1007/978-3-030-70877-1_3

Published:

Publisher Name: Palgrave Macmillan, Cham

Print ISBN: 978-3-030-70876-4

Online ISBN: 978-3-030-70877-1