Abstract
The introductory chapter offers readers the book's overview, including the perspective about punditry that makes the book unique. Specifically, we argue that academics, by virtue of their expertise and research, are positioned to offer insights on political and policy issues that provide value for audiences. In this way, academics can act as what we term Professor Pundits—far different from the pundits often seen in political coverage. The introduction also includes interview quotes from a group of seasoned academics who work as contributors across various media. Finally, the chapter explains why the book focuses largely on the approaches to video-based interviews and media appearances.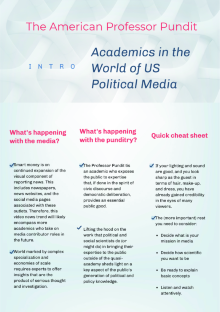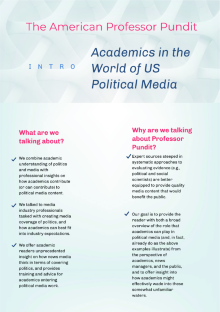 References
Allern, Sigurd. 2010. From party agitators to independent pundits: The changed historical roles of newspaper and television journalists in Norwegian election campaigns. Northern Lights 8: 48–67.

Bullock, John G. 2011. Elite influence on public opinion in an informed electorate. American Political Science Review 105: 496–515.

Carpini, Delli, X. Michael, and Scott Keeter. 1996. What Americans know about politics and why it matters. New Haven: Yale University Press.

Converse, Philip E. 2006. The nature of belief systems in mass publics (1964). Critical Review 18: 1–74.

Iyengar, Shanto, and Nicholas A. Valentino. 2000. Who says what? Source credibility as a mediator of campaign advertising. In Elements of reason, ed. Arthur Lupia, Matthew D. McCubbins, and Samuel L. Popkin. New York: Cambridge University Press.

Kovach, Bill, and Tom Rosenstiel. 1997. The elements of journalism: What Newspeople should know and the public should expect. New York: Crown Publishing.

Nimmo, Dan, and James E. Combs. 1992. The political Pundits. New York: Praeger.

Patterson, Thomas. 1994. Out of order. New York: Vintage Books.

Rogstad, Ingrid Dahlen. 2014. Political news journalists in social media: Making everyone a political pundit? Journalism Practice 8: 688–703.

Singer, Jane. 2005. The political j-blogger: Normalizing a new media to fit old norms and practices. Journalism: Theory, Practice, and Criticism 6: 173–198.

Zaller, J.R. 1992. The nature and origins of mass opinion. New York: Cambridge University Press.
Copyright information
© 2021 The Author(s), under exclusive license to Springer Nature Switzerland AG
About this chapter
Cite this chapter
Calfano, B.R., Martinez-Ebers, V., Ramusovic, A. (2021). Introduction: The Needs of Political News. In: The American Professor Pundit. Palgrave Macmillan, Cham. https://doi.org/10.1007/978-3-030-70877-1_1
DOI: https://doi.org/10.1007/978-3-030-70877-1_1

Published:

Publisher Name: Palgrave Macmillan, Cham

Print ISBN: 978-3-030-70876-4

Online ISBN: 978-3-030-70877-1