Abstract

The article presents materials on the scientific justification for the use of the specific molarity index of mineral water components in assessing their biological effects. The authors studied 18 types of mineral waters of Ukraine with a salinity of 0.14 g/l to 6.86 g/l and the content of metasilicic acid from 1.0 mg/l to 226.0 mg/l. The effectiveness of their biological action was studied by the example of an excretory function in animals (daily diuresis and glomerular filtration rate). The experiments proved that the features of the biological action of mineral waters (urination) depend on the content and ratio of all components. Microcomponents, in particular, organic substances, most affect the diuretic effect of mineral waters. An inverse relationship was established between the processes of urination and the specific molarity of chlorides and metasilicic acid. The possible biological activity of mineral waters is mostly reflected in the particular molarity of the components. Mineralization does not have a significant effect on urination; therefore, it cannot be a criterion for the differentiation of mineral waters by their biological outcome. The results make it possible to carry out the next stage of work to create methodological foundations for the biomedical classification of mineral waters, depending on the effectiveness of their biological effects.
Keywords
Natural mineral waters

Biological effect

Specific molarity

Daily diuresis

Glomerular filtration rate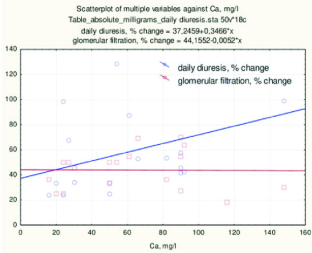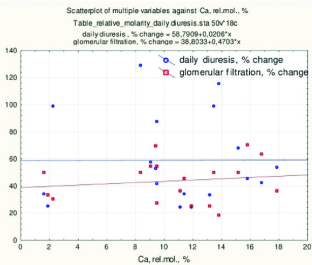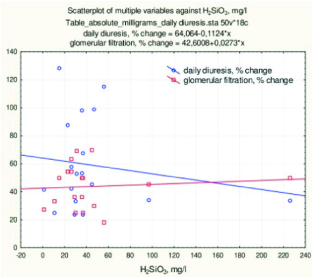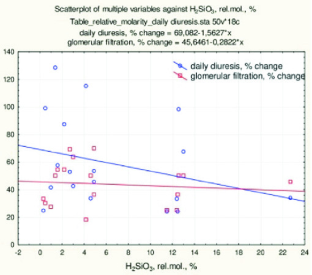 References
Quattrini, S., Pampaloni, B., Luisa, M.: Brandi Natural mineral waters: chemical characteristics and health effects. Clin. Cases Min. Bone Metab. 13(3), 173–180 (2016)

Petraccia, L., et al.: Water, mineral waters and health. Clin. Nutr. 25(3), 377–85 (2006)

Casado, Á., et al.: Types and characteristics of drinking water for hydration in the elderly. Crit. Rev. Food Sci. Nutr. 55(12), 633–641 (2015)

Kysylevska, A., et al.: Harmonization of the EU and ukrainian normative documentation: case study on determination of barium content in mineral waters to develop quality and safety criteria. In: Tonkonogyi, V. et al. (eds) Advanced Manufacturing Processes. InterPartner-2019. Lecture Notes in Mechanical Engineering. Springer, Cham (2020). https://doi.org/10.1007/978-3-030-40724-7_16

Order of Ministry of Public Health of the Ukraine from 02.06.2003, № 243. https://zakon.rada.gov.ua/laws/show/z0752-03. Accessed 12 Feb 2020

Directive 2009/54/EC of the European Parliament and of the Council of 18 June 2009. Off J Eur Union L 164/45-58, 26.06.2009 (2009). https://eur-lex.europa.eu/legal-content/EN/TXT/?uri=uriserv:OJ.L_.2009.164.01.0042.01.ENG&toc=OJ:L:2009:164:TOC. Accessed 12 Feb 2020

Unione Geotermica Italiana. Geotermia, notizario dell' Unione Geotermica Italiana. VIII. Aprile. 26 (2010). https://www.unionegeotermica.it/notiziari/UgiNotiziario26.pdf. Accessed 12 Feb 2020

Albertini, M., Dacha, M., Teodori, L., Conti, M.: Drinking mineral waters: biochemical effects and health implications – the state-of-the-art. Int. J. Environ. Health 1(1), 153–169 (2007)

Wynn, E., Krieg, M.A., Aeschlimann, J.M., Burckhardt, P.: Alkaline mineral water lowers bone resorption even in calcium sufficiency: alkaline mineral water and bone metabolism. Bone 44(1), 120–124 (2009). https://doi.org/10.1016/j.bone.2008.09.007

Commission Directive 2003/40/EC of 16 May 2003. Off J Eur Union L 126/34-39, 22.05.2003. https://eur-lex.europa.eu/legal-content/EN/TXT/?qid=1590141046254&uri = CELEX:32003L0040, https://eur-lex.europa.eu/legal-content/EN/TXT/PDF/?uri=CELEX:32003L0040&from=en. Accessed 12 Feb 2020

Regulation of the Minister of Health from 31st March (2011). Accessed 12 Feb 2020

Babov, K.D., et al.: Features of the Biological Effect of Mineral Waters of Different Mineralization: Monograph. КIM, Кiev (2009). [in Russian]

Diduch, M., Polkowska, Z., Namiesnik, J.: Chemical quality of bottled waters: a review. J. Food Sci. 76(9), 178–196 (2011). https://doi.org/10.1111/j.1750-3841.2011.02386.x

Carstea, E.M., et al.: Quality assessment of Romanian bottled mineral water and tap water. Environ. Monit. Assess. 188, 521 (2016). https://doi.org/10.1007/s10661-016-5531-9

Gushcha, S.G.: To the mechanisms of correcting influence of mineral waters of different osmolyarity and microelement composition on the structural-functional state of kidneys of rats with experimental nephritis. Bull. Prob. Biol. Med. 2(144), 301–306 (2018). https://doi.org/10.29254/2077-4214-2018-2-144-301-306

Jurkić, L.M., Cepanec, S.K., Pavelić, K.: Biological and therapeutic effects of ortho-silicic acid and some ortho-silicic acid-releasing compounds: new perspectives for therapy. Nutriton Metab. 10(2), 1–12 (2013)

Nasibullin, B.A., et al.: Application of silicon mineral waters of Ukraine and their artificial analogues in the correction of experimental gastritis. Water Hyg. Ecol. 1–4(16), 40–45 (2018). [in Russian]

Salomon, A., Regulska-Ilow, B.: Polish bottled mineral and healing water - characterization and application. Bromatologia I Chem. Toksykologiczna 46(1), 53–65 (2013)

Gushcha, S.G., Nasibullin, B.A., et al.: Pathogenetic and sanogenetic mechanisms of the influence of mineral waters (siliconed and with increased organic substances) of different osmularity on the exposure of toxic nephritis. J. Biotechnol. Bioeng. 2(2), 7–12 (2018)

Gozhenko, A.I., Shumilova, P.A., Dolomatov, S.I.: The effect of osmotic loads on the functional state of the kidneys of healthy people. Nefrologiya 8(2), 44–48 (2004). [in Russian]

Shvets, V.I.: Interconnection of regulation of water-salt metabolism of homeostasis. Med. Hydrol. Rehabil. 4(1), 66–69 (2006). [in Ukrainian]

Gozhenko, A.I.: Physiological bases of the optimal water consumption. Actual Probl. Transp. Med. 4(14), 14–21 (2008). [in Russian]

Council Directive 2010/63/EU of the European Parliament and of the council of 22 september 2010. Official Journal of the European Communities L 276, 33–79 (2010). https://eur-lex.europa.eu/legal-content/EN/TXT/?qid=1590141272990&uri=CELEX:32010L0063. Accessed 02 Dec 2020

Command of Ministry of Public Health of the Ukraine № 692 dated 28.09.2009 (2009). http://search.ligazakon.ua/l_doc2.nsf/link1/MOZ10099.html. Accessed 02 Dec 2020

McDonald, J.H.: Handbook of Biological Statistics, 3rd edn. Sparky House Publishing, Baltimore (2014)
Acknowledgment

The research study was partially funded by the Ministry of Health of Ukraine for state budget funds.
Copyright information

© 2021 The Author(s), under exclusive license to Springer Nature Switzerland AG
About this paper
Cite this paper
Kysylevska, A., Babov, K., Gushcha, S., Prokopovich, I., Nasibullin, B. (2021). Using the Specific Molarity Indicator of the Chemical Parameters of Mineral Waters in Assessing Their Biological Effects. In: , et al. Advanced Manufacturing Processes II . InterPartner 2020. Lecture Notes in Mechanical Engineering. Springer, Cham. https://doi.org/10.1007/978-3-030-68014-5_80
DOI: https://doi.org/10.1007/978-3-030-68014-5_80

Published:

Publisher Name: Springer, Cham

Print ISBN: 978-3-030-68013-8

Online ISBN: 978-3-030-68014-5

eBook Packages: EngineeringEngineering (R0)