Abstract

This chapter describes the diversity of the microscopic and macroscopic benthic algal assemblages of the Bahía Blanca Estuary, including ecological aspects like their habitats, their role as primary producers, and the main interactions with other biota of the estuary. The microphytobenthic community is well developed in the soft sediments of the estuary. It is dominated by cyanobacteria and diatoms, which are key elements in the stabilization of sediments and nutrient cycling. They also interact with the macrobenthic fauna. On the other hand, the assemblages of macroscopic algae are poor in number of taxa. The majority of macroalgae are annual and opportunistic species, making use of the artificial substrate that is eventually available for their attachment. A few macroalgae are perennial mat-forming species, and there are also species considered exotic or introduced. Despite the fact that the little availability of hard substrate and the turbid waters limit the development of macroscopic algae, there are local species that flourish when conditions become favorable and produce blooms. These blooming species constitute promising candidates for their utilization in biomitigation. Although the benthic algae have been less studied than other biological groups, there is no doubt that these primary producers are vital components of this estuarial system.
Keywords
Microphytobenthos

Macroalgae

Algal classification

Biodiversity

Habitat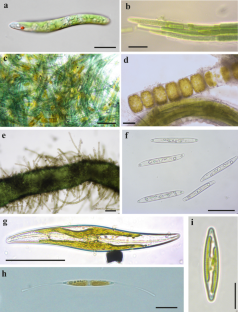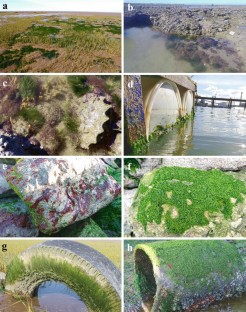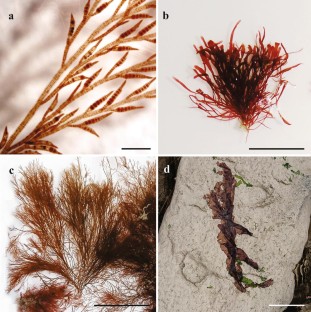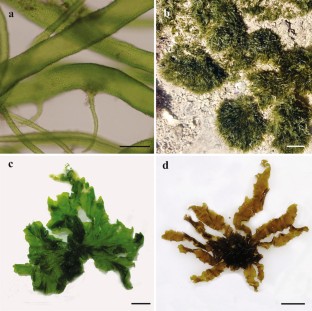 References
Admiraal W, Bouwman LA, Hoekstra L et al (1983) Qualitative and quantitative interactions between microphytobenthos and herbivorous meiofauna on a brackish intertidal mudflat. Int Rev Ges Hydrobiol 68:175–191

Agusti S, Enriques S, Frost-Christensen S et al (1994) Light harvesting among photosynthetic organisms. Funct Ecol 8:273–279

Airoldi L (2003) The effects of sedimentation on rocky coast assemblages. Oceanogr Mar Biol 41:161–236

Airoldi L, Rindi F, Cinelli F (1995) Structure, seasonal dynamics and reproductive phenology of a filamentous turf assemblage on a sediment influenced, rocky subtidal shore. Bot Mar 38:227–237

Aliotta S, Lizasoain GO (2004) Tipos de fondos y su caracterización geológica por métodos sismoacústicos. In: Piccolo MC, Hoffmeyer M (eds) Ecosistema del estuario de Bahía Blanca. Instituto Argentino de Oceanografía, Bahía Blanca, pp 51–59

Amsler CD, Reed DC, Neushul M (1992) The microclimate inhabited by macroalgal propagules. J Br Phycol 27:253–270

Areco MM, dos Santos A (2010) Copper, zinc, cadmium and lead biosorption by Gymnogongrus torulosus. Thermodynamics and kinetics studies. Colloid Surface B 81:620–628

Atkinson MJ, Smith SV (1983) C:N:P ratios of benthic marine plants. Limnol Oceanogr 28:568–574

Bach SD, Josselyn MN (1979) Production and biomass of Cladophora prolifera (Chlorophyta, Cladophorales) in Bermuda. Bot Mar 22:163–168

Baird D, Ulanowicz RE (1993) Comparative study on the trophic structure, cycling and ecosystem properties of four tidal estuaries. Mar Ecol Prog Ser 99:221–237

Balata D, Piazzi L, Rindi F (2011) Testing a new classification of morphological functional groups of marine macroalgae for the detection of responses to stress. Mar Biol 158:2459–2469

Balech E, Ehrlich MD (2008) Esquema biogeográfico del Mar Argentino. Rev Invest Des Pesq 19:45–75

Barsanti L, Gualtieri P (2006) Algae: anatomy, biochemistry, and biotechnology. Taylor & Francis, Boca Raton

Bennett A, Bianchi TS, Means JC et al (1999) The effects of polycyclic aromatic hydrocarbon contamination and grazing on the abundance and composition of microphytobenthos in salt marsh sediments. J Exp Mar Biol Ecol 242:1–20

Berezina N, Tsiplenkina IG, Pankova ES et al (2007) Dynamics of invertebrate communities in stony littoral of the Neva Estuary (Baltic Sea) under macroalgal blooms. Transit Waters Bull 1:49–60

Bergeron P, Bourget E (1986) Shore topography and spatial partitioning of crevice refuges by sessile epibenthos in an ice disturbed environment. Mar Ecol Prog Ser 28:129–145

Berkenbusch K, Rowden AA (2003) Ecosystem engineering-moving away from "just-so" stories. N Z J Ecol 27:67–73

Blanchard GF, Paterson DM, Stal LJ et al (2000) The effect of geomorphological structures on potential biostabilisation by microphytobenthos on intertidal mudflats. Cont Shelf Res 20:1243–1256

Blanchard GF, Guarini J-M, Orvain F et al (2001) Dynamic behaviour of benthic microalgal biomass in intertidal mudflats. J Exp Mar Biol Ecol 264:85–60

Boedeker C, Hansen GI (2010) Nuclear rDNA sequences of Wittrockiella amphibia (Collins) comb. nov. (Cladophorales, Chlorophyta) and morphological characterization of the mat-like growth form. Botanica Marina 53(4):351–356

Bold HC, Wynne MJ (1978) Introduction to the algae: structure and reproduction. Prentice-Hall, Inc., Englewood Cliffs

Borges ME (2006) Ecología de las ostras en ambientes del sur bonaerense: cultivo y manejo de sus poblaciones. PhD thesis, Universidad Nacional del Sur, Bahía Blanca, p 247

Botto F, Iribarne O (2000) Contrasting effects of two burrowing crabs (Chasmagnathus granulata and Uca uruguayensis) on sediment composition and transport in estuarine environments. Estuar Coast Shelf Sci 51:141–151

Botto F, Iribarne O, Gutiérrez J et al (2006) Ecological importance of passive deposition of organic matter into burrows of the SW Atlantic crab Chasmagnathus granulatus. Mar Ecol Prog Ser 312:201–226

Brault S, Bourget E (1985) Structural changes in an estuarine subtidal epibenthic community: biotic and physical causes. Mar Ecol Prog Ser 21:63–73

Breitburg DL, Steinberg N, DuBeau S et al (1994) Effects of low dissolved oxygen on predation on estuarine fish larvae. Mar Ecol Prog Ser 64:235–246

Bremec CS, Martinez DE, Elias R (2004) Asociaciones bentónicas de fondos duros y comunidades incrustantes. In: Piccolo MC, Hoffmeyer M (eds) Ecosistema del estuario de Bahía Blanca. Instituto Argentino de Oceanografía, Bahia Blanca, pp 171–178

Buffan-Dubau E, Carman KR (2000) Diel feeding behaviour of meiofauna and their relationships with microalgal resources. Limnol Oceanogr 2:381–395

Bulleri F, Benedetti-Cecchi L (2006) Mechanisms of recovery and resilience of different components of mosaics of habitats on shallow rocky reefs. Oecologia 149:482–492

Caputo E, Ceglie V, Lippolis M et al (2010) Identification of a NaCl-induced ascorbate oxidase activity in Chaetomorpha linum suggests a novel mechanism of adaptation to increased salinity. Environ Exp Bot 69:63–67

Cardinale BJ, Gelmann ER, Palmer MA (2004) Net spinning caddisflies as stream ecosystem engineers: the influence of Hydropsyche on benthic substrate stability. Funct Ecol 18:381–387

Cartaxana P, Ruivo M, Hubas C et al (2011) Physiological versus behavioral photoprotection in intertidal epipelic and epipsammic benthic diatom communities. J Exp Mar Biol Ecol 405:120–127

Cebrian J (1999) Patterns in the fate of production in plant communities. Am Nat 154:449–468

Cebrian J (2002) Variability and control of carbon consumption, export and accumulation in marine communities. Limnol Oceanogr 47:11–22

Cebrian J, Williams M, McClelland J et al (1998) The dependence of heterotrophic consumption and C accumulation on autotrophic nutrient content in ecosystems. Ecol Lett 1:165–170

Chan PT, Matanjun P (2017) Chemical composition and physicochemical properties of tropical red seaweed, Gracilaria changii. Food Chem 221:302–336

Charpy L, Casareto BE, Langlade MJ et al (2012) Cyanobacteria in coral reef ecosystems: a review. J Mar Biol 2012:1–9

Choi TS, Kang EJ, Kim JH, Kim KY (2010) Effect of salinity on growth and nutrient uptake of Ulva pertusa (Chlorophyta) from an eelgrass bed. Algae 25:17–26

Cicerone D (1987) Estimación de la biomasa de diatomeas bentónicas en áreas mesolitorales de la porción interna del Estuario de Bahía Blanca, a partir del análisis de pigmentos fotosintéticos. Lic thesis. Universidad Nacional del Sur, Bahía Blanca

Coles RG, Lee Long WJ, Watson RA (1993) Distribution of seagrasses, and their fish and penaeid prawn communities, in Cairns Harbour, a tropical estuary, Northern Queensland, Australia. Aust J Mar Fresh Res 44:193–126

Connell SD, Foster MS, Airoldi L (2014) What are algal turfs? Towards a better description of turfs. Mar Ecol Prog Ser 495:299–307

Costa JL, Lindblad P (2002) Cyanobacteria in symbiosis with cycads. In: Rai AN, Bergman B, Rasmussen U (eds) Cyanobacteria in symbiosis. Springer, Dordrecht

Costanza R, Kemp WM, Boynton WR (1993) Predictability, scale, and biodiversity in coastal and estuarine ecosystems-implications for management. Ambio 22:88–96

Coull BC (1999) Role of meiofauna in estuarine soft-bottom habitats. Aust J Ecol 24:327–343

Croce ME, Parodi ER (2012) Seasonal dynamic of macroalgae in intertidal pools formed by beds of Crassostrea gigas (Mollusca, Bivalvia) on the north Patagonian Atlantic coast. Bot Mar 55:49–58

Croce ME, Parodi ER (2014) The Japanese alga Polysiphonia morrowii (Rhodomelaceae, Rhodophyta) on the South Atlantic Ocean: first report of an invasive macroalga inhabiting oyster reefs. Helgol Mar Res 68(2):241–252

Croce ME, Gauna MC, Fernández C et al (2015) Intertidal seaweeds from North Atlantic Patagonian coasts, Argentina. Check List 11(5):1739

Cuadrado DG, Pizani NV (2007) Identification of microbially induced sedimentary structures over a tidal flat. Latin Am J Sedimentol Basin Anal 14:65–116

Cuadrado DG, Carmona NB, Bournod CN (2011) Biostabilization of sediments by microbial mats in a temperate siliciclastic tidal flat, Bahía Blanca estuary (Argentina). Sediment Geol 237:95–61

Cuadrado DG, Carmona NB, Bournod CN (2012) Mineral precipitation on modern siliciclastic tidal flats colonized by microbial mats. Sediment Geol 271–272:58–66

Cuadrado DG, Bournod CN, Pan J et al (2013) Microbially-induced sedimentary structures (MISS) as record of storm action in supratidal modern estuarine setting. Sediment Geol 296:1–8

Da Rodda C (2004) Biodiversidad y distribución espacial de las comunidades microalgales bentónicas de la marisma "El Cangrejal" en el Estuario de Bahía Blanca. Lic Thesis, Universidad Nacional del Sur, Bahía Blanca, p 51

Da Rodda C, Parodi ER (2005) Cyanophyceae Epipélicas de la Marisma El Cangrejal en el estuario de Bahía Blanca (Buenos Aires, Argentina). Bol Soc Argent Bot 40:157–168

Daehnick AE, Sullivan MJ, Moncreiff CA (1992) Primary production of the sand microflora in seagrass beds of Mississippi sound. Bot Mar 35:131–139

Dauer DM, Conner WG (1980) Effects of moderate sewage input on benthic polychaete populations. Estuar Coast Mar Sci 6:335–346

Davis WR (1993) The role of bioturbation in sediment resuspension and its interaction with physical shearing. J Exp Mar Biol Ecol 171:187–200

Davison IR, Pearson GA (1996) Stress tolerance in intertidal seaweeds. J Phycol 32:197–211

Day JW, Yáñez-Arancibia A, Kemp WM et al (2013) Introduction to estuarine ecology. In: Day JW, Crump BC, Kemp WM et al (eds) Estuarine ecology, 2nd edn. Wiley, Hoboken, pp 1–18

De Winder B, Staats N, Stal LJ et al (1999) Carbohydrate secretion by phototrophic communities in tidal sediments. J Sea Res 42:131–146

Decho AW (2000) Exopolymer microdomains as a structuring agent for heterogeneity within microbial biofilms. In: Riding RE, Awramik SM (eds) Microbial sediments. Springer, Berlin, pp 1–9

Denis L, Gevaert F, Spilmont N (2012) In situ intertidal variability of microphytobenthic production in a macrotidal temperate estuarine system. J Soils Sediments:1517–1529

Dethier M (1981) Heteromorphic algal life histories: the seasonal pattern and response to herbivory of the brown crust Ralfsia californica. Oecologia 49:333–339

Dromgoole FI (1980) Desiccation resistance of intertidal and subtidal algae. Bot Mar 23:149–159

Druehl LD (1967) Vertical distribution of some benthic marine algae in a British Columbia inlet, as related to some environmental factors. J Fish Res Bd Can 24:33–46

Duarte CM (1995) Submerged aquatic vegetation in relation to different nutrient regimes. Ophelia 41:87–11

Duarte CM, Sand-Jensen K, Nielsen SL et al (1995) Comparative functional ecology. Trends Ecol Evol 6:418–421

Dyer KR, Christie MC, Wright EW (2000) The classification of intertidal mudflats. Cont Shelf Res 20:639–660

Eckman JE, Andres MS, Marinelli RL et al (2008) Wave and sediment dynamics along a shallow subtidal sandy beach inhabited by modern stromatolites. Geobiology 6:21–32

Emson RH, Faller-Fristch RJ (1976) An experimental investigation into the effect crevice availability on abundance and size-structure in a population of Littorina rudis (Manton) (Gastropoda; Prosobranchia). J Exp Mar Biol Ecol 23:285–297

Escapa M, Minkoff DR, Perillo GM et al (2007) Direct and indirect effects of burrowing crab Chasmagnathus granulatus activities on erosion of Southwest Atlantic Sarcocornia dominated marshes. Limnol Oceanogr 52:2340–2349

Farías L (1988) Estudio del microfitobentos en áreas mesolitorales de la porción interna del Estuario de Bahía Blanca (Puerto Cuatreros). Seminario Lic. Oceanografía. Universidad Nacional del Sur, Bahia Blanca

Fernández C, Da-Rodda C, Gauna MC et al (2018) The role of plant-crab interaction in structuring microphytobenthic communities in a shallow temperate estuary. Braz J Oceanogr 66:307–314

Fletcher RL, Callow ME (1992) The settlement, attachment and establishment of marine algal spores. J Br Phycol 27:303–329

Ford RB, Thrush SF, Probert PK (1999) Macrobenthic colonisation of disturbances on an intertidal sandflat, the influence of season and buried algae. Mar Ecol Prog Ser 191:163–174

Franz DR, Friedman I (2002) Effects of macroalgal mat (Ulva lactuca) on estuarine sand flat copepods: an experimental study. J Exp Mar Biol Ecol 271:209–226

Freile-Pelegrín Y, Madera-Santana T, Robledo D et al (2007) Degradation of agar films in a humid tropical climate: thermal, mechanical, morphological and structural changes. Polym Degrad Stab 92:244–252

Fučikova K, Lewis PO, Lewis LA (2014) Widespread desert affiliation of trebouxiophycean algae (Trebouxiophyceae, Chlorophyta) including discovery of three new desert genera. Phycol Res 62:294–305

Geitler L (1944) Furchungsteilung, simultane Mehrfachteilung, Lokomotion, Plasmoptse und Ókologie der Bangiacee Porphyridium cruentum. Flora 37:300–333

Geoffroy A, Le Gall L, Destombe C (2012) Cryptic introduction of the red alga Polysiphonia morrowii Harvey (Rhodomelaceae, Rhodophyta) in the North Atlantic Ocean highlighted by a DNA barcoding approach. Aquat Bot 60:67–71

Glud RN, Kühl M, Wenzhöfer F et al (2002) Benthic diatoms of a high Arctic fjord (Young Sound, NE Greenland): importance for ecosystem primary production. Mar Ecol Prog Ser 238:15–29

Gorman D, Connell SD (2009) Recovering subtidal forests on human-dominated landscapes. J Appl Ecol 46:1258–1265

Graham LE, Wilcox LW (2000) Algae. Prentice Hall, Upper Saddle River

Graham LE, Graham JM, Wilcox LW et al (2016) Algae, 3rd edn. LJLM Press, LLC, Madison

Gupta VK, Nayak A, Agarwal S (2015) Bioadsorbents for remediation of heavy metals: current status and their future prospects. Environ Eng Res 20:1–18

Gutiérrez JL, Jones CG, Strayer DL et al (2003) Mollusks as ecosystem engineers: the role of shell production in aquatic habitats. Oikos 61:79–90

Harlin MM, Lindbergh JM (1977) Selection of substrata by seaweed: optimal surface relief. Mar Biol 40:33–40

Harris MA, Cumming BF, Smol JP (2006) Assessment of recent environmental changes in New Brunswick (Canada) lakes based on paleolimnological shifts in diatoms species assemblages. Can J Botany 84:151–163

Hay ME (1981) The functional morphology of turf-forming seaweeds: persistence in stressful marine habitats. Ecology 62:739–750

Hayden H, Blomster J, Maggs CA et al (2012) Linnaeus was right all along: Ulva and Enteromorpha are not distinct genera. Eur J Phycol 38:277–294

Heck KL Jr, Hays G, Orth RJ (2003) Critical evaluation of the nursery role hypothesis for seagrass meadows. Mar Ecol Prog Ser 253:123136

Hewitt CL, Campbell ML, Schaffelke B (2007) Introductions of seaweeds: accidental transfer pathways and mechanisms. Botanica Mar 50:326–337

Hibberd DJ, Norris RE (1984) Cytology and ultrastructure of Chlorarachnion reptans (Chlorarachniophyta) division nova, Chlorarachniophyceae, (Clasis nova). J Phycol 20:36–330

Hill SA, Towill LR, Sommerfeld MR (1980) Photomovement responses of Porphyridium purpureum. J Phycol 16:444–448

Hillebrand HB, Worm B, Lotze HK (2000) Marine microbenthic community structure regulated by nitrogen loading and grazing pressure. Mar Ecol Prog Ser 204:27–38

Hinks J, Edwards S, Sallis PJ et al (2013) The steady state anaerobic digestion of Laminaria hyperborea. Effect of hydraulic residence on biogas production and bacterial community composition. Bioresour Technol 143:221–230

Hoagland KD, Rosowski JR, Gretz MR et al (1993) Diatom extracellular polymeric substances: function, fine structure, chemistry, and physiology. J Phycol 29:537–566

Hoshino M, Croce ME, Hanyuda T, Kogame K (2020) Species delimitation of Planosiphon gracilis morphospecies (Scytosiphonaceae, Phaeophyceae) from Japan and the description of Pl. nakamurae sp. nov. Phycologia 59:116–126

Hull SC (1987) Macroalgal mats and species abundance, a field experiment. Estuar Coast Shelf Sci 25:519–532

Iribarne O, Bruschetti M, Escapa M et al (2005) Small and large-scale effect of the SW Atlantic burrowing crab on habitat use by migratory shorebirds. J Exp Mar Biol Ecol 315:87–61

Irlandi EA, Peterson CH (1991) Modification of animal habitat by large plants mechanisms by which seagrasses influence clam growth. Oecologia 87:307–318

Isaksson I, Pihl L (1992) Structural changes in benthic macrovegetation and associated epibenthic faunal communities. Neth J Sea Res 30:131–140

Isaksson I, Pihl L, van Montfrans J (1994) Eutrophication-related changes in macro vegetation and foraging of young cod (Gadus morhua L.): a mesocosm experiment. J Exp Mar Biol Ecol 177:203–217

Johansson G, Snoeijs P (2002) Macroalgal photosynthetic responses to light in relation to thallus morphology and depth zonation. Mar Ecol Prog Ser 244:63–72

Kang CK, Kim JB, Lee KS et al (2003) Trophic importance of benthic microalgae to macrozoobenthos in coastal bay systems in Korea: dual stable C and N isotope analyses. Mar Ecol Prog Ser 259:79–92

Kelaher BP, Levinton JS (2003) Variation in detrital enrichment causes spatio-temporal variation in soft-sediment assemblages. Mar Ecol Prog Ser 261:8597

Kennish M (2017) Ecology of estuaries: volume 2: biological aspects, 1st edn. CRC Press, Boca Raton

Kim MS, Yang CE, Mansilla A et al (2004) Recent introduction of Polysiphonia morrowii (Ceramiales, Rhodophyta) to Punta Arenas, Chile. Bot Mar 47:389–394

Kim JH, Kang EJ, Park MG et al (2011) Effects of temperature and irradiance on photosynthesis and growth of a green-tide-forming species (Ulva linza) in the Yellow Sea. J Appl Phycol 23:421–432

Kim JK, Yarish C, Hwang EK et al (2017) Seaweed aquaculture: cultivation technologies, challenges and its ecosystem services. Algae 32:1–13

Kirk JTO (1994) Light composition and photosynthesis in aquatic communities. Cambridge University Press, Cambridge

Koller L (2021) Cultivo de una especie de Gelidium (Gelidiales, Rhodophyta) del Estuario de Bahía Blanca, Thesis, Universidad Nacional del Sur, Bahía Blanca

Konar B, Iken K (2009) Influence of taxonomic resolution and morphological functional groups in multivariate analyses of macroalgal assemblages. Phycologia 48:24–31

Krause-Jensen D, McGlathery K, Rysgaard S et al (1996) Production within dense mats of the filamentous macroalga Chaetomorpha linum in relation to light and nutrient availability. Mar Ecol Prog Ser 134:207–216

Krause-Jensen D, Christensen PB, Rysgaard S (1999) Oxygen and nutrient dynamics within mats of the filamentous macroalga Chaetomorpha linum. Estuaries 22:31–38

Kristensen E, Penha-Lopes G, Delefosse M et al (2012) What is bioturbation? The need for a precise definition for fauna in aquatic sciences. Mar Ecol Prog Ser 446:285–302

Krumbein WE (1994) The year of the slime. In: Krumbein WE, Paterson D, Stal LJ (eds) Biostabilization of sediments. Bibliotheks und Informationssystem der Carl von Ossietzky Universitat, Oldenburg, pp 1–7

Larsen A, Sand-Jensen K (2006) Salt tolerance and distribution of estuarine benthic macroalgae in the Kattegat–Baltic Sea area. Phycologia 45:13–23

Lee WK, Lim YY, Leow ATC et al (2017) Factors affecting yield and gelling properties of agar. J Appl Phycol 29:1527–1540

Lemieux C, Otis C, Turmel M (2014) Six newly sequenced chloroplast genomes from prasinophyte green algae provide insights into the relationship among prasinophyte lineages and the diversity of streamlined genome architecture in picoplanktonic species. BMC Genomics 15:857

Lenanton RCJ, Robertson AI, Hansen JA (1982) Nearshore accumulations of detached macrophytes as nursery areas for fish. Mar Ecol Prog Ser 9:51–57

Lin HP, Sommerfeld MR, Swafford JR (1975) Light and electron microscope observations on motile cells of Porphyridium purpureum (Rhodophyta). J Phycol 11:452–457

Littler MM, Arnold KE (1982) Primary productivity of marine macroalgal functional-form groups from southwestern North America. J Phycol 18:307–311

Littler MM, Littler DS (1980) The evolution of thallus form and survival strategies in benthic marine macroalgae: field and laboratory tests of a functional forma model. Am Nat 116:25–44

Littler MM, Littler DS (1984) Relationships between macroalgal funtional form groups and substrata stability in a subtropical rocky-intertidal system. J Exp Mar Biol Ecol 74(1):13–34

Liuzzi MG, Lopez Gappa J, Piriz ML (2011) Latitudinal gradients in macroalgal biodiversity in the Southwest Atlantic between 36 and 55°S. Hidrobiologia 673(1):205–214

Lobban C, Harrison PJ (1994) Seaweed ecology and physiology. Cambridge University Press, New York

Luther G (1976) Bewuchsuntersuchungen auf Natursteinsubstraten im Gezeitenbereich des Nordsylter Wattenmeeres: Algen. Helgolander wiss Meeresunters 28:318–351

Macintyre HL, Geider RJ, Miller DC (1996) Microphytobenthos: the ecological role of the "secret garden" of unvegetated, shallow-water marine habitats. I. Distribution, abundance and primary production. Estuaries 19:186–201

Marcovecchio JE, Botté SE, Fernandez Severini MD et al (2010) Geochemical control of heavy metal concentrations and distribution within Bahía Blanca Estuary (Argentina). Aquat Geochem 16(2–3):251–266. https://doi.org/10.1007/s10498-009-9076-1

Margulis L, Barghoorn ES, Ashendorf D et al (1980) The microbial community in the layered sediments at Laguna Figueroa, Baja California, Mexico: does it have Precambrian analogues? Precambrian Res 11:93–123

Margulis L, Corliss JO, Melkonian M et al (eds) (1990) Handbook of Protoctista. Jones and Bartlett Publishers, Boston

Martins I, Oliveira JM, Flindt MR et al (1999) The effect of salinity on the growth rate of the macroalgae Enteromorpha intestinalis (Chlorophyta) in the Mondego estuary (West Portugal). Acta Oecol 20:259–265

Marx JM, Herrnkind WF (1985) Macroalgae (Rhodophyta: Laurencia spp.) as habitat for young juvenile spiny lobsters, Panulirus argus. Bull Mar Sri 36:423–431

Menendez M (2005) Effect of nutrient pulses on photosynthesis of Chaetomorpha linum from a shallow Mediterranean coastal lagoon. Aquat Bot 82:181–192

Menge BA, Ashkenas LR, Matson A (1983) Use of artificial holes in studying community development in cryptic marine habitats in a tropical rocky intertidal region. Mar Biol 77:128–141

Meysman FJR, Middelburg JJ, Heip CHR (2006) Bioturbation: a fresh look at Darwin's last idea. Trends Ecol Evol 21:688–695

Miller DC, Geider RJ, Macintyre HL (1996) Microphytobenthos: the ecological role of the "secret garden" of unvegetated, shallow-water marine habitats. II Role in sediment stability and shallow-water food webs. Estuaries 19:202–212

Miloslavich P, Klein E, Diaz JM et al (2011) Marine biodiversity in the Atlantic and Pacific coasts of South America: knowledge and gaps. PLoS One 6(1):e14631

Montagna PA (1984) In situ measurement of meiobenthic grazing rates on sediment bacteria and edaphic diatoms. Mar Ecol Prog Ser 18:119–130

Morand P, Merceron M (2005) Coastal eutrophication and excessive growth of macroalgae. In: Pandalai SG (ed) Recent research developments in environmental biology. Research Signpost, Trivandrum, pp 395–449

Nedergaard RI, Risgaard-Peterson N, Finster K (2002) The importance of sulfate reduction associated with Ulva lactuca thalli during decomposition: a mesocosm experiment. J Exp Mar Biol Ecol 275:15–29

Nestlerode JA, Diaz RJ (1998) Effects of periodic environmental hypoxia on predation of a tethered polychaete, Glycera americana: implications for trophic dynamics. Mar Ecol Prog Ser 172:185–195

Nicotri ME (1977) Grazing effects of four marine intertidal herbivores on the microflora. Ecology 58:620–632

Nielsen SL, Sand-Jensen K (1990) Allometric scaling of maximal photosynthetic growth rate to surface/volume ratio. Limnol Oceanogr 251:77–180

Nienhuis PH (1969) The significance of the substratum for intertidal algal growth on the artificial rocky shore of the Netherlands. Int Revue Ges Hydrobiol 54(2):207–215

Niklas KJ (1992) Plant Allometry: the scaling of form and process. University of Chicago Press, Chicago

Noffke N (2010) Microbial mats in sandy deposits from the Archean era to today. Springer, Berlin

Norkko JE, Bonsdorff E, Norkko A (2000) Drifting algal mats as an alternative habitat for benthic invertebrates. Species specific responses to a transient resource. J Exp Mar Biol Ecol 248:79–64

Norton TA (1992) Dispersal by macroalgae. Br Phycol J 27:293–301

Nyberg CD, Wallentinus I (2005) Can species traits be used to predict marine macroalgal introductions? Biol Invasions 7(2):265–279

Ogata E (1953) Some experiments on the settlement of spores of red algae. Jpn J Ecol 3:128

Omstedt A, Humborg C, Pempkowiak J et al (2014) Biogeochemical control of the coupled CO2–O2 system of the Baltic Sea: a review of the results of Baltic-C. Ambio 43:49–59

Otaiza RD, Rodriguez CY, Caceres JH et al (2018) Fragmentation of thalli and secondary attachment of fragments of the agarophyte Gelidium lingulatum (Rhodophyta, Gelidiales). J Appl Phycol 30:1921–1931

Pan J, Bournod CN, Cuadrado DG et al (2013a) Interaction between estuarine microphytobenthos and physical forcings: the role of atmospheric and sedimentary factors. Int J Geosci 4:352–361

Pan J, Bournod CN, Pizani NV et al (2013b) Characterization of microbial mats from a siliciclastic tidal flat (Bahía Blanca estuary, Argentina). Geomicrobiol J 30:665–674

Parodi ER (2004) Marismas y algas bentónicas. In: Piccolo MC, Hoffmeyer M (eds) Ecosistema del estuario de Bahía Blanca. Instituto Argentino de Oceanografía, Bahia Blanca, pp 61–67

Parodi ER, Barría de Cao S (2003) Benthic microalgal communities in the inner part of the Bahía Blanca estuary (Argentina): a preliminary qualitative study. Oceanol Acta 25:279–284

Pedersen M, Borum J (1996) Nutrient control of algal growth in estuarine waters. Nutrient limitation and the importance of nitrogen requirements and nitrogen storage among phytoplankton and species of macroalgae. Mar Ecol Prog Ser 142:261–272

Perillo GME, Iribarne O (2003) Processes of tidal channels develop in salt and freshwater marshes. Earth Surf Proc Land 28:1473–1482

Perillo GME, Piccolo MC, Parodi ER et al (2001) Bahia Blanca Estuary ecosystem: a review. In: Seeliger U, Kjerfve B (eds) Coastal marine ecosystems of Latin America. Springler Verlag, Berlín, pp 205–217

Perkins EJ, Abbott OJ (1972) Nutrient enrichment and sand flat fauna. Mar Pollut Bull 3:70–72

Pickett-Heaps J, West J, Wilson S et al (2001) Time-lapse videomicroscopy of cell (spore) movement in red algae. Eur J Phycol 36(1):9–22

Pihl L, Isaksoon I, Wennhage H et al (1995) Recent increases of filamentous algae in shallow Swedish Bays: effects on the community structure of epibenthic fauna and fish. Neth J Aquat Ecol 29:349–358

Pinckney JL, Zingmark RG (1993) Modelling the annual production of intertidal benthic microalgae in estuarine ecosystems. J Phycol 29:396–407

Pizani N (2009) Valorización de las interacciones microfitobentos-sedimentos en planicies de marea impactadas por el dragado hidráulico. Ph.D Thesis, Universidad Nacional del Sur, Bahía Blanca

Polderman PJG (1976) Wittrockiella paradoxa Wille (Cladophoraceae) in n.w. European saltmarshes. Hydrobiol Bull 6:98–63

Prathep A, Marrs R, Norton T (2003) Spatial and temporal variations in sediment accumulation in an algal turf and their impact on associated fauna. Mar Biol 142(2):381–390

Raffaelli DG, Raven JA, Poole LJ (1998) Ecological impact of green macroalgal blooms. Oceanogr Mar Biol Annu Rev 36:97–125

Raffo MP, Geoffroy A, Destombe C et al (2014) First record of the invasive red alga Polysiphonia morrowii Harvey (Rhodomelaceae, Rhodophyta) on the Patagonian shores of the Southwestern Atlantic. Botanica Marina 57(1):21–26

Renaud PE, Syster DA, Ambrose WGJ (1999) Recruitment patterns of continental shelf benthos of North Carolina, USA, effects of sediment enrichment and impact on community structure. J Exp Mar Biol Ecol 237:89–66

Rikkinen J (2013) Molecular studies on cyanobacterial in lichen symbioses. Mycokeys 6:3–32

Robertson AI, Lenanton RCJ (1984) Fish community structure and food chain dynamics in the surf-zone of sandy beaches: The role of detached macrophyte detritus. J Exp Mar Biol Ecol 84:265–283

Rooker JR, Holt SA, Soto MA et al (1998) Post settlement patterns of habitat use by Sciaenid fishes in subtropical seagrass meadows. Estuaries 21:318–327

Rosenvinge LK (1927) On mobility in the reproductive cells of the Rhodophyceae. Bot Tidsskrift 40:72–80

Ross SW, Moser ML (1995) Life history of juvenile gag, Mycteroperca microlepis, in North Carolina estuaries. Bull Mar Sci 56:222–237

Rossi F (2006) Small-scale burial of macroalgal detritus in marine sediments: effects of Ulva spp. on the spatial distribution of macrofauna assemblages. J Exp Mar Biol Ecol 332:84–89

Rossi F, Underwood AJ (2002) Small-scale disturbance and increased nutrients as influences on intertidal macrobenthic assemblages experimental burial of wrack in different intertidal environments. Mar Ecol Prog Ser 241:29–39

Sagasti A, Schaffner LC, Duffy JE (2001) Effects of periodic hypoxia on mortality, feeding and predation in an estuarine epifaunal community. J Exp Mar Biol Ecol 258:257–283

Sand-Jensen K, Borum J (1991) Interactions among phytoplankton, periphyton, and macrophytes in temperate freshwaters and estuaries. Aquat Bot 41:137–175

Sanjeewa KKA, Kim EA, Son KT et al (2016) Bioactive properties and potentials cosmeceutical applications of phlorotannins isolated from brown seaweeds: a review. J Photochem Photobiol B 162:60–65

Santelices B (1990) Patterns of organization of intertidal and shallow subtidal vegetation in wave exposed habitats of Central Chile. Hidrobiologia 192(1):35–57

Santelices B, Varela D (1994) Abiotic control of reattachment in Gelidium chilense (Montagne) Santelices & Montalva (Gelidiales; Rhodophyta). J Exp Mar Biol Ecol 177:145–155

Sarı A, Tuzen M (2008) Biosorption of Pb (II) and Cd (II) from aqueous solution using green alga (Ulva lactuca) biomass. J Hazard Mater 152(1):302–308

Scanlan CM, Foden J, Wells E et al (2007) The monitoring of opportunistic macroalgal blooms for the water framework directive. Mar Poll Bull 55:162–171

Schweiger O, Settele J, Kudrna O et al (2008) Climate change can cause spatial mismatch of trophically interacting species. Ecol 89:3472–3479

Selvam GG, Sivakumar K (2014) Influence of seaweed extract as an organic fertilizer on the growth and yield of Arachis hypogea L. and their elemental composition using SEM-Energy Dispersive Spectroscopic analysis. Asian Pac J Reprod 3:18–22

Smith KN, Herrnkind WF (1992) Predation on early juvenile spiny lobsters Panulirus argus (Latreille): influence of size and shelter. J Exp Mar Biol Ecol 157:3–18

Snoeijs P, Busse S, Potapova M (2002) The importance of diatom cell size in community analysis. J Phycol 38:265–272

Sousa AI, Martins I, Lilleb AI et al (2007) Influence of salinity, nutrients and light on the germination and growth of Enteromorpha sp. spores. J Exp Mar Biol Ecol 341:142–150

South GR, Whittick A (1987) Introduction to phycology. Blackwell, Oxford

Spalleti L (1980) Paleoambientes sedimentarios en secuencias silicoclásticas. Asoc Geológ Argent 8:1–175

Spivak ED (2010) The crab Neohelice (=Chasmagnathus granulata): an emergent animal model from emergent countries. Helgoland Mar Res 64:149–154

Stal LJ (2006) Microphytobenthos as a biogeomorphological force in intertidal sediment stabilization. Ecol Eng 36:236–245

Stal LJ, van Gemerden H, Krumbein WE (1985) Structure and development of a benthic marine microbial mat. FEMS Microbiol Ecol 31:111–125

Statzner B, Fièvet E, Champagne JY et al (2000) Crayfish as geomorphic agents and ecosystem engineers: biological behavior affects sand and gravel erosion in experimental streams. Limnol Oceanogr 45:630–640

Steneck RL, Dethier MN (1994) A functional group approach to the structure of algal-dominated communities. Oikos 69:476–498

Steneck RL, Watling L (1982) Feeding capabilities and limitation of herbivorous mollusks: a functional group approach. Mar Biol 68:299–319

Stevenson RJ (1996) An introduction to algal ecology in freshwater benthic habitats. In: Stevenson RJ, Bothwell ML, Lowe RL (eds) Algal ecology: freshwater benthic ecosystems. Academic, San Diego, pp 3–30

Stewart WDP, Rowell P, Rai AN (1983) Cyanobacteria-eukaryotic plant symbioses. Ann Inst Pasteur Microbiol 134(1):205–228

Summerson HC, Peterson CH (1984) The role of predation in organizing benthic communities of a temperate-zone seagrass bed. Mar Ecol Prog Ser 15:63–77

Taylor R, Fletcher RL, Raven JA (2001) Preliminary studies on the growth of selected 'green tide' algae in laboratory culture: effects of irradiance, temperature, salinity and nutrients on growth rate. Bot Mar 44:327–336

Thiel M, Watling L (1998) Effects of green algal mats on infaunal colonization of a New England mud flat–long-lasting but highly localized effects. Hydrobiologia 375:177–189

Titlyanov EA, Titlyanova TV (2006) Production of plantlets of the red alga of Gelidium genus (Rhodophyta) from thallus fragments. Russ J Mar Biol 32(5):284–288

Turner A, Lewis MS, Shams L et al (2007) Uptake of platinum group elements by the marine macroalga, Ulva lactuca. Mar Chem 65(3–4):271–280

Valiela I, McClelland J, Hauxwell J et al (1997) Macroalgal blooms in shallow estuaries, controls and ecophysiological and ecosystem consequences. Limnol Oceanogr 42:165–1118

Van den Hoek C, Mann DG, Jahns HM (1995) Algae – an introduction to phycology. Cambridge University Press, Cambridge

van Gemerden H (1993) Microbial mats: a joint venture. Mar Geol 113:3–25

Vanderklift MA, Lavery PS (2000) Patchiness in assemblages of epiphytic macroalgae on Posidonia coriacea at a hierarchy of spatial scales. Mar Ecol Prog Ser 192:127–135

Vasconcelos MTSD, Leal MFC (2001) Seasonal variability in the kinetics of Cu, Pb, Cd and Hg accumulation by macroalgae. Mar Chem 74:65–85

Verlaque M (2001) Checklist of the macroalgae of Thau Lagoon (Herault, France), a hot spot of marine species introduction in Europe. Oceanol Acta 24:29–49

Wahl M (1989) Marine epibiosis. I. Fouling and antifouling: some basic aspects. Mar Ecol Prog Ser 58:175–189

Wahl M, Hoppe K (2002) Interactions between substratum rugosity, colonization density and periwinkle grazing efficiency. Mar Ecol Prog Ser 225:239–249

Walne PL, Kivic PA (1990) Euglenida. In: Margulis L, Corlissis JO, Melkonian M et al (eds) Handbook of Protoctista. Jones & Bartlett Publishers, Boston, pp 270–287

Watermann F, Hillebrand H, Gerdes G et al (1999) Competition between benthic cyanobacteria and diatoms as influenced by different grain sizes and temperatures. Mar Ecol Progr Ser 187:77–87

Webb P, Wooldridge T, Schlacher T (1997) Osmoregulation and spatial distribution in four species of mysid shrimps. Comp Biochem Physio A 117:427–431

Wilkinson M (1981) Survival strategies of attached algae in estuaries. In: Jones NV, Wolff WJ (eds) Feeding and survival strategies of estuarine organisms. Springer, Boston, pp 29–38

Wille N (1909) Algologische Notizen XV. Über Wittrockiella nov. gen. Nytt Mag Naturvidensk 47:209–225

Williams RB (1964) Division rates of salt marsh diatoms in relation to salinity and cell size. Ecology 45:877–880

Wilson KA, Able KW, Heck JKL (1990) Predation rates on juvenile blue crabs in estuarine nursery habitats: evidence for the importance of macroalgae (Ulva lactuca). Mar Ecol Prog Ser 58:243–251

Woodin SA (1978) Refuges, disturbance, and community structure: a marine soft-bottom example. Ecology 59:274–284
Glossary
Glossary
Amoeboid:

Type of cell organization that lacks a cell wall and the protoplasm undergoes frequent changes in shape.

Blade:

(= lamina) Flattened structure that is somewhat leaflike.

Bloom:

Massive or conspicuous growth of algae, usually a large percentage of the total cells belong to one or a few species.

Coccoid:

Simple cell type that is spherical, subspherical, or rod-shaped.

Cytokinesis:

The process by which one cell physically divides into two cells.

Epilithic:

Organisms living attached to the surfaces of rocks and stones.

Epipelic:

Organisms living attached to the surfaces of mud or sand.

Epiphytic:

Organisms living on the surfaces of plants or algae, using it for support but not for nutrition.

Epizoic:

Organisms living on the surfaces of animals.

Eukaryotic:

Organisms composed of cells with membrane-bounded nucleus. Most contain cells with a complex organization, with microtubules, membrane-bounded organelles, and chromatin organized into more than a single chromosome.

Eutrophic:

Waters that contain relatively high levels of dissolved nutrients (e.g., nitrate, phosphate); typically exhibit high levels of primary productivity.

Flagellum:

Long, threadlike organelle that projects out of the cell and functions in motility. In eukaryotic cells, they consist of a 9 doublet + 2 central singlet array of microtubules.

Frustule:

In diatoms, the silica cell wall or test, composed of two valves.

Holdfast:

A cell or multicellular structure that functions in attachment to a substrate.

Kelp:

Large phaeophytes that are members of the Laminariales.

Mastigonemate:

Stiff, lateral hairs borne by a flagellum, consisting of a base, a tubular shaft, and several terminal hairs.

Monophyletic:

Evolutionary term referring to a trait or group of organisms that evolved directly from a common ancestor.

Phagotrophic:

Mode of nutrition referring to heterotrophic protoctists or tissue cells that ingest solid food particles by phagocytosis.

Phycobiliproteins:

Complex of phycobilins with protein found in cyanobacteria, rhodophytes, glaucocystophytes, and some cryptophytes.

Phycobilisome:

Cellular structure containing phycobilin pigments and arranged as protrusions on the surface of the thylakoids of cyanobacteria, rhodophytes, and glaucocystophytes, but within the thylakoids (between membranous stacks) in the plastids of cryptophytes.

Photosynthetic pigments:

Pigments are chemical compounds present in algae by which the energy of sunlight is captured for photosynthesis.

Plastids:

Generic term for photosynthetic organelles present in algae. Plastids contain the enzymes and pigments for photosynthesis, ribosomes, and other structures.

Polyphyletic:

Evolutionary term referring to a trait or group of organisms that derived from more than one common evolutionary ancestor or ancestral group.

Prokaryotic:

Typically unicellular organism lacking a distinct nucleus and membrane-bound organelles.

Propagules:

Generative structure, any unicellular or multicellular, capable of survival, dissemination, and further growth.

Somatic:

General term referring to the body (soma) of an organism. The part not involved in reproduction or germination.

Spore:

Reproductive cell (motile or not) that originates by mitosis (mitospore) or meiosis (meiospore).

Stipe:

Stalk, stemlike portion of the algal thallus.

Symbiotic:

Physical association between organisms of different species.

Thallus:

The body of an alga that is not differentiated into roots, stalks, and leaves as in other plants.

Thylakoid:

Flat saclike structure formed by membranes that is present in the cytoplasm of cyanobacterial cells and in plastids of eukaryotic algae and plants.
Copyright information

© 2021 Springer Nature Switzerland AG
About this chapter
Cite this chapter
Croce, M.E., Gauna, M.C., Fernández, C., Poza, A.M., Parodi, E.R. (2021). Biology and Ecology of the Benthic Algae. In: Fiori, S.M., Pratolongo, P.D. (eds) The Bahía Blanca Estuary. Springer, Cham. https://doi.org/10.1007/978-3-030-66486-2_6