Abstract

This chapter argues that the AfD has not been able to capture the media's attention and display itself as the centre of protest against the government's COVID-19 policies. One of the key reasons is that the AfD has limited its critique to highlighting the failures in prevention and to stressing mistakes made in effectively managing the crisis. Consequently, the AfD could not exert the same radical critique as for example during the migration crisis. To be sure, the AfD has refused to participate in the overall COVID-19 consensus by politicizing the issue. It also tried to radicalize its critique by switching from a 'safety first' strategy to a strategy of 'individual rights first'. But with no avail. It seems that the party has been suffering from some 'outbidding' by forms of extra-parliamentary opposition (APO), which are much more radical and in some ways also more populist than the AfD itself.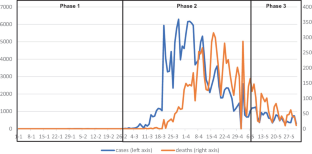 References
Geiges, L. (2018). Wie die AfD im Kontext der 'Flüchtlingskrise' mobilisierte. Eine empirische-qualitative Untersuchung der 'Herbstoffensive 2015'. Zeitschrift für Politikwissenschaft, 28(1), 49–69.

Ignazi, P. (1992). The Silent Counter‐Revolution: Hypotheses on the Emergence of Extreme Right‐Wing Parties in Europe. European Journal of Political Research, 22(1), 3–34.

Laakso, M., & Taagepera, R. (1979). 'Effective' Number of Parties: A Measure with Application to West Europe. Comparative Political Studies, 12(1), 3–27.

Manow, P. (2018). Die Politische Ökonomie des Populismus. Berlin: Suhrkamp.

Rosenfelder, J. (2017). Die Programmatik Der AfD: Inwiefern Hat sie sich von einer primär euroskeptischen zu einer rechtspopulistischen Partei entwickelt? Zeitschrift Für Parlamentsfragen, 48(1), 123–140.

Sartori, G. (1976). Parties and Party Systems: A Framework for Analysis. Cambridge: Cambridge University Press.
Copyright information

© 2021 The Author(s), under exclusive license to Springer Nature Switzerland AG
About this chapter
Cite this chapter
Lembcke, O.W. (2021). Germany: The AfD's Staggering Between Reason and Resistance. In: Bobba, G., Hubé, N. (eds) Populism and the Politicization of the COVID-19 Crisis in Europe. Palgrave Macmillan, Cham. https://doi.org/10.1007/978-3-030-66011-6_6
DOI: https://doi.org/10.1007/978-3-030-66011-6_6

Published:

Publisher Name: Palgrave Macmillan, Cham

Print ISBN: 978-3-030-66010-9

Online ISBN: 978-3-030-66011-6