Abstract

This contribution offers a reminder of the state of political forces in France and the course of the health crisis, which initially took place in a context of strong political tensions, particularly as a result of the controversial pension reform decided by Macron. The COVID crisis allowed populist parties to develop 'naming' and 'blaming' strategies, initially mobilized in different proportions, to attack the President of the Republic Macron. The analysis shows that the decision to introduce a lockdown led the two leaders of the parties described as populist to harden their criticism to similar proportions but also to 'claim' rapid responses to the crisis. These speeches are also part of the medical polemics that will have been omnipresent throughout the pandemic. Finally, we observe that these strategies have not been beneficial to the populist parties, since during the municipal elections the two parties did not manage to take advantage on this health and political sequence.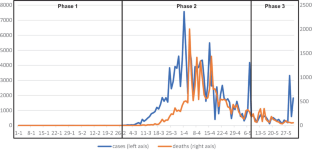 References
Castaño, P. (2018). Populisme de gauche en Europe: une comparaison entre Podemos et La France insoumise. Mouvements, 96, 169–180.

Cole, A. (2019). Emmanuel Macron and the Remaking of France. Manchester: Manchester University Press.

Felstiner, W. L. F., Abel, R. L., & Sarat, A. (1980). The Emergence and Transformation of Disputes: Naming, Blaming, Claiming… Law & Society Review, 15(3/4), 631–654.

Gougou, F., & Persico, S. (2017). A New Party System in the Making? The 2017 French Presidential Election. French Politics, 15, 303–321.

Mondon, A. (2014). The Front National in the Twenty-First Century: From Pariah to Republican Democratic Contender? Modern & Contemporary France, 22(3), 301–320.

Mudde, C., & Rovira Kaltwasser, C. (2017). Populism: A Very Short Introduction. Oxford and New York: Oxford University Press.
Copyright information

© 2021 The Author(s), under exclusive license to Springer Nature Switzerland AG
About this chapter
Cite this chapter
Baloge, M., Hubé, N. (2021). France: Governmental Unpreparedness as a Discursive Opportunity for Populists. In: Bobba, G., Hubé, N. (eds) Populism and the Politicization of the COVID-19 Crisis in Europe. Palgrave Macmillan, Cham. https://doi.org/10.1007/978-3-030-66011-6_5
DOI: https://doi.org/10.1007/978-3-030-66011-6_5

Published:

Publisher Name: Palgrave Macmillan, Cham

Print ISBN: 978-3-030-66010-9

Online ISBN: 978-3-030-66011-6