Summary

Classical managerial control theories mostly focus on performance indicators, like the number of pieces produced. More recent theories focus on behavior control. All theories are specialized in controlling a specific unit of the firm, i.e., the employee, the team, or a subsystem. Therefore, agency theory-based control and system-based control have their limits. In this chapter, we advocate for a more holistic approach that takes into account the culture of the firm but also of the geographic region studied. Indigenous research is presented as a possible way to improve managerial control and harmonize western and eastern countries' views on managerial control (we take several examples from North America, Europe, and China). We also propose a general guideline for conducting indigenous research on managerial control. Finally, we raise some concerns about the risk of using control to spread specific ideologies in firms that can be harmful in the long run.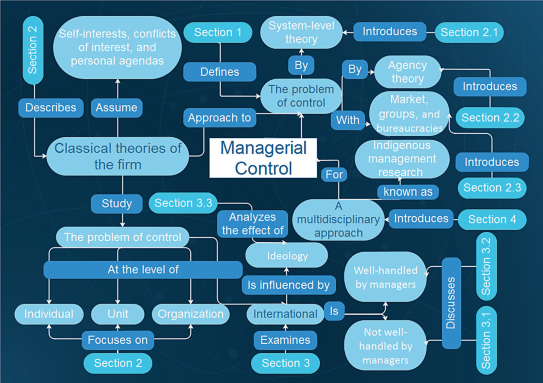 The concept map of the chapter
The code of this chapter is 01101001 01110100 01110010 01101110 01101100 01100001 01110100 01101001 01101111 01101110 01100101 01101111 01101110 01101110 01100001 01111010 01001001 01101001 01100001 01110100.
Keywords
Indigenous research

Managerial control

Managerial systems

Performance

Theories of the firm
"The goal of management control systems is to implement organizational strategies . Organizations that are able to efficiently meet their strategic objectives are the best performers in the long run."

Robert Newton Anthony
References
Burger-Helmchen T, Hussler C, Muller P (2019) Management. Vuibert, Paris

Bollinger SR (2020) Creativity and forms of managerial control in innovation processes: tools, viewpoints and practices. Eur J Innov Manag 23:214–229. https://doi.org/10.1108/EJIM-07-2018-0153

Hatch M-J (2018) Organization theory: modern, symbolic, and postmodern perspectives, 4th ed. Oxford University Press, Oxford

Tannenbaum AS (1968) Control in organizations. McGraw-Hill, New York

Heraud J-A, Kerr F, Burger-Helmchen T (2019) Creative management of complex systems, 1st edn. Wiley-ISTE, Hoboken, NJ

Vimrová H (2017) Management control systems through the lens of the agency theory. In: Procházka D (ed) New trends in finance and accounting. Springer Proceedings in Business and Economics. Springer, Cham

Elkington R (2018) Leadership decision-making leveraging big data in vuca contexts. J Leadersh Stud 12:66–70. https://doi.org/10.1002/jls.21599

Burger-Helmchen T, Llerena P (2008) A case study of a creative start-up: governance, communities and knowledge management. J Innov Econ 1:127–148

Besanko D, Dranove D, Shanley M, et al (2017) Management stratégique : principes économiques fondamentaux pour manager. De Boeck université

Lecorche V, Burger-Helmchen T (2019) L'influence du lieu dans l'acquisition de compétences entrepreneuriales: le cas du séminaire BEST. La Revue des Sciences de Gestion 299–300:13–26. https://doi.org/10.3917/rsg.299.0013

Dechamp G, Szostak B (2016) Organisational creativity and the creative territory: the nature of influence and strategic challenges for organisations. Management 19:61–88

Lill P, Wald A, Munck JC (2020) In the field of tension between creativity and efficiency: a systematic literature review of management control systems for innovation activities. Eur J Innov Manag. https://doi.org/10.1108/EJIM-11-2019-0329 (ahead-of-print)

Adler PS, Chen CX (2011) Combining creativity and control: understanding individual motivation in large-scale collaborative creativity. Acc Organ Soc 36:63–85. https://doi.org/10.1016/j.aos.2011.02.002

Ecker B, van Triest S, Williams C (2013) Management control and the decentralization of R&D. J Manag 39:906–927. https://doi.org/10.1177/0149206311411507

Barros RS, Ferreira AMDS da C (2019) Bridging management control systems and innovation: the evolution of the research and possible research directions. Qualitative Research in Accounting & Management 16:342–372. https://doi.org/10.1108/QRAM-05-2017-0043

Davila A, Epstein MJ, Manzoni J-F (2014) Performance measurement and management control: behavioral implications and human actions. Emerald Publishing Limited, Bingley

Cools M, Stouthuysen K, Van den Abbeele A (2017) Management control for stimulating different types of creativity: the role of budgets. J Manag Account Res 29:1–21. https://doi.org/10.2308/jmar-51789

Laperche B, Burger-Helmchen T (2019) Innovation: the Janus face of finance. J Innov Econ Manag 29:1–5. https://doi.org/10.3917/jie.029.0001

Bowman EH, Kogut BM (1995) Redesigning the firm. Oxford University Press, USA

Hart O (1995) Firms, contracts and market structure. Oxford University Press, Oxford

Williamson OE (1985) The economic institutions of capitalism: firms, markets, relational contracting. Free Press, New York

Cohendet P, Llerena P (2003) Routines and incentives: the role of communities in the firm. Ind Corp Change 12:271–297. https://doi.org/10.1093/icc/12.2.271

Mackey JT, Deng FJ (2016) Examining the role of management control systems in the creation of an innovative culture. Int J Innov Technol Manag 13:1640002. https://doi.org/10.1142/S0219877016400022

Eisenhardt KM (1985) Control: organizational and economic approaches. Manage Sci 31:134–149. https://doi.org/10.1287/mnsc.31.2.134

Ouchi WG (1980) Markets, Bureaucracies, and Clans. Adm Sci Q 25:129–141. https://doi.org/10.2307/2392231

Geroski PA (1997) What can economics offer strategy? Int J Econ Bus 4:215–228

Anthony R, Govindarajan V, Hartmann F et al (2014) Manag Control Syst. McGraw-Hill Education, New York

Langlois RN, Foss NJ (1999) Capabilities and governance: the rebirth of production in the theory of economic organization. Kyklos 52:201

Hill CWL, Hitt MA, Hoskisson RE (1992) Cooperative versus competitive structures in related and unrelated diversified firms. Org Sci 3:501–521. https://doi.org/10.1287/orsc.3.4.501

Baker M, Ruback RS, Wurgler J (2004) Behavioral corporate finance: a survey. Natl Bur Econ Res. http://www.nber.org/papers/w10863.pdf

Winter S (1975) Optimization and evolution in the theory of the firm. In: Day RH, Groves T (eds) Adaptive economic models. Academic Press, New York, pp 730–743

Weber J, Schäffer U (2019) Is ensuring management rationality a controlling task? In: Schäffer U (ed) Behavioral controlling. Springer Fachmedien, Wiesbaden, pp 87–111

Barney J, Lee W (2000) Multiple considerations in making governance choices: implications of transaction cost economics, real options theory and knowledge-based theories of the firm. In: Foss NJ, Mahnke V (eds) Competence, governance, and entrepreneurship: advances in economic strategy research. Oxford University Press, Oxford, pp 304–317

Hendry J (2001) Missing the target: normative stakeholder theory and the corporate governance debate. Bus Ethics Q 11:159–176. https://doi.org/10.2307/3857875

Arrow KJ (1974) The limits of organization. WW Norton & Co, New York

Mintzberg H, Lampel J, Ahlstrand B (2005) Strategy safari: a guided tour through the wilds of strategic management. Free Press, New York

Burger-Helmchen T, Llerena P (2012) Creativity, human resources and organizational learning. In: Buenstorf G (ed) Evolution, organization and economic behavior. Edward Elgar Publishing, Cheltenham, pp 155–184

Ashkanasy NM, Wilderom CPM, Peterson MF (2010) The handbook of organizational culture and climate, 2nd ed. SAGE Publications, Inc, Thousand Oaks

Malmi T, Bedford DS, Brühl R, et al (2020) Culture and management control interdependence: an analysis of control choices that complement the delegation of authority in Western cultural regions. Account Organ Soc 101116. https://doi.org/10.1016/j.aos.2020.101116

Ghoshal S (2005) Bad management theories are destroying good management practices. Acad Manag Learn Edu 4:75–91. https://doi.org/10.5465/amle.2005.16132558

Aas TH, Breunig KJ, Hydle KM, Pedersen PE (2015) Innovation management practices in production intensive service firms. Int J Innov Mgt 19:1550055. https://doi.org/10.1142/S1363919615500553

Neukam M, Guittard C (2018) Reach for the stars: knowledge sharing in international organizations. J Innov Econ Manag 27:9–35. https://doi.org/10.3917/jie.027.0009

Neukam MN (2017) Managing the fuzzy front-end in multicultural teams. Eur J Innov Manag 20:578–598. https://doi.org/10.1108/EJIM-11-2016-0112

Weick KE (2009) Making sense of the organization: the impermanent organization. Wiley, Hoboken

Demartini C (2013) Performance management systems. Springer publisher, Berlin

Otley D (2018) A complexity view of managerial control systems. J Manag Account

Jing R, Ven AH (2011) Indigenous management research in China from an engaged scholarship perspective. Manag Organ Rev 8:123–137

Leung K (2009) Never the Twain shall meet? Integrating Chinese and western management research. Manag Organ Rev 5:121–129. https://doi.org/10.1111/j.1740-8784.2008.00135.x

Li J, Zhang Q, Wang X (2018) Leader humility and constructive voice behavior in China: a dual process model. Int J Manpow 39:840–854

Li PP, Leung K, Chen CC, Luo J-D (2012) Indigenous research on Chinese management: what and how. Manag Organ Rev 8:7–24. https://doi.org/10.1111/j.1740-8784.2012.00292.x

Van de Ven AH (2007) Engaged scholarship: a guide for organizational and social research. Oxford University Press, Oxford

Eisenhardt KM (1989) Building theories from case study research. Acad Manag Rev 14:532–550

Ahrens T, Chapman CS (2006) Doing qualitative field research in management accounting: positioning data to contribute to theory'. Account Organ Soc 31:819–841

Tsui AS (2004) Contributing to global management knowledge: a case for high quality indigenous research. Asia Pac J Manag 21:491–513. https://doi.org/10.1023/B:APJM.0000048715.35108.a7

Van de Ven AH, Meyer AD, Jing R (2018) Opportunities and challenges of engaged indigenous scholarship. Manag Int Rev 14:449–462. https://doi.org/10.1017/mor.2018.28

Meyer K (2006) Asian management research needs more self-confidence'. Asia Pac J Manag 23:119–137

Holtbrügge FA (2013) Indigenous management research. Manag Int Rev 53:1–11. https://doi.org/10.1007/s11575-012-0160-1

Rindova VP, Starbuck WH (1997) Ancient Chinese theories of control. J Manag Inq 6:144–159. https://doi.org/10.1177/105649269762008
Copyright information

© 2021 The Author(s), under exclusive license to Springer Nature Switzerland AG
About this chapter
Cite this chapter
Le Corre, JY., Burger-Helmchen, T. (2021). Rethinking Managerial Control in the Contemporary Context. In: Rezaei, N. (eds) Integrated Science. Integrated Science, vol 1. Springer, Cham. https://doi.org/10.1007/978-3-030-65273-9_20