Abstract

Scientific retraction helps purge the continued use of flawed research. However, the practical influence of it needs to be identified and quantified. In this study, we analyzed the citations of 106 psychological articles from Web of Science to explore the influence of retraction using quantitative methods. Our results show that 1) retraction caused a significant decline (1.6–1.8 times) in the post-retraction citations; 2) retractions from open accessed or high-quality journals are effective; 3) retraction is incapable to eliminate the dissemination of flawed results thoroughly. Our findings may provide useful insights for scholars and practitioners to understand and integrate the retraction system.
Keywords
Retractions

Scientific misconduct

PSM

Difference-in-differences

Non-parametric test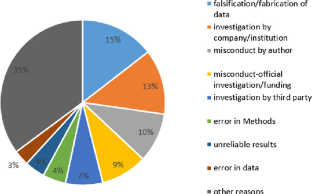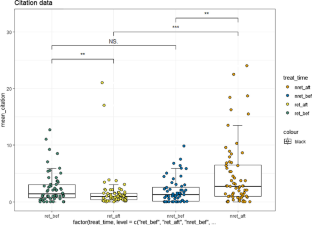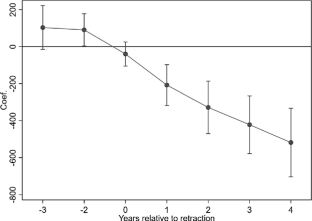 References
Aspura, M.K.Y.I., Noorhidawati, A., Abrizah, A.: An analysis of Malaysian retracted papers: misconduct or mistakes? Scientometrics 115(3), 1315–1328 (2018). https://doi.org/10.1007/s11192-018-2720-z

Bar-Ilan, J., Halevi, G.: Post retraction citations in context: a case study. Scientometrics 113(1), 547–565 (2017). https://doi.org/10.1007/s11192-017-2242-0

Bik, E.M., Casadevall, A., Fang, F.C.: The prevalence of inappropriate image duplication in biomedical research publications. MBio 7, e00809–e00816 (2016)

Budd, J.M., Sievert, M., Schultz, T.R., Scoville, C.: Effects of article retraction on citation and practice in medicine. Bull. Med. Libr. Assoc. 87(4), 437–443 (1999)

Chauvin, A., De Villelongue, C., Pateron, D., Yordanov, Y.: A systematic review of retracted publications in emergency medicine. Eur. J. Emergency Med. 26(1), 19–23 (2017)

Cokol, M., Ozbay, F., Rodriguez-Esteban, R.: Retraction rates are on the rise. EMBO Rep. 9(1), 2 (2007). https://doi.org/10.1038/sj.embor.7401143

Cokol, M., Ozbay, F., Rodriguezesteban, R.: Retraction rates are on the rise. EMBO Rep. 9(1), 2 (2008)

COPE Council. COPE Guidelines: Retraction Guidelines, November 2019. https://doi.org/10.24318/cope.2019.1.4

Elango, B., Kozak, M., Rajendran, P.: Analysis of retractions in Indian science. Scientometrics 119(2), 1081–1094 (2019). https://doi.org/10.1007/s11192-019-03079-y

Fang, F.C., Steen, R.G., Casadevall, A.: Misconduct accounts for the majority of retracted scientific publications. Proc. Natl. Acad. Sci. 109(42), 17028–17033 (2013). https://doi.org/10.1073/pnas.1212247109

Furman, J.L., Jensen, K., Murray, F.: Governing knowledge in the scientific community: exploring the role of retractions in biomedicine. Res. Policy 41(2), 276–290 (2012)

Hamilton, D.G.: Continued citation of retracted radiation oncology literature—do we have a problem? Int. J. Radiat. Oncol. Biol. Phys. 103(5), 1036–1042 (2019)

He, T.: Retraction of global scientific publications from 2001 to 2010. Scientometrics 96(2), 555–561 (2013)

Lei, L., Zhang, Y.: Lack of improvement in scientific integrity: an analysis of WoS retractions by Chinese Researchers (1997–2016). Sci. Eng. Ethics 24(5), 1409–1420 (2018)

Lu, S.F., Jin, G.Z., Uzzi, B., Jones, B.: The retraction penalty: evidence from the Web of Science. Sci. Rep. 3, 3146 (2013)

Pfeifer, M.P., Snodgrass, G.L.: The continued use of retracted, invalid scientific literature. JAMA 263(10), 1420–1423 (1990)

Redman, B.K., Yarandi, H.N., Merz, J.F.: Empirical developments in retraction. J. Med. Ethics 34(11), 807–809 (2008)

Shuai, X., Rollins, J., Moulinier, I., Custis, T., Edmunds, M., Schilder, F.: A multidimensional investigation of the effects of publication retraction on scholarly impact. J. Assoc. Inf. Sci. Tech. 68(9), 2225–2236 (2017)

Suelzer, E.M., Jennifer, D., Hanus, K.L., Barbara, R., Rita, S., Elizabeth, W.: Assessment of citations of the retracted article by wakefield et al with fraudulent claims of an association between vaccination and autism. JAMA Network Open 2(11), 20–29 (2019)

Web of Science Group: Web of Science Confident research begins here (2019). https://clarivate.com/webofsciencegroup/solutions/web-of-science/. Accessed 1 April 2020
Acknowledgements

This research is funded by the National Social Science Fund Key Project of People's Republic of China (17ATQ009). Thanks Pai Li for the analysis of data and insightful comments on this study.
Copyright information

© 2020 Springer Nature Switzerland AG
About this paper
Cite this paper
Yang, S., Qi, F. (2020). How Do Retractions Influence the Citations of Retracted Articles?. In: Ishita, E., Pang, N.L.S., Zhou, L. (eds) Digital Libraries at Times of Massive Societal Transition. ICADL 2020. Lecture Notes in Computer Science(), vol 12504. Springer, Cham. https://doi.org/10.1007/978-3-030-64452-9_12
DOI: https://doi.org/10.1007/978-3-030-64452-9_12

Published:

Publisher Name: Springer, Cham

Print ISBN: 978-3-030-64451-2

Online ISBN: 978-3-030-64452-9

eBook Packages: Computer ScienceComputer Science (R0)