Abstract

The digital transformation requires not only involving contemporary information technologies but also a business model that is capable to cope with specific challenges. These models should be integrated properly in a decision support system closely related to the business activities of the company. The current article describes a framework of a decision-support system for composing different questionnaires for specific survey taking into account several predefined target groups. A proper business model able to determine the most suitable questions for generating different target groups' questionnaires is formulated. This is realized by involving an expert that acts as a decision-maker to evaluate a predefined set of questions covering different sociological aspects toward predefined target groups. The distinguishing feature of this model is the ability to select a different number of questions for the questionnaires. Along with the formulated mathematical model, a software architecture framework for the implementation of this model is proposed. The numerical testing is done in case of the determination of four different questionnaires composed of an equal number of questions. Obtained results show the applicability of the formulated business model and the functionality of the proposed software framework.
Keywords
Information systems

Decision-making

Software framework

Questionnaires composing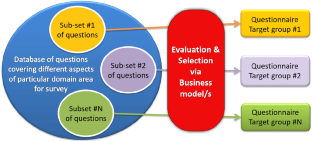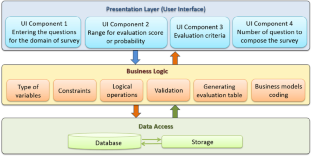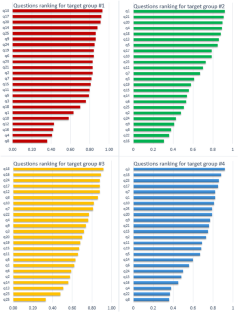 References
Gerth, A.B., Peppard, J.: The dynamics of CIO derailment: How CIOs come undone and how to avoid. Bus. Horiz. 59, 61–70 (2016)

Jarvelainen, J.: Understanding the stakeholder roles in business continuity management practices – A study in public sector. In: 53rd Hawaii International Conference on System Sciences, pp. 1966–1975. Maui, Hawaii (2020)

Borissova, D., Mustakerov, I.: An integrated framework of designing a decision support system for engineering predictive maintenance. Int. J. Inf. Technol. Knowl. 6(4), 366–376 (2012)

Mustakerov, I., Borissova, D.: Software system for night vision devices design by reasonable combinatorial choice. In: Breaz, D., Breaz, N., Wainberg, D. (eds.) ICTAMI 2007, pp. 43–53 (2007)

Borissova, D., Mustakerov, I.: A framework for designing of optimization software tools by commercial API implementation. Int. J. Adv. Eng. Manage. Sci. 2(10), 1790–1795 (2016)

Marinova, G., Guliashki, V., Chikov, O.: Concept of online assisted platform for technologies and management in communications – OPTIMEK. In: Hajrizi, E. (ed.) ICBTI'2014, pp. 136–145 (2014)

Mustakerov, I., Borissova, D.: A conceptual approach for development of educational Web-based e-testing system. Expert Syst. Appl. 38(11), 14060–14064 (2011)

Borissova, D., Keremedchiev, D.: Intelligent System for Generation and Evaluation of e-Learning Tests Using Integer Programming. In: Simian, D., Stoica, L.F. (eds.) MDIS 2019. CCIS, vol. 1126, pp. 97–110. Springer, Cham (2020). https://doi.org/10.1007/978-3-030-39237-6_7

Kirilov, L., Guliashki, V., Genova, K., Zhivkov, P., Staykov, B., Vatov, D.: Interactive environment WebOptim for solving multiple-objective problems using scalarising and evolutionary approaches. Int. J. Reasoning-based Intell. Syst. 7(1/2), 4–15 (2015)

Borissova, D., Cvetkova, P., Garvanov, I., Garvanova, M.: A framework of business intelligence system for decision making in efficiency management. In: Saeed, K., Dvorský, J. (eds.) CISIM 2020. LNCS, vol. 12133, pp. 111–121. Springer, Cham (2020). https://doi.org/10.1007/978-3-030-47679-3_10

Garvanova, M.: The digital entrepreneurship as a new generation software of the mind. In: Ivanova, S.V., Elkina, I.M. (eds.) icCSBs'2019, Future Academy, vol. LXXIV, pp. 294–300 (2019)

Belton, V., Stewart, T.: Multiple Criteria Decision Analysis: An Integrated Approach. Kluwer Academic Publishers, Massachusetts (2002)

Borissova, D., Mustakerov I.: A concept of intelligent e-maintenance decision making system. In: Innovations in Intelligent Systems and Applications (INISTA), pp. 1–6. IEEE, Albena Bulgaria, (2013)

Yahia, E., Aubry, A., Panetto, H.: Formal measures for semantic interoperability assessment in cooperative enterprise information systems. Comput. Ind. 63(5), 443–457 (2012)

Kessi, K., Alimazighi, Z., Oussalah, M.: Requirement meta model of a cooperative information system oriented viewpoints. Procedia Comput. Sci. 64, 474–482 (2015)

Taipalus, T., Seppanen, V., Pirhonen, M.: Uncertainty in information system development: Causes, effects, and coping mechanisms. J. Syst. Softw. 168, 110655 (2020)

Liu, G., Feng. Y., Yang. J.: A common attribute reduction form for information systems. Knowl.-Based Syst. 193, 105466 (2020)

Meng, Z., Shi, Z.: A fast approach to attribute reduction in incompletes with tolerance relation-based rough sets. Inf. Sci. 179(16), 2774–2793 (2009)

Li, S., Hong, Z., Li, T.: Efficient composing rough approximations for distributed data. Knowl.-Based Syst. 182 (2019)

Gao, Y., Chen, X., Yang, X., Wang, P.: Neighborhood attribute reduction: A multicriterion strategy based on sample selection. Information 9, 282 (2018). https://doi.org/10.3390/info9110282

Ballestar, M.T., Grau-Carles, P., Sainz, J.: Customer segmentation in e-commerce: Applications to the cashback business model. J. Bus. Res. 88, 407–414 (2018)

Shalamanov, V.: Organizing for IT effectiveness, efficiency and cyber resilience in the academic sector: National and regional dimensions. Inform. Secur. Int. J. 42, 49–66 (2019)

Borissova, D., Mustakerov, I. Korsemov D.: Business intelligence system via group decision making. Cybern. and Inform. Technol. 16(3), 219–229 (2016)

Zaheer, H., Breyer, Y., Dumay, J.: Digital entrepreneurship: An interdisciplinary structured literature review and research agenda. Technol. Forecast. Soc. Chang. 148, 119735 (2019). https://doi.org/10.1016/j.techfore.2019.119735

Andreev, R., Borissova, D., Shikalanov, A., Yorgova, T.: Chapter: Model-driven design of eMedia: Virtual technology transfer office, Book Title: Information Systems and Management in Media and Entertainment Industries, pp. 279–298. Springer (2016)

Young, K.S., Nabuco de Abreu, C. (eds.): Internet Addiction: A Handbook and Guide to Evaluation and Treatment Hoboken. John Wiley & Sons Inc., New york (2010)

Salih, Al-H. A., Saeed. A.T., Saber, Z. R.: A study on the effects of cellular mobile networks on people in Tikrit city based on power density measurements and calculations. Eng. Technol. Appl. Sci. Res. 9(3), 4265–4270 (2019)

Kim, J.H., Lee, J.-K., Kim, H.-G., Kim, K.-B., Kim, H.R.: Possible effects of radiofrequency electromagnetic field exposure on central nerve system. Biomol. Ther. 27(3), 265–275 (2019)

Markov, M. (ed.): Mobile Communications and Public Health. Taylor & Francis Group, Boca Raton (2019)

Garvanova, M., Garvanov, I., Borissova, D.: Influence of electromagnetic fields on human brain. In: 21st International Symposium on Electrical Apparatus and Technologies – SIELA 2020, pp. 1–4. Bourgas, Bulgaria (2020)

Garvanova, M., Shishkov, B., Vladimirov, S.: Mobile devices – effect on human health. In: Proceedings of 7th International Conference on Telecommunications and Remote Sensing, pp. 101–104, Barcelona, Spain (2018)

Schmoldt, D., Kangas, J., Mendoza, G.A., Pesonen, M. (eds.): The analytic hierarchy process in natural resource and environmental decision making. Managing For. Ecosyst. 3, 15–35 (2001)
Acknowledgment

This work is supported by the Bulgarian National Science Fund, Project title "Synthesis of a dynamic model for assessing the psychological and physical impacts of excessive use of smart technologies", KP-06-N 32/4/07.12.2019.
Copyright information

© 2020 Springer Nature Switzerland AG
About this paper
Cite this paper
Borissova, D., Garvanova, M., Dimitrova, Z., Pandulis, A., Garvanov, I. (2020). Decision Support Framework for Composing of Different Questionnaires Based on Business Model with Optimization. In: Huynh, VN., Entani, T., Jeenanunta, C., Inuiguchi, M., Yenradee, P. (eds) Integrated Uncertainty in Knowledge Modelling and Decision Making. IUKM 2020. Lecture Notes in Computer Science(), vol 12482. Springer, Cham. https://doi.org/10.1007/978-3-030-62509-2_5
DOI: https://doi.org/10.1007/978-3-030-62509-2_5

Published:

Publisher Name: Springer, Cham

Print ISBN: 978-3-030-62508-5

Online ISBN: 978-3-030-62509-2

eBook Packages: Computer ScienceComputer Science (R0)