Abstract

Medical centers, particularly emergency departments (EDs), are a frequent touchpoint for children and youth exposed to violence in their homes, schools, and communities. Many circumstances place children at risk for firearm injury, and these circumstances vary with age. Young children encountering a firearm in the home can lead to tragic consequences and severe injury or death, whereas older children and adolescents are more at risk for intentional use of a firearm to harm either themselves or others. There are antecedents of injury that can be identified during a medical encounter, such as the access to firearms, depression, and suicidality. In addition, there are potentially brewing issues of revenge and retaliation that may offer medical personnel a chance to intervene before severe injury or death. This chapter will describe ED and hospital-based assessment and interventions for youth at risk of firearm injury and will focus on limiting access to firearms, preventing suicide, and reducing the incidence and impact of assaults from peer violence.
Keywords
Youth violence

Suicide

Domestic violence

Violence prevention

Firearm safety

Hospital

Emergency department
Emergency room doctors speak out on South California gun violence

By Thomas Curwen

August 19, 2013. Los Angeles Times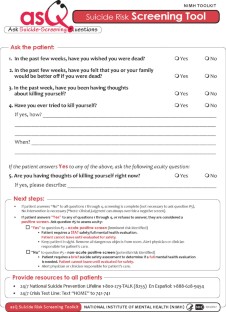 Suggested Readings
Adhia A, Kernic M, Hemenway D, Vavilala M, Rivara F. Intimate partner homicide of adolescents. JAMA Pediatr. 2019;173(6):571–7.

Ahmedani B, Simon G, Stewart C, Beck A, Waitzfelder B, Rossom R, et al. Health care contacts in the year before suicide death. J Gen Intern Med. 2014;29(6):870–7.

Barkin S, Finch S, Ip E, Scheindlin B, Craig J, Steffes J, et al. Is office-based counseling about media use, timeouts, and firearm storage effective? Results from a cluster-randomized, controlled trial. Pediatrics. 2008;122(1):e15–25.

Becher EC, Christakis NA. Firearm injury prevention counseling: are we missing the mark? Pediatrics. 1999;104(3):530–5.

Butts J, Gouvis Roman C, Bostwick L, Porter J. Cure violence: a public health model to reduce gun violence. Annu Rev Public Health. 2015;36:39–53.

Carter PM, Walton MA, Roehler DR, Goldstick J, Zimmerman MA, Blow FC, et al. Firearm violence among high-risk emergency department youth after an assault injury. Pediatrics. 2015;135(5):805–15.

Chong VE, Smith R, Garcia A, Lee WS, Ashley L, Marks A, et al. Hospital-centered violence intervention programs: a cost-effectiveness analysis. Am J Surg. 2015;209(4):597–603.

Conway PM, Erlangsen A, Teasdale TW, Jakobsen IS, Larsen KJ. Predictive validity of the Columbia-suicide severity rating scale for short-term suicidal behavior: a Danish study of adolescents at a high risk of suicide. Arch Suicide Res. 2016;21(3):455–69.

Cunningham R, Knox L, Fein J, Harrison S, Frisch K, Walton M, et al. Before and after the Trauma Bay: the prevention of violent injury among youth. Ann Emerg Med. 2008;53(4):490–500.

Cunningham RM, Walton MA, Goldstein A, Chermack ST, Shope JT, Raymond Bingham C, et al. Three-month follow-up of brief computerized and therapist interventions for alcohol and violence among teens. Acad Emerg Med. 2009;16(11):1193–207.

Dahlberg LL, Toal SB, Swahn M, Behrens CB. Measuring violence-related attitudes, behaviors, and influences among youths: a compendium of assessment tools. 2nd ed. Atlanta: Centers for Disease Control and Prevention, National Center for injury Prev Control; 2005.

David-Ferdon C, Haileyesus T, Liu Y, Simon T, Kresnow M. Nonfatal assaults among persons aged 10–24 years — United States, 2001–2015. Centers for Disease Control and Prevention MMWR. 2018;67(5):141–5. 

Daviss W, Mooney D, Racusin R, Ford J, Fleischer A, McHugo G. Predicting posttraumatic stress after hospitalization for pediatric injury. J Am Acad Child Adolesc Psychiatry. 2000;39(5):576–83.

De Vries APJ, Kassam-Adams N, Cnaan A, Sherman-Slate E, Gallagher PR, Winston FK. Looking beyond the physical injury: posttraumatic stress disorder in children and parents after pediatric traffic injury. Pediatrics. 1999;104(6):1293–9.

Dowd MD, Sege R. Firearm-related injuries affecting the pediatric population. Pediatrics. 2012;130(5):e1416–e23.

DuRant R, Barkin S, Craig J, Weiley V, Ip E, Wasserman R. Firearm ownership and storage patterns among families with children who receive well-child care in pediatric offices. Pediatrics. 2007;119(6):e1271–9.

Fein JA, Kassam-Adams N, Gavin M, Huang R, Blanchard D, Datner EM. Persistence of posttraumatic stress in violently injured youth seen in the emergency department. Arch Pediatr Adolesc Med. 2002;156(8):836–40.

Fein JA, Kassam-Adams N, Vu T, Datner EM. Emergency department evaluation of acute stress disorder symptoms in violently injured youths. Ann Emerg Med. 2001;38(4):391–6.

Fein JA, Pailler M, Barg FK, Wintersteen M, Hayes K, Tien A, et al. Feasibility and effects of a web-based adolescent psychiatric assessment administered by clinical staff in the pediatric emergency department. Arch Pediatr Adolesc Med. 2010;164(12):1112–7.

Fischer K, Bakes K, Corbin T, Fein J, Harris E, James T, et al. Trauma-informed care for violently injured patients in the emergency department. Ann Emerg Med. 2019;73(2):193–202.

Fischer K, Schwimmer H, Purtle J, Roman D, Cosgrove S, Current J, et al. A content analysis of hospitals' community health needs assessments in the most violent U.S. cities. J Community Health. 2018;43:259–62.

Fowler K, Dahlberg L, Haileyesus T, Gutierrez C, Bacon S. Childhood firearm injuries in the United States. Pediatrics. 2017;140(1):1–11.

Gairin I, House A, Owens D. Attendance at the accident and emergency department in the year before suicide: retrospective study. Br J Psychiatry. 2003;183:28–33.

Gipson P, Agarwala P, Opperman K, Horwitz A, King C. Columbia-suicide severity rating scale: predictive validity with adolescent psychiatric emergency patients. Pediatr Emerg Care. 2015;31(2):88–94.

Goldberg AJ, Toto JM, Kulp HR, Lloyd ME, Gaughan JP, Seamon MJ, et al. An analysis of inner-city students' attitudes towards violence before and after participation in the "Cradle to grave" programme. Injury. 2010;41(1):110–5.

Goldstick JE, Carter PM, Walton MA, et al. Development of the SaFETy score: a clinical screening tool for predicting future firearm violence risk. Ann Intern Med. 2017;166(10):707–14. 

Grossman DC, Mueller BA, Riedy C, et al. Gun storage practices and risk of youth suicide and unintentional firearm injuries. JAMA. 2005;293(6):707–14.

Hayes DN, Sege R. FiGHTS: a preliminary screening tool for adolescent firearms-carrying. Ann Emerg Med. 2003;42(6):798–807.

Health Research & Educational Trust. Hospital approaches to interrupt the cycle of violence. Chicago: Health Research & Educational Trust; 2015.

Hettema J, Steele J, Miller W. Motivational interviewing. Annu Rev Clin Psychol. 2005;1:91–111.

Hildenbrand AK, Kassam-Adams N, Barakat LP, Kohser KL, Ciesla JA, Delahanty DL, Fein JA, Ragsdale LB, Marsac ML. Posttraumatic Stress in Children After Injury: The Role of Acute Pain and Opioid Medication Use. Pediatr Emerg Care. 2020;36(10):e549–e557. 

Juillard C, Smith R, Anaya N, Garcia A, Kahn JG, Dicker RA. Saving lives and saving money: hospital-based violence intervention is cost-effective. J Trauma Acute Care Surg. 2015;78(2):252–8.

Karraker N, Cunningham RK, Becker MG, Fein JA, Knox LM, editors. Violence is preventable: a best practices guide for launching and sustaining a hospital-based program to break the cycle of violence. Office of Victims of Crime, Office of Justice Programs, U.S. Department of Justice; 2011.

King CA, Grupp-Phelan J, Brent D, Dean JM, Webb M, Bridge JA, Spirito A, Chernick LS, Mahabee-Gittens EM, Mistry RD, Rea M, Keller A, Rogers A, Shenoi R, Cwik M, Busby DR, Casper TC; Pediatric Emergency Care Applied Research Network. Predicting 3-month risk for adolescent suicide attempts among pediatric emergency department patients. J Child Psychol Psychiatry. 2019;60(10):1055–64. 

Ko SJ, Ford JD, Kassam-Adams N, Berkowitz SJ, Wilson C, Wong M, et al. Creating trauma-informed systems: child welfare, education, first responders, health care, juvenile justice. Prof Psychol Res Pract. 2008;39(4):396–404.

Kramer E, Dodington J, Hunt A, Henderson T, Nwabuo A, Dicker R, et al. Violent reinjury risk assessment instrument (VRRAI) for hospital-based violence intervention programs. J Surg Res. 2017;217:177-86.e2.

Lowe SR, Galea S, Uddin M, Koenen KC. Trajectories of posttraumatic stress among urban residents. Am J Community Psychol. 2014;53(1-2):159–72.

Manual for Compensation Assistance Pennsylvania Victims Compensation Assistance Program [Internet]. In: Pennsylvania Commission on Crime and Delinquency. 2018. Available from: https://www.pccd.pa.gov/Victim-Services/Documents/2018%20VCAP%20Manual.pdf.

Marsac ML, Kassam-Adams N, Hildenbrand AK, Nicholls E, Winston FK, Leff SS, et al. Implementing a trauma-informed approach in pediatric health care networks. JAMA Pediatr. 2016;170(1):70–7.

National Academies of Sciences Engineering and Medicine. Health systems interventions to prevent firearm injuries and death: proceedings of a workshop. Washington, DC: The National Academies Press; 2019.

Nonfatal Injury Data [Internet]. National Center for Injury Prevention and Control, Department of Health and Human Services. 2017. Available from: https://www.cdc.gov/injury/wisqars/nonfatal.html.

Pailler M, Fein JA. Computerized behavioral health screening in the emergency department. Pediatr Ann. 2009;38(3):156–60.

Pallin R, Spitzer S, Ranney M, Betz M, Wintemute G. Preventing firearm-related death and injury. Ann Intern Med. 2019;170(11):ITC81-ITC96.

Petrosino A, Turpin-Petrosino C, Hollis-Peel ME, Lavenberg JG. 'Scared Straight' and other juvenile awareness programs for preventing juvenile delinquency. Cochrane Database Syst Rev. 2013;20(4):CD002796. 

Price J, Thompson A, Khubchandani J, Wiblishauser M, Dowling J, Teeple K. Perceived roles of emergency department physicians regarding anticipatory guidance on firearm safety. J Emerg Med. 2013;44(5):1007–16.

Purtle J, Cheney R, Wiebe DJ, Dicker R. Scared safe? Abandoning the use of fear in urban violence prevention programmes. Inj Prev. 2015;21(2):140–1.

Purtle J, Rich LJ, Bloom SL, Rich JA, Corbin TJ. Cost-benefit analysis simulation of a hospital-based violence intervention program. Am J Prev Med. 2015;48(2):162–9.

Rich J. Wrong place, wrong time: trauma and violence in the lives of young black men. Baltimore: Johns Hopkins University Press; 2009. p. 232.

Rowhani-Rahbar A, Simonetti J, Rivara F. Effectiveness of interventions to promote safe firearm storage. Epidemiol Rev. 2016;38:111–24.

Schwebel D, Lewis T, Simon T, Elliott M, Toomey S, Tortolero S, et al. Prevalence and correlates of firearm ownership in the homes of fifth graders: Birmingham, AL, Houston, TX, and Los Angeles, CA. Health Educ Behav. 2014;41(3):299–306.

Scott J, Azrael D, Miller M. Firearm Storage in Homes With Children With Self-Harm Risk Factors. Pediatrics. 2018;141(3):e20172600. 

Sigel E. Violence risk screening: predicting cyber violence perpetration and victimization. J Adolesc Health. 2013;52:S53.

Simonetti J, Rowhani-Rahbar A, King C, Bennett E, Rivara F. Evaluation of a community-based safe firearm and ammunition storage intervention. Inj Prev. 2018;34:218–23.

UC Davis Health. What you can do initiative [Internet]. Available from: https://health.ucdavis.edu/what-you-can-do/.

Vasiliadis H, Ngamini-Ngui A, Lesage A. Factors associated with suicide in the month following contact with different types of health services in Quebec. Psychiatr Serv. 2015;66(2):121–6.

Walton MA, Chermack ST, Shope JT, Bingham CR, Zimmerman MA, Blow FC, et al. Effects of a brief intervention for reducing violence and alcohol misuse among adolescents: a randomized controlled trial. JAMA. 2010;304(5):527–35.

Weiss D, Kassam-Adams N, Murray C, Kohser KL, Fein JA, Winston FK, et al. Application of a framework to implement trauma-informed care throughout a pediatric health care network. J Contin Educ Heal Prof. 2017;37(1):55–60.

Wiebe DJ, Blackstone MM, Mollen CJ, Culyba AJ, Fein JA. Self-reported violence-related outcomes for adolescents within eight weeks of emergency department treatment for assault injury. J Adolesc Health. 2011;49(4):440–2.

Winston F, Kassam-Adams N. AfterTheInjury.org: Center for Injury and Prevention- Children's Hospital of Philadelphia; 2014. Available from: https://www.aftertheinjury.org/.

Wolk C, Van Pelt A, Jager-Hyman S, Ahmedani B, Zeber J, Fein J, et al. Stakeholder perspectives on implementing a firearm safety intervention in pediatric primary care as a universal suicide prevention strategy: a qualitative study. JAMA Network Open. 2018;1(7):e185309.
Copyright information

© 2021 Springer Nature Switzerland AG
About this chapter
Cite this chapter
Fein, J.A. (2021). Emergency Department and Hospital-Based Interventions. In: Lee, L.K., Fleegler, E.W. (eds) Pediatric Firearm Injuries and Fatalities . Springer, Cham. https://doi.org/10.1007/978-3-030-62245-9_8
DOI: https://doi.org/10.1007/978-3-030-62245-9_8

Published:

Publisher Name: Springer, Cham

Print ISBN: 978-3-030-62244-2

Online ISBN: 978-3-030-62245-9

eBook Packages: MedicineMedicine (R0)