Abstract
This paper presents two survey studies conducted on Amazon Mechanical Turk (AMT) to explore the possible uses of the desktop social robot Haru during the COVID-19 pandemic. The first study aimed to understand participants' preferences for Haru's use to support remote communication with others. We found, however, that participants imagined the robot playing a much larger role in their everyday life, even living as their social companion through the uncertainty and disruption caused by COVID-19. This led us to conduct a second AMT study to further explore how participants imagined their life with Haru, and how these imaginaries related to their socio-physical distancing [SPD] practices and their perception of Haru's use for following SPD or overcoming disruption from such distancing. Our findings present of how participants imagined Haru to help them through SPD for uses beyond remote communication and suggest how these uses map on to and extend our broader understanding of social support and companionship with robots.
Keywords
COVID-19 pandemic 
Social distancing 
Social robot 
Communication robot 
Social support 
Companion robot 
1

Introduction and Background

When the COVID-19 pandemic first surged in the United States, social distancing recommendations confined many people to their homes, separated them from family, friends, and colleagues, altered their daily routines. All of these lead to loneliness, frustration, boredom, and anxiety, as people had to learn to manage work and life in new ways, keep morale high in uncertain times, keep up with constantly changing information, and re-configure their social roles, needs, and resources [17]. Such disruption led to an increase in social support seeking [19], particularly using Information and communication technologies (ICTs), such as FaceTime, and Zoom, as individuals tried to stay connected with their social circles, and leverage and maintain social, physical, emotional, and mental wellbeing [18]. During this time, the media discussed how robots could help people get through the COVID19 crisis focusing on public safety, non-clinical health and care, and critical infrastructure in laboratory and supply chain automation [10, 13]. Robot use for remote communication outside of public safety and health, for individuals to connect with their social network, was brought up less often.

Inspired by existing research on the social applications of telepresence robots in non-clinical and home contexts, designed to enable social participation [8], we considered that robots might be able to serve as communication aids to individuals affected by COVID-19 [5]. With such a possibility in mind, in our first study, we decided to explore people's use and design preferences for the desktop Haru robot [1] as a remote communication aid during COVID-19 through an online survey on AMT. The Haru desktop robot was designed for multiple uses, including as an embodied telepresence device to communicate with others through active movement, sound, and LED displays on its eyes [1]. In this study, we prompted participants to think of Haru as a communication robot that could remotely connect them with others and asked them to describe their desired interactions with Haru. Our participants' responses, however, suggested they imagined Haru playing a much larger role in their lives - sharing various aspects of their everyday activities as they practiced Socio-Physical Distancing (SPD). This led us to perform a second study to investigate the various roles Haru might play in people's lives during this critical time. While SPD measures were still in place in many parts of USA, our second online survey study on AMT aimed to learn more about people's ongoing SPD practices, how they perceived robots in general as useful in times of distancing, and how they imagined using Haru to follow SPD and to mitigate disruptions to their everyday life from SPD.

This paper reports on two studies of Haru's potential use during COVID-19. Our findings of Study 11 explains how participants desired to use Haru for purposes beyond 'connecting to others'. Our findings from Study 2 highlight various dimensions of participants' desired everyday activities with Haru during SPD. We then map these findings on previous literature on robot use for social support and companionship from HRI and Social psychology [6, 7, 9, 16, 21]. We expect our findings can advance our understanding of interpersonal relationships with robots, guide COVID-19-specific HRI interventions in the near future, and inform the general design and development of desktop social robots.
2

Methodology

In April 2020, shortly after SPD and stay-at-home guidelines were released in the US, we started an AMT based survey study on people's preferences regarding the use and design of the Haru robot for remote communication during COVID-19 (Study 1) and how they imagined their everyday interactions with the robot (Refer to Table 1 for survey components). The survey first asked participants to identify their local policy for SPD restrictions via open-ended responses for items such as 'shelter in place' or 'stay-at-home'. This was followed with a question about their communication practices (i.e., phone and social media use) before and during the pandemic, ranked on a Likert scale from 'a great deal' to 'none at all'. Participants were then shown a video of Haru (Fig. 1) playing 'rock scissor paper' with an interactor and presented with an open-ended design fiction question. The question asked participants to write a diary entry in which they would describe their use of and interactions with the Haru robot in the context of quarantine that has continued into the future. The survey ended with questions on participants' general familiarity with robots, technical knowledge, and demographics such as gender, ethnicity, age, and level of education.

Led by findings from Study 1, in May 2020, we conducted a second AMT survey study to understand how people imagine their use of and everyday interactions with Haru for following and overcoming disruptions from SPD. In Study 2, participants were first asked to identify all social distancing practices they were following from a multiple-choice list of 18 items. These included practices that could affect their social life, such as 'Keep a full 6 feet away from people' and practices related to personal safety and hygiene, such as 'Covering mouth and washing hands frequently.' As a follow-up, participants were also asked about social distancing practices and precautions they may take in the near future, with choices including 'I might go out less often in the future.' Further, participants were asked to report on their general familiarity with robots in various work contexts, ranging from 'delivery and transportation' to 'companion robots'. Further, participants were asked to rate their acceptance of robot use in ten different situations [2] related to COVID-19, ranked on a Likert scale from 'not at all' to 'to a great extent.' These situations included robot used for companionship, engagement, remote communication, support for maintaining personal hygiene, support for distancing, delivery and pickup, and others.

Like Study 1, this survey showed a video of Haru to participants to familiarize them with the robot and presented a diary entry design fiction question. The video was presented as if narrated by Haru, introducing itself as a desktop robot 'to support through days of social distancing' and showed Haru talking, smiling, moving and swinging its body, detecting an interactor's hand gestures, playing rock paper scissors, and expressing its emotions by giggling or showing graphics (hearts) on its eye screens and LED mouth. In the video, Haru suggested it could be a warm, compassionate and entertaining friend, and assist in remote communication or with information, reminders and alerts for everyday work. The design fiction question following the video prompted participants to think towards the near future and imagine how Haru could help them with their new routines and to follow social distancing, and describe their interactions with Haru.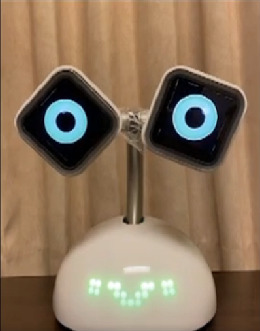 Table 1.
Components of survey from Study-1 and Study-2
| Component | Study 1 | Study 2 |
| --- | --- | --- |
| Social distancing policy or practices | Y | Y |
| Social media use before and during Pandemic | Y | N |
| Familiarity with robot use contexts | N | Y |
| Appeal of robot use: COVID-19 work context | N | Y |
| Design Fiction | Y | Y |
| Demographics, Technology & Robot familiarity | Y | Y |
Participants from Study 1 (total of 32 questions) and Study 2 (total of 34 questions) were paid 5 dollars each. Table 1 below shows elements from surveys in both studies. Our analysis consists of descriptive statistics for quantitative data and thematically coded [3] responses from design fiction diary entries using a line by line open coding method.
3

Findings - Haru for Remote Communication (Study 1)
3.1

Demographics, Social Distancing Impact, and Mitigation

A total of 66 US-based participants, average age 37 years (36 identified as men and 30 identified as women), completed Study 1. The majority of participants indicated some level of technical knowledge (n = 50) and had seen (n = 34) or interacted with (n = 16) a robot previously. All participants were affected by some SPD policies such as 'shelter in place' or 'stay-at-home' order. A majority also reported increased use of alternative ways of connecting to their social network. 53% of participants reported increased social media usage, while another 53% reported increased phone usage during COVID-19 SPD time.
3.2

Haru for Communication and Beyond

When asked to imagine a day with Haru as a telecommunication device during COVID-19 quarantine, participants described using it to communicate with friends or family (n = 9), as they would through video chatting (n = 14) or texting (n = 9). Some imagined Haru's ability to register touch (n = 27) as a way to further connect them with others. "I want the robot to light up when I touch it, so my loved ones know I am there and thinking of them." (P59)

Participants saw Haru not only as a way to communicate with others, but as a device that can provide entertainment, companionship, and engagement. Some participants envisioned Haru as a social companion for themselves. "The robot also interacts with me on a social level; whenever I am bored, the robot likes to play games with me and it expresses emotions realistically." (P56)

More personally, some saw Haru as a conversation partner (n = 27): "This (Haru) would be both a tool to talk to others, like a telephone or computer I imagine, but also to talk to Haru itself like a person." (P49) Others mentioned Haru could help them alleviate boredom through jokes (n = 2), "If I'm ever bored, I would just ask for a joke, or we could play a game together." (P21) Some mentioned wanting to use the robot in a family setting (n = 9), such as with their children: "The kids like to talk with him too. They have him tell jokes all the time. They also like to listen to Haru tell stories. He's got a bunch of different stories he can tell." (P39) Participants suggested they would be interested in "communicating with Haru" through touch or speech. For example, "Whenever Haru wins, I congratulate him by petting him on the head. They seem to always enjoy head pats." (P19)

Finally, participants also imagined Haru as a smart home device, connected to their environment, controlling other devices (n = 24), or as a personal assistant providing reminders and alarms throughout the day (n = 29). Some participants explicitly related it to the pandemic by suggesting using Haru as a way to get updated news and information regarding the changing world (n = 28).
3.3

Insights from Study 1

Along with envisioning Haru as a communication device, helping them connect to others during SPD, many of our participants saw the robot itself as an actor to communicate with and receive companionship and support. Participants' design fiction diaries revealed their interest in integrating Haru into their 'new normal', by using it with their families, for entertainment, and as a personal social companion. These findings suggest participants desired Haru to be more than just a tool.

This first study brought our attention to Haru's potential broader role in our participants' lives and made us inquire into its further possible uses for individuals to address disruptions from SPD during the pandemic. To explore how Haru could help mitigate some of the negative effects of SPD, we decided to collect responses more specific to SPD through a second study.
4

Findings - Study 2
4.1

Demographics and Social Distancing Practices

We received responses from 155 US-based participants, with an average age of 36 years (84 identified as men, and 69 identified as women, with 2 participants preferring not to answer). The majority of participants indicated some level of technical knowledge (n = 99), and many mentioned having seen (n = 77) or interacted with a robot directly (n = 40). Most participants (n = 137) followed at least one SPD practice that affected their social life, with '6 ft away from other people' (n = 128) and 'staying home as much as possible' (n = 111) being the most commonly practiced. 138 Participants mentioned planning to follow at least one SPD in the near future, with the most common ones affecting social life being 'go out less often' (n = 128), 'avoid being near other people' (n = 108), and avoid contact with vulnerable people (n = 100). There was a moderate correlation (r = .53) between those who were currently following SPD practices that could disrupt their social life (M = 5.85, SD = 3) and those who planned to follow similar practices in the future (M = 2.29, SD = 1.66).
4.2

General Robot Familiarity and Appeal

Among the social uses of robots, participants indicated having heard of robots for assistance (n = 25), entertainment and play (n = 17), and delivery (n = 18). Less than 15 of participants indicated having heard of companion robots or robots for social distancing. In relation to use for COVID-19 context, participants ranked 'robots to mitigate COVID risks for vulnerable people, and front line or essential workers' (n = 55) and 'robots for contact-less delivery or pickup of items' (n = 49) as the most appealing uses for robots, while they ranked companionship and support for engaging in activities as the least appealing uses.
4.3

Haru to Overcome Disruptions from SPD
4.3.1

Through Communication

Similar to the findings from Study 1, communication (n = 117) was one of the most desired uses for Haru. Communication was central to achieving many different aims with the robot, such as to enjoy the robot's company, to share and express emotions, or for assistance. The type of communication mentioned most by participants was to converse with Haru (n = 98), with some participants wanting conversations as if Haru was a real person or a friend; for example "Haru could help me by being conversational and warm and interactive so that it feels like I am talking to a person." (P87)
4.3.2

By Keeping Company

Participants also desired for Haru to keep them company (n = 96), watching over them 'through all times' (n = 58), 'in every situation' (n = 38) and 'when needed' (n = 18), during indoor activities such as watching movies and playing games, or outdoor activities like gardening or going to the gym. They expected Haru to play different roles based on the situation, such as being their instructor at the gym or their 'fun friend' while watching movies."I like to do workouts, so I want Haru to be an instructor in such a situation. I want this robot to be my companion in every situation". (P136).

A few participants imagined having 'a strong and positive relationship' with Haru as they would have with another human being (n = 6) or someone they would get attached to like family (n = 4), a friend (n = 11), or a pet (n = 4). P27 wrote "I would hang out with Haru like it was a friend, child, or dog. Have it around me at all times, and talk as if it was real."

Some thought Haru would not be particularly useful as a companion to them (n = 12), since they didn't feel as isolated by the disruptions. However, many of them mentioned Haru could, in fact, even keep company to their children (n = 10) or parents (n = 2) by entertaining them through stories, jokes, music, and by keeping them engaged in games and activities. "Haru robot has many abilities. I can definitely use it not just for myself but most especially for my daughter. Since Haru can talk, move, and swing its body, it can always keep my daughter company by entertaining her, talking to her and responding to her. With this, I would have more time to do other things." wrote P111.

Overall, participants' responses seemed to suggest they thought of Haru as a trustworthy and desirable companion for everyday life, which could help them overcome many challenges of social isolation.
4.3.3

Fighting Loneliness

Our participants' responses revealed an ongoing feeling of loneliness they thought Haru could alleviate (n = 45). Participants imagined talking to Haru (n = 12) for this purpose: P86 wrote"Haru could help me feel less lonely when I am at home by just talking to me and listening to my stories and responding to it." Some (n = 8) expected Haru to be a 'responsive listener', who could make them feel less socially isolated (n = 9) by filling in for the lack of social connection (n = 8) and providing a feeling of security. Participants who desired Haru to help them fight loneliness often associated the term 'companion' with Haru (n = 21). "I think he could provide me with the social aspect I am missing right now, and I would love to use him in that way. I like the idea of having my own robot! He would provide me with the companionship I am desiring right now." (P55)

Besides talking, listening, and responding to them, engaging with them in activities like music, watching videos, or playing games (n = 5) were other ways participants imagined Haru could reduce their loneliness.

Our participants (n = 16) imagined Haru to be the most effective companion if it could distract them from their urges to break SPD rules: "Haru could keep you company, so that the urge to go out and break social distancing would be reduced." (P88). Such distraction could help participants keep their mind off of having fewer people around and missing friends and family (n = 8): "I think Haru can 'make me feel' like I am not alone. By responding and talking to me I will feel less likely to seek out others, and break my social isolation. It can be distraction, and to a small degree, make me feel less alone." (P107) wrote.

To do so, participants wanted Haru to know them well, and have engaging conversations about their life, sense their touch, and their presence.
4.3.4

Overcoming Boredom and Providing Entertainment

Participants (n = 107) mentioned 'not being able to do things they did in the past, or not having anything to do' (n = 18). Several wanted Haru to help them fight boredom by keeping them entertained and amused (n = 12) through playing their favorite music and videos, playing games, or telling them stories and jokes (n = 13).

For the most part (n = 87), participants thought of Haru as a thing or device that could provide entertainment upon request. "I could ask Haru for entertainment recommendations, such as a show on TV to watch or if any new movies are out. I could ask Haru to play a game with me, such as a trivia game. I could ask Haru to play some music for me." (P7) Participants (n = 73) referred to Haru as 'someone' who can be the source of entertainment and fun by engaging with them in conversations and activities. P9 wrote "It would be fun to have some extra personality in the house and might be a funny interaction to speak with and engage with the robot." Others (n = 58) thought of Haru as a smart being who would know them closely and learn about them and understand their emotions to provide entertainment. "While working, I often like to listen to music and podcasts, so it would be helpful if I could somehow have it get a sense of my tastes so that it can keep a good playlist going in the background while I'm working." (P146)
4.3.5

Help Manage Emotions

As they faced new life routines in the pandemic, participants (n = 87) also desired to use Haru to keep their morale high by talking to them and cheering them up. Participants often associated terms such as 'empathetic, caring, warm, compassionate' with Haru as they explained how it could distract, comfort, and reassure them, and help them navigate or alleviate the stress and anxiety from social distancing.

Participants thought Haru could lighten their mood and be a 'source of joy' by being there. "I would like to feel like someone noticed I was there... his movements and response to my presence and touch, could make things less lonely." (P132) They imagined Haru would be sensitive to their feelings and understand and respond to their emotions. "Being able to tell when I'm feeling a certain way and to change his behaviors in order to calm me down, or brighten my day." P63 wrote. They wanted Haru to be a good listener and their confidante, to whom they could disclose their emotions without being judged. "I would also probably talk to him at times to vent about things that I don't have anyone else to talk to about, or things that I don't want to share with others." wrote P141.

Participants suggested one of their biggest problems was a lack of motivation and wished Haru to motivate them when they are feeling down, to make them feel less isolated and happier. P28 wrote "I would like Haru to give me motivational messages to keep me going during the difficult times. It could help to keep things as close to normal as possible to save my mental and physical health, so I don't sink back into bad habits." They thought Haru could teach them new activities, help to follow routines, stay productive, and maintain a healthy lifestyle. "Haru could help me the most effectively by keeping my motivations up to exercise and to watch what I eat, with new recipes so that I can have a clear mind and keep my mental health during this pandemic" P63.
4.3.6

Helping Maintain and Normalize Routines

A large number of responses suggested participants were facing disruptions to their everyday life from anxiety, stress, and lack of purpose and motivation. They wished that, besides providing motivation and helping them manage emotional disruption, Haru could help them stay on schedule, maintain productivity, and support them and their family by using its sensing and intelligence to assist them in various tasks, such as by setting reminders, organizing, keeping track and planning or scheduling work (n = 78). "Haru could do a lot to help me. He could help me organize a to do list, keep me on track and on schedule, encourage me to do what I need or want to do in my home, remind me to check up on certain family members, inform me of important news, provide words of wisdom when I need it." wrote P99.

Some participants (n = 32) also imagined Haru could help them with daily chores and errands, such as by keeping track of and reminding (n = 28) them for keeping schedules, getting groceries, medication, exercise, and wellness tracking, cleaning, filing taxes, gardening, recipes for cooking, email and social media tracking. Others (n = 8) also wished Haru could do day to day physical tasks such as automatic- vacuuming without their help (n = 8).
4.4

Haru to Follow Socio-Physical Distancing
4.4.1

Connecting with Others

With physical distancing in place, participants (n = 87) sought support from Haru for staying connected with people in their social network. Participants wished to be informed of their loved ones (n = 41) and also expected Haru to support their social connections (n = 39), for instance, by connecting them with people as a social facilitator, by organizing online meeting schedules, or making calls for them. "I am doing so many video meetings, if he could help me take notes/be more efficient, also help me stay connected to the people I work with, replacing the "water cooler" talk." P80 wrote
4.4.2

Ordering, Pickup, and Delivery

Haru was imagined to support COVID-19 specific tasks such as pickup and delivery (n = 29) and ordering online grocery (n = 20), so participants would not have to navigate a new online ordering system. Participants also wanted Haru to use its intelligence, schedule, and 'keep tabs' on the shopping needs and store promotions. P37 wrote "I guess it could be like a glorified Alexa that can buy groceries for me on a schedule and give instructions to delivery people."
4.4.3

Monitoring and Assisting Hygiene and Distancing

Of all the participants who desired Haru to help them with distancing and to support hygiene (n = 86), most mentioned that Haru could remind them about social distancing (n = 37), including reminders to wear masks or gloves and carry sanitizer (n = 17), wash hands and sanitize surfaces (n = 20) and subsequently help them get in the habit of distancing. Participants also desired Haru to help them distance (n = 13) from others, by alerting them if they get close to others by using its advanced sense of distance and space, or by reminding them to stay away from others. P43 wrote "Haru could track when I arrive home and remind me that I need to wash my hands for twenty seconds as soon as I get home. He could even start a timer when I tell him to, so that I know when I can stop washing my hands. He could remind me of the latest guidelines as I leave the house and remind me to grab my mask." In all these tasks, participants accepted Haru to monitor and track their behavior and sense when it needs to help them.
4.4.4

Providing Information

Participants (n = 74) expected Haru to provide them with information that can support them as they navigated various changes and difficulties associated with the physical distancing period. "Its (Haru's) function of keeping me informed and alerted would make me feel safe, secure, and cared for." P103 wrote. Perhaps not surprisingly, a number of participants also sought to get informed and keep updated on COVID-19 related news and guidelines (n = 65), which are both time-sensitive and specific to geographies. P100 wrote "If it gave me daily updates about the COVID-19 situation (for example, how many new infections, deaths, recoveries), it would help me stay motivated to keep social distancing. If it also kept me updated about suggested guidelines for interaction from state, CDC or WHO that would be helpful too."

Furthermore, some participants desired information to keep up with what their friends and family members are up to during the physical distancing period (n = 14). "Haru the robot could keep me in connection with my family and friends and keep me informed as to what is going on with my loved ones, the robot can also help me with alerts when it is time to call my loved ones to check on them." P101 wrote. Information-seeking from Haru ranged from practical physical distancing tips to keeping connections and contacts with others.
4.5

Insights from Study 2

To summarize, participants thought Haru could help them overcome disruption by talking to them, making them feel less bored by providing support and engaging with them in enjoyable activities. They sought a non-judgemental confidante in Haru who would have empathy, warmth, care, and compassion to help manage their emotions, and would motivate and cheer them up. They saw Haru providing them and their loved ones with the company at all times and reducing their loneliness. They also imagined Haru to be their assistant, helping them manage their everyday tasks through the disruption. Participants also thought Haru could help them follow SPD by distracting them through its interactions so as to reduce their urge to break SPD, by being their social facilitator and ensuring that they feel connected to their social network, by providing them with time and location sensitive information, by helping them with scheduling online orders and delivery and by reminding and alerting them about maintaining and following hygiene recommendations (Fig. 2).
5

Overall Discussion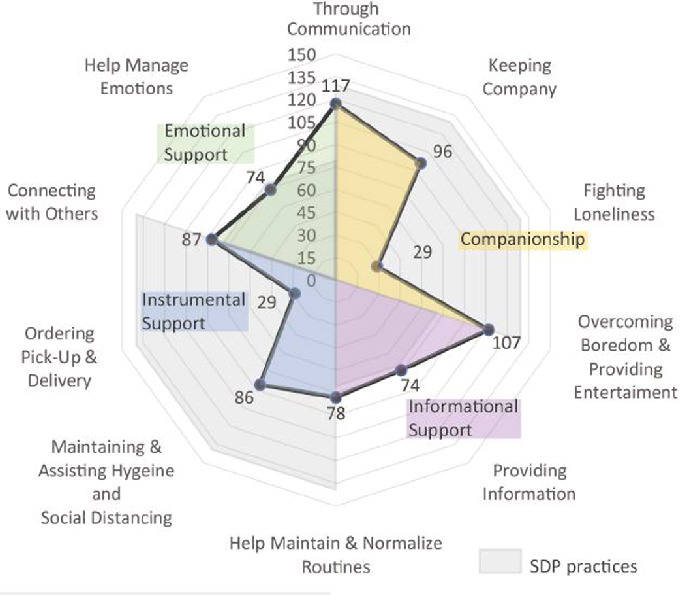 Our findings on uses for the Haru robot in the COVID-19 SPD context map onto multiple overlapping aspects for social support and companionship discussed in various HRI studies [6, 7, 9, 21]. Participant's responses revealed several aspects that relate to previously studied measures of companionship [4], such as social involvement for sharing enjoyable activities [21] including watching movies, playing games, and sharing stories (Sect. 4.3.4) with Haru. They also displayed a desire for attachment and commitment to the robot [20] by wanting to be together with Haru throughout the day (Sect. 4.3.2). In line with previously discussed benefits of companionship [22], participants thought Haru could provide them with much-needed friendship (Sect. 4.3.1, 4.3.2), increasing their happiness (Sect. 4.3.5). Communication surfaced as integral to companionship with Haru, as participants desired to be able to 'talk' to Haru, and wanted Haru to be their non-judgemental confidant (Sect. 4.3.3, 4.3.5). While 'providing distraction' has not been discussed previously as a dimension of companionship with robots it turned out to be one of the most important aspects of companionship with Haru (Sect. 4.4.2) Overall, this companionship was imagined to overcome social disruptions and compensate for the lack of human social contact.
Our participants suggested Haru could help them relieve stress, stay motivated, assist them with their everyday tasks during COVID-19 disruptions, and meeting various aspects of socially supportive relationships in times of need [20]. Participants desired 'Instrumental support' [4] from Haru, to remind them of hygiene, delivery, and pickup, and connect them with their social network, which were not just menial everyday chores, but needs eliciting by a specific stressor [22] - the COVID-19 situation. Unlike previous literature on 'Informational support' [15, 16], there was less mention of wanting advice from Haru. Instead, participants wanted Haru to only provide them with local information and alerts on COVID-19, and be a good listener in all other matters (Sect. 4.3.1, 4.3.2, 4.3.5). Finally, participants wished for Haru to provide 'Emotional support' [15, 16], by being a sensitive, non-judgmental companion in the absence of other social support, and as their source of happiness and motivation through SPD.
Our research confirms that Haru was perceived as a 'non-judgemental' [11] social support companion in time of SPD, to serve as a protective factor [12, 14] in the absence of other forms of social and emotional interaction through the isolation and loneliness from COVID-19 SPD. Most of our participants hadn't seen or heard of robot use for companionship (Sect. 4.2), and initially suggested the appeal of using robots for COVID-19 work contexts (Sect. 4.2) should be limited to menial and dangerous tasks. However, their descriptions of life with Haru through SPD showed their desire for companionship and social support from Haru (6.3.1–6.4.5) through COVID-19. Perhaps, such a desire to interact with Haru as a social actor stems from Haru's design for maintaining social interactions over time, its expressiveness and responsiveness to the environment [1].
While SPD exit strategies have begun across the US, most people have already experienced some level of social-psychological impact and disruption from limitations on in-person interpersonal interactions [19]. As such, providing social support or companionship may continue to be important aspects well into the future. Although our study focused on Haru, we see the suggestions for its use as a companion with diverse aims as widely applicable for desktop social robots (DSR) in the home. Besides the use for connecting with others, our findings suggested the use of DSRs to aid loneliness and emotional support in a deeper, more interactive role as non-judgemental conversational partners and in-home social enablers, through times of socio-physical isolation.
Our findings from both studies also point to the significance of physical presence and desire for DSR as social actors for companionship, despite having access to family, friends, or coworkers. Both of our studies also suggested DSRs application and acceptability beyond individual use, and in family settings where they could help caregivers by entertaining family members who need care.
6

Conclusion

While previous studies in HRI have focused on specific robot behaviors for companionship and support, our study mapped these multiple aspects of DSRs for everyday life during the times of SPD. It presented imaginaries of 221 participants to suggest how robots could be used during near future SPD for various tasks. Our studies suggest SPD has led to making some aspects, such as in-person communication, more desirable than others, and brought newer aspects such as 'boredom' and 'distraction' into the broader literature of robot companionship. Finally, it contributes to ongoing work on robot uses during the COVID-19 pandemic [10, 13, 14, 18], by pointing to companionship and social support as a significant use-context for DSRs to help people in everyday life while SPD.
Footnotes
1.

Study 1 also collected data on design Haru robot for remote communication. However, to scope this paper, we only present findings that motivated us for Study 2.
Copyright information
© Springer Nature Switzerland AG 2020