Abstract

Many territorial entities are seeing their prerogatives and regulatory powers enhanced with new "instruments" intended to foster the development of ecomobility. Taking as its focus the way that individuals make decisions about transportation modes, EM3 is a transport model designed to simulate the potential impacts of different regulatory measures on the travel practices of inhabitants of an urban area and on the resulting pollutant emissions. One of the originalities of this model is that it emphasises the behavioural dimension, taking the view that this dimension is a parameter whose effects on the outputs of transportation models are currently unknown and possibly not insignificant. Alongside the standard, it models a socio-psychological behavioural approach and a sociology-based approach. The comparison of the three behavioural approaches shows substantial differences in the outcomes observed, whether globally or at the level of local indicators. In addition, the results indicate that the effects of a measure such as a Low Emission Zone extend beyond the specific scope of the geographical area concerned, and can also contribute to strengthening or weakening existing socio-spatial inequalities. We end this chapter by presenting the finality of our approach which aims to support the planning decisions of territorial collectivities thanks to the use of an experimental platform that can shed light on the impacts of various parameters relating to the territorial specificities and the behavioral complexity of users.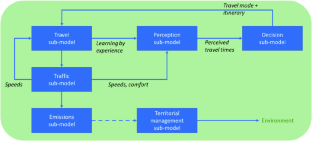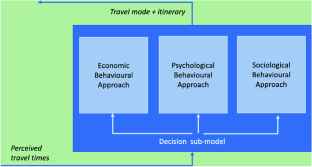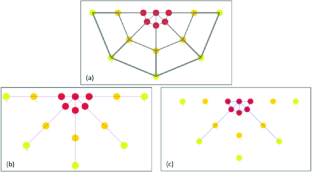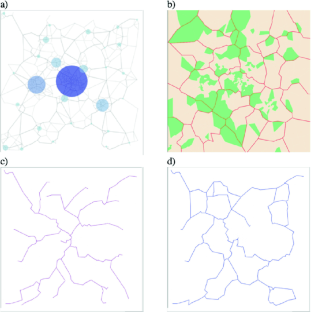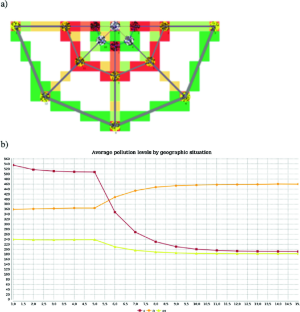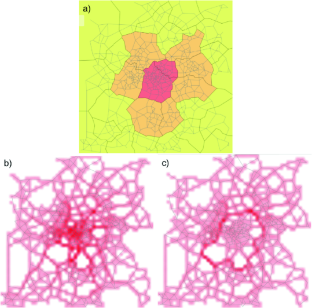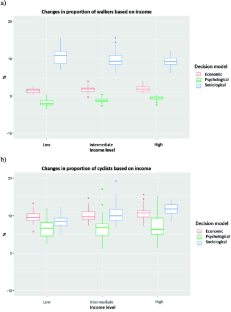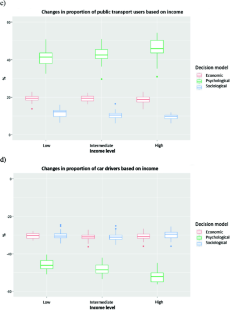 Notes
1.

In addition to the present authors, the team is also composed of Nathalie Corson (Normandie Univ, ULHN, LMAH, Le Havre, France), Stefan Balev (Normandie Univ, ULHN, LITIS, Le Havre, France), Thibault Langlois (Normandie Univ, ULHN, UMR IDEES, Le Havre, France), Valérie Bailly-Hascoët (IDIT, Rouen, France), Ludovic Couturier (IDIT, Rouen, France).

2.

Income level refers here to economic capital and for sake of simplicity we did not consider neither cultural capital nor social trajectories in the definition of social positions. We also opted for a purely sociological approach of the concept of \(\ll \) distance to practice \(\gg \) where the possible effects of geographic or physical distances are ignored.

3.

Based on data sets that can be generated specifically for a project or that can integrate existing data from statistical institutes or other.
References
M. Letté, Le tournant environnemental de la société industrielle au prisme d'une histoire des débordements et de leurs conflits. Vingtieme Siecle Rev. Hist. 113(1), 142–154 (2012)

S. Rasouli, H. Timmermans, Activity-based models of travel demand: promises, progress and prospects. Int. J. Urban Sci. 18(1), 31–60 (2014). https://doi.org/10.1080/12265934.2013.835118

T. Schwanen, D. Banister, J. Anable, Rethinking habits and their role in behaviour change: the case of low-carbon mobility. J. Transp. Geogr. 24, 522–532 (2012). https://doi.org/10.1016/j.jtrangeo.2012.06.003

F. Amblard, Comprendre le fonctionnement de simulations sociales individus-centrées: application à des modèles de dynamiques d'opinions, PhD thesis, Université Blaise Pascal - Clermont-Ferrand II (2003)

M.G. McNally, C.R. Rindt, The activity-based approach, in Handbook of Transport Modelling, ed. by D.A. Hensher, K.J. Button (Pergamon, Amsterdam, 2000), pp. 53–69

P. Taillandier et al., Building, composing and experimenting complex spatial models with the GAMA platform. GeoInformatica 23(2), 299–322 (2019). https://doi.org/10.1007/s10707-018-00339-6

P. Fosset et al., Exploring Intra-Urban Accessibility and Impacts of Pollution Policies with an Agent-Based Simulation Platform: GaMiroD. Systems 4(1), 5 (2016). https://doi.org/10.3390/systems4010005

I.N. Sener, N. Eluru, C.R. Bhat, An analysis of bicycle route choice preferences in Texas, US. Transportation 36(5), 511–539 (2009). https://doi.org/10.1007/s11116-009-9201-4

Z. Li, W. Wang, P. Liu, D.R. Ragland, Physical environments influencing bicyclists' perception of comfort on separated and on-street bicycle facilities. Transp. Res. Part Transp. Environ. 17(3), 256–261 (2012). https://doi.org/10.1016/j.trd.2011.12.001

S.U. Jensen, Pedestrian and bicyclist level of service on roadway segments. Transp. Res. Rec. 2031(1), 43–51 (2007). https://doi.org/10.3141/2031-06

L. Haywood, M. Koning, The distribution of crowding costs in public transport: New evidence from Paris. Transp. Res. Part Policy Pract. 77, 182–201 (2015). https://doi.org/10.1016/j.tra.2015.04.005

G. Kelly, H. McCabe, A survey of procedural techniques for city generation. ITB J. 7(2), 5 (2006)

R.M. Smelik, T. Tutenel, R. Bidarra, B. Benes, A survey on procedural modelling for virtual worlds. Comput. Graph. Forum 33, 31–50 (2014)

Y. Demoli, P. Lannoy, Sociologie de l'automobile. La Découverte (2019)

W. Pijls, H. Post, Yet another bidirectional algorithm for shortest paths. Econometric Institute, Erasmus University Rotterdam, EI 2009-10 (2009)

S. Rasouli, H. Timmermans, Applications of theories and models of choice and decision-making under conditions of uncertainty in travel behavior research. Travel Behav. Soc. 1(3), 79–90 (2014). https://doi.org/10.1016/j.tbs.2013.12.001

I. Ajzen, The theory of planned behavior. Organ. Behav. Hum. Decis. Process. 50(2), 179–211 (1991). https://doi.org/10.1016/0749-5978(91)90020-T

P. Bourdieu, Le Sens pratique (Les Éditions de Minuit, Paris, 1980)

J. Anable, 'Complacent Car Addicts' or 'Aspiring Environmentalists'? Identifying travel behaviour segments using attitude theory. Transp. Policy 12(1), 65–78 (2005). https://doi.org/10.1016/j.tranpol.2004.11.004

S. Bamberg, I. Ajzen, P. Schmidt, Choice of Travel Mode in the Theory of Planned Behavior: The Roles of Past Behavior, Habit, and Reasoned Action. Basic Appl. Soc. Psychol. 25(3), 175–187 (2003). https://doi.org/10.1207/S15324834BASP2503_01

S. Bamberg, P. Schmidt, Changing travel-mode choice as rational choice: results from a longitudinal intervention study. Ration. Soc. 10(2), 223–252 (1998). https://doi.org/10.1177/104346398010002005

D. Landis, H.C. Triandis, J. Adamopoulos, Habit and bahavioral intentions as predictors of social behaviors. J. Soc. Psychol. 106(2), 227 (1978)

P. Bourdieu, La distinction: critique sociale du jugement (Les Éditions de Minuit, Paris, 1979)

B. Lahire, L'homme pluriel : les ressorts de l'action (Nathan, Paris, 1998)

T. Ramadier, P. Lannoy, S. Depeau, S. Carpentier, C. Enaux, Vers l'hypothèse d'une identité de déplacement : congruence entre espace social, cognitif et géographique, in Construction identitaire et espace, ed. by G.P. L'Harmattan (2009), pp. 75–94
Acknowledgements

This research was supported by the Normandy Region with CPER funding and by Europe with ERDF funding.
Copyright information

© 2021 Springer Nature Switzerland AG
About this chapter
Cite this chapter
Salze, P., Sajous, P., Bertelle, C. (2021). EM3: A Model to Explore the Effects of Ecomobility Policies on an Urban Area. In: Sajous, P., Bertelle, C. (eds) Complex Systems, Smart Territories and Mobility. Understanding Complex Systems. Springer, Cham. https://doi.org/10.1007/978-3-030-59302-5_13
DOI: https://doi.org/10.1007/978-3-030-59302-5_13

Published:

Publisher Name: Springer, Cham

Print ISBN: 978-3-030-59301-8

Online ISBN: 978-3-030-59302-5

eBook Packages: EngineeringEngineering (R0)