Abstract
Deficit‐informed thinking has dominated the presentation of working-class communities. This chapter highlights the cultural wealth that academics of working-class heritage possess. The work of Tara Yosso (2005, Whose Culture Has Capital? A Critical Race Theory Discussion of Community Cultural Wealth. Race Ethnicity and Education, 8(1), 69–91) is utilised as she combats the notion that non-elites are culturally deficient (p. 70). Student support was cited as an asset my respondents offered the academy.
Keywords
Students

Social capital

Familial capital

Navigational capital

Role models

Belonging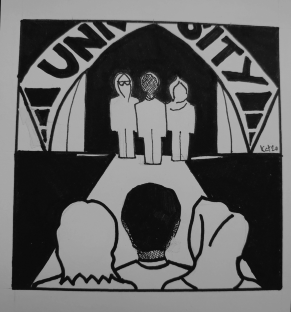 Notes
1.

As like Ako-Asare (2015), the literature shows a deep overlap between examples of social capital and familial capital, so throughout these two types of capital are analysed together.

2.

Although, we should note Witz's (1992) feminist analysis that professions are key features of patriarchal societies where the gendered activities of caring and support, originally intra-familial roles, developed last century into paid occupations in health and social care, but also underpin the nature of academic administration roles such as pastoral care, student support etc. Those professions without that gendered element tend to be more prestigious.
References
Ako-Asare, H. (2015). Incorporating Community Cultural Wealth in a Community-Based Organization. Master's Projects and Capstones, 111. Online. Retrieved September 17 2020. https://repository.usfca.edu/capstone/111

Anders, J. (2012). The Link between Household Income, University Applications and University Attendance. Fiscal Studies, 33(2), 185–210.

Baumeister, R., & Leary, M. (1995). The Need to Belong: Desire for Interpersonal Attachments as a Fundamental Human Motivation. Psychological Bulletin, 117, 497–529.

Binns, C. (2019). Experiences of Academics from a Working-Class Heritage: Ghosts of Childhood Habitus. Cambridge: Cambridge Scholars Publishing.

Botella, C., Rueda, S., Lopez-Inesta, E., & Marzel, P. (2019). Gender Diversity in STEM Disciplines: A Multiple Factor Problem. Entropy, 21(1), 30.

Bridges, L. (2017). Transition to the Academy: The Influence of Working-Class Culture for First-Generation Students. Graduate Doctoral Dissertations. 318. Online. Retrieved September 20 2020: https://scholarworks.umb.edu/cgi/viewcontent.cgi?article=1317&context=doctoral_dissertations

Bruce, K. (2018). That's all-white then – an all-white panel on 'minorities and justice'. Online. Retrieved September 15 2020. https://www.opendemocracy.net/en/opendemocracyuk/that-s-all-white-then-all-white-panel-on-minorities-and-justice/

Burgess, S., Greaves, E., & Murphy, R. (2017). Evaluation of Teachers' Pay Reform: Technical Appendix (DfE Research Report). London: DfE.

Campaign for Science and Engineering (CaSE). (2014). Improving Diversity in STEM. London: CaSE.

Chautard, A., & Hann, C. (2019). Best practice guide to inclusive conferences. Online. Retrieved May 12 2020. https://reachwater.org.uk/wp-content/uploads/2019/05/19_07_-Best-practice-guide_Summary-brief3.pdf

Codiroli Mcmaster, N. (2017). Who Studies STEM at a Level and Degree in England? An Investigation into the Intersections between Students' Family Background, Gender and Ethnicity in Determining Choice. British Educational Research Journal, 43(3), 528–553.

Collier, P., & Morgan, D. (2008). "Is that Paper Really Due Today?": Differences in First-Generation and Traditional College Students' Understandings of Faculty Expectations. Higher Education, 55(4), 425–446.

Department of Education. (2019). Graduate Labour Market Statistics 2018. [Online]. Retrieved April 14, 2020, from https://assets.publishing.service.gov.uk/government/uploads/system/uploads/attachment_data/file/797308/GLMS_2018_publication_main_text.pdf.

Dhillon, J., McGowan, M., & Wang, H. (2008). How Effective Are Institutional and Departmental Systems of Student Support? Insights from an Investigation into the Support Available to Students at One English University. Research in Post-Compulsory Education, 13(3), 281–293.

Elias, P., & Purcell, K. (2004). Is Mass Higher Education Working? Evidence from the Labour Market Experiences of Recent Graduates. National Institute Economic Review, 190(1), 60–74.

Ferretti, E. (1999). Between Dirty Dishes and Polished Discourse: How Working-Class Moms Construct Student Ientities. In S. Linkon (Ed.), Teaching Working Class. Amherst: University of Massachusetts Press.

Gaskell, S., & Lingwood, R. (2019). Widening Opportunity in Higher Education: The Third Phase: Beyond Graduation. London: Universities UK.

Goodenow, C. (1993). Classroom Belonging among Early Adolescents Students' Relationships to Motivation and Achievement. Journal of Early Adolescence, 13(1), 21–40.

Gorard, S. (2008). Who Is Missing from Higher Education? Cambridge Journal of Education, 38(3), 421–437.

Harper, S. (2008). Realizing the intended outcomes of Brown: High-achieving African American male undergraduates and social capital. American Behavioral Scientist, 51(7), 1029–1052.

Higher Education Statistics Agency. (2019). Higher Education Student Statistics: UK, 2017/18 – Student numbers and characteristics. Online. Retrieved October 7th 2020, from https://www.hesa.ac.uk/news/17-01-2019/sb252-higher-education-student-statistics/numbers

Holter, J. (2018). Development of Professional Identity in Social Work Education. St. Catherine University repository website. [Online]. Retrieved April 20, 2020, from https://sophia.stkate.edu/dsw/32.

Kaziboni, A., & Uys, T. (2015). The Selection of Academic Role Models by First Year University Students. Journal of Sociology and Social Anthropology, 6(1), 77–86.

Kennedy, H. (1997). Learning Works. Widening Participation in Further Education. Coventry: FEFC.

LeCourt, D. (2006). Performing Working-Class Identity in Composition: Toward a Pedagogy of Textual Practice. College English 69(1), 30–51.

Lehmann, W. (2012). Working-Class Students, Habitus, and the Development of Student Roles: A Canadian Case Study. British Journal of Sociology of Education, 33(4), 527–546.

Li, Z., & Qiu, Z. (2018). How Does Family Background Affect Children's Educational Achievement? Evidence from Contemporary China. Journal of Chinese Sociology, 5(13). https://doi.org/10.1186/s40711-018-0083-8

Liou, D., Antrop-González, R., & Cooper, R. (2009). Unveiling the promise of community cultural wealth to sustaining Latina/o students' college-going information networks. Educational Studies, 45(6), 534–555.

Macdonald, K. (2018). A Review of the Literature: The Needs of Nontraditional Students in Postsecondary Education. Strategic Enrolment Management Quarterly, 5(4), 159–164.

Makarova, E., Aeschlimann, B., Herzog, W. (2019). The Gender Gap in STEM Fields: The Impact of the Gender Stereotype of Math and Science on Secondary Students' Career Aspirations. Frontiers in Education, (4), 60. Online. Retrieved September 19 2020. https://www.frontiersin.org/article/10.3389/feduc.2019.00060

Martin, N. (2017). Encouraging Disabled Leaders in Higher Education: Recognising Hidden Talents. Leadership Foundation for Higher Education.

McDonough, P., & Fann, A. (2007). The Study of Inequality. In P. Gumport (Ed.), Sociology of Higher Education. Baltimore: John Hopkins University.

Nash, K. (2014). Secrets and Big News. Enabling People to Be Themselves at Work. Codsall: Kate Nash Associates.

Office for Fair Access. (2014). Trends in Young Participation by Student Background and Selectivity of Institution.

Office for Students. (2020). Transforming Opportunity in Higher Education. An Analysis of 2020–21 to 2024–25 Access and Participation Plans. London.

Office of National Statistics. (2018). Estimating Suicide among Higher Education Students, England and Wales: Experimental Statistics. [Online]. Retrieved April 20, 2020, from https://www.ons.gov.uk/releases/estimatingsuicideamonghighereducationstudentsenglandandwales.

Pridmore, N., & Lalemi, L. (2019). BME in STEM Report. University of Bristol.

The Quality Assurance Agency. (2019). Key Statistics 2018-19. Online. Retrieved September 19 2020. https://www.qaa.ac.uk/access-to-he/access-to-he-resources

Reay, D., Crozier, G., & Clayton, J. (2010). 'Fitting in' or 'Standing Out': Working-Class Students in UK Higher Education. British Educational Research Journal, 36(1), 107–124.

Sharon O'Dair. (2003). Class Work: Site of Egalitarian Activism or Site of Embourgeoisement?. College English 65(6), 593.

Skott, J. (2019). Changing Experiences of Being, Becoming, and Belonging: Teachers' Professional Identity Revisited. ZDM Mathematics Education, 51, 469–480.

Slay, H., & Smith, D. (2011). Professional Identity Construction: Using Narrative to Understand the Negotiation of Professional and Stigmatized Cultural Identities. Human Relations, 64(1), 85–107.

STEM Women. (2019). Women in STEM | Percentages of Women in STEM Statistics. Online. Retrieved September 20 2020. https://www.stemwomen.co.uk/blog/2019/09/women-in-stem-percentages-of-women-in-stem-statistics

Stevenson, J., O'Mahony, J., Khan, O., Ghaffar, F., & Stiell, B. (2019). Understanding and Overcoming the Challenges of Targeting Students from Under-Represented and Disadvantaged Ethnic Backgrounds. London: Office for Students.

Tholen, G., & Brown, P. (2017). Higher Education and the Myths of Graduate Employability. In R. Waller, N. Ingram, & M. Ward (Eds.), Higher Education and Social Inequalities: University Admissions, Experiences and Outcomes. London: Routledge.

UCAS. (2016). Through the Lens of Students: How Perceptions of Higher Education Influence Applicants' Choices.

Van de Werfhorst, H., Sullivan, A., & Cheung, S. Y. (2003). Social Class, Ability and Choice of Subject in Secondary and Tertiary Education in Britain. British Educational Research Journal, 29(1), 41–62.

Witz, A. (1992). Professions and Patriarchy. London: Routledge.

Wong, B. (2018). By Chance or by Plan?: The Academic Success of Nontraditional Students in Higher Education. AERA Open, 4(2). https://doi.org/10.1177/2332858418782195.

Wyness, G. (2017). Rules of the Game. Disadvantaged Students and the University Admissions Process. The Sutton Trust.
About this chapter
Cite this chapter
Crew, T. (2020). Supporting Students. In: Higher Education and Working-Class Academics . Palgrave Pivot, Cham. https://doi.org/10.1007/978-3-030-58352-1_5
DOI: https://doi.org/10.1007/978-3-030-58352-1_5

Published:

Publisher Name: Palgrave Pivot, Cham

Print ISBN: 978-3-030-58351-4

Online ISBN: 978-3-030-58352-1

eBook Packages: EducationEducation (R0)