Abstract

One of the most common definitions of saliency suggests that there are three categories for landmark saliency, these being visual, structural and cognitive [1]. A large number of studies have focused on the afore-mentioned categories; however, there appear to be fewer studies on cognitive saliency than on the other two types of landmark saliency. Hence, in this study, our goal is to better understand the cognitive saliency of potential landmarks. For this purpose, we used an online virtual game, Sea Hero Quest (SHQ), and asked people to watch videos of the game. In the videos, a boat navigates through a waterway/river environment and finds goal locations one by one. People then were asked to answer questions, which aimed to measure their cognitive saliency. Our results suggest that cognitive saliency is closely related to visual and structural saliency in unfamiliar environments.
Keywords
Landmarks

Saliency

Navigation

Spatial cognition

Virtual environments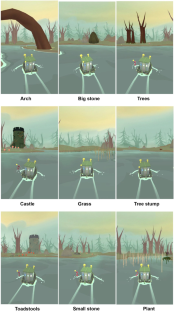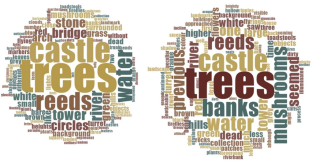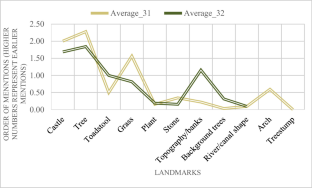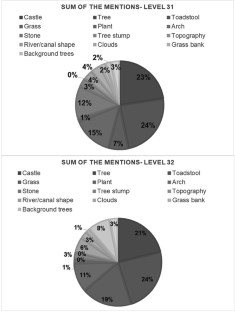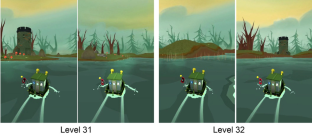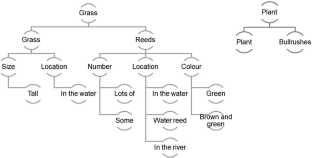 Notes
1.

By conditions, we refer 1. weather (clear/foggy weather), 2. map (clear/obscured), 3. environment (5 different environments) conditions, and landmarks (visibility and saliency of landmarks vary).
References
Sorrows, M.E., Hirtle, S.C.: The nature of landmarks for real and electronic spaces. In: Freksa, C., Mark, D.M. (eds.) COSIT 1999. LNCS, vol. 1661, pp. 37–50. Springer, Heidelberg (1999). https://doi.org/10.1007/3-540-48384-5_3

Burnett, G., Smith, D., May, A.: Supporting the navigation task: characteristics of "good" landmarks. Contemp. Ergon. 1, 441–446 (2001)

Evans, G.W., Smith, C., Pezdek, K.: Cognitive maps and urban form. J. Am. Plan. Assoc. 48, 232–244 (1982). https://doi.org/10.1080/01944368208976543

Lynch, K.: The Image of the City. MIT Press, Cambridge (1960)

Lovelace, K.L., Hegarty, M., Montello, D.R.: Elements of good route directions in familiar and unfamiliar environments. In: Freksa, C., Mark, D.M. (eds.) COSIT 1999. LNCS, vol. 1661, pp. 65–82. Springer, Heidelberg (1999). https://doi.org/10.1007/3-540-48384-5_5

Miller, J., Carlson, L.: Selecting landmarks in novel environments. Psychon. Bull. Rev. 18, 184–191 (2011). https://doi.org/10.3758/s13423-010-0038-9

Kaplan, S.: Adaptation, structure and knowledge. In: Moore, G.T., Golledge, R.G. (eds.) Environmental Knowing: Theories, Research and Methods, pp. 32–45. Downden, Hutchinson and Ross, Stroudsburg (1976)

Evans, G.W., Skorpanich, M.A., Bryant, K.J., Bresolin, B.: The effects of pathway configuration, landmarks and stress on environmental cognition. J. Environ. Psychol. 4, 323–335 (1984). https://doi.org/10.1016/S0272-4944(84)80003-1

Ruddle, R.A., Volkova, E., Mohler, B., Bülthoff, H.H.: The effect of landmark and body-based sensory information on route knowledge. Mem. Cognit. 39, 686–699 (2011). https://doi.org/10.3758/s13421-010-0054-z

Lin, C.-T., et al.: Gender differences in wayfinding in virtual environments with global or local landmarks. J. Environ. Psychol. 32, 89–96 (2012). https://doi.org/10.1016/J.JENVP.2011.12.004

Castelli, L., Latini Corazzini, L., Geminiani, G.C.: Spatial navigation in large-scale virtual environments: gender differences in survey tasks. Comput. Hum. Behav. 24, 1643–1667 (2008). https://doi.org/10.1016/j.chb.2007.06.005

Steck, S.D., Mallot, H.A.: The role of global and local landmarks in virtual environment navigation. Presence Teleoperators Virtual Environ. 9, 69–83 (2000). https://doi.org/10.1162/105474600566628

Winter, S.: Route adaptive selection of salient features. In: Kuhn, W., Worboys, M.F., Timpf, S. (eds.) COSIT 2003. LNCS, vol. 2825, pp. 349–361. Springer, Heidelberg (2003). https://doi.org/10.1007/978-3-540-39923-0_23

Caduff, D., Timpf, S.: On the assessment of landmark salience for human navigation. Cogn. Process. 9, 249–267 (2008). https://doi.org/10.1007/s10339-007-0199-2

Albrecht, R., von Stuelpnagel, R.: Memory for salient landmarks: empirical findings and a cognitive model. In: Creem-Regehr, S., Schöning, J., Klippel, A. (eds.) Spatial Cognition 2018. LNCS (LNAI), vol. 11034, pp. 311–325. Springer, Cham (2018). https://doi.org/10.1007/978-3-319-96385-3_21

Nothegger, C., Winter, S., Raubal, M.: Computation of the salience of features. Spat. Cogn. Comput. 4, 113–136 (2004). https://doi.org/10.1207/s15427633scc0402_1

Nothegger, C., Winter, S., Raubal, M.: Selection of salient features for route directions. Spat. Cogn. Comput. 4, 113–136 (2004). https://doi.org/10.1207/s15427633scc0402

Nuhn, E., Timpf, S.: Personal dimensions of landmarks. In: Bregt, A., Sarjakoski, T., van Lammeren, R., Rip, F. (eds.) GIScience 2017. LNGC, pp. 129–143. Springer, Cham (2017). https://doi.org/10.1007/978-3-319-56759-4_8

Raubal, M., Winter, S.: Enriching wayfinding instructions with local landmarks. In: Egenhofer, M.J., Mark, D.M. (eds.) GIScience 2002. LNCS, vol. 2478, pp. 243–259. Springer, Heidelberg (2002). https://doi.org/10.1007/3-540-45799-2_17

Quesnot, T., Roche, S.: Measure of landmark semantic salience through geosocial data streams. ISPRS Int. J. Geo-Inf. 4, 1–31 (2015). https://doi.org/10.3390/ijgi4010001

Jackson, P.G.: In search of better route guidance instructions. Ergonomics 41, 1000–1013 (1998). https://doi.org/10.1080/001401398186559

Duckham, M., Winter, S., Robinson, M.: Including landmarks in routing instructions. J. Locat. Based Serv. 4, 28–52 (2010). https://doi.org/10.1080/17489721003785602

Elias, B.: Extracting landmarks with data mining methods. In: Kuhn, W., Worboys, M.F., Timpf, S. (eds.) COSIT 2003. LNCS, vol. 2825, pp. 375–389. Springer, Heidelberg (2003). https://doi.org/10.1007/978-3-540-39923-0_25

Daniel, M.-P., Denis, M.: The production of route directions: investigating conditions that favour conciseness in spatial discourse. Appl. Cogn. Psychol. 18, 57–75 (2004). https://doi.org/10.1002/acp.941

Chown, E., Kaplan, S., Kortenkamp, D.: Prototypes, location, and associative networks (PLAN): towards a unified theory of cognitive mapping. Cogn. Sci. 19, 1–51 (1995). https://doi.org/10.1016/0364-0213(95)90003-9

Denis, M.: The description of routes: a cognitive approach to the production of spatial discourse. Cah. Psychol. Cogn. 16, 409–458 (1997)

Denis, M., Pazzaglia, F., Cornoldi, C., Bertolo, L.: Spatial discourse and navigation: an analysis of route directions in the city of Venice. Appl. Cogn. Psychol. 13, 145–174 (1999). https://doi.org/10.1002/(SICI)1099-0720(199904)13:2%3c145:AID-ACP550%3e3.0.CO;2-4

Krukar, J.: The influence of an art gallery's spatial layout on human attention to and memory of art exhibits (2015)

Zetzsche, C., Schill, K., Deubel, H., Krieger, G., Umkehrer, E., Beinlich, S.: Investigation of a sensorimotor system for saccadic scene analysis: an integrated approach. In: Proceedings of the Fifth International Conference on Simulation of Adaptive Behavior on from Animals to Animats, vol. 5, pp. 120–126. MIT Press, Cambridge (1998)

Itti, L.: Quantifying the contribution of low-level saliency to human eye movements in dynamic scenes. Vis. Cogn. 12, 1093–1123 (2005). https://doi.org/10.1080/13506280444000661

Tenbrink, T., Dalton, R.C., Williams, A.J.: The language of architectural diagrams. In: Timpf, S., Schlieder, C., Kattenbeck, M., Ludwig, B., Stewart, K. (eds.) 14th International Conference on Spatial Information Theory (COSIT 2019), pp. 17:1–17:14. Schloss Dagstuhl–Leibniz-Zentrum fuer Informatik, Dagstuhl (2019). https://doi.org/10.4230/LIPIcs.COSIT.2019.17

Tenbrink, T.: Cognitive discourse analysis: accessing cognitive representations and processes through language data. Lang. Cogn. 7, 98–137 (2015). https://doi.org/10.1017/langcog.2014.19

Quesnot, T., Roche, S.: Quantifying the significance of semantic landmarks in familiar and unfamiliar environments. In: Fabrikant, S.I., Raubal, M., Bertolotto, M., Davies, C., Freundschuh, S., Bell, S. (eds.) COSIT 2015. LNCS, vol. 9368, pp. 468–489. Springer, Cham (2015). https://doi.org/10.1007/978-3-319-23374-1_22

Yesiltepe, D., et al.: Usage of landmarks in virtual environments for wayfinding: research on the influence of global landmarks. In: 12th International Space Syntax Symposium, Beijing, pp. 220–310 (2019)
Copyright information

© 2020 Springer Nature Switzerland AG
About this paper
Cite this paper
Yesiltepe, D., Dalton, R.C., Torun, A.O., Hornberger, M., Spiers, H. (2020). Understanding Cognitive Saliency by Using an Online Game. In: Šķilters, J., Newcombe, N., Uttal, D. (eds) Spatial Cognition XII. Spatial Cognition 2020. Lecture Notes in Computer Science(), vol 12162. Springer, Cham. https://doi.org/10.1007/978-3-030-57983-8_6
DOI: https://doi.org/10.1007/978-3-030-57983-8_6

Published:

Publisher Name: Springer, Cham

Print ISBN: 978-3-030-57982-1

Online ISBN: 978-3-030-57983-8

eBook Packages: Computer ScienceComputer Science (R0)