Abstract

Wheel flat is not only commonly unavoidable surface damage in railway wheels, it can result in possible damage and deterioration incurring high risk of running safety and high maintenance costs. Wheel flat is therefore necessary to be detected at an early stage to minimise safety hazard and maintenance work. This study explores the capacity of the vibration-based detection for high-speed train wheel flatness. A more realistic vehicle-track coupling dynamic model (a dynamic model of vehicle systems of 94 degrees of freedom with wheel flat) considering the dynamic factors of traction transmission, gear transmission and the track geometry irregularities, is established to calculate the dynamic responses of axlebox. In this paper, the proposed method is focus on processing the axle box vertical vibration caused by wheel flat in conventional time and frequency domain, as well as the envelope analysis with a band pass filter. Results demonstrate that the wheel flat can be successfully detected in a more realistic vehicle model, provide an efficient way to the wheel flat detection.
Keywords
Wheel flat

Axle box

High-speed train

Vibration-based detection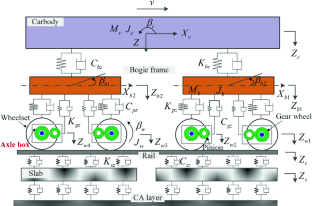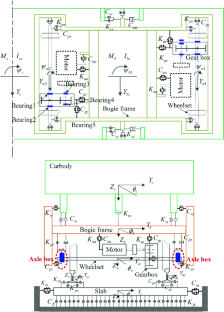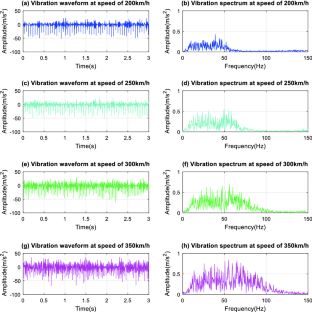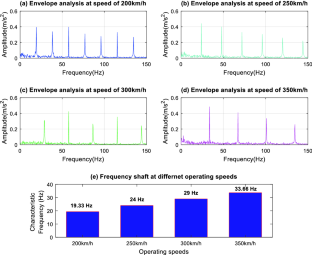 References
Remennikov, A.M., Kaewunruen, S.: A review of loading conditions for railway track structures due to train and track vertical interaction. Struct. Control Health Monit. 15, 207–234 (2008). https://doi.org/10.1002/stc.227

Bracciali, A., Cascini, G.: Detection of corrugation and wheelflats of railway wheels using energy and cepstrum analysis of rail acceleration. Proc. Inst. Mech. Eng. Part F J. Rail Rapid Transit 211, 109–116 (1997). https://doi.org/10.1243/0954409971530950

Zhai, W.M., Wang, Q.C., Lu, Z.W., Wu, X.S.: Dynamic effects of vehicles on tracks in the case of raising train speeds. Proc. Inst. Mech. Eng. Part F J. Rail Rapid Transit 215, 125–135 (2001). https://doi.org/10.1243/0954409011531459

Wu, T.X., Thompson, D.J.: A hybrid model for the noise generation due to railway wheel flats. J. Sound Vib. 251, 115–139 (2002). https://doi.org/10.1006/jsvi.2001.3980

Madejski, J.: Automatic detection of flats on the rolling stock wheels

Pieringer, A., Kropp, W.: A fast time-domain model for wheel/rail interaction demonstrated for the case of impact forces caused by wheel flats. In: 7th European Conference on Noise Control 2008, EURONOISE 2008, Paris, France; 29 June 2008 through 4 July 2008, pp. 2643–2648 (2008)

Wei, C., Xin, Q., Chung, W.H., Liu, S., Tam, H., Ho, S.L.: Real-time train wheel condition monitoring by fiber bragg grating sensors. Int. J. Distrib. Sens. Netw. 8, 409048 (2012). https://doi.org/10.1155/2012/409048

Liang, B., Iwnicki, S.D., Zhao, Y., Crosbee, D.: Railway wheel-flat and rail surface defect modelling and analysis by time–frequency techniques. Vehicle Syst. Dyn. 51, 1403–1421 (2013). https://doi.org/10.1080/00423114.2013.804192

Li, Y., Liu, J., Wang, Y.: Railway Wheel Flat Detection Based on Improved Empirical Mode Decomposition. https://www.hindawi.com/journals/sv/2016/4879283/

Li, Y., Zuo, M.J., Lin, J., Liu, J.: Fault detection method for railway wheel flat using an adaptive multiscale morphological filter. Mech. Syst. Signal Process. 84, 642–658 (2017). https://doi.org/10.1016/j.ymssp.2016.07.009

Nowakowski, T., Komorski, P., Szymański, G.M., Tomaszewski, F.: Wheel-flat detection on trams using envelope analysis with Hilbert transform. Latin Am. J. Solids Struct. 16 (2019). https://doi.org/10.1590/1679-78255010

GmbH, S.: Multi-body simulation. SIMPACK MBS Software. http://www.simpack.com/

Wang, Z., Mei, G., Xiong, Q., Yin, Z., Zhang, W.: Motor car–track spatial coupled dynamics model of a high-speed train with traction transmission systems. Mech. Mach. Theory 137, 386–403 (2019). https://doi.org/10.1016/j.mechmachtheory.2019.03.032

Zhai, W., Wang, K., Cai, C.: Fundamentals of vehicle–track coupled dynamics. Vehicle Syst. Dyn. 47, 1349–1376 (2009). https://doi.org/10.1080/00423110802621561

Zicha, J.H.: High-speed rail track design. J. Transp. Eng. 115, 68–83 (1989). https://doi.org/10.1061/(ASCE)0733-947X(1989)115:1(68)

Tse, P.W., Peng, Y.H., Yam, R.: Wavelet analysis and envelope detection for rolling element bearing fault diagnosis—their effectiveness and flexibilities. J. Vib. Acoust. 123, 303–310 (2001). https://doi.org/10.1115/1.1379745
Acknowledgements

The authors would like to thank the Institute of Railway Research (IRR), and the Centre for Efficiency and Performance Engineering (CEPE) at The University of Huddersfield and the State key laboratory of Traction power at Southwest Jiaotong University for the technical supports.
Copyright information

© 2020 Springer Nature Switzerland AG
About this paper
Cite this paper
Wang, R., Crosbee, D., Beven, A., Wang, Z., Zhen, D. (2020). Vibration-Based Detection of Wheel Flat on a High-Speed Train. In: Ball, A., Gelman, L., Rao, B. (eds) Advances in Asset Management and Condition Monitoring. Smart Innovation, Systems and Technologies, vol 166. Springer, Cham. https://doi.org/10.1007/978-3-030-57745-2_14
DOI: https://doi.org/10.1007/978-3-030-57745-2_14

Published:

Publisher Name: Springer, Cham

Print ISBN: 978-3-030-57744-5

Online ISBN: 978-3-030-57745-2

eBook Packages: EngineeringEngineering (R0)