Abstract
In this chapter we illustrate how transformational police reform—i.e. changing the game—is possible. We draw on Bandura's (2001) social cognitive theory to formulate the concepts of neighbourhood dynamics and neighbourhood atmosphere. These are both latent dimensions of neighbourhoods and communities that have clear and profound implications for neighbourhood safety. This work extends the concept of neighbourhood collective efficacy by explicating the multifaceted nature of "low collective efficacy". We do this by focusing on the psychodynamic processes that occur in small neighbourhood and community places and show how they related to collective efficacy. In turn, we show why psychodynamic processes are important for neighbourhood safety and police reform.
Keywords
Psychodynamic processes

Community dynamics

Neighbourhood dynamics

Collective efficacy

Social cognitive theory

Police reform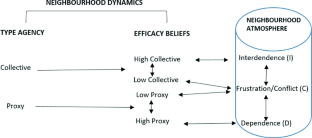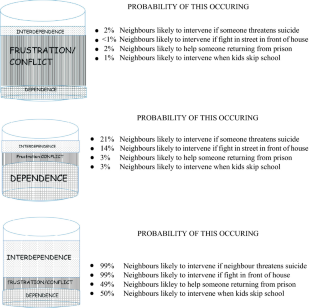 Notes
1.

The JSTOR search was conducted by the first author on March 16, 2018, and it included only the 148 sociology journals indexed in the database. A search for terms 'collective efficacy' and 'crime' revealed a sixfold increase in published research in sociology journals (from 243 to 1499) in the 20-year period 1999–2018 compared with the period 1969–1988.
References
Bandura, A. (2001). Social cognitive theory: An agentic perspective. Annual Review of Psychology, 52, 1–26.

Bennis, W. G., & Shepard, H. A. (1956). A theory of group development. Human Relations, 9, 415–437.

Bion, W. R. (1959). Experiences in groups. New York: Basic Books.

Bourdieu, P., & Wacquant, L. J. D. (1992). An invitation to reflexive sociology. Chicago, IL: University of Chicago Press.

Cartwright, D., & Zander, A. (Eds.). (1968). Group dynamics: Research and theory (3rd ed.). New York: Harper & Row.

Conti, N., & Nolan, J. (2005). Policing the platonic cave: Ethics and efficacy in police training. Policing and Society, 15, 166–186.

Cooley, C. (1909/1965). Primary groups. In A. P. Hare, E. F. Borgatta, & R. F. Bales (Eds.), Small groups: Studies in social interaction (Rev. ed.). New York: Alfred A. Knopf.

Deutsch, M. (1949). A theory of cooperation and competition. Human Relations, 2, 129–152.

Donnermeyer, J. F., & DeKeseredy, W. S. (2014). Rural criminology. New York: Routledge.

Hinkle, J. C., & Weisburd, D. (2008). The irony of broken windows policing: A micro-place study of the relationship between disorder, focused police crackdowns and fear of crime. Journal of Criminal Justice, 36, 503–512.

Hipp, J. R., & Boessen, A. (2013). Egohoods as waves washing across the city: A new measure of "neighborhoods". Criminology, 51, 287–327.

Homans, G. (1950). The human group. New York: Harcourt, Brace & World.

Kearns, A., & Parkinson, M. (2001). The significance of neighbourhood. Urban Studies, 38(12), 2103–2110.

Lewin, K. (1948). Resolving social conflicts. New York: Harper.

Manning, P. K. (1978). The police mandate: Strategies and appearances. In P. K. Manning & J. Van Maanen (Eds.), Policing: A view from the street. New York: Random House.

Markovic, J. (2009). Neighborhoods matter: A situational policing perspective. Geography and Public Safety, 2(2), 10–12. Retrieved from https://www.nij.gov/topics/technology/maps/Documents/gps-bulletin-v2i2.pdf?Redirected=true.

Merton, R. K. (1957). Social theory and social structure (Rev. ed.). Glencoe, IL: Free Press.

Milgram, S. (1977). The individual in a social world: Essays and experiments. Reading, MA: Addison-Wesley.

Nolan, J. (2013). Situational policing. An unpublished technical report to the U.S. Department of Justice, Community Policing Services. Available upon request.

Nolan, J. (2016). How American policing fails neighborhoods—And cops. The Conversation. Retrieved from https://theconversation.com/how-american-policing-fails-neighborhoods-and-cops-63302.

Nolan, J., Conti, N., & McDevitt, J. (2004). Situational policing: Neighbourhood development and crime control. Policing and Society, 14, 99–117.

Sampson, R. J. (2013). The place of context: A theory and strategy for criminology's hard problems. Criminology, 51, 1–31.

Sampson, R. J., & Raudenbush, S. W. (1999). Systematic social observation of public spaces: A new look at disorder in urban neighborhoods. American Journal of Sociology, 105(3), 603–651.

Sampson, R. J., Raudenbush, S., & Earls, F. (1997). Neighborhoods and violent crime: A multilevel study of collective efficacy. Science, 277, 918–924.

Sherman, L. W. (2015). A tipping point for "totally evidenced policing": Ten ideas for building an evidence-based police agency. International Criminal Justice Review, 25, 1–19.

Suttles, G. D. (1972). The social construction of communities. Chicago, IL: University of Chicago Press.

Tyler, T. R. (1990). Why people obey the law. New Haven, CT: Yale University Press.

Tyler, T. R. (2004). Enhancing police legitimacy. The Annals of the American Academy of Political and Social Science, 593, 84–99.

Uchida, C. D., Swatt, M. L., Solomon, S. E., & Varano, S. (2014). Neighbourhoods and crime: Collective efficacy and social cohesion in Miami-Dade County. Washington, DC: National Institute of Justice. Retrieved from https://www.ncjrs.gov/pdffiles1/nij/grants/245407.pdf.

Weisburd, D., Groff, E. R., & Yang, S. M. (2012). The criminology of place: Street segments and our understanding of the crime problem. Oxford, UK: Oxford University Press.

Wheelan, S. A. (1994). Group processes: A developmental perspective. Boston, MA: Allyn & Bacon.
About this chapter
Cite this chapter
Nolan, J.J., Hinkle, J.C. (2021). Community Dynamics, Collective Efficacy, and Police Reform. In: Nolan, J.J., Crispino, F., Parsons, T. (eds) Policing in an Age of Reform. Palgrave's Critical Policing Studies. Palgrave Macmillan, Cham. https://doi.org/10.1007/978-3-030-56765-1_5
DOI: https://doi.org/10.1007/978-3-030-56765-1_5

Published:

Publisher Name: Palgrave Macmillan, Cham

Print ISBN: 978-3-030-56764-4

Online ISBN: 978-3-030-56765-1

eBook Packages: Law and CriminologyLaw and Criminology (R0)