Abstract
This chapter builds on the ideas in Chapters 2 and 5 by presenting a number of essential tools for a new situational policing. By envisioning strong, safe places as the ultimate goal of policing, these tools help the police and communities engage in dialogue, act together, and assess progress towards this desired end. The "strong neighbourhood" goal sets up a new game which requires the police to work with the community to create an atmosphere where residents are willing to intervene for the common good and the police are there to help. The new game requires new concepts, tools, and strategies which are the focus of this chapter.
Key Terms
Situational policing

Neighbourhood dynamics

Psychodynamic processes

Police reform
This work was supported in part by The Office of Community Oriented Policing [Cooperative Agreement Number 2007-CK-WX-K009 to James Nolan].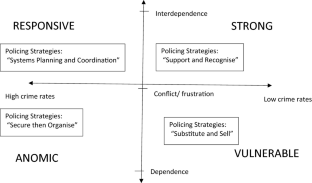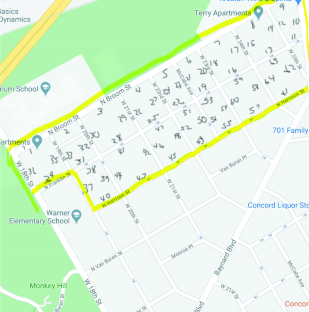 Notes
1.

Transformational reform was identified in Chapter 2 of this volume as one of four types of reform. It implies that the game on the field has changed along with methods for achieving the new goals.

2.

The concepts of neighbourhood dynamics and neighbourhood atmosphere are described fully in Chapter 5 of this volume and so will not be repeated here.
References
Brantingham, P. L., & Brantingham, P. J. (1995). Location quotients and crime hot spots in the city. In C. R. Block, M. Dabdoub, & S. Fregly (Eds.), Crime analysis through computer mapping (pp. 129–149). Washington, DC: Police Executive Research Forum.

Duffee, D., Renauer, B. C., Scott, J. D., Chermak, S., & McGarrell, E. F. (2006). Community building measures: How police and neighbourhood groups can measure their collaboration. National Institute of Justice. Retrieved from https://www.ncjrs.gov/pdffiles1/nij/grants/213134.pdf.

Hinkle, J. C. (2013). The relationship between disorder, perceived risk, and collective efficacy: A look into the indirect pathways of the broken windows thesis. Criminal Justice Studies, 26(4), 408–432.

Hinkle, J. C., & Yang, S. M. (2014). A new look into broken windows: What shapes individuals' perceptions of social disorder? Journal of Criminal Justice, 42(1), 26–35.

Kelling, G., & Coles, C. (1996). Fixing broken windows: Restoring order and reducing crime in our communities. New York: Free Press.

Markovic, J. (2009). Neighbourhoods matter: A situational policing perspective. Geography and Public Safety, 2(2). Washington, DC: National Institute of Justice. Retrieved from https://nij.ojp.gov/library/publications/neighbourhoods-matter-situational-policing-perspective.

Mayer, S. E., & Jencks, C. (1989). Poverty and the distribution of material hardship. Journal of Human Resources, 24(1), 88–114.

Nolan, J., Conti, N., & McDevitt, J. (2004). Situational policing: Neighbourhood development and crime control. Policing & Society, 14(2), 99–117.

Nolan, J., Conti, N., & McDevitt, J. (2005). Situational policing. Law Enforcement Bulletin. Federal Bureau of Investigation.

Sampson, R. J., & Raudenbush, S. (1999). Systematic social observation in public spaces: A new look at disorder in urban neighbourhoods. American Journal of Sociology, 105(3), 603–651.

Skogan, W. (1990). Disorder and decline: Crime and the spatial decay in American cities. Berkeley: University of California Press.

Weisburd, D., & Braga, A. (2006). Police innovation: Contrasting perspectives. Cambridge, UK: Cambridge University Press.

Wilson, J. Q., & Kelling, G. L. (1982). Broken windows: Police and neighbourhood safety. The Atlantic Monthly, 249, 29–38.

Yang, S., Hinkle, J. C., & Wyckoff, L. A. (2018). Using multitrait-multimethod (MTMM) techniques to examine the convergent and discriminant validity of social disorder. Journal of Research in Crime and Delinquency, 55(5), 571–608.

Yang, S. M., & Pao, C. C. (2015). Do we "see" the same thing? An experimental look into the black box of disorder perception. Journal of Research in Crime and Delinquency, 52(4), 534–566.
Appendix
Appendix
The appendix of this chapter includes the following tools for Situational Policing: Neighbourhood Dynamics Instrument (NDI), Systematic Social Observation Worksheet.
Neighbourhood Development Instrument (NDI)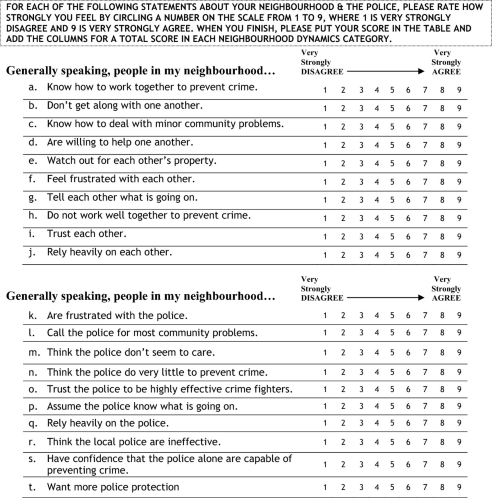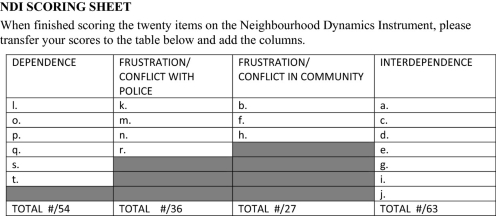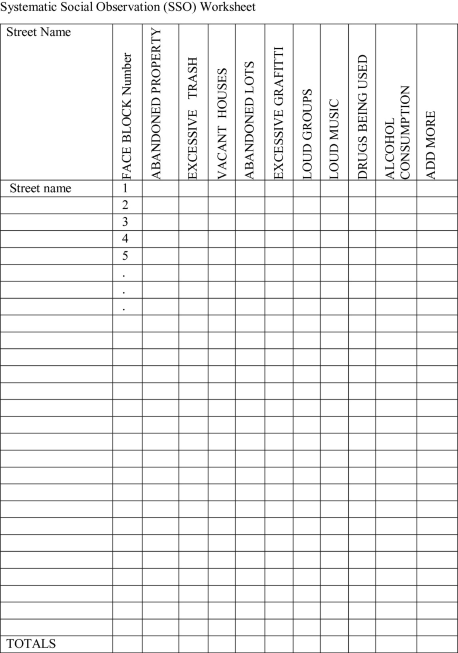 About this chapter
Cite this chapter
Nolan, J.J., Hinkle, J.C. (2021). Tools for a New Situational Policing. In: Nolan, J.J., Crispino, F., Parsons, T. (eds) Policing in an Age of Reform. Palgrave's Critical Policing Studies. Palgrave Macmillan, Cham. https://doi.org/10.1007/978-3-030-56765-1_12
DOI: https://doi.org/10.1007/978-3-030-56765-1_12

Published:

Publisher Name: Palgrave Macmillan, Cham

Print ISBN: 978-3-030-56764-4

Online ISBN: 978-3-030-56765-1

eBook Packages: Law and CriminologyLaw and Criminology (R0)