Abstract

Neurophysiologic techniques have proved very useful in studying migraine patients. The main contribution of clinical neurophysiology regards the pathophysiological investigation of primary headaches. The primary headache phenotype is the result of the contribution of both genetic and environmental factors, the first being prevalent in childhood and the second in elderly. Seen from this light, it is surprising that neurophysiologic investigation has been far more often addressed to the young adulthood, while children and elderlies migraineurs have been rarely studied. While neurophysiologic studies in children and adolescents contributed to highlight some peculiarities that primary headaches show in this population, the elderly age appears to be fully neglected. In this chapter, some potentially interesting areas related to primary headache pathophysiology are presented. It will be underlined how the present knowledge in these areas would benefit from data collected also from childhood and elderly.
Keywords
Migraine

Tension-type headache

Children

Habituation

Evoked potentials

Brain maturation

Headache

Adolescents

Elderly

Migraine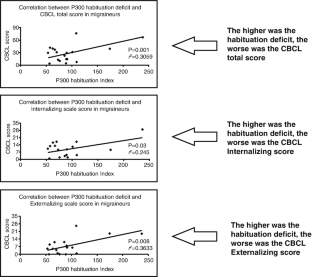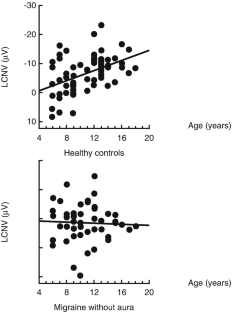 References
Silberstein SD. Evaluation and emergency treatment of headache. Headache. 1992;32:396–407.

Cohen AS, Goadsby PJ. Functional neuroimaging of primary headache disorders. Curr Pain Headache Rep. 2005;9:141–6.

Colombo B, Messina R, Rocca MA, Filippi M. Imaging the migrainous brain: the present and the future. Neurol Sci. 2019;40(Suppl 1):49–54.

Hobson AR, Aziz Q. Brain processing of esophageal sensation in health and disease. Gastroenterol Clin N Am. 2004;33:69–91.

Sharma A, Lelic D, Brock C, Paine P, Aziz Q. New technologies to investigate the brain-gut axis. World J Gastroenterol. 2009;15:182–91.

Valeriani M, Le Pera D, Tonali P. Characterizing somatosensory evoked potential sources with dipole models: advantages and limitations. Muscle Nerve. 2001;24:325–39.

Valeriani M. Is there a role of clinical neurophysiology in primary headache? Clin Neurophysiol. 2005;116:2717–8.

De Tommaso M. Central nervous system excitability in migraine: who is right? Pain. 2005;118:137–4.

De Tommaso M, Ambrosini A, Brighina F, et al. Altered processing of sensory stimuli in patients with migraine. Nat Rev Neurol. 2014;10:144–55.

Brinciotti M, Guidetti V, Matricardi M, Cortesi F. Responsiveness of the visual system in childhood migraine studied by means of VEPs. Cephalalgia. 1986;6:183–5.

Aloisi P, Marrelli A, Porto C, Tozzi E, Cerone G. Visual evoked potentials and serum magnesium levels in juvenile migraine patients. Headache. 1997;37:383–5.

Lahat E, Nadir E, Barr J, Eshel G, Aladjem M, Bistritze T. Visual evoked potentials: a diagnostic test for migraine headache in children. Dev Med Child Neurol. 1997;39:85–7.

Unay B, Ulas UH, Karaoglu B, Eroglu E, Akin R, Gokcay E. Visual and brainstem auditory evoked potentials in children with headache. Pediatr Int. 2008;50:620–3.

Lehtonen JB. Visual evoked cortical potentials for single flashes and flickering light in migraine. Headache. 1974;14:1–12.

Connolly JF, Gawel M, Rose FC. Migraine patients exhibit abnormalities in the visual evoked potential. J Neurol Neurosurg Psychiatry. 1982;45:464–7.

Ambrosini A, de Noordhout AM, Sándor PS, Schoenen J. Electrophysiological studies in migraine: a comprehensive review of their interest and limitations. Cephalalgia. 2003;1(Suppl):13–31.

Coppola G, Pierelli F, Schoenen J. Habituation and migraine. Neurobiol Learn Mem. 2009;92:249–59.

Oelkers-Ax R, Parzer P, Resch F, Weisbrod M. Maturation of early visual processing investigated by a pattern-reversal habituation paradigm is altered in migraine. Cephalalgia. 2005;25:280–9.

Valeriani M, Rinalduzzi S, Vigevano F. Multilevel somatosensory system disinhibition in children with migraine. Pain. 2005;118:137–44.

Vollono C, Ferraro D, Miliucci R, Vigevano F, Valeriani M. The abnormal recovery cycle of somatosensory evoked potential components in children with migraine can be reversed by topiramate. Cephalalgia. 2010;30:17–26.

Evers S, Bauer B, Grotemeyer KH, Kurlemann G, Husstedt IW. Event-related potentials (P300) in primary headache in childhood and adolescence. J Child Neurol. 1998;13:322–6.

Zohsel K, Hohmeister J, Flor H, Hermann C. Altered pain processing in children with migraine: an evoked potential study. Eur J Pain. 2008;12:1090–101.

Valeriani M, Galli F, Tarantino S, et al. Correlation between abnormal brain excitability and emotional symptomatology in paediatric migraine. Cephalalgia. 2009;29:204–13.

Cady R, Schreiber C, Farmer K, Sheftell F. Primary headaches: a convergence hypothesis. Headache. 2002;42:204–16.

Evers S, Bauer B, Suhr B, Husstedt IW, Grotemeyer KH. Cognitive processing in primary headache: a study on event-related potentials. Neurology. 1997;48:108–13.

Maertens de Noordhout A, Timsit-Berthier M, Timsit M, Schoenen J. Contingent negative variation in headache. Ann Neurol. 1986;19:78–80.

Iacovelli E, Tarantino S, De Ranieri C, et al. Psychophysiological mechanisms underlying spatial attention in children with primary headache. Brain and Development. 2012;34:640–7.

Bender S, Weisbrod M, Resch F, Oelkers-Ax R. Stereotyped topography of different elevated contingent negative variation components in children with migraine without aura points towards a subcortical dysfunction. Pain. 2007;127:221–33.

Battistella PA, Fiumana E, Binelli M, et al. Primary headaches in preschool age children: clinical study and follow-up in 163 patients. Cephalalgia. 2006;26:162–71.

Kienbacher C, Wöber C, Zesch HE, et al. Clinical features, classification and prognosis of migraine and tension-type headache in children and adolescents: a long-term follow-up study. Cephalalgia. 2006;26:820–30.

Kropp P, Siniatchkin M, Stephani U, Gerber WD. Migraine – evidence for a disturbance of cerebral maturation in man? Neurosci Lett. 1999;276:181–4.

Oelkers-Ax R, Bender S, Just U, et al. Pattern-reversal visual-evoked potentials in children with migraine and other primary headache: evidence for maturation disorder? Pain. 2004;108:267–75.

Garcia-Larrea L, Lukaszewicz AC, Mauguière F. Somatosensory responses during selective spatial attention: the N120- to-N140 transition. Psychophysiology. 1995;32:526–37.

Buodo G, Sarlo M, Battistella PA, Naccarella C, Palomba D. Event-related potentials to emotional stimuli in migrainous children. J Child Neurol. 2011;26:1508–15.

WHO. Elderly population. Health situation and trend assessment 2019 (23-06-2019). Geneva: WHO; 2019.

United Nations. World population prospects 2019: highlights 2019 (23-06-2019). New York, NY: UN; 2019.

WHO. Global health and aging 2019 (23-06-2019). Geneva: WHO; 2019.

Pascual J, Berciano J. Experience in the diagnosis of headaches that start in elderly people. J Neurol Neurosurg Psychiatry. 1994;57:1255–7.

Ruiz M, Pedraza MI, De La Cruz C, et al. Headache in the elderly: characteristics in a series of 262 patients. Neurologia. 2014;29:321–6.

Hale WE, May FE, Marks RG, Moore MT, Stewart RB. Headache in the elderly: an evaluation of risk factors. Headache. 1987;27:272–6.

Cook NR, Evans DA, Funkenstein HH, et al. Correlates of headache in a population-based cohort of elderly. Arch Neurol. 1989;46:1338–44.

Semenov IA. Headache in the elderly. Dis Mon. 2015;61:249–50.

Evers S, Goadsby PJ. Hypnic headache: clinical features, pathophysiology, and treatment. Neurology. 2003;60:905–9.

Delaruelle Z, Ivanova TA, Khan S, et al. Male and female sex hormones in primary headaches. J Headache Pain. 2018;19:117.

Wijeratne T, Tang HM, Crewther D, Crewther S. Prevalence of migraine in the elderly: a narrated review. Neuroepidemiology. 2019;52:104–10.

Martins KM, Bordini CA, Bigal ME, Speciali JG. Migraine in the elderly: a comparison with migraine in young adults. Headache. 2006;46:312–6.

De Rijk P, Resseguier N, Donnet A. Headache characteristics and clinical features of elderly migraine patients. Headache. 2018;58:525–33.

Uthaikhup S, Sterling M, Jull G. Widespread sensory hypersensitivity is not a feature of chronic headache in elders. Clin J Pain. 2009;25:699–704.

Ripa P, Ornello R, Degan D, et al. Migraine in menopausal women: a systematic review. Int J Women's Health. 2015;7:773–82.

Song TJ, Kim YJ, Kim BK, et al. Characteristics of elderly-onset (>/=65 years). Headache diagnosed using the international classification of headache disorders, third edition Beta version. J Clin Neurol. 2016;12:419–25.

Mattsson P. Serum levels of androgens and migraine in postmenopausal women. Clin Sci (Lond). 2002;103:487–91.

Lai TH, Protsenko E, Cheng YC, Loggia ML, Coppola G, Chen WT. Neural plasticity in common forms of chronic headaches. Neural Plast. 2015;2015(205985):1.
Copyright information

© 2021 Springer Nature Switzerland AG
About this chapter
Cite this chapter
Valeriani, M., Gazerani, P. (2021). Neurophysiology in Children and Elderlies with Migraine. In: Coppola, G., Chen, WT. (eds) Neurophysiology of the Migraine Brain. Headache. Springer, Cham. https://doi.org/10.1007/978-3-030-56538-1_15
DOI: https://doi.org/10.1007/978-3-030-56538-1_15

Published:

Publisher Name: Springer, Cham

Print ISBN: 978-3-030-56537-4

Online ISBN: 978-3-030-56538-1

eBook Packages: MedicineMedicine (R0)