Abstract

A review of results in the development of biosensor systems and biotests using enzyme tissue preparations is presented. Three types of sensory systems are considered:
1.

Tissue sections and homogenates of the rat liver, which have high monoamine oxidase activity (MAO, monoamine O2 oxidoreductase, EC 1.4.3.4). The analytical range for tryptamine, serotonin, tyramine, dopamine, and noradrenaline is 10−4–10−2 M. The indicator biotests can be used for the determination of biogenic monoamines in solutions, inhibitors, and promoters of MAO (e.g., for the primary screening of pharmacological compounds affecting the activity of MAO).

2.

Tissue samples with high acetylcholinesterase activity (AChE, КФ 3.1.1.7). The sensitivity of the AChE test for the tested inhibitors is shown to be for eserin and neostigmine ~10−5 M.

3.

Whole plants (apical root meristem, etc). A system for using the Allium test for determining cytostatics in pharmacology and ecology is developed. We studied blocking mitoses in the S-phase of the cell cycle by amethopterin (methotrexate). The developed biotests may be used in the system of primary screening of various natural and artificial compounds in ecology, pharmacology, and biosafety.
Keywords
Tissue biotests

MAO biotest

AСhE biotest

Root meristem

Allium test

Test bioprobes (plant cells)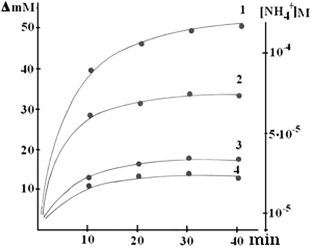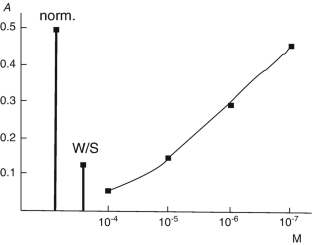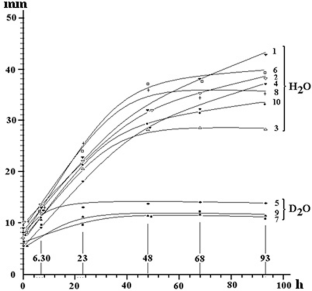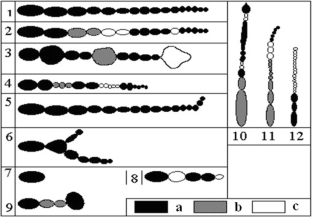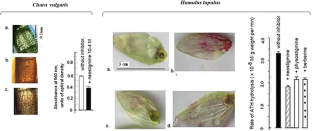 Abbreviations
ACh:

Acetylcholine

AChE:

Acetylcholine hydrolase

AntiChEs:

Anticholinesterase activity

BCh:

Butyrylcholine

BChE:

Butyrylcholinesterase

ChE:

Cholinesterase

DTPDD:

2,2-Dithio-bis-(p-phenyleneazo)-bis-(1-oxy-8-chlorine-3,6)-disulfur acid

Fast Red TR:

4-Chloro-2-methylbenzenediazonium salt (or 4-chloro-2-methylaniline hydrochloride)

MAO:

Monoamine: oxygen oxidoreductase
References
Apukhtin V, Bezzubov I, Yu M, Nikolaeva M, Samokish V, Statsevich V (1991) Anticholinesterase pesticide detection matrix action. A.S. 1701749, Bull Inv N 48:4

Arambasic M, Bjelic S, Subakov G (1995) Aсute toxicity of heavy metals (cooper, lead, zinc), phenol and sodium on Allium cepa L., Lepidium sativum L. and Daphnia magna St. – comparative investigation and the practical applications. Water Res 29:497–503

Arnold M (1986) Potentiometric sensors using whole tissue sections. Ion-Sel Electr Rev 8:85–113

Atta-Ur-Rahman FN, Akhtar F, Choudhary M, Khalid A (2000) New norditerpenoid alkaloids from Aconitum falconeri. J Nat Prod 63:1393–1395

Atta-Ur-Rahman PS, Khalid A, Farooq A, Choudhary M (2001) Acetyl and butyrylcholinesterase-inhibiting triterpenoid alkaloids from Buxus papillosa. Phytochemistry 58:963–968

Atta-Ur-Rahman A, Choudhary M, Tsuda Y, Sener B, Khalid A, Parvez M (2002) New steroidal alkaloids from Fritillaria imperialis and their cholinesterase inhibiting activities. Chem Pharm Bull 50:1013–1016

Atta-Ur-Rahman A, Atia-Tul-Wahab NS, Choudhary I (2004a) New cholinesterase inhibiting bisbenzylisoquinoline alkaloids from Cocculus pendulus. Chem Pharm Bull 52:802–806

Augustinsson KB (1963) Classification and comparative enzymology of the cholinesterases and methods of their determination. In: Cholinesterases and Anticholinesterase Agents. (Ed G.B. Koelle). Handbuch der Experimentale Pharmacologie. Springer-Verlag: Berlin, 15: 89–128

Atta-ur-Rahman FF, Naeem I, Zaheer-ul-Haq NS, Khan N, Khan R, Choudhary M (2004b) New pregnane-type their steroidal alkaloids from Sarcococca saligna and cholinesterase inhibitory activity. Steroids 69:735–741

Badilevsku F, Bogoda Р, Clobanie О (1983) Paper-indecateur pour la detection de substances organophosphorigues inhibiteurs de cholinesterase. Pat RO 82028, GOl 31/22

Balcere D, Grinberg B, Prikulis A, Nikolskaya E, Yagodina O (1989) A method for the quantitative determination of biogenic monoamines. Discover Invention 40:130 (rus)

Beuret E, Pont V (1987) Un biotest simple pour metter en evidence l'action des herbecides sur la membrane plasmique. Rev Suisse Vitic Arboric Hortic 19:323–328

Braune W, Leman A, Taubert H (1967) Pflanzenantomisches praktikum, vol 60. VEB Gustav Fischer Verlag, Jena, pp 67–68

Budantsev A (1991) Biosensor for catecholamines with immobilized MAO in tissue sections. Analytica Chim Acta 249:71–76

Budantsev A (1999) Methods of histochemical analysis of acetylcholinesterase activity (AChE histochemistry for fifty years). Neurochemistry 16:103–117

Budantsev A (2001) Enzymatic biosensors in neurochemistry. Neurochemistry 18:75–79

Budantsev A (2004) Photometric determination of substances in paper matrices using digital recording of images of matrices in transmitted light. Zhurn Anal Chem 59:791–795

Budantsev A (2012a) Bioindication. Palmarium Academic Publ, Saarbrucken, 137 p

Budantsev A (2012b) Elodea "Atlas of leaf micromorphology" State Educational Portal of the Ministry of Education and Science of the Russian Federation Electronic atlas. http://www.informika, Single window for access to educational resources

Budantsev A (2013a) The Allium test: injection of test compounds into the bulb. Biotech Histochem 88:323–328

Budantsev A (2013b) The growth of roots and green leaves of Allium cepa L. after the remove different parts of bulb. Am J Plant Sci 4:972–975

Budantsev A (2019a) The effect of the Bowen fixative on the morphology of hair cells of stamens filaments of Tradescantia (morphometric analysis). Cytology 61:1–5

Budantsev A (2019b) The effect of formaldehyde and Clark's fixative on the morphology of hair cells of stamens filaments of Tradescantia (morphometric analysis). Cytology 61:1–6

Budantsev A, Budantseva T (2005) Photometric analysis of paper tests using microplate photometers. Zhurn anal Chem 60:794–797

Budantsev A, Guryanova A (1975) Monoamine oxidase Usp. Mod Biol 79:184–204

Budantsev A, Kornilova O (2011) Morphometric analysis of Elodea leaf cells (Elodea canadensis Michx.). Basic Res (rus) 7:192–195

Budantsev A, Kutyshenko V (2014) Measurement of the dynamics of root growth using the Allium test. Basic Res (rus) 6:1393–1396

Budantsev A, Roshchina V (2004) Testing alkaloids as acetylcholinesterase activity inhibitors. Farmatsiya (Moscow) 5:37–39

Budantsev A, Roshchina V (2007) Chapter 11. Cholinesterase activity as a biosensor reaction for natural allelochemicals: pesticides and pharmaceuticals. In: Roshchina VV, Narwal SS (eds) Cell diagnostics. Images, biophysical and biochemical processes in allelopathy. Science Publisher/Taylor and Francis Group, Enfield, Jersey/Plymouth, pp 127–146

Budantsev A, Zarikova A (1976) On the method of Glenner for the histochemical demonstration of the MAO. Histochemistry 48:335–345

Budantsev A, Zhiromsky V, Kovaleva M, Litvinva E (1995) Reflective photometry of indicator biotests (IBT) for biogenic amines. Opt Technol 1:11–15

Budantsev A, Litvinova E, Kovaleva M (1997) Indicator paper on biogenic amines. Zhurn Anal Chem 52:539–542

Budantsev A, Uversky V, Kutyshenko V (2010) Analysis of the metabolites in apical area of Allium Cepa roots by high resolution NMR spectroscopy method. Protein Pept Lett 17:86–91

Budantsev A, Molchanov M, Kutyshenko V, Ivanitsky G (2012) From fragments to morphogenesis: NMR spectroscopy of metabolites in onion root apex. Doklady Russ Acad Sci 442:828–832

Budantsev A, Demyanov A, Pogorelova M (2018) Micrometric analysis hair cells of stamens filaments Tradescantia. Cytology 60:653–658

Dettbarn WD (1962) Acetylcholinesterase activity in Nitella. Nature. 194: 1175–1176

Deуsson G (1968) Antimitotiс substanсes. Int Rev Cytol 24:99–148

Ellman G, Courtney K, Andres V, Featherstone R (1961) A new rapid colorimetric Determination of acetylcholinesterase activity. Biochem Pharmacol 7:88–95

Evseeva T, Geraskin S (2001) Combined effect of factors of radiation and non-radiation nature on tradescantia. Ural Branch of the Russian Academy of Sciences, Ekaterinburg, p 156

Evtyugin G, Budnikov G, Nikolskaya E (1999) Biosensors for the determination of enzyme inhibitors in the environment. Success Chem (rus) 68:1142–1167

Evtyugin G, Budnikov G, Nikolskaya E (2002) Biochemical tests based on stabilization preparations of cholinesterases – new approaches. J Anal Chem (rus) 57:1127–1132

Finberg J, Youdim М (1983) Monoamineoxidase. In: Lajtha А (ed) Наndbооk of neurochemistry, vol 4, 2nd edn, New York/London, pp 293–313

Fiskesj G (1985) The Allium-test as a standard in environmental monitoring. Hereditas 102:99–112

Fiskesj G (1995) The Allium-test. In: O'Hare S, Atterwill C, Totowa N (eds) Methods in molecular biology. Ch. 43. In vivo toxicity testing protocols. Humana Press Inc, pp 119–127

Fiskesj G, Levan A (1993) Evolution of the first ten MEIC chemicals in the Allium test. ATLA 21:139–149

Fleisher J, Spear S, Роре E (1955) Stable cholinesterase preparations at laboratory standards of activity. Anal Chem 27:126

Fluck R, Jaffe M (1974) Cholinesterases from plant tissues VI Distribution and subcellular localization in Phaseolus aureus Roxb. Plant Physiol 53:752–758

Glenner G, Burthner Н (1957) The histochemical demonstration of monoamine oxidase activity by tetrazolium salts. Histochem Cytochem 5:591–602

Goldovsky A (1961) Anabiosis, 1st edn. Science, Leningrad (rus)

Gorkin V (1976) Monoamine oxidase inhibitors and the transformation oxidases. In: Monoamine oxidase and its inhibition, Ciba foundation symposia 39. Elsevier, Amsterdam, pp 61–79

Gorkin V (1981) Aminoxidases and their importance in medicine. Moscow, Medicine (rus)

Gorkin V, Ovchinnikova L (1993) The aminoxidase system: modern advances in the study of nature, functions and their disorders. Questions Honey. Chemistry 39:2–10

Gorska-Brylass A, Smolinski DJ (1992) Ultrastuctral localization of acetylcholinesterase activity in stomata of Marchantia polymorpha L. Electron Microscopy 3:439–440

Gorun V, Proinov I, Baltescu V, Balaban G, Barzu O (1978) Modified Ellman procedure for assay of cholinesterases in crude enzymatic preparations. Anal Biochem 86:324–326

Guide to short-term tests for the detection of mutagenic and carcinogenic chemicals. Hygienic criteria for the state of the environment (1989). Geneva: WHO 51: 212

Halamek Е, Tusarova I (1994) Biosensor for detection of distinguishing between cholinesterase inhibitors. WO 94/05808, C12N 11/12, patent No 02143617

Harris H, Hopkinson D, Robson E (1962) Two-dimensional electrophoresis of pseudocholinesterase components in normal human serum. Nature 196:1296–1297

Hejl A, Koster K (2004) Juglone disrupts root plasma membrane H+-ATPase activity and impairs water uptake, root respiration and growth in Soyabean (Glycine max) and Corn (Zea mays). J Chem Eco 30:453–471

Ichikawa S, Sparrow A, Thompson K (1969) Morphologically abnormal cells, somatic mutations and loss of reproductive integrity in irradiated Tradescantia stamen hairs. Radiat Bot 9:195–211

Ipatova I, Dmitrieva A (2009) Toxicity assessment of heavy metals using higher aquatic plants. Ecol Syst Devices 1:59–62 (rus)

Kakariari E, Georgalaki M, Kalantzopoulos G, Tsakalidou E (2000) Purification and characterization of an intracellular esterase from Propionibacterium freudenreichii ssp freudenreichii ITG 14. Lait 80:491–501

Karnovsky M, Roots L (1964) A direct colouring method for Cholinesterase. J Histochem Cytochem 2:219–221

Liu D, Jiang W, Wang W, Zhai I (1995) Evolution of metal ion toxicity on root tip cells by the Allium test. Israel J Plant Sci 43:125–133

Mashkovekiy M, Andreeva N, Polezhaev A (1983) Pharmacology of antidepressants. Moscow (rus)

Menten M, Junge J, Green M (1944) A coupling histochemical azo dye test for alkaline phosphatase in the kidney. J Biol Chem 153:471–477

Mersey B, МсCully M (1978) Monitoring of thе сoursе of fixation of plant сеlls. J Microsc 114:49–76

Meyerson L, McMurtrey K, Davis V (1978) A rapid and sensitive potentiometric assay for monoamine oxidase using an ammonia-selective electrodes. Anal Biochem 86:287–297

Nachlas M, Seligman A (1949) The histochemical demonstration of esterase. J Nat Cancer Inst 9:415–425

Nasonov E (2005) Methotrexate. Prospects for use in rheumatology. Filomatis, Moscow, p 196 (rus)

Nevozhaj D, Budzynskaya R, Kan'skaya U, Yagello M, Boratyn'skay Y (2006) Modern ideas about the mechanism of antineoplastic action of methotrexate and resistance to it. Pac Med J 4:12–16

Olette R, Couderchet M, Biagianti S, Eullaffroy P (2008) Toxicity and removal of pesticides by selected aquatic plants. Chemosphere 70:1414–1421

Osipova R, Shevchenko V (1984) The use of Tradescantia (clones 02 and 4430) in studies of radiation and chemical mutagenesis. J Gen Biol 95:226–232 (rus)

Perevodchikova N (2005) Handbook an chemotherapy of cancers. Practical medicine, 2nd edn. Moskow, 698 pp. (rus)

Prokopov A, Svyatkovsky E, Nikolsky E, Kuzektsova L (1992) A.S. USSR number SU1745769 A1. BI No. 25 (rus)

Rechnitz G, Arnold M, Meyerhoff M (1979) Bio-selective membrane electrode using slices. Nature 278:466–467

Roginsky S, Shnol S (1963) Isotopes in biochemistry, 1st edn. USSR Academy of Sciences, Moscow (rus)

Roshchina V (2001) Neurotransmitters in plant life. Science Pub L, Enfield, Plymouth, 283 p

Roshchina V (2018) Cholinesterase in secreting cells and isolated organelles. Biol Membr (rus) 35:143–149

Roshchina V (2019) Tools for microanalysis of the neurotransmitter location in plant cells. In: Ramakrishna A, Roshchina VV (eds) Neurotransmitters in plants, perspectives and applications. CRC Press, Boca Raton, pp 135–146

Roshchina VV, Roshchina VD (2003) Ozone and plant cell. Kluwer Academic Press, Dordrecht/Boston/London, 267 pp

Roshchina V, Melnikova E, Kovaleva L, Spiridonov N (1994) Cholinesterase of pollen grains. Dokl Biol Sci 337:424–427

Roshchina V, Prizova N, Khaibulaeva L (2019) Allelopathy experiments with Chara algae model. Histochemical analysis of the participation of neurotransmitter systems in water inhabitation. Allelopath J 46:17–24. https://doi.org/10.26651/alleleo.j/2019-46-1-1195

Samuilov V (2001) Programmed cell death in plants. Soros Edu J 10:12–17

Savelev S, Okello E, Perry N, Wilkins R, Perry E (2003) Synergistic and antagonistic interactions of anticholinesterase terpenoids in Salvia lavandulaefolia essential oil. Pharmacol Biochem Behav 75:661–668

Sharma R, Gupta R (2007) Cyperus rotundus extract inhibits acetylcholinesterase activity from animal and plants as well as inhibits germination and seedling growth in wheat and tomato. Life Sci 80:2389–2392

Sharma R, Gupta R (2019) Role of acetylcholine system in allelopathy in plants. In: Ramakrishna A, Roshchina VV (eds) Neurotransmitters in plants. Perspectives and applications. CRC Press, Boca Raton, pp 243–270

Sinovets S, Pyatkova S, Kozmin G (2009) Experimental substantiation of the use of the allium test in radioecological monitoring. News of Higher Educational Institutions. Nucl Energy 1:32–38 (rus)

Terner E, Karube I, Vilson JN. (Eds.) (1992) Biosensors, Translate to Rus., Moscow, p 34

Truhaut R, Deysson G (1964) Sur les properietes animitotiques des antifoloques. Recherches a l'aide du test Allium. Biochem Pharmacol 13:1197–1207

Turi C, Axwik K, Smith A, Jones A, Saxena P, Murch S (2014) Galanthamine, an anticholinesterase drug, effects plant growth and development in Artemisia tridentata Nutt.via modulation of auxin and neurotransmitter signalling. Plant Signal Behav 9. https://doi.org/10.4161/psb.28645

Ulrichova J, Walterova D, Preininger V, Slavik J, Lenfeld J, Cushman M, Simanek V (1983) Inhibition of acetylcholinesterase activity by some isiquinoline alkaloids. Planta Medica 48: 111–115

Underbrink A, Sparrow L, Sparrow A, Rossi H (1970) Relative biological effectiveness of R- rays and 0,43-MeV monoenergetic neutrons on somatic mutation and loss of reproductive integrity in Tradescantia stamen hairs. Radiat Res 44:187–203

Zolotov Y (1997) Chemical analysis without laboratories: test methods. Her Russ Acad Sci 67:508–513 (rus)

Раrе С (1976) Introduction to clinical aspects of monoamine oxidase inhibitors in the treatment of depression. Monoamine Oxidase and its inhibition. Ciba Foundation Symp, vol 39. Elsevier, Amsterdam, pp 271–296
Copyright information

© 2021 Springer Nature Switzerland AG
About this chapter
Cite this chapter
Budantsev, A.Y., Roshchina, V.V. (2021). Enzymatic Tissue Biotests (MAO and AChE Biotests) and Bioindicators. In: Rai, M., Reshetilov, A., Plekhanova, Y., Ingle, A.P. (eds) Macro, Micro, and Nano-Biosensors. Springer, Cham. https://doi.org/10.1007/978-3-030-55490-3_3