Abstract

Circular economy (CE) is a concept that has gained considerable attention in recent years, particularly in the domain of Industrial Ecology. CE requires products to be easily repaired, refurbished, remanufactured, and eventually recycled. The transition to a CE creates distinct material flows that have to be managed in an efficient and sustainable manner. Existing studies on CE tend to focus on product design, material use, and the market potential of CE products with little attention paid to the logistics challenges associated with such developments. From a logistics perspective, CE can be seen as the integrated management of forward and reverse flows of products in a supply chain. In the operations and supply chain management literature, a large body of knowledge on how to operationalize closed-loop supply chains (CLSCs) already exists and is a starting point for understanding logistics in the CE context. As with traditional forward supply chain network design, CLSC and CE supply chains also require decisions on the role of facilities, their location, their capacity allocation, and their demand and supply allocation. The CE concept does however introduce new challenges especially as circular business innovations converge to increased servitization and to more collaborative and open business models. The transition towards circular business models requires businesses to position themselves according to three key strategic decision-making problems, namely, (1) the extent to which the logistics network is centralized, (2) the extent to which the product is servitized, and (3) the extent to which logistics services are coordinated. This chapter presents a theoretical overview of the three trade-offs and what their potential implications are.
Keywords
Logistics

Circular economy

Closed-loop supply chain

Product design

Supply chain network design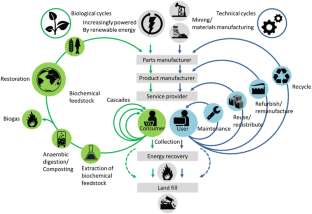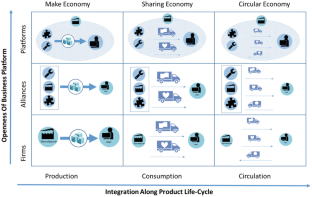 References
Achterberg, E., Hinfelaar, J., & Bocken, N. (2016). Master circular business with the value hill (Research Report). Amsterdam: Circle Economy & Sustainable Finance Lab.

Annarelli, A., Battistella, C., & Nonino, F. (2016). Product service system: A conceptual framework from a systematic review. Journal of Cleaner Production, 139, 1011–1032.

Bocken, N. M., de Pauw, I., Bakker, C., & van der Grinten, B. (2016). Product design and business model strategies for a circular economy. Journal of Industrial and Production Engineering, 33(5), 308–320.

Chopra, S., & Meindl, P. (2016). Supply Chain Management. Strategy, Planning & Operation. Boston: Pearson Prentice Hall.

Chen, X., Fujita, T., Ohnishi, S., Fujii, M., & Geng, Y. (2012). The impact of scale, recycling boundary, and type of waste on symbiosis and recycling: An empirical study of Japanese eco-towns. Journal of Industrial Ecology, 16(1), 129–141.

Franco, M. A. (2017). Circular economy at the micro level: A dynamic view of incumbents' struggles and challenges in the textile industry. Journal of Cleaner Production, 168, 833–845.

Frishammar, J., & Parida, V. (2019). Circular business model transformation: A roadmap for incumbent firms. California Management Review, 61(2), 5–29.

Geisendorf, S., & Pietrulla, F. (2018). The circular economy and circular economic concepts—a literature analysis and redefinition. Thunderbird International Business Review, 60(5), 771–782.

Geissdoerfer, M., Morioka, S. N., de Carvalho, M. M., & Evans, S. (2018). Business models and supply chains for the circular economy. Journal of Cleaner Production, 190, 712–721.

Govindan, K., & Soleimani, H. (2017). A review of reverse logistics and closed-loop supply chains: a Journal of Cleaner Production focus. Journal of Cleaner Production, 142, 371–384.

Govindan, K., Soleimani, H., & Kannan, D. (2015). Reverse logistics and closed-loop supply chain: A comprehensive review to explore the future. European Journal of Operational Research, 240(3), 603–626.

Herczeg, G., Akkerman, R., & Hauschild, M. Z. (2018). Supply chain collaboration in industrial symbiosis networks. Journal of Cleaner Production, 171, 1058–1067.

MacArthur, E., Zumwinkel, K., & Stuchtey, M. (2015). Growth within: A circular economy vision for a competitive Europe. London: Ellen MacArthur Foundation.

Kortmann, S., & Piller, F. (2016). Open business models and closed-loop value chains: Redefining the firm-consumer relationship. California Management Review, 58(3), 88–108.

Reim, W., Parida, V., & Örtqvist, D. (2015). Product–Service Systems (PSS) business models and tactics – A systematic literature review. Journal of Cleaner Production, 97, 61–75.

Stahel, W. R. (2013). Policy for material efficiency—sustainable taxation as a departure from the throwaway society. Philosophical Transactions of the Royal Society A, 371(1986), 20110567.

Van Engeland, J., Beliën, J., De Boeck, L., & De Jaeger, S. (2018). Literature review: Strategic network optimization models in waste reverse supply chains. Omega. in press.
Acknowledgments

This chapter is based on the work performed in the LogiCE project, funded by NWO, the Dutch Research Council, under grant number 439.16.611. The authors thank their project partners for their collaboration and for their contributions to interesting discussions on the role of logistics in a circular economy.
Copyright information

© 2021 Springer Nature Switzerland AG
About this chapter
Cite this chapter
Beames, A., Claassen, G.D.H., Akkerman, R. (2021). Logistics in the Circular Economy: Challenges and Opportunities. In: Rezaei, J. (eds) Strategic Decision Making for Sustainable Management of Industrial Networks. Greening of Industry Networks Studies, vol 8. Springer, Cham. https://doi.org/10.1007/978-3-030-55385-2_1
DOI: https://doi.org/10.1007/978-3-030-55385-2_1

Published:

Publisher Name: Springer, Cham

Print ISBN: 978-3-030-55384-5

Online ISBN: 978-3-030-55385-2