Abstract

The paper presents the kinematic analysis of two medical instruments to be used in a robotic system designed for the minimally invasive treatment of non-resectable liver tumors. The instruments will be attached to a parallel robotic system having two modules, one for guiding each instrument. The first one targets the multiple needle insertion for brachytherapy procedures, while the other one is used for guiding a intra-operatory ultrasound probe used for the visual control of the trajectory of the brachytherapy needles. The paper analyses the constraint equations of the two robotic instruments and their integration into the robotic system, using an algebraic method based on the Study parameters of the special Euclidean transformation Lie group SE(3).
Keywords
Medical robotics

Kinematics

Robotic instruments

Minimally invasive treatment of non-resectable liver tumors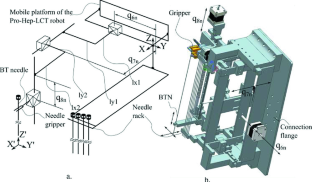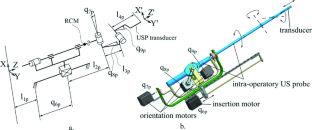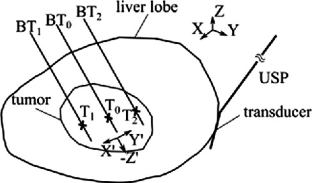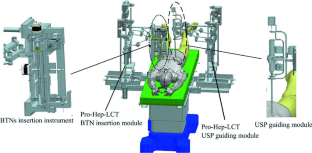 References
Wong, M., et al.: International incidence and mortality trends of liver cancer: a global profile. Sci. Rep. 7, 45846 (2017). https://doi.org/10.1038/srep45846

Schnapauff, D., et al.: Interstitial brachytherapy in combination with previous transarterial embolization in patients with unresectable hepatocellular carcinoma. Int. Inst. Anticancer Res. 39(3), 1329–1336 (2019)

Stoianovici, D., et al.: MR safe robot, FDA clearance, safety and feasibility prostate biopsy clinical trial. IEEE ASME Trans. Mechatron. 22(1), 115–126 (2017)

Podder, T.K., et al.: Reliability of EUCLIDIAN: an autonomous robotic system for image-guided prostate brachytherapy. Med. Phys. 38(1), 96–106 (2011)

Podder, T., Buzurovici, I., Huang, K., Yu, Y.: MIRAB: an image-guided multichannel robot for prostate brachytherapy. Int. J. Rad. Onc. Biol. Phys. 78(3), S810 (2010)

Birlescu, I., Husty, M., Vaida, C., Plitea, N., Nayak, A., Pisla, D.: Complete geometric analysis using the study SE(3) parameters for a novel, minimally invasive robot used in liver cancer treatment. Symmetry 11, 1491 (2019). https://doi.org/10.3390/sym11121491

Plitea, N., Pisla, D., Vaida, C., Gherman, B., Tucan, P.: PRoHep-LCT- Parallel robot for the minimally invasive treatment of hepatic carcinoma. Patent pending A1017/03.12.2018

Vaida, C., Tucan, P., Plitea, N., Lazar, V., Hajjar, A.N., Pisla, D.: Kinematic analysis of a new parallel robotic system for minimally invasive therapy of non-resectable hepatic tumors. In: Uhl T. (eds) Advances in Mechanism and Machine Science. IFToMM WC 2019. Mechanisms and Machine Science, vol. 73, pp. 719–728 (2019). https://doi.org/10.1007/978-3-030-20131-9_72

Gherman, B., Birlescu, I., Burz, A., Pisla, D.: Automated medical instrument for the insertion of brachytherapy needles on parallel trajectories, Patent pending A00806/28.11.2019

Birlescu, I., et al.: Automated medical instrument for ultrasound laparoscopic probe guiding, Patent pending A00752/15.11.2019

Arietta 70 for surgical oncology (2010). http://www.hitachi-aloka.com/products/arietta-70/surgery/surgical-oncology. Accessed 27 Jan 2020

Berceanu, C., Tarnita, D.: Aspects regarding the fabrication process of a new fully sensorized artificial hand. In: MODTECH 2010: New face of TMCR, pp. 123–126 (2010)

Berceanu, C., Tarnita, D., Filip, D.: About an experimental approach used to determine the kinematics of the human finger. J. Sol. St. Phen. Rob. Aut. Syst. 166, 45–50 (2010)
Acknowledgments

The results presented in this paper have been financed by the grant of the Romanian Ministry of Research and Innovation, PCCCDI – UEFISCDI, project number PN-III-P1-1.2-PCCDI-2017-0221/59 PCCDI/2018 (IMPROVE) within PNCDI III, within the framework of the GNaC 2018 ARUT grant "Innovative robotized instruments for treatment in surgical abdominal procedures", research Contract no. 3216/06.02.2019, with the financial support of the Technical University of Cluj-Napoca and project no. 10338/27.04.2020 "Innovative robotic system for cancer treatment – HEAL4LIV".
Copyright information

© 2020 The Editor(s) (if applicable) and The Author(s), under exclusive license to Springer Nature Switzerland AG
About this paper
Cite this paper
Gherman, B., Birlescu, I., Burz, A., Ulinici, I., Tucan, P., Pisla, D. (2020). Kinematic Analysis of Two Innovative Medical Instruments for the Robotic Assisted Treatment of Non-resectable Liver Tumors. In: Pisla, D., Corves, B., Vaida, C. (eds) New Trends in Mechanism and Machine Science. EuCoMeS 2020. Mechanisms and Machine Science, vol 89. Springer, Cham. https://doi.org/10.1007/978-3-030-55061-5_22
DOI: https://doi.org/10.1007/978-3-030-55061-5_22

Published:

Publisher Name: Springer, Cham

Print ISBN: 978-3-030-55060-8

Online ISBN: 978-3-030-55061-5

eBook Packages: EngineeringEngineering (R0)