Abstract

Some bacteria and protozoan species are important pathogens causing high mortality rates not only in humans, but also in other mammal species including bats. Infectious agents, such as viruses, bacteria, protozoa, and fungi have been reported in the order Chiroptera, but a thorough analysis of zoonotic unicellular pathogens is needed. To address this topic, we conducted an exhaustive search of literature reports on pathogenic bacterial and protozoan infections in bats, in order to summarize the current state of knowledge on these pathogens. From this search, we obtained information on seven protozoan and 12 bacterial species present in 187 bat species, which were retrieved from 169 articles. Despite all the records, bats are only considered reservoirs for two protozoan species. Thus, more studies are needed to consider bats as reservoirs for bacteria. At North American Society for Bat Research (NASBR) symposia, 17 studies have been presented and discussed, but only two focused on pathogens responsible for the principal causes of death in human populations. More worldwide studies are needed to assess the actual role of bats in public health problems and to help develop conservation measures for bat populations that need to be protected.
Keywords
Bacteria

Pathogens

Protozoa

Reservoirs

Zoonosis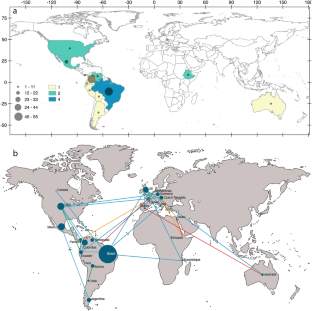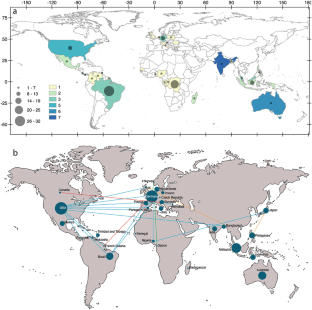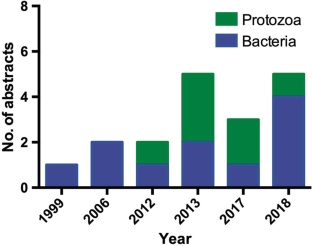 References
Adesiyun AA, Stewart-Johnson A, Thompson NN (2009) Isolation of enteric pathogens from bats in Trinidad. J Wildl Dis 45:952–961

Akhoundi M, Kuhls K, Cannet A, Votýpka J, Marty P, Delaunay P, Sereno D (2016) A historical overview of the classification, evolution, and dispersion of Leishmania parasites and sandflies. PLoS Negl Trop Dis 10:e0004349

Allen T, Murray KA, Zambrana-Torrelio C, Morse SS, Rondinini C, Di Marco M, Breit N, Olival KJ, Daszak P (2017) Global hotspots and correlates of emerging zoonotic diseases. Nat Commun 8:1–10

Alves VR, De Freitas RA, Barrett T (2008) Lutzomyia maruaga (Diptera: Psychodidae), a new bat-cave sand fly from Amazonas, Brazil. Mem Inst Oswaldo Cruz 103:251–253

Amr ZS, Abu Baker MA, Qumsiyeh MB (2006) Bat diversity and conservation in Jordan. Turk J Zool 30:235–244

Beuchat LR (2002) Ecological factors influencing survival and growth of human pathogens on raw fruits and vegetables. Microbes Infect 4:413–423

Boston ESM, Puechmaille SJ, Scott DD, Buckley DJ, Lundy G, Montgomery IW, Prodöhl PA, Teeling EC (2012) Empirical assessment of non-invasive population genetics in bats: comparison of DNA quality from faecal and tissue samples. Acta Chiropterol 14:45–52

Bozorgmehr K, Wahedi K, Noest S, Szecsenyi J, Razum O (2017) Infectious disease screening in asylum seekers: range, coverage and economic evaluation in Germany, 2015. Eur Secur 22:16–00677

Brook CE, Dobson AP (2015) Bats as "special" reservoirs for emerging zoonotic pathogens. Trends Microbiol 23:172–180

Ceballos G, Ehrlich PR (2006) Global mammal distributions, biodiversity hotspots, and conservation. Proc Natl Acad Sci USA 103:19374–19379

Centers for Disease Control and Prevention (CDC) (2019a) Cryptosporidiosis. Retrieved from https://www.cdc.gov/dpdx/cryptosporidiosis/index.html. Accessed 10 Aug 2019

Centers for Disease Control and Prevention (CDC) (2019b) Shigella – Shigellosis. Retrieved from https://www.cdc.gov/shigella/index.html. Accessed 10 Aug 2019

Centers for Disease Control and Prevention (CDC) (2019c) Tuberculosis (TB). Retrieved from https://www.cdc.gov/tb/default.htm. Accessed 10 Aug 2019

Chambers HF (2001) The changing epidemiology of Staphylococcus aureus? Emerg Infect Dis 7:178–182

Christensen HA, Herrer A (1975) Lutzomyia vespertilionis (Diptera: Psychodidae): potential vector of chiropteran trypanosomes in Panama. J Med Entomol 12:477–478

Christensen HA, Herrer A (1980) Panamanian Lutzomyia (Diptera: Psychodidae) host attraction profiles. J Med Entomol 17:522–528

Clare EL, Lim BK, Engstrom MD, Eger JL, Hebert PDN (2007) DNA barcoding of Neotropical bats: species identification and discovery within Guyana. Mol Ecol Notes 7:184–190

Clark HC, Dunn LH (1932) Studies on Chagas' disease in Panama. Am J Trop Med 11:49–77

Cláudio VC, Gonzalez I, Barbosa G, Rocha V, Moratelli R, Rassy F (2018) Bacteria richness and antibiotic-resistance in bats from a protected area in the Atlantic Forest of Southeastern Brazil. PLoS One 13:1–18

Cogswell-Hawkinson A, Bowen R, James S, Gardiner D, Calisher CH, Adams R, Schountz T (2012) Tacaribe virus causes fatal infection of an ostensible reservoir host, the Jamaican fruit bat. J Virol 86:5791–5799

Colunga-Salas P, Hernández-Canchola G, Grostieta E, Becker I (2019) Unicellular endoparasites of bats. database Zenodo. Retrieved from https://zenodo.org/record/3369923#.XkB2bS3mHOQ

Colunga-Salas P, Sánchez-Montes S, Grostieta E, Verde-Arregoitia LD, Cabrera-Garrido MY, Becker I, León-Paniagua L (2020) What do studies in wild mammals tell us about human emerging viral diseases in Mexico? Transbound Emerg Dis 67:33–45

Corless CE, Guiver M, Borrow R, Fox AJ, Kaczmarski EB (2001) Simultaneous detection of Neisseria meningitidis, Haemophilus influenzae, and Streptococcus pneumoniae in suspected cases of meningitis and septicemia using real-time PCR. J Clin Microbiol 39:1553–1558

Daszak P, Cunningham AA, Hyatt AD (2000) Emerging infectious diseases of wildlife—threats to biodiversity and human health. Science (80–) 287:443–449

Ecker DJ, Sampath R, Willett P, Wyatt JR, Samant V, Massire C, Hall TA, Hari K, Büchen-Osmond C, Budowle B (2005) The microbial rosetta stone database: a compilation of global and emerging infectious microorganisms and bioterrorist threat agents. BMC Microbiol 5:1–17

Feliciangeli MD (2004) Natural breeding places of phlebotomine sandflies. Med Vet Entomol 18:71–80

Ferrah N, Leder K, Gibney K (2016) Review of the causes and management of chronic gastrointestinal symptoms in returned travellers referred to an Australian infectious diseases service. Aust Fam Phys 45:333–339

Gascon J, Bern C, Pinazo MJ (2010) Chagas disease in Spain, the United States and other non-endemic countries. Acta Trop 115:22–27

Getahun H, Matteelli A, Chaisson RE, Raviglione M (2015) Latent Mycobacterium tuberculosis infection. N Engl J Med 37:2127–2135

Griffith AS (1928) Tuberculosis in captive wild animals. J Hyg (Lond) 28:198–218

Hald B, Skovgård H, Pedersen K, Bunkenborg H (2008) Influxed insects as vectors for Campylobacter jejuni and Campylobacter coli in Danish broiler houses. Poult Sci 87:1428–1434

Haydon DT, Cleaveland S, Taylor LH, Laurenson MK (2002) Identifying reservoirs of infection: a conceptual and practical challenge. Emerg Infect Dis 8:1468–1473

Hazeleger WC, Jacobs-Reitsma WF, Lina PHC, De Boer AG, Bosch T, Van Hoek AHAM, Beumer RR (2018) Wild, insectivorous bats might be carriers of Campylobacter spp. PLoS One 13:e0190647

Helmick KE, Heard DJ, Richey L, Finnegan M, Ellis GA, Nguyen A, Tucker L, Weyant RS (2004) A Pasteurella-like bacterium associated with pneumonia in captive megachiropterans. J Zoo Wildl Med 35:88–93

Henry R, Galbraith P, Coutts S, Prosser T, Boyce J, McCarthy DT (2018) What's the risk? Identifying potential human pathogens within grey-headed flying foxes faeces. PLoS One 13:1–20

Kassahun A, Sadlova J, Benda P, Kostalova T, Warburg A, Hailu A, Baneth G, Volf P, Votypka J (2015) Natural infection of bats with Leishmania in Ethiopia. Acta Trop 150:166–170

Kasso M, Balakrishnan M (2013) Ecological and economic importance of bats (order Chiroptera). ISRN Biodivers 2013:1–9

Lack JB, Van Den Bussche RA (2010) Identifying the confounding factors in resolving phylogenetic relationships in Vespertilionidae. J Mammal 91:1435–1448

Lanata CF, Fischer-Walker CL, Olascoaga AC, Torres CX, Aryee MJ, Black RE (2013) Global causes of diarrheal disease mortality in children <5 years of age: a systematic review. PLoS One 8:e72788

Lee WS, Puthucheary SD (2002) Bacterial enteropathogens isolated in childhood diarrhoea in Kuala Lumpur--the changing trend. Med J Malaysia 57:24–30

Lozano-Sardaneta YN, Colunga-Salas P, Sánchez-Pineda L, Sánchez-Montes S, Becker I (2018) Sauroleishmania, protozoarios asociados con reptiles: distribución, vectores y hospederos. Rev Latinoam Herpetol 01:43–52

Medellín RA, Equihua M, Amin MA (2000) Bat diversity and abundance as indicators of disturbance in neotropical rainforest. Conserv Biol 14:1666–1675

Medkour H, Davoust B, Dulieu F, Maurizi L, Lamour T, Marié JL, Mediannikov O (2019) Potential animal reservoirs (dogs and bats) of human visceral leishmaniasis due to Leishmania infantum in French Guiana. PLoS Negl Trop Dis 13:e0007456

Mégraud F, Bébéar C, Dabernat H, Delmas C (1988) Haemophilus species in the human gastrointestinal tract. Eur J Clin Microbiol Infect Dis 7:437–438

Mosier DA, Oberst RD (2006) Cryptosporidiosis: a global challenge. Ann N Y Acad Sci 916:102–111

Mühldorfer K (2013) Bats and bacterial pathogens: a review. Zoonoses Public Health 60:93–103

Mühldorfer K, Speck S, Kurth A, Lesnik R, Freuling C, Müller T, Kramer-Schadt S, Wibbelt G (2011a) Diseases and causes of death in European bats: dynamics in disease susceptibility and infection rates. PLoS One 6:e29773

Mühldorfer K, Speck S, Wibbelt G (2011b) Diseases in free-ranging bats from Germany. BMC Vet Res 7:61

Olatimehin A, Shittu AO, Onwugamba FC, Mellmann A, Becker K, Schaumburg F (2018) Staphylococcus aureus complex in the straw-colored fruit bat (Eidolon helvum) in Nigeria. Front Microbiol 9:162

Polseela R, Apiwathnasorn C, Samung Y (2007) Seasonal variation of cave-dwelling Phlebotomie sandflies (Diptera: Psychodidae) in Phra Phothisat cave, Saraburi Province, Thailand. Southeast Asian J Trop Med Public Health 38:1011–1015

Quinnell RJ, Courtenay O (2009) Transmission, reservoir hosts and control of zoonotic visceral leishmaniasis. Parasitology 136:1915–1934

Rassi A, Marin-Neto A (2010) Chagas disease. Lancet 375:1388–1402

Richman DD, Cleveland PH, Oxman MN, Johnson KM (1982) The binding of Staphylococcal protein A by the sera of different animal species. J Immunol 126:2300–2305

Saha S, Halder M, Mookerjee S, Palit A (2019) Seasonal influence, enteropathogenic microbial load and diarrhoeal enigma in the Gangetic Delta, India: present scenario and health implications. J Infect Public Health 12:540–548

Santana-Lima VF, Rocha PA, Dias Silva MA, Beltrão-Mendes R, Ramos RAN, Giannelli A, Rinaldi L, Cringoli G, Estrela PC, Alves LC (2018) Survey on helminths and protozoa of free-living Neotropical bats from Northeastern Brazil. Acta Trop 185:267–272

Savani ESMM, de Almeida MF, de Oliveira Camargo MCG, D'Auria SRN, Silva MMS, de Oliveira ML, Sacramento D (2010) Detection of Leishmania (Leishmania) amazonensis and Leishmania (Leishmania) infantum chagasi in Brazilian bats. Vet Parasitol 168:5–10

Schenone H (1999) Xenodiagnosis. Mem Inst Oswaldo Cruz 94:289–294

Shikanai-Yasuda MA, Carvalho NB (2012) Oral transmission of Chagas disease. Clin Infect Dis 54:845–852

Susser M, Susser E (1996) Choosing a future for epidemiology: II. From black box to Chinese boxes and eco-epidemiology. Am J Public Health 86:674–677

Walker FM, Williamson CHD, Sanchez DE, Sobek CJ, Chambers CL (2016) Species from feces: order-wide identification of chiroptera from guano and other non-invasive genetic samples. PLoS One 11:1–22

Walther B, Wieler LH, Friedrich AW, Hanssen AM, Kohn B, Brunnberg L, Lübke-Becker A (2008) Methicillin-resistant Staphylococcus aureus (MRSA) isolated from small and exotic animals at a university hospital during routine microbiological examinations. Vet Microbiol 127:171–178

Whittaker R, Economopoulou A, Dias JG, Bancroft E, Ramliden M, Celentano LP, Steindl G, Martiny D, Grammens T, Georgieva T, Maikanti-Charalampous P, Koliou M, Lebedova V, Krizova P, Dalby T, Valentiner-Branth P, Epstein J, Kerbo N, Toropainen M, Kuusi M, Georges S, Lepoutre A, Takla A, Lam TT, Georgakopoulou T, Tzanakaki G, Molnár Z, Gudnason T, Hardardottir H, O'Lorcain P, Meyler K, D'Ancona F, Cerquetti M, Savrasova L, Galajeva J, Gargasienė G, Caruana P, Melillo T, Mollema L, Spanjaard L, Steinbakk M, Paradowska-Stankiewicz I, Kuch A, Sousa Pinto C, Lavado P, Stanescu A, Cristina Giuca M, Novakova E, Kastrin T, Grgic Vitek M, Pérez-Vázquez M, Cano R, Lepp T, Morfeldt E, Ladhani S, McDonald E (2017) Epidemiology of invasive Haemophilus influenzae disease, Europe, 2007–2014. Emerg Infect Dis 23:396–404

Wong S, Lau S, Woo P, Yuen KY (2007) Bats as a continuing source of emerging infections in humans. Rev Med Virol 17:67–91

World Health Organization (WHO) (2019a) Leishmaniasis. Retrieved From https://www.who.int/news-room/fact-sheets/detail/leishmaniasis. Accessed 3 Aug 2019

World Health Organization (WHO) (2019b) Chagas disease (American trypanosomiasis). Retrieved from https://www.who.int/news-room/fact-sheets/detail/chagas-disease-(american-trypanosomiasis). Accessed 3 Aug 2019

World Health Organization (WHO) (2019c) One Health. Retrieved from https://www.who.int/features/qa/one-health/en/. Accessed 3 Aug 2019

World Health Organization (WHO) (2019d) Zoonosis. Retrieved from https://www.who.int/zoonoses/en/. Accessed 3 Aug 2019

Wynne JW, Wang LF (2013) Bats and viruses: friend or foe? PLoS Pathog 9:1–4
Funding

Funding was provided by NSF DEB-1754393, DEB-1441634 and CONACyT.
Copyright information

© 2021 North American Society for Bat Research (NASBR)
About this chapter
Cite this chapter
Colunga-Salas, P., Hernádez-Canchola, G., Grostieta, E., Becker, I. (2021). Bats as Hosts of Important Unicellular Endoparasites. In: , et al. 50 Years of Bat Research. Fascinating Life Sciences. Springer, Cham. https://doi.org/10.1007/978-3-030-54727-1_20