Abstract

We study spaceship motion powered in the rest-frame with one g acceleration. We find that in a year of spaceship time, the expedition achieves travel close to speed of light. We evaluate the distance traveled as a function of the time that passes on the spaceship and the time that passes on Earth. Maintaining such powered flight for more than a decade of spaceship time allows the exploration of the entire Milky Way. We evaluate the time dilation between the traveler and the home base, finding an enormous time dilation effect. At the end we generalize our results to the case of arbitrarily accelerated body motion in SR.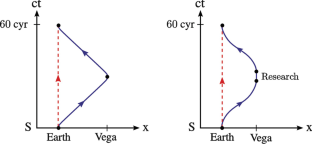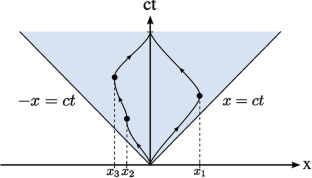 Notes
1.

Enrico Fermi (1901–1953), Italian-American physicist, an accomplished theorist, experimenter and inventor. The first nuclear reactor was designed and built by Fermi, and we call quantum particles that obey the Pauli principle fermions. Nobel Prize 1938.

2.

3.

R.H. Gray, "The Fermi Paradox Is Neither Fermi's Nor a Paradox," Astrobiology 15 195 (2015).

4.

S. Webb, If the Universe Is Teeming with Aliens ... Where Is Everybody?: Seventy-Five Solutions to the Fermi Paradox and the Problem of Extraterrestrial Life (Springer Science and Fiction, 2nd ed. 2015); M. Livio and J. Silk, "Where are they?" Physics Today 70, (3) 50 (2017).

5.

W. Rindler, "Hyperbolic Motion in Curved Space Time," Phys. Rev. 119 2082 (1960).
Copyright information

© 2022 The Editor(s) (if applicable) and The Author(s), under exclusive license to Springer Nature Switzerland AG
About this chapter
Cite this chapter
Rafelski, J. (2022). Travel in the Milky Way. In: Modern Special Relativity. Springer, Cham. https://doi.org/10.1007/978-3-030-54352-5_23