Abstract

The success of online shopping combined with the convenience of home delivery leads to massive congestion in cities. CEP (Courier-Express-Parcels) service provider have increasing cost and service pressure, especially in the last mile parcel delivery. Therefore, we propose a process-based white-label last mile delivery platform as a smart city approach to counter congestion. It allows the consolidation of parcels on the last mile, considers customer preferences, and gives local carriers access to the parcel market. This platform is conceptualized based on insights from interviews and workshops with experts. Experiences from a pilot study are discussed.
Keywords
Inter-organizational process

Parcel delivery

Last mile logistics

Conceptual architecture

Smart cities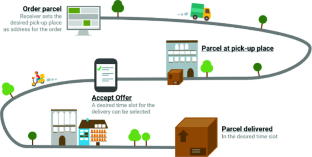 Notes
1.

2.

3.

They were invited from the German Federal Association of Courier-Express-Post (BdKEP) https://bdkep.de/.

4.
References
Attaran, M.: Exploring the relationship between information technology and business process reengineering. Inf. Manag. 41(5), 585–596 (2004)

Benouaret, K., Valliyur-Ramalingam, R., Charoy, F.: CrowdSC: building smart cities with large-scale citizen participation. IEEE Internet Comput. 17(6), 57–63 (2013)

Chen, Z., et al.: gmission. Proc. VLDB Endow. 7(13), 1629–1632 (2014)

Dell'Amico, M., Hadjidimitriou, S.: Innovative logistics model and containers solution for efficient last mile delivery. Procedia Soc. Behav. Sci. 48, 1505–1514 (2012)

Etzion, O., Niblett, P., Luckham, D.C.: Event Processing in Action. Manning, Greenwich (2011)

Gregor, S., Hevner, A.: Positioning and presenting design science research for maximum impact. MIS Q. 37(2), 337–355 (2013)

GS1: SSCC - serial shipping container code (2019). https://www.gs1.org/standards/id-keys/sscc

Handoko, S.D., Nguyen, D.T., Lau, H.C.: An auction mechanism for the last-mile deliveries via urban consolidation centre. In: 2014 IEEE International Conference on Automation Science and Engineering (CASE), pp. 607–612. IEEE (2014)

Hevner, A., March, S., Park, J., Ram, S.: Design science in information systems research. MIS Q. 28(1), 75–105 (2004)

Lantz, K.E.: The Prototyping Methodology. Prentice-Hall, Englewood Cliffs (1986)

Liakos, P., Delis, A.: An interactive freight-pooling service for efficient last-mile delivery. In: 16th IEEE International Conference on Mobile Data Management, pp. 23–25. IEEE (2015)

Mladenow, A., Bauer, C., Strauss, C.: "crowd logistics": the contribution of social crowds in logistics activities. Int. J. Web Inf. Syst. 12(3), 379–396 (2016)

Norta, A., Grefen, P., Narendra, N.C.: A reference architecture for managing dynamic inter-organizational business processes. Data Knowl. Eng. 91, 52–89 (2014)

Park, H., Park, D., Jeong, I.J.: An effects analysis of logistics collaboration in last-mile networks for CEP delivery services. Transp. Policy 50, 115–125 (2016)

Petrovic, O., Harnisch, M.J., Puchleitner, T.: Opportunities of mobile communication systems for applications in last-mile logistics. In: 2013 International Conference on Advanced Logistics and Transport, pp. 354–359. IEEE (2013)

Ranieri, L., Digiesi, S., Silvestri, B., Roccotelli, M.: A review of last mile logistics innovations in an externalities cost reduction vision. Sustainability 10(3), 782 (2018)

de Souza, R., Goh, M., Lau, H.C., Ng, W.S., Tan, P.S.: Collaborative urban logistics - synchronizing the last mile a singapore research perspective. Procedia Soc. Behav. Sci. 125, 422–431 (2014)

Statista: Revenue of e-commerce (B2C) in Germany (1999–2015), forecast for 2016 (2017). https://de.statista.com/statistik/daten/studie/3979/umfrage/e-commerce-umsatz-in-deutschland-seit-1999/

Suh, K., Smith, T., Linhoff, M.: Leveraging socially networked mobile ICT platforms for the last-mile delivery problem. Environ. Sci. Technol. 46(17), 9481–9490 (2012)

Venable, J., Pries-Heje, J., Baskerville, R.: FEDS: a framework for evaluation in design science research. Eur. J. Inf. Syst. 25(1), 77–89 (2016)

Wang, Y., Zhang, D., Liu, Q., Shen, F., Lee, L.H.: Towards enhancing the last-mile delivery: an effective crowd-tasking model with scalable solutions. Transp. Res. Part E Logist. Transp. Rev. 93, 279–293 (2016)
Acknowledgement

The research leading to these results has been partly funded by the BMWi under grant agreement 01MD18012C, Project SMile. http://smile-project.de.
Copyright information

© 2020 Springer Nature Switzerland AG
About this paper
Cite this paper
Pufahl, L., Ihde, S., Glöckner, M., Franczyk, B., Paulus, B., Weske, M. (2020). Countering Congestion: A White-Label Platform for the Last Mile Parcel Delivery. In: Abramowicz, W., Klein, G. (eds) Business Information Systems. BIS 2020. Lecture Notes in Business Information Processing, vol 389. Springer, Cham. https://doi.org/10.1007/978-3-030-53337-3_16
DOI: https://doi.org/10.1007/978-3-030-53337-3_16

Published:

Publisher Name: Springer, Cham

Print ISBN: 978-3-030-53336-6

Online ISBN: 978-3-030-53337-3

eBook Packages: Computer ScienceComputer Science (R0)