Abstract

As the most commonly used storage tool, backpack is one of the daily necessities for adults. The long-term incorrect bearing way and bearing behavior habit can cause harm to the adult's neck, shoulder and other body parts. In this paper, adults are taken as research objects. Through questionnaires and in-depth interviews, characteristics and usage habits of adult backpacks are obtained, and the ergonomic experiment scenario of backpacks is determined. It lays the foundation for further experiments.
Keywords
Adult backpack

Behavioral habits

Ergonomics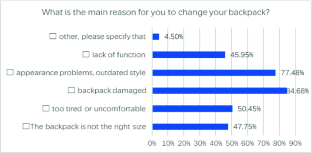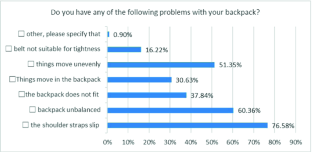 References
Wang, M., Aming, L., Zhang, Q., et al.: Research progress on the influence of backpacks on balance, body posture and gait of adolescents. Sports Res. 02, 12–16 (2015)

Costello, K., Matrangola, S., Madigan, M.: Independent effects of adding weight and inertia on balance during quiet standing. Biomed. Eng. Online 11(1), 20–33 (2012)

Qu, X., Nussbaum, M.: Effects of external loads on balance control during upright stance: Experimental results and model-based predictions. Gait Posture 29(1), 23–30 (2009)

Rosker, J., Markovic, G., Sarabon, N.: Effects of vertical center of mass redistribution on body sway parameters during quiet standing. Gait Posture 33(3), 452–456 (2011)

Grimmer, K., Dansie, B., Milanese, S., et al.: Adolescent standing postural response to backpack loads: a randomized controlled experimental study. BMC Musculoskelet. Disord. 3(1), 10 (2002)

Hong, Y., Brueggemann, G.P.: Changes in gait patterns in 10-year-old boys with increasing loads when walking on a treadmill. Gait posture 11(3), 254–259 (2000)

Wang, M., Lu, A., Zhang, Q., et al.: Research review on backpacks and spinal deformity and back pain in adolescent. J. Cap. Univ. Phys. Educ. 5(2), 188–192 (2016)

Charteris, J.: Comparison of the effects of backpack loading and of walking speed on foot-floor contact patterns. Ergonomics 41(12), 1792–1809 (1998)

Wang, M., Lu, A., Wang, G.: Effects of different backpacking methods on the spinal Angle of college students. In: The 10th national sports science congress (2015)

Ma, S.: Effects of different backpacks and weights on adult female gait. In: Chinese Association of Sports Science
Acknowledgments

This research is supported by 2017 National Quality Infrastructure (2017NQI) project (2017YFF0206603) and China National Institute of Standardization through the "special funds for the basic R&D undertakings by welfare research institutions" (522019Y-6667 and 522018Y-5984).
Copyright information

© 2020 The Editor(s) (if applicable) and The Author(s), under exclusive license to Springer Nature Switzerland AG
About this paper
Cite this paper
Hu, H., Ni, S., Li, S., Wu, H. (2020). Ergonomic Characteristics and Usage Habits of aAdult Backpack. In: Rebelo, F., Soares, M. (eds) Advances in Ergonomics in Design. AHFE 2020. Advances in Intelligent Systems and Computing, vol 1203. Springer, Cham. https://doi.org/10.1007/978-3-030-51038-1_28
DOI: https://doi.org/10.1007/978-3-030-51038-1_28

Published:

Publisher Name: Springer, Cham

Print ISBN: 978-3-030-51037-4

Online ISBN: 978-3-030-51038-1

eBook Packages: EngineeringEngineering (R0)