Abstract
The first foundational component of treating obesity is changing the way people interact with food. Helping patients understand the impact of food, not just in quantity, on their health is a key to successful treatment.
COURAGE DOESN'T ALWAYS ROAR. SOMETIMES COURAGE IS THE QUIET VOICE AT THE END OF THE DAY SAYING 'I WILL TRY AGAIN TOMORROW.'

MARY ANNE RADMACHER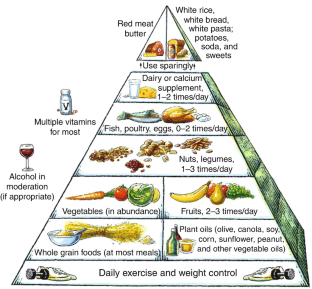 References
Academy of Nutrition and Dietetics. Position of the Academy of Nutrition and Dietetics: interventions for the treatment of overweight and obesity in adults. J Acad Nutr Diet. 2016;116(1):129–47.

Wishnofsky M. Caloric equivalents of gained or lost weight. Am J Clin Nutr. 1958;6(5):542–6. https://doi.org/10.1093/ajcn/6.5.542.

Hall KD, Heymsfield SB, Kemnitz JW, Klein S, Schoeller DA, Speakman JR. Energy balance and its components: implications for body weight regulation. Am J Clin Nutr. 2012;95(4):989–94.

Food and Drug Association. Guidance for industry: guide for developing and using data bases for nutrition labeling. Docket number: FDA-2013-S-0610. 1998. https://www.fda.gov/regulatory-information/search-fda-guidance-documents/guidance-industry-guide-developing-and-using-data-bases-nutritionlabeling#chapter_IV. Accessed 11 Apr 2020.

Dansinger ML, Gleason JA, Griffith JL, Selker HP, Schaefer EJ. Comparison of the Atkins, Ornish, weight watchers, and zone diets for weight loss and heart disease risk reduction: a randomized trial. JAMA. 2005;293(1):43–53.

Steinberg DM, Bennett GG, Askew S, Tate DF. Weighing everyday matters: daily weighing improves weight loss and adoption of weight control behaviors. J Acad Nutr Diet. 2015;115(4):511–8. https://doi.org/10.1016/j.jand.2014.12.011.

Hall KD. A review of the carbohydrate-insulin model of obesity. Eur J Clin Nutr. 2017;71(3):323–6. https://doi.org/10.1038/ejcn.2016.260.

Dontas AS, Zerefos NS, Panagiotakos DB, Vlachou C, Valis DA. Mediterranean diet and prevention of coronary heart disease in the elderly. Clin Interv Aging. 2007;2(1):109–15. https://doi.org/10.2147/ciia.2007.2.1.109.

Estruch R, Ros E, Salas-Salvadó J, Covas M, Corella D, Arós F, PREDIMED Study Investigators, et al. Primary prevention of cardiovascular disease with a mediterranean diet supplemented with extra-virgin olive oil or nuts. N Engl J Med. 2018;378(25):e34. https://doi.org/10.1056/NEJMoa1800389.

McMacken M, Shah S. A plant-based diet for the prevention and treatment of type 2 diabetes. J Geriatr Cardiol. 2017;14(5):342–54. https://doi.org/10.11909/j.issn.1671-5411.2017.05.009.

Tosti V, Bertozzi B, Fontana L. Health benefits of the mediterranean diet: metabolic and molecular mechanisms. J Gerontol. 2018;73(3):318–26. https://doi.org/10.1093/gerona/glx227.

Varady K, Bhutani S, Church EC, Klempel MC. Short-term modified alternate-day fasting: a novel strategy for weight loss and cardioprotection in obese adults. Am J Clin Nutr. 2009;90:1138–43.

Mulholland Y, Nicokavoura E, Broom J, Rolland C. Very-low-energy diets and morbidity: a systematic review of longer-term evidence. Br J Nutr. 2012;108(5):832–51. https://doi.org/10.1017/S0007114512001924.

Hamdy O. Obesity. Medscape. 2018. https://emedicine.medscape.com/article/123702-overview. Accessed 10 Apr 2020.

Kaiser KA, Brown AW, Brown MM, Shikany JM, Mattes RD, Allison DB. Increased fruit and vegetable intake has no discernible effect on weight loss: a systematic review and meta-analysis. Am J Clin Nutr. 2014;100(2):567–76.

Tate DF, Turner-McGrievy G, Lyons E, Stevens J, Erickson K, Polzien K, et al. Replacing caloric beverages with water or diet beverages for weight loss in adults: main results of the Choose Healthy Options Consciously Everyday (CHOICE) randomized clinical trial. Am J Clin Nutr. 2012;95(3):555–63.

Benjamin EJ, Blaha MJ, Chiuve SE, Cushman M, Das SR, Deo R, American Heart Association Statistics Committee and Stroke Statistics Subcommittee, et al. Heart disease and stroke statistics-2017 update: a report from the American Heart Association. Circulation. 2017;135(10):e146–603. https://doi.org/10.1161/CIR.0000000000000485.

Hall K, Ayuketah A, Brychta R, Cai H, Cassimatis T, Chen K, et al. Inpatient randomized controlled trial of ad libitum food intake. Cell Metab. 2019;30(1):67–77. https://doi.org/10.1016/j.cmet.2019.05.008.

Blom W, Stafleu L, Holst J, Schaafsma G, Hendriks H. Effect of a high-protein breakfast on the postprandial ghrelin response. Am J Clin Nutr. 2006;83(2):211–20.

The National Weight Control Registry. n.d. http://www.nwcr.ws/. Accessed 11 Apr 2020.
Copyright information
© 2020 The Editor(s) (if applicable) and The Author(s), under exclusive license to Springer Nature Switzerland AG
About this chapter
Cite this chapter
Golden, A. (2020). Foundational Component of Treating Obesity: Eating Plans. In: Treating Obesity in Primary Care. Springer, Cham. https://doi.org/10.1007/978-3-030-48683-9_8
DOI: https://doi.org/10.1007/978-3-030-48683-9_8

Published:

Publisher Name: Springer, Cham

Print ISBN: 978-3-030-48682-2

Online ISBN: 978-3-030-48683-9

eBook Packages: MedicineMedicine (R0)