Abstract

Waste concrete is one of the most highly produced types of waste in the urban environment and finding a means for its re-use is crucial to making infrastructure sustainable. Semi-Dense Asphalt (SDA) is a type of asphalt mixture, which is commonly used in Switzerland to reduce pavement noise. This study examined the use of various fractions of Recycled Concrete Aggregates (RCA) into SDA mixtures. The virgin aggregates were replaced by RCA in selected fractions of 2/4 and 0.125/2 at 100% and 50%, with only one fraction being replaced for any single mixture. The mixtures were evaluated by volumetrics, indirect tensile strength and water sensitivity (EN 12697-12) in order to assess the effects of each RCA fraction. The results showed that RCA coarse aggregates absorb high amounts of binder, which is not the case for the RCA sand. The ITS results showed increase peak load for the RCA replacement samples but also increased brittleness. The ITSR% was similar to the control for lower fraction of RCA replacement samples, but significantly lower with higher replacement.
Keywords
Indirect tensile strength

Water sensitivity

Recycled Concrete Aggregates (RCA)

Semi-Dense Asphalt (SDA)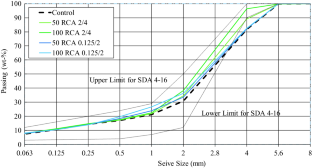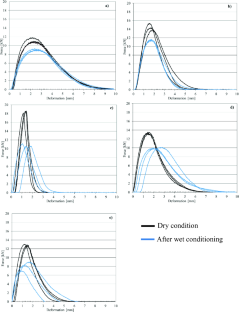 References
Albayati A, Wang Y, Wang Y, Haynes J (2018) A sustainable pavement concrete using warm mix asphalt and hydrated lime treated recycled concrete aggregates. Sustain Mater Technol 18:e00081

Al-Bayati HKA, Tighe SL, Achebe J (2018) Influence of recycled concrete aggregate on volumetric properties of hot mix asphalt. Resour Conserv Recycl 130:200–214

EN 933-1 (2012) Tests for geometrical properties of aggregates - Part 1: Determination of particle size distribution - Sieving method

EN 933-6 (2014) Tests for geometrical properties of aggregates - Part 6: Assessment of surface characteristics - Flow coefficient of aggregates

EN 933-8 (2012) Tests for geometrical properties of aggregates Part 8: Assessment of fines - Sand equivalent test

EN 1097-6 (2013) Tests for mechanical and physical properties of aggregates - Part 6: Determination of particle density and water absorption

EN 1426 (2015) Bitumen and bituminous binders. Determination of needle penetration

EN 12697-5 (2019) Bituminous mixtures - Test methods - Part 5: Determination of the maximum density

EN 12697-12 (2008) Bituminous mixtures - Test methods for hot mix asphalt - Part 12: Determination of the water sensitivity of bituminous specimens

EN 12697-29 (2002) Bituminous mixtures - Test method for hot mix asphalt - Part 29: Determination of the dimensions of bituminous specimen

FOEN (2018) Waste and raw materials: In brief [online]. Federal Office for the Environment. https://www.bafu.admin.ch/bafu/en/home/themen/thema-abfall/abfall–das-wichtigste-in-kuerze.html. Accessed 10 Sept 2019

Gálvez-Martos J-L, Styles D, Schoenberger H, Zeschmar-Lahl B (2018) Construction and demolition waste best management practice in Europe. Resour Conserv Recycl 136:166–178

McNeil K, Kang TH-K (2013) Recycled concrete aggregates: a review. Int J Concr Struct Mater 7(1):61–69

Mills-Beale J, You Z (2010) The mechanical properties of asphalt mixtures with Recycled Concrete Aggregates. Constr Build Mater 24(3):230–235

Ossa A, García JL, Botero E (2016) Use of recycled construction and demolition waste (CDW) aggregates: a sustainable alternative for the pavement construction industry. J Clean Prod 135:379–386

Pasandín AR, Pérez I (2015) Overview of bituminous mixtures made with recycled concrete aggregates. Constr Build Mater 74:151–161

Pasandín AR, Pérez I (2017) Fatigue performance of bituminous mixtures made with recycled concrete aggregates and waste tire rubber. Constr Build Mater 157:26–33

Raab C, Partl MN (2012) Stripping of low noise surface courses during laboratory scaled wheel tracking. In: Seventh international conference on maintenance and rehabilitation of pavements and technological control, Auckland, New Zealand

Sengoz B, Topal A (2007) Minimum voids in mineral aggregate in hot-mix asphalt based on asphalt film thickness. Build Environ 42(10):3629–3635

Swiss Standard SN 640 431-1c-NA (2014) Asphaltmischgut Mischgutanforderungen – Teil 1: Asphaltbeton

Swiss Standard SN 640 436 (2013) Semidichtes Mischgut und Deckschichten Festlegungen, Anforderungen, Konzeption und Ausführung

Wahlström M, Laine-Yliijoki J, Kaartinen T, Erlandsson M, Cousins AP, Wik O, Suer P, Oberender A, Hjelmar O, Birgisdottir H (2014) Environmentally sustainable construction products and materials–assessment of release. Nordic Innovation, Oslo

Wu S, Muhunthan B, Wen H (2017) Investigation of effectiveness of prediction of fatigue life for hot mix asphalt blended with recycled concrete aggregate using monotonic fracture testing. Constr Build Mater 131:50–56
Acknowledgements

The activity presented in this paper is part of Swiss National Science Foundation (SNF) grant No. 5211.01569 for a project titled "Urban Mining for Low Noise Urban Roads and Optimized Design of Street Canyons". Thank you to the Empa 301 technical staff for performing a part of the sample preparation and testing, notably Roland Takacs and Hans Kienast. Thank you to FAMSA (Massongex, Switzerland) for providing the asphalt mixture materials and FBB (Hinwil, Switzerland) for providing the RCA.
Copyright information

© 2020 Springer Nature Switzerland AG
About this paper
Cite this paper
Mikhailenko, P., Kakar, M.R., Piao, Z., Bueno, M., Poulikakos, L. (2020). Improving the Sustainability of Semi-Dense Asphalt Pavements by Replacement of Recycled Concrete Aggregate Fractions. In: Raab, C. (eds) Proceedings of the 9th International Conference on Maintenance and Rehabilitation of Pavements—Mairepav9. Lecture Notes in Civil Engineering, vol 76. Springer, Cham. https://doi.org/10.1007/978-3-030-48679-2_33
DOI: https://doi.org/10.1007/978-3-030-48679-2_33

Published:

Publisher Name: Springer, Cham

Print ISBN: 978-3-030-48678-5

Online ISBN: 978-3-030-48679-2

eBook Packages: EngineeringEngineering (R0)