Abstract

Sound and vibration damping in automobile industry cause manufacturers to use insulators in automobile parts. High performance polymers are the best choice for noise reduction application. The addition of commercial polymers to bitumen base insulators of Ayegh Khodro Toos (AKT) Co. improved their performance. Effect of polymers such as styrene-butadiene-styrene (SBS), styrene butadiene rubber (SBR) and butyl rubber with different weight percentages (2, 4, 6, and 8 w%) was studied in laboratory scale (3.5 kg product). Butyl rubber showed the highest vibration absorption (about 27%) among the polymers studied. Generally, the higher the concentration of the polymer used, the lower tensile strength, elongation at break and also the higher of damping was obtained.
Keywords
Insulator

Polymer insulator

Bitumen

Vibration absorption

Damping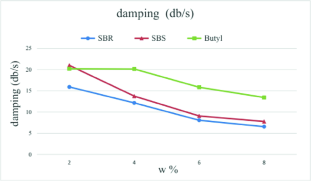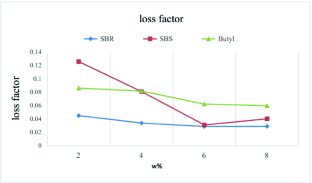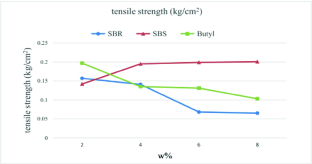 References
Chatterjee, D., Nayak, S.M., Saha, P.: Sound Vibr. 48, 14–15 (2014)

Federico, C., Valeria, C., Fabbrocino, F., Nanni, F.: Open Mater. Sci. J. 12, 14–28 (2018)

Xia, L., Wu, H., Guo, S., Sun, X., Liang, W.: Appl. Sci. Manuf. 81, 225–233 (2016)

Chen, S., Jiang, Y.: Polym. Compos. 39, 1370–1381 (2018)

Tiuc, A.E., Vermeşan, H., Gabor, T., Vasile, O.: Energy Proc. 85, 559–565 (2016)

Yang, T., Xiong, X., Venkataraman, M., Mishra, R., Novák, J., Militký, J.: J. Text. Inst. 1–6 (2018)

Wang, G., Zhao, G., Dong, G., Mu, Y., Park, C.B., Wang, G.: Eur. Polym. J. 103, 68–79 (2018)

Zhou, J., Li, H., Lu, X.: Polym. Adv. Technol. 29, 2308–2316 (2018)

Moradi, G., Nassiri, P., Ershad-Langroudi, A., Monazzam, M.R.: Plast. Rubber Compos. 47, 221–231 (2018)

Bonilla-Cruz, J., Hernández-Mireles, B., Mendoza-Carrizales, R., Ramírez-Leal, L.A., Torres-Lubián, R., RamosdeValle, L.F., Paul, D.R., Saldívar-Guerra, E.: Polymers 9 (2017). https://doi.org/10.3390/polym9020063
Acknowledgement

This work was supported by AKT Co. Mashhad, Iran which is strongly appreciated.
Copyright information

© 2020 Springer Nature Switzerland AG
About this paper
Cite this paper
Miranmousavi, H., Zohuri, G., Nourmohammadi, M. (2020). Effect of Polymers on the Damping Capacity of Automotive Bitumen Anti-vibration Insulators. In: Mirzadeh, H., Katbab, A. (eds) Eco-friendly and Smart Polymer Systems. ISPST 2018. Springer, Cham. https://doi.org/10.1007/978-3-030-45085-4_111
DOI: https://doi.org/10.1007/978-3-030-45085-4_111

Published:

Publisher Name: Springer, Cham

Print ISBN: 978-3-030-45084-7

Online ISBN: 978-3-030-45085-4