Abstract
This chapter explores the use of informal online communities to the professional learning of practitioners working in Further Education (FE) in England.
Recent research informs us that FE teachers report that the continuing professional development (CPD) they undertake does not meet their needs; some mandatory training has little or no value. Educators' participation in formal CPD is declining, yet informal, social media-based dialogues are growing in popularity, with the rhizomatic communities hosting them growing in number.
A netnographic study using social network analysis techniques is used to analyse dialogues on three Twitter-based educators' communities. Thematically, dialogues can be said to fall under three lenses. Discourses under the 'Pedagogy' and 'Learning Community' lenses show teachers collaborating to build technical and practical wisdom. Values-informed political engagement is a key part of dialogues under the third 'Identity and Voice' lens, addressing praxis in its fullest sense, exploring teacher identity and agency, and prizing democratic learning. Participants advocate for social-purpose education, framing their role as self-empowerment of learners, their families and communities.
Focus groups and interviews with teachers and FE managers reinforce the validity of the 'three lens' model and the chapter closes with 'calls to action' for further use of and research into online communities.
Keywords
Professional learning

Continuing professional development (CPD)

Netnographic survey

Dialogue

Communities of practice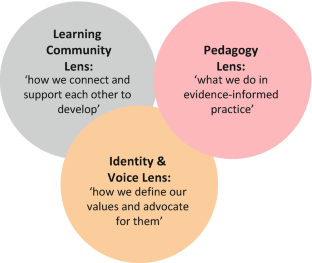 References
Avis, J. (2016). Social Justice, Transformation and Knowledge: Policy, Workplace Learning and Skills. London: Taylor and Francis.

Bartl, M., Kannan, V. K., & Stockinger, H. (2016). A Review and Analysis of Literature on Netnography Research. International Journal of Technology Marketing, 11(2), 165–196.

Biesta, G. (2010). Good Education in an Age of Measurement: Ethics, Politics, Democracy. Boulder: Paradigm Publishers.

Biesta, G. J. J. (2005). The Learning Democracy? Adult Learning and the Condition of Democratic Citizenship. British Journal of Sociology of Education, 26(5), 687–703.

Borgatti, S. P., Mehra, A., Brass, D., & Labianca, G. (2009). Network Analysis in the Social Sciences. Science, 323(5916), 892–895.

Bourdieu, P. (1977). Outline of a Theory of Practice. Cambridge: Cambridge University Press.

Bourdieu, P. (1984). Distinction: A Social Critique of the Judgement of Taste. London: Routledge.

Brown, S., Edmonds, S., & Lee, B. (2001). Continuing Professional Development: LEA and School Support for Teachers. Slough: NFER.

Bruner, J. (1996). The Culture of Education. Cambridge, MA: Harvard University Press.

Burbules, N. C. (2016). How We Use and Are Used by Social Media in Education. Educational Theory, 66(4), 551–565.

Carpenter, J. P., & Krutka, D. J. (2014). How and Why Educators Use Twitter: A Survey of the Field. Journal of Research in Technology in Education, 46(4), 414–434.

Coffield, F. (2008). Just Suppose Teaching and Learning Became the First Priority. London: Learning and Skills Network.

Coffield, F. (2017). Will the Leopard Change its Spots?: A New Model of Inspection for Ofsted. London: Institute of Education Press, University College London.

Cormier, D. (2018). Building a Better Rhizome: Community as Curriculum [online]. Retrieved October 30, 2019, from http://davecormier.com/edblog/tag/community-as-curriculum/

Costello, L., McDermott, M. L., & Wallace, R. (2017). Netnography: Range of Practices, Misperceptions, and Missed Opportunities. International Journal of Qualitative Methods, 16, 1.

Crenshaw, K. (1991). Mapping the Margins: Intersectionality, Identity Politics and Violence Against Women of Colour. Stanford Law Review, 43(6), 1241–1299.

Culler, J. (1997). Literary Theory: A Very Short Introduction. Oxford: Oxford University Press.

Deleuze, G. & Guattari, F. (1987). A Thousand Plateaus. Minneapolis: University of Minnesota Press.

Denscombe, M. (2017). The Good Research Guide for Small-scale Social Research Projects (5th ed.). Maidenhead: OUP.

Department for Education (DfE). (2019). Review of Post-18 Education and Funding (The Augar Review) [online]. Retrieved October 31, 2019, from https://assets.publishing.service.gov.uk/government/uploads/system/uploads/attachment_data/file/805127/Review_of_post_18_education_and_funding.pdf

Dunne, J. (1993). Back to the Rough Ground. Notre Dame, IN: University of Notre Dame Press.

Durant, W. (1991). The Story of Philosophy: The Lives and Opinions of the World's Greatest Philosophers. New York: Simon & Schuster.

Foucault. (1977). Intellectuals and Power. Language, Counter Memory, Practice Selected Essays and Interviews (D. Bouchard, Ed.). New York: Cornell University Press.

Freire, P. (1968). Pedagogy of the Oppressed. London: Penguin Books.

Freire, P. (1998). Teachers as Cultural Workers: Letters to Those Who Dare Teach. Australian Journal of Teacher Education, 23 (1), 39–46.

Gardner, J., Holmes, B., & Leitch, R. (2008). Where There Is Smoke, There Is (the Potential for) Fire: Soft Indicators of Research and Policy Impact. Cambridge Journal of Education, 38(1), 89–104.

Gregson, M. & Hillier, Y. with Biesta, G., Duncan, S., Nixon, L., Spedding, T. & Wakeling, P. (2015). Reflective Teaching in Further and Adult Vocational Education. 4th edn. London: Bloomsbury.

Grenfell, M. J. (Ed.). (2008). Pierre Bourdieu: Key Concepts. London: Routledge.

Hall, M. C. (Ed.). (2010). Fieldwork in Tourism: Methods, Issues and Reflections. London: Routledge.

Hammersley, M. (2012). Methodological Paradigms in Educational Research. London: BERA.

Haraway, D. J. (1985). A Cyborg Manifesto: Science, Technology, and Socialist-Feminism in the Late Twentieth Century. California: Routledge.

Heilbronn, R. (2011). The Nature of Practice-Based Knowledge and Understanding. In M. Gregson et al. (Eds.), Readings for Reflective Teaching in Further, Adult and Vocational Education. London: Bloomsbury.

Hyland, T. (2019). Embodied Learning in Vocational Education and Training. Journal of Vocational Education and Training, 71(1), 449–463.

Johnston, R. (2008). Making Space for Social Purpose Adult Education within Civil Society. Paper Presented at the 38th Annual SCUTREA Conference, University of Edinburgh [online], July 2–4. Retrieved from http://www.leeds.ac.uk/educol/documents/172380.pdf

Kelly, A. V. (1999). The Curriculum. Theory and Practice (4th ed.). London: Paul Chapman.

Kjaergaard, T. & Sorensen, E. K. (2014). Rhizomatic, Digital Habitat—A Study of Connected Learning and Technology Application. In Proceedings of the 9th International Conference on E-learning (ICEL). Reading: Academic Conferences.

Kozinets, R. V. (2010). Netnography. Doing Ethnographic Research Online. California: Sage.

Kozinets, R. V. (2015). Netnography: Redefined. London: Sage.

Laat, M. d., Lally, V., Lipponen, L., & Simons, R. J. (2007). Investigating Patterns of Interaction in Networked Learning and Computer-Supported Collaborative Learning: A Role for Social Network Analysis. International Journal of Computer-Supported Collaborative Learning, 2(1), 87.

Lantz-Andersson, A., Lundin, M., & Selwyn, N. (2018). Twenty Years of Online Teacher Communities: A Systematic Review of Formally Organized and Informally Developed Professional Learning Groups. Journal of Teaching and Teacher Education, 75(October), 302–315.

Navarro, Z. (2006). In Search of Cultural Interpretation of Power. IDS Bulletin, 37(6), 11–22.

O'Leary, M. (2018). Subverting the Pseudo-science of Inspection with Research-informed Practice and Pedagogic Principles—An Ungraded Approach to the Evaluation of Teachers. In P. Bennett & R. Smith (Eds.), Identity and Resistance in Further Education. Abingdon: Routledge.

Policy Consortium/TES. (2018). Training Needs in the Further Education Sector. London: TES.

Priestley, M., Biesta, G. J. J., Philippou, S., & Robinson, S. (2015). The Teacher and the Curriculum: Exploring Teacher Agency. In D. Wyse, L. Hayward, & J. Pandya (Eds.), The Sage Handbook of Curriculum, Pedagogy and Assessment. London: Sage.

Scales, P. (2012). The End of 'Sheep Dip' CPD. CPD Matters, 2 (Spring 2012), 3–5.

Sennett, R. (2009). The Craftsman. London: Penguin.

The Education and Training Foundation (ETF). (2014). Professional Standards for Teachers and Trainers in Further Education—England. London: ETF.

The Education and Training Foundation (ETF). (2017). Workforce Data and SIR Insights [online]. Retrieved December 22, 2019, from https://www.et-foundation.co.uk/wp-content/uploads/2018/03/Staff-Individualised-Records-Data-Report-SIR-25-2016-17.pdf

The Education and Training Foundation (ETF). (2018). Training Needs in the Further Education Sector [online]. Retrieved December 22, 2018, from https://www.et-foundation.co.uk/wp-content/uploads/2018/04/1331_Training-Needs-Analysis-Final-.pdf

Trust, T. (2012). Professional Learning Networks Designed for Teacher Learning. Journal of Digital Learning in Teacher Education, 28(4), 133–138.

Twitter. (2019). Terms of Service for Users Outside the United States. [online]. Retrieved October 31, 2019, from https://twitter.com/en/tos#intlTerms

University and College Union (UCU). (2016). Workload Is an Education Issue: UCU Workload Survey Report. London: UCU.

Vicsek, L., Kiraly, G., & Konya, H. (2016). Networks in the Social Sciences: Comparing Actor-Network Theory and Social Network Analysis. Corvinus Journal of Sociology and Social Policy, 7(2), 77–102.

Wenger, E. (1998). Communities of Practice: Learning, Meaning and Identity. Cambridge: Cambridge University Press.

Whitehouse, C. (2011). Effective Continuing Professional Development for Teachers. London: Centre for Education Research and Policy.

Workers' Educational Association (WEA). (2017). Adult Education Impact Report, 2017: How Adult Learning Transforms Lives and Communities. London: WEA.
About this chapter
Cite this chapter
Taylerson, L. (2020). Identity in Focus: Examining FE Practitioners' Informal Professional Learning Through the Lenses of Online Community Dialogues. In: Gregson, M., Spedding, P. (eds) Practice-Focused Research in Further Adult and Vocational Education. Palgrave Macmillan, Cham. https://doi.org/10.1007/978-3-030-38994-9_8
DOI: https://doi.org/10.1007/978-3-030-38994-9_8

Published:

Publisher Name: Palgrave Macmillan, Cham

Print ISBN: 978-3-030-38993-2

Online ISBN: 978-3-030-38994-9

eBook Packages: EducationEducation (R0)