Abstract

Dietary fiber (DF) products are often obtained from plant sources using chemical processes. The main purpose of the extraction, purification and isolation of DFs by chemical methods is to obtain the best possible yield of DF compounds generating food ingredients with the best functionality and health benefits. Functional properties of interest include those related to gelling capacity, oil and water holding capacity, and swelling capacity, while physiological benefits relate to the production of short chain fatty acids during the microbiota fermentation of DFs, and the ones related to the presence of phenolic compounds in DFs. An understanding of chemical extraction requires knowing the DF distribution in plant tissues, the organization of DF polysaccharides in the cell wall, and the chemical interactions of these polysaccharides with other cell components. Alkaline, acid, chelating, and oxidant/bleach extractions are most often used to obtain DFs. The choice of a chemical method depends on the polysaccharide of interest. If the solution concentration, pH, time, and temperature condition of the chemical method used are extreme, the structure of the polysaccharides obtained will be modified, changing the functionality of the DFs. Novel approaches, including the use of combined methods, seek to reduce this processing severity.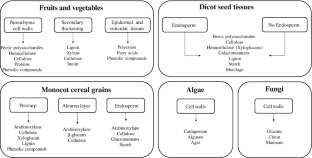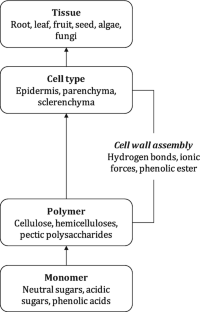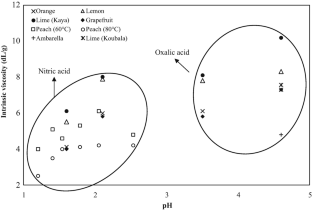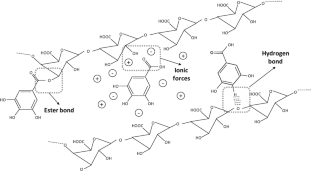 References
Aguirre-Cruz A, Álvarez-Castillo A, Yee-Madeira H, Bello-Pérez LA (2008) Production of fiber-rich powder by the acid treatment of unripe banana flour. J Appl Polym Sci 109(1):382–387

Alamri MS, Mohamed AA, Hussain S (2013) Effects of alkaline-soluble okra gum on rheological and thermal properties of systems with wheat or corn starch. Food Hydrocoll 30:541–551

Ayala-Soto FE, Serna-Saldívar SO, Welti-Chanes J (2016) Effect of processing time, temperature and alkali concentration on yield extraction, structure and gelling properties of corn fiber arabinoxylans. Food Hydrocoll 60:21–28

Bertin C, Rouau X, Thibault JF (1988) Structure and properties of sugar beet fibres. J Sci Food Agric 44:15–29

Cárdenas A, Goycoolea FM, Rinaudo M (2008) On the gelling behaviour of "nopal" (Opuntia ficus indica) low methoxyl pectin. Carbohydr Polym 73:212–222

Chaidedgumjorn A, Sotanaphun U, Kitcharoen N, Asavapichayont P, Satiraphan M, Sriamornsak P (2009) Pectins from Citrus maxima. Pharm Biol 47(6):521–526

Chanliaud E, Saulnier L, Thibault JF (1995) Alkaline extraction and characterisation of heteroxylans from maize bran. J Cereal Sci 21:195–203

Ching YC, Ng TS (2014) Effect of preparation conditions on cellulose from oil palm empty fruit bunch fiber. Bioresources 9:6373–6385

Das AM, Hazarika MP, Goswami M, Yadav A, Khound P (2016) Extraction of cellulose from agricultural waste using montmorillonite K-10/LiOH and its conversion to renewable energy: biofuel by using Myrothecium gramineum. Carbohydr Polym 141:20–27

de Menezes EW, Giuntini EB, Dan MCT, Sardá FAH, Lajolo FM (2013) Codex dietary fibre definition- justification for inclusion of carbohydrates from 3 to 9 degrees of polymerisation. Food Chem 140(3):581–585

Dhingra D, Michael M, Rajput H, Patil RT (2012) Dietary fibre in foods: a review. J Food Sci Technol 49:255–266

Dominiak M, Søndergaard KM, Wichmann J, Vidal-Melgosa S, Willats WGT, Meyer AS, Mikkelsen JD (2014) Application of enzymes for efficient extraction, modification, and development of functional properties of lime pectin. Food Hydrocoll 40:273–282

Doner LW, Hicks KB (1997) Isolation of hemicellulose from corn fiber by alkaline hydrogen peroxide extraction. Cereal Chem 74:176–181

Doner LW, Johnston DB (2001) Isolation and characterization of cellulose/arabinoxylan residual mixtures from corn fiber gum processes. Cereal Chem 78:200–204

Elleuch M, Bedigian D, Roiseux O, Besbes S, Blecker C, Attia H (2011) Dietary fibre and fibre-rich by-products of food processing: characterisation, technological functionality and commercial applications: a review. Food Chem 124:411–421

Esplugas S, Giménez J, Contreras S, Pascual E, Rodrı́guez M (2002) Comparison of different advanced oxidation processes for phenol degradation. Water Res 36:1034–1042

Fang JM, Sun RC, Tomkinson J (2000) Isolation and characterization of hemicelluloses and cellulose from rye straw by alkaline peroxide extraction. Cellulose 7:87–107

Fishman ML, Levaj B, Gillespie D, Scorza R (1993) Changes in the physico-chemical properties of peach fruit pectin during on-tree ripening and storage. J Am Soc Hortic Sci 118(3):343–349

Gan CY, Abdul Manaf NH, Latiff AA (2010) Optimization of alcohol insoluble polysaccharides (AIPS) extraction from the Parkia speciosa pod using response surface methodology (RSM). Carbohydr Polym 79:825–831

Garcia-Salas P, Morales-Soto A, Segura-Carretero A, Fernández-Gutiérrez A (2010) Phenolic-compound-extraction systems for fruit and vegetable samples. Molecules 15:8813–8826

Guo W, Beta T (2013) Phenolic acid composition and antioxidant potential of insoluble and soluble dietary fibre extracts derived from select whole-grain cereals. Food Res Int 51:518–525

Habibi Y, Mahrouz M, Vignon MR (2003) Isolation and structure characterization of a (4-O-Methyl-d-glucurono)-d-xylan from the skin of Opuntia ficus-indica prickly pear fruits. J Carbohydr Chem 22(5):331–337

Habibi Y, Heyraud A, Mahrouz M, Vignon MR (2004) Structural features of pectic polysaccharides from the skin of Opuntia ficus-indica prickly pear fruits. Carbohydr Res 339:1119–1127

Habibi Y, Heux L, Mahrouz M, Vignon MR (2008) Morphological and structural study of seed pericarp of Opuntia ficus-indica prickly pear fruits. Carbohydr Polym 72:102–112

Hachem K, Faugeron C, Kaid-Harche M, Gloaguen V (2016) Structural investigation of cell wall xylan polysaccharides from the leaves of Algerian Argania spinosa. Molecules 21(1587):1–10

Happi Emaga T, Robert C, Ronkart SN, Wathelet B, Paquot M (2008) Dietary fibre components and pectin chemical features of peels during ripening in banana and plantain varieties. Bioresour Technol 99:4346–4354

Jones JM (2014) CODEX-aligned dietary fiber definitions help to bridge the 'fiber gap'. Nutr J 13(34):1–10

Kalapathy U, Proctor A (2001) Effect of acid extraction and alcohol precipitation conditions on the yield and purity of soy hull pectin. Food Chem 73:393–396

Kaya M, Sousa AG, Crépeau MJ, Sørensen SO, Ralet MC (2014) Characterization of citrus pectin samples extracted under different conditions: influence of acid type and pH of extraction. Ann Bot 114:1319–1326

Ketabchi MR, Khalid M, Ratnam CT, Manickam S, Walvekar R, Hoque ME (2016) Sonosynthesis of cellulose nanoparticles (CNP) from kenaf fiber: effects of processing parameters. Fibers Polym 17(9):1352–1358

Kliemann E, de Simas KN, Amante ER, Prudêncio ES, Teófilo RF, Ferreira M, Amboni RD (2009) Optimisation of pectin acid extraction from passion fruit peel (Passiflora edulis flavicarpa) using response surface methodology. Int J Food Sci Technol 44:476–483

Koubala BB, Mbome LI, Kansci G, Mbiapo FT, Crepeau MJ, Thibault JF, Ralet MC (2008) Physicochemical properties of pectins from ambarella peels (Spondias cytherea) obtained using different extraction conditions. Food Chem 106:1202–1207

Larrea MA, Grossmann MVE, Beléia AP, Tavares DQ (1997) Changes in water absorption and swollen volume in extruded alkaline peroxide pretreated rice hulls. Cereal Chem 74:98–101

Lee KY, Park KH, Ahn JB, Lee HG (2014) Effect of different chemical modification on the physicochemical properties of fiber-enriched polysaccharides isolated from wholegrain rice and buckwheat. Food Sci Biotechnol 23(5):1469–1475

Levigne S, Ralet MC, Thibault JF (2002) Characterisation of pectins extracted from fresh sugar beet under different conditions using an experimental design. Carbohydr Polym 49:145–153

Liew SQ, Chin NL, Yusof YA, Cheok CY (2015) Citric acid extraction of pectin from tropical fruit peels of passion fruit, dragon fruit and soursop. J Food Agric Environ 13:45–51

Lim J, Yoo J, Ko S, Lee S (2012) Extraction and characterization of pectin from Yuza (Citrus junos) pomace: a comparison of conventional-chemical and combined physical-enzymatic extractions. Food Hydrocoll 29:160–165

MacDougall D, Crummett WB (1980) Guidelines for data acquisition and data quality evaluation in environmental chemistry. Anal Chem 52(14):2242–2249

MacDougall AJ, Selvendran RR (2001) Chemistry, architecture, and composition of dietary fiber from plant cell walls. In: Cho SS, Dreher ML (eds) Handbook of dietary fiber. Marcel Dekker, Inc., New York, pp 281–320

Maes C, Delcour JA (2001) Alkaline hydrogen peroxide extraction of wheat bran non-starch polysaccharides. J Cereal Sci 34:29–35

Methacanon P, Krongsin J, Gamonpilas C (2014) Pomelo (Citrus maxima) pectin: effects of extraction parameters and its properties. Food Hydrocoll 35:383–391

Minjares-Fuentes R, Femenia A, Garau MC, Meza-Velázquez JA (2014) Ultrasound-assisted extraction of pectins from grape pomace using citric acid: a response surface methodology approach. Carbohydr Polym 106:179–189

Mueller K, Eisner P, Kirchhoff E (2010) Simplified fractionation process for linseed meal by alkaline extraction. Functional properties of protein and fibre fractions. J Food Eng 99:49–54

Muensri P, Kunanopparat T, Menut P, Siriwattanayotin S (2011) Effect of lignin removal on the properties of coconut coir fiber/wheat gluten biocomposite. Compos A: Appl Sci Manuf 42(2):173–179

Nielsen BU (1996) Fiber-based fat mimetics: pectin. In: Roller S, Jones SA (eds) Handbook of fat replacers. CRC Press LLC, Boca Raton, pp 164–177

Oliveira TÍS, Rosa MF, Cavalcante FL, Pereira PHF, Moates GK, Wellner N, Mazzetto SE, Waldron KW, Azeredo HMC (2016) Optimization of pectin extraction from banana peels with citric acid by using response surface methodology. Food Chem 198:113–118

Pagán J, Ibarz A, Llorca M, Pagán A, Barbosa-Cánovas GV (2001) Extraction and characterization of pectin from stored peach pomace. Food Res Int 34:605–612

Paniagua C, Santiago-Doménech N, Kirby AR, Gunning AP, Morris VJ, Quesada MA, Matas AJ, Mercado JA (2017) Structural changes in cell wall pectins during strawberry fruit development. Plant Physiol Biochem 118:55–63

Pereira PHF, Oliveira TÍS, Rosa MF, Cavalcante FL, Moates GK, Wellner N, Waldron KW, Azeredo HMC (2016) Pectin extraction from pomegranate peels with citric acid. Int J Biol Macromol 88:373–379

Prakongpan T, Nitithamyong A, Luangpituksa P (2002) Extraction and application of dietary fiber and cellulose from pineapple cores. J Food Sci 67:1308–1313

Quirós-Sauceda AE, Palafox-Carlos H, Sáyago-Ayerdi SG, Ayala-Zavala JF, Bello-Perez LA, Alvarez-Parrilla E, de la Rosa LA, González-Córdova AF, González-Aguilar GA (2014) Dietary fiber and phenolic compounds as functional ingredients: interaction and possible effect after ingestion. Food Funct 5:1063–1072

Ravn HC, Meyer AS (2014) Chelating agents improve enzymatic solubilization of pectinaceous co-processing streams. Process Biochem 49:250–257

Rose DJ, DeMeo MT, Keshavarzian A, Hamaker BR (2007) Influence of dietary fiber on inflammatory bowel disease and colon cancer: importance of fermentation pattern. Nutr Rev 65:51–62

Rose DJ, Patterson JA, Hamaker BR (2010) Structural differences among alkali-soluble arabinoxylans from maize (Zea mays), rice (Oryza sativa), and wheat (Triticum aestivum) brans influence human fecal fermentation profiles. J Agric Food Chem 58:493–499

Rosli NA, Ahmad I, Abdullah I (2013) Isolation and characterization of cellulose nanocrystals from agave angustifolia fibre. Bioresources 8:1893–1908

Round AN, Rigby NM, MacDougall AJ, Ring SG, Morris VJ (2001) Investigating the nature of branching in pectin by atomic force microscopy and carbohydrate analysis. Carbohydr Res 331:337–342

Saeed F, Pasha I, Anjum FM, Sultan MT (2011) Arabinoxylans and arabinogalactans: a comprehensive treatise. Crit Rev Food Sci Nutr 51:467–476

Sangnark A, Noomhorm A (2003) Effect of particle sizes on functional properties of dietary fibre prepared from sugarcane bagasse. Food Chem 80:221–229

Sangnark A, Noomhorm A (2004) Chemical, physical and baking properties of dietary fiber prepared from rice straw. Food Res Int 37:66–74

Sárossy Z, Egsgaard H, Plackett D (2011) Isolation and chemical characterization of hemicellulose from rye bran. In: 19th European biomass conference and exhibition, Copenhagen

Seixas FL, Fukuda DL, Turbiani FRB, Garcia PS, Petkowicz CLDO, Jagadevan S, Gimenes ML (2014) Extraction of pectin from passion fruit peel (Passiflora edulis f. flavicarpa) by microwave-induced heating. Food Hydrocoll 38:189–192

Sun RC, Tomkinson J, Ma PL, Liang SF (2000) Comparative study of hemicelluloses from rice straw by alkali and hydrogen peroxide treatments. Carbohydr Polym 42:111–122

Teixeira Macagnan F, Picolli da Silva L, Hecktheuer LH (2016) Dietary fibre: the scientific search for an ideal definition and methodology of analysis, and its physiological importance as a carrier of bioactive compounds. Food Res Int 85:144–154

Tejada-Ortigoza V, Garcia-Amezquita LE, Serna-Saldívar SO, Welti-Chanes J (2015) Advances in the functional characterization and extraction processes of dietary fiber. Food Eng Rev 8(3):251–271

Thomas M, Thibault JF (2002) Cell-wall polysaccharides in the fruits of Japanese quince (Chaenomeles japonica): extraction and preliminary characterisation. Carbohydr Polym 49:345–355

Vriesmann LC, Teófilo RF, Petkowicz CLDO (2011) Optimization of nitric acid-mediated extraction of pectin from cacao pod husks (Theobroma cacao L.) using response surface methodology. Carbohydr Polym 84:1230–1236

Vriesmann LC, Teófilo RF, de Oliveira Petkowicz CL (2012) Extraction and characterization of pectin from cacao pod husks (Theobroma cacao L.) with citric acid. LWT Food Sci Technol 49(1):108–116

Weightman RM, Renard CMGC, Gallant DJ, Thibault JF (1995) Structure and properties of the polysaccharides from pea hulls. II. Modification of the composition and physico-chemical properties of pea hulls by chemical extraction of the constituent polysaccharides. Carbohydr Polym 26:121–128

Wikiera A, Mika M, Grabacka M (2015) Multicatalytic enzyme preparations as effective alternative to acid in pectin extraction. Food Hydrocoll 44:156–161

Yapo BM, Robert C, Etienne I, Wathelet B, Paquot M (2007) Effect of extraction conditions on the yield, purity and surface properties of sugar beet pulp pectin extracts. Food Chem 100:1356–1364

Yeoh S, Shi J, Langrish TAG (2008) Comparisons between different techniques for water-based extraction of pectin from orange peels. Desalination 218:229–237

Zhang Z, Smith C, Li W (2014) Extraction and modification technology of arabinoxylans from cereal by-products: a critical review. Food Res Int 65:423–436
Acknowledgements

The support from Tecnológico de Monterrey Research Chair Funds GEE 1A01001 and CDB081, and Mexico's CONACYT Scholarship Program [Grant Nos. 260692 and 205265] and Project CB2014-237271 are gratefully acknowledged.
Copyright information

© 2020 Springer Nature Switzerland AG
About this chapter
Cite this chapter
Tejada-Ortigoza, V., Garcia-Amezquita, L.E., Torres, J.A., Welti-Chanes, J. (2020). Chemical Processes for the Extraction and Modification of Dietary Fiber. In: Welti-Chanes, J., Serna-Saldívar, S., Campanella, O., Tejada-Ortigoza, V. (eds) Science and Technology of Fibers in Food Systems. Food Engineering Series. Springer, Cham. https://doi.org/10.1007/978-3-030-38654-2_15
DOI: https://doi.org/10.1007/978-3-030-38654-2_15

Published:

Publisher Name: Springer, Cham

Print ISBN: 978-3-030-38653-5

Online ISBN: 978-3-030-38654-2