Abstract
People around the world are living longer while fertility has been declining in the great majority of countries. Increasing the length of working lives is a commonly sought remedy to deal, at least in part, with the financial consequences for the public welfare system of longer lives. A crucial question is whether people are physically and mentally capable of working until continuously higher ages, i.e. whether the planned or already implemented increases in official retirement ages will be faced by persons of good health. Hence, it is important to not only look at the development of working lives and focus on lengthening them but, at the same time, to take a close look at developments of the health status of people around retirement ages.
An existing indicator that can be used to monitor developments of working life for people at any age is working life expectancy (WLE). The calculation and analysis of WLE has relevance in itself, but it is the combination of WLE with analyses of health indicators that are gaining prominence, particularly in the context of aging societies. Simultaneous consideration of both dimensions – economic activity and health – is useful for a range of reasons. It allows the detection of inequalities in the development of both indicators, for example for different subgroups of the population; it indicates where the limits of increasing WLE might lie, given current levels of population health; and, particularly, the analysis of trends in both indicators can point to possible issues in extending WLE further.
Keywords
Working life expectancy

Health

Population aging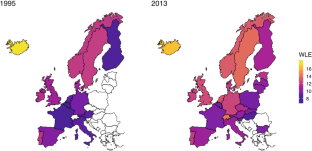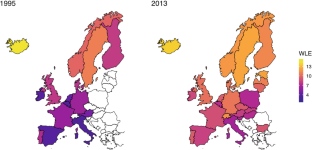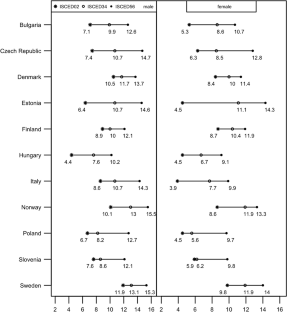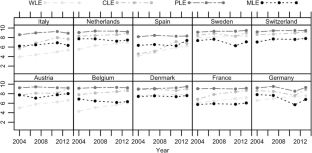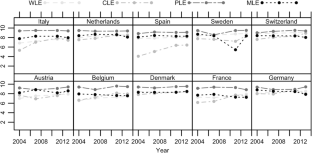 References
Alter, G. C., & Becker, W. E. (1985). Estimating lost future earnings using the new worklife tables. Monthly Labor Review, 108, 39–42.

Boekelheide, K., Blumberg, B., Chapin, R. E., et al. (2012). Predicting later-life outcomes of early-life exposures. Environmental Health Perspectives, 120, 1353–1361.

Bohannon, R. W., Peolsson, A., Massy-Westropp, N., et al. (2006). Reference values for adult grip strength measured with a Jamar dynamometer: a descriptive meta-analysis. Physiotherapy, 92, 11–15.

Cambois, E., Laborde, C., Romieu, I., et al. (2011). Occupational inequalities in health expectancies in France in the early 2000s: Unequal chances of reaching and living retirement in good health. Demographic Research, 25, 407–436. https://doi.org/10.4054/DemRes.2011.25.12.

de Wind, A., van der Noordt, M., Deeg, D. J. H., et al. (2018). Working life expectancy in good and poor self-perceived health among Dutch workers aged 55–65 years with a chronic disease over the period 1992–2016. Occupational and Environmental Medicine, 75, 792–797. https://doi.org/10.1136/oemed-2018-105243.

Dewey, M., & Prince, M. J. (2005). Mental Health. In A. Börsch-Supan, A. Brugiavini, Jürges, H. et al. (Eds.), Health, Ageing and Retirement in Europe - First Results from the Survey of Health, Ageing and Retirement in Europe. Mannheim: Mannheim Research Institute for the Economics of Aging.

Dhillon, P., & Ladusingh, L. (2013). Working life gain from gain in old age life expectancy in India. Demographic Research, 28, 733–762. https://doi.org/10.4054/DemRes.2013.28.26.

Dodds, R. M., Syddall, H. E., Cooper, R., et al. (2014). Grip strength across the life course: normative data from twelve British studies. PLoS One, 9, e113637.

Durand, J. D. (1948). The labor force in the United States, 1890–1960. Social Science Research Council.

Eggleston, K. N., & Fuchs, V. R. (2012). The new demographic transition: most gains in life expectancy now realized late in life. Journal of Economic Perspectives, 26, 137–156.

Fouweather, T., Gillies, C., Wohland, P., et al. (2015). Comparison of socio-economic indicators explaining inequalities in Healthy Life Years at age 50 in Europe: 2005 and 2010. The European Journal of Public Health, 25, 978–983.

Germain, C. M., Batsis, J. A., Vasquez, E., et al. (2016). Muscle strength, physical activity, and functional limitations in older adults with central obesity. Journal of Aging Research, 2016(8387324), 1–5. https://doi.org/10.1155/2016/8387324.

Gertler, P., Heckman, J., Pinto, R., et al. (2014). Labor market returns to an early childhood stimulation intervention in Jamaica. Science, 344, 998–1001.

Hanly, P., Soerjomataram, I., & Sharp, L. (2015). Measuring the societal burden of cancer: The cost of lost productivity due to premature cancer-related mortality in Europe. International Journal of Cancer, 136, E136–E145.

Harvey, S. B., Henderson, M., Lelliott, P., et al. (2009). Mental health and employment: much work still to be done. The British Journal of Psychiatry, 194, 201–203.

Hayward, M. D., & Grady, W. R. (1990). Work and retirement among a cohort of older men in the United States, 1966-1983. Demography, 27, 337–356.

Hickman, J. C., & Estell, R. J. (1969). On the use of partial life expectancies in setting health goals. American Journal of Public Health and the Nations Health, 59, 2243–2250.

Hoem, J. M. (1971). Point estimation of forces of transition in demographic models. Journal of the Royal Statistical Society: Series B: Methodological, 33, 275–289.

Hytti, H., & Nio, I. (2004). Monitoring the employment strategy and the duration of active working life. Social security and health research: working papers 38/2004. Finland. The Social Insurance Institution.

Krishnan, P. (1986). Unemployment tables and unemployment-free working life: Sri Lanka. Marg, 8, 67–76.

Krueger, K. V., & Slesnick, F. (2014). Total worklife expectancy. Journal of Forensic Economics, 25, 51–70.

Lacaille, D., & Hogg, R. S. (2001). The effect of arthritis on working life expectancy. The Journal of Rheumatology, 28, 2315–2319.

Leinonen, T., Martikainen, P., & Myrskylä, M. (2015). Working life and retirement expectancies at age 50 by social class: Period and cohort trends and projections for Finland. The Journals of Gerontology: Series B, 73, 302–313.

Lièvre, A., Jusot, F., Barnay, T., et al. (2007). Healthy working life expectancies at age 50 in Europe: a new indicator. The Journal of Nutrition, Health & Aging, 11, 508–514.

Loichinger, E. (2015). Labor force projections up to 2053 for 26 EU countries, by age, sex, and highest level of educational attainment. Demographic Research, 32, 443–486.

Loichinger, E., & Weber, D. (2016). Trends in working life expectancy in Europe. Journal of Aging and Health, 28, 1194–1213.

Majer, I. M., Nusselder, W. J., Mackenbach, J. P., et al. (2011). Socioeconomic inequalities in life and health expectancies around official retirement age in 10 Western-European countries. Journal of Epidemiology and Community Health, 65, 972–979.

Massy-Westropp, N. M., Gill, T. K., Taylor, A. W., et al. (2011). Hand Grip Strength: age and gender stratified normative data in a population-based study. BMC Research Notes, 4, 127.

Millimet, D. L., Nieswiadomy, M., & Slottje, D. (2010). Detailed estimation of worklife expectancy for the measurement of human capital: accounting for marriage and children. Journal of Economic Surveys, 24, 339–361.

Nurminen M (2012) Working-life expectancy in Finland: Trends and differentials 2000–2015. A multistate regression modeling approach.

Nurminen, M., & Nurminen, T. (2005). Multistate worklife expectancies. Scandinavian Journal of Work, Environment & Health, 31, 169–178.

Nurminen, M. M., Heathcote, C. R., Davis, B. A., et al. (2005). Working life expectancies: The case of Finland 1980-2006. Journal of the Royal Statistical Society: Series A (Statistics in Society), 168, 567–581.

Palamuleni, M. E. (2007). Working life tables for South Africa, 1996–2001. African Population Studies, 22, 223–246.

Ritchie, L. J., & Tuokko, H. (2010). Mild cognitive impairment: case definitions, age, and other risk factors. In J. Stone & M. Blouin (Eds.), International encyclopedia of rehabilitation.

Salomon, J. A., Wang, H., Freeman, M. K., et al. (2012). Healthy life expectancy for 187 countries, 1990-2010: a systematic analysis for the Global Burden Disease Study 2010. The Lancet, 380, 2144–2162.

Salthouse, T. (2010). Major issues in cognitive aging. New York: Oxford University Press.

Schmidt, F. L., & Hunter, J. (2004). General mental ability in the world of work: occupational attainment and job performance. Journal of Personality and Social Psychology, 86, 162–173.

Shephard, R. J. (2000). Aging and productivity: some physiological issues. International Journal of Industrial Ergonomics, 25, 535–545.

Skirbekk, V., Loichinger, E., & Weber, D. (2012). Variation in cognitive functioning as a refined approach to comparing aging across countries. Proceedings of the National Academy of Sciences, 109, 770–774.

Smith, T. W. (1986). Classifying protestant denominations. Chicago, IL: NORC.

Spitz-Oener, A. (2006). Technical change, job tasks, and rising educational demands: Looking outside the wage structure. Journal of Labor Economics, 24, 235–270.

Steiber, N. (2016). Strong or weak handgrip? Normative reference values for the German population across the life course stratified by sex, age, and body height. PLoS One, 11, e0163917.

Sullivan, D. F. (1971). A single index of mortality and morbidity. HSMHA Health Reports, 86, 347–354.

Tareque, M. I., Saito, Y., & Kawahara, K. (2015). Application of health expectancy research on working male population in Bangladesh. Asian Population Studies, 11, 32–43.

Taylor, S. E. (2010). Mechanisms linking early life stress to adult health outcomes. Proceedings of the National Academy of Sciences, 107, 8507–8512.

van der Noordt, M., van der Pas, S., van Tilburg, T. G., et al. (2019). Changes in working life expectancy with disability in the Netherlands, 1992–2016. Scandinavian Journal of Work, Environment & Health, 45, 73–81. https://doi.org/10.5271/sjweh.3765.

Weber, D., Skirbekk, V., Freund, I., et al. (2014). The changing face of cognitive gender differences in Europe. Proceedings of the National Academy of Sciences, 111, 11673–11678.

Willekens, F. J. (1980). Multistate analysis: tables of working life. Environment and Planning A, 12, 563–588.

Wolfbein, S. L. (1949). The length of working life. Population Studies, 3, 286–294.

Wubulihasimu, P., Brouwer, W., & van Baal, P. (2015). Does living longer in good health facilitate longer working lives? The relationship between disability and working lives. The European Journal of Public Health, 25, 791–795.
Copyright information
© 2020 Springer Nature Switzerland AG
About this chapter
Cite this chapter
Loichinger, E., Weber, D. (2020). Combining Working Life and Health Expectancies. In: Jagger, C., Crimmins, E.M., Saito, Y., De Carvalho Yokota, R.T., Van Oyen, H., Robine, JM. (eds) International Handbook of Health Expectancies. International Handbooks of Population, vol 9. Springer, Cham. https://doi.org/10.1007/978-3-030-37668-0_18
DOI: https://doi.org/10.1007/978-3-030-37668-0_18

Published:

Publisher Name: Springer, Cham

Print ISBN: 978-3-030-37666-6

Online ISBN: 978-3-030-37668-0

eBook Packages: Social SciencesSocial Sciences (R0)