Abstract

Methods blending approaches in historical geography, GIScience and text can aid in extirpating how various perceptions of landscape (cultural and physical), identity (individual and collective) and sense of place (historical and contemporary) coalesce around a specific locale, or place. Data drawn from the IMPUS Historical GIS database and other sources were contextualized in this chapter's exploration by the use of the following "text maps": the film, Places in the Heart (1984), the novel Einstein's Bridge (1997) and the National Academy of Sciences and National Academy of Engineering site location report for a Federal government superconducting super collider (SSC) tunnel ring project. Drawing on the socio-cultural and historical contextualization provided by these cinematic, imaginary and engineering "text maps", a GIS deep mapping of the local and deep history of Waxahachie, Texas, juxtaposes a cartographical filmscape of the 1930s Texas Blackland Prairie with a sideshadow model of the SSC project, abandoned by the Federal government in the 1990s.
Keywords
Waxahachie

Filmscape

Local history

Places in the Heart

Superconducting super collider

GIScience sideshadow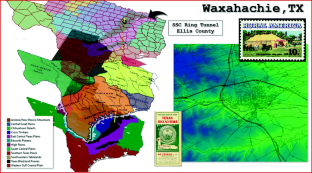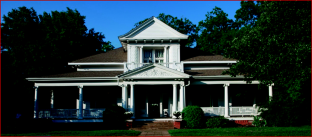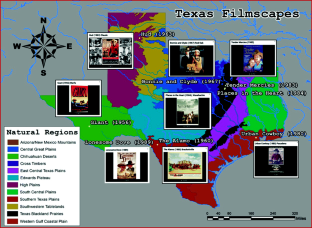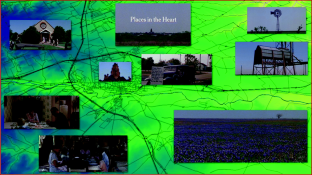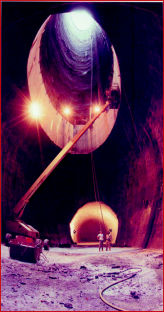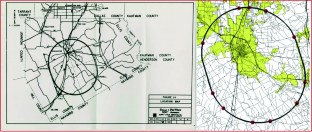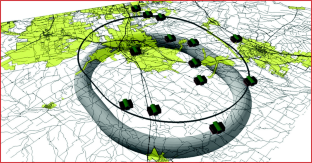 Notes
1.

Hoskins, W. G., 1955. The making of the English landscape.

2.

3.

Geographic Identifiers: 2010 Census Summary File 1 (G001): Waxahachie city, Texas American Factfinder. U.S. Census Bureau; Felty, M. L. Waxahachie, Handbook of Texas. Texas State Historical Association. Retrieved 5 June 2014.

4.

Stott, K. M., 2002. Waxahachie: Where Cotton Reigned King. Arcadia Publishing.

5.

6.

State Gazette, August ii, 1860, quoting the Houston Telegraph, July 31; Reynolds, D. E. 2007, Texas Terror: The Slave Insurrection Panic of 1860 and the Secession of the Lower South. Baton Rouge: Louisiana State University Press.

7.

Ibid.; Phillips, M., 2009. Texas Terror: The Slave Insurrection Panic of 1860 and the Secession of the Lower South. The Journal of Southern History, 75(2), p. 448.

8.

9.

Felty, Ibid.; Crocket, G. L. 1932. Two Centuries in East Texas. Dallas: Southwest, facsimile reprod., 1962; Hawkins, E. D., et al., 1972. History of Ellis County, Texas. Waco: Texian; Memorial and Biographical History of Ellis County, 1892. Chicago: Lewis, rpt., as Ellis County History, Fort Worth, 1972. Historical Publishers; Richardson, T. C., 1940, East Texas. Its History and Its Makers. 4 vols., New York: Lewis Historical Publishing. Vertical Files, Dolph Briscoe Center for American History, University of Texas at Austin.

10.

11.

12.

Staff, Wire services Q & A: Texas supercollider project scrapped. St. Petersburg Times. 29 December 2009.

13.

J. B. Harley, 1989. Historical geography and the cartographic illusion. Journal of Historical Geography, 15(1), pp. 80–91, p. 80.

14.

Bruno, G. 2002. The atlas of emotion: Journeys in art, architecture, and film. New York: Verso, pp. 8–9.

15.

Baetens, J. 2008. Cartographic Cinema by Tom Conley Review. Leonardo, 41: 3, pp. 295–296, The MIT Press, p. 295.

16.

Roberts, L., 2012. Cinematic cartography: Projecting place through film. In Mapping Cultures (pp. 68–84). Palgrave Macmillan, London.

17.

18.

Brown, B. 2002. Cinematography. Oxford: Focal Press, ix.

19.

Caldwell, J. T. 2008. Production culture: Industrial reflexivity and critical practice in film and television. Chapel Hill, NC: Duke University Press.

20.

Duvall, R. 2002. Miracles & Mercies.

21.

Corliss, Richard. 1983. Heart of Texas. Time, p. 63.

22.

Slawson, Judith. 1985. Robert Duvall: Hollywood Maverick. New York City: St. Martin's Press.

23.

Adams, W., 1985. American Gothic: country, the river, places in the heart. The Antioch Review, 43(2), pp. 217–224, p. 218.

24.

25.

26.

Specht, A. R. and Rutherford, T., 2015. The pastoral fantasy on the silver screen: The influence of film on American cultural memory of the agrarian landscape. Journal of Applied Communications, 99(1), p. 28.

27.

Lukinbeal, C., 2010. Mobilizing the cartographic paradox: tracing the aspect of cartography and prospect of cinema. ETD-Educação Temática Digital, 11(2), pp. 1–32, p. 19.

28.

Lev, P., 1986. Regional cinema and the films of Texas. Journal of Film and Video, pp. 60–65, p. 64.

29.

Stadler, J., Mitchell, P., & Carleton, S. 2016. Imagined Landscapes: Geovisualizing Australian Spatial Narratives. Indiana University Press, p. 15.

30.

Roberts, Cinematic cartography.

31.

Westfall, C. L., 1989. The site contest for Fermilab. Phys. Today, 42, pp. 44–52.

32.

National Academy of Sciences and National Academy of Engineering. 1988. Siting the Superconducting Super Collider. Washington, DC: The National Academies Press.

33.

34.

Staff, Wire services, Q & A.

35.

36.

37.

Cramer, J., 1997. Einstein's Bridge. Harper Collins.

38.

Data Downloads—GIS and Appraisal Information. Ellis Appraisal District, TxDOT Roadways. TNRIS.

39.

Bonnett, J., 2007. Charting a new aesthetics for history: 3D, scenarios, and the future of the historian's craft. Histoire sociale/Social History, 40(79), p. 183.

40.

41.

42.

43.

Daniels, S., and Bartlein, P. J. 2017. Charting Time, Annals of the American Association of Geographers, 107:1, pp. 28–32, p. 29.

44.

Dennis, R., 1991. History, geography, and historical geography. Social Science History, 15:02, pp. 265–288, p. 266.

45.

46.

Yuan, M. 2014. Temporal GIS for Historical Research, In Spatio-Temporal Narratives: Historical GIS and the Study of Global Trading Networks, edited by A. Crespo Solana. Cambridge Scholars Publishing, pp. 45–55.

47.

D. Sui, and M. Goodchild, 2011. The convergence of GIS and social media: challenges for GIScience. International Journal of Geographical Information Science, 25(11), pp. 1737–1748.

48.
Acknowledgements

Thanks to our UT Arlington geography professor, colleague and friend, Dr. Andy Milson for comments, suggestions and edits.
Copyright information

© 2020 Springer Nature Switzerland AG
About this chapter
Cite this chapter
Travis, C., Reyes, J. (2020). Ghost Cathedral of the Blackland Prairie: Waxahachie, Texas, Places in the Heart and the Superconducting Super Collider. In: Travis, C., Ludlow, F., Gyuris, F. (eds) Historical Geography, GIScience and Textual Analysis. Historical Geography and Geosciences. Springer, Cham. https://doi.org/10.1007/978-3-030-37569-0_1
DOI: https://doi.org/10.1007/978-3-030-37569-0_1

Published:

Publisher Name: Springer, Cham

Print ISBN: 978-3-030-37568-3

Online ISBN: 978-3-030-37569-0