Abstract
The core of climate services is to provide high quality climate-related information and data that are beneficial for the users. Between the provision of data and the application of climate services, a chain of providers and subsequent users exists. It is an ongoing challenge for providers to conclusively define what users perceive as beneficial regarding the quality of climate model output. This study aims (1) to understand the needs of users with regard to the quality of climate data and information, and (2) to enable providers to assess the quality of climate data input and derived products. From a large-scale survey, we distilled three main user groups: (i) Donna data (data user/product provider), (ii) Pete product (product user/product provider) and (iii) Nick non (potential-user). The survey results show that all three user groups struggle—amongst other things—with identifying reliable climate model output, that is relevant to their needs. They also desire guidance on how to evaluate the quality of climate model data to determine the suitability of the selected dataset for their purpose. Addressing this central need is breaking new ground. The evaluation of quality in the field of climate services in terms of climate model output is of high relevance to both climate model data users and providers of tailored climate information and not restricted to scientific standards and technical quality. We present a customized and tested tool ("QUACK") as one of the first hands-on, scientifically-based and at the same time user-oriented guidelines on how to assure data quality and to self-evaluate the processing of the data.
Keywords
Climate services

Quality assurance

Climate model data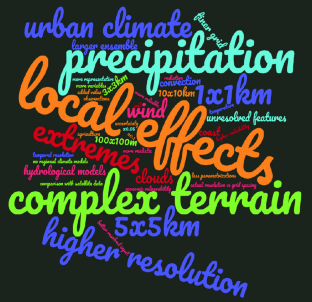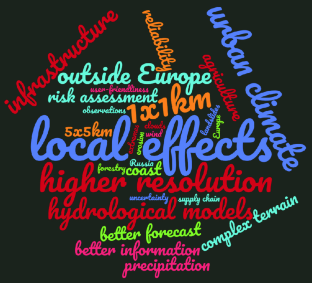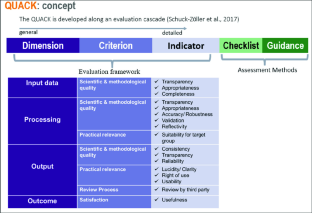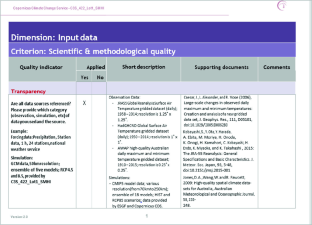 Notes
1.

The detailed results of the survey are available upon request at the Climate Service Center Germany (GERICS) or Copernicus Climate Change Service (C3S).

2.

The complete evaluation cascade of QUACK including questions and guidance per indicator are available upon request to GERICS or Copernicus Climate Change Service.
References
Beywl W (2003) Selected comments to the standards for evaluation of the German Evaluation Society, English edition. Technical report German Evaluation Society (DeGEval)

DFG—Deutsche Forschungsgemeinschaft (2013) Sicherung guter wissenschaftlicher Praxis/Safeguarding Good Scientific Practice: Recommendations of the Commission on Professional Self Regulation in Science. Wiley-VCH Verlag GmbH & Co. KGaA. https://doi.org/10.1002/9783527679188.oth1

EC—European Commission (2015) A European research and innovation roadmap for climate services. European Union, pp 49. https://doi.org/10.2777/702151

EPA—Environment Protection Agency (2002) Guidance for quality assurance project plans, EPA QA/G-5, EPA/240/R-02/009, Washington DC, United States. https://www.epa.gov/sites/production/files/2015-06/documents/g5-final.pdf

Hunziker S, Brönnimann S, Calle JM, Moreno I, Andrade M, Ticona L, Huerta A, Lavado-Casimiro W (2018) Effects of undetected data quality issues on climatological analyses. Clim Past 14:1–20. https://doi.org/10.5194/cp-14-1-2018

Höck H, John V, Kaiser-Weiss A, Kaspar F, Schulz J, Stockhause M, Toussaint F, Lautenschlager M (2015) Maturity matrices for quality of model- and observation-based data records in climate science (EGU Poster 10158). http://meetingorganizer.copernicus.org/EGU2015/EGU2015-10158-1.pdf

Kirchhoff CJ, Lemos MC, Dessai S (2013) Actionable knowledge for environmental decision making: broadening the usability of climate science. Annu Rev Environ Resour 38:393–414

Lemos MC, Kirchhoff CJ, Ramprasad V (2012) Narrowing the climate information usability gap. Nat Clim Change 2(11):789–794. https://doi.org/10.1038/nclimate1614

OECD—Organization for Economic Co-operation and Development (2002) Glossary of key terms in evaluation and results based management. http://www.oecd.org/development/peer-reviews/2754804.pdf

Peng G (2018) The state of assessing data stewardship maturity—an overview. Data Sci J 17:1–12. https://doi.org/10.5334/dsj-2018-007

Schuck-Zöller S, Cortekar J, Jacob D (2017a) Evaluating co-creation of knowledge: from quality criteria and indicators to methods. Adv Sci Res 14:305–312. https://doi.org/10.5194/asr-14-305-2017

Schuck-Zöller S., Keup-Thiel E, Brix H, Buschbaum Ch, Cortekar J, Eschenbach Ch, Fischer-Bruns I, Frickenhaus S, Grosfeld K, Gutow L, Hiller W, Jacob D, Krause G, Meyer E, Meinke I, Nerger L, Rechid D, Schrum C, Schulz-Stellenfleth J, Stanev E, Treffeisen R (2017b) Towards a framework for the evaluation of climate service and knowledge transfer products within climate and coastal research—(poster). http://www.gerics.de/science/transdiscipline/index.php.en

SDTS—Spatial Data Transfer Standard. Guide for technical managers, p 14. http://mapi.gov.il/gisforum/tzevet_technology/stds-guide%20for%20technical%20managers.pdf

Štepánek P, Zahradnícek P, Farda A (2013) Experiences with data quality control and homogenization of daily records of various meteorological elements in the Czech Republic in the period 1961–2010. Q J Hung Meteorol Serv 117:123–141

Thorne P, Schulz J, Tan D, Ingleby B, Madaoona F, Pappalardo G, Oakley T (2015) GAIA-CLIM Measurement Maturity Matrix Guidance: Gap analysis for integrated atmospheric ECV climate monitoring: report on system of systems approach adopted and rationale. http://www.gaia-clim.eu/system/files/workpkg_files/640276_Report%20on%20system%20of%20systems%20approach%20adopted%20and%20rationale.pdf

Vaughan C, Dessai S (2014) Climate services for society: origins, institutional arrangements, and design elements for an evaluation framework. Wiley Interdisc Rev Clim Change 5(5):587–603. https://doi.org/10.1002/wcc.290

Wilkinson MD, Dumontier M, Mons B (2016) The FAIR Guiding Principles for scientific data management and stewardship. Sci Data 3. https://doi.org/10.1038/sdata.2016.18

Wolf B, Lindenthal T, Szerencsits M, Holbrook JB, Heß J (2013) Evaluating research beyond scientific impact: how to include criteria for productive interactions and impact on practice and society. GAIA Ecol Perspect Sci Soc 22(2):104–114. https://doi.org/10.14512/gaia.22.2.9
Acknowledgements
The presented work was done in the frame of two Copernicus Climate Change Service (C3S) contracts. C3S is implemented by the European Centre for Medium-Range Weather Forecasts (ECMWF) on behalf of the European Commission. GERICS contributed to both contracts as sub-contractors. C3S_51_Lot4_FMI—Data Evaluation for Climate Models (DECM Aug. 2016–Dec. 2018) coordinated by the Finnish Meteorological Institute (FMI) with the following sub-contractors besides GERICS, University of Helsinki (Finland), Danmarks Meteorologiske Institut, (Denmark), Meteorologisk Institutt (Norway), Országos Meteorológiai Szolgálat (Hungary), CSC—Tieteen tietotekniikan keskus Oy (Finland), ABHL (France). C3S_422_Lot1_SMHI—Global users in the Copernicus Climate Change Service (Sep. 2017–Mar. 2019) coordinated by the Swedish Meteorological and Hydrological Institute (SMHI). The following institutions as sub-contractors co-designed QUACK: AGRHYMET, BOM, CIIFEN, MPI, NAWAPI, NCWQR, NIH, UCR, UKZN. In-kind partner: Tokyo Metropolitan University, and Global Water Futures. The authors would like to thank all contract partners and C3S for their support during both the contracts.
Copyright information
© 2020 Springer Nature Switzerland AG
About this chapter
Cite this chapter
Zahid, M. et al. (2020). Evaluation of Climate Services: Enabling Users to Assess the Quality of Multi-model Climate Projections and Derived Products. In: Leal Filho, W., Jacob, D. (eds) Handbook of Climate Services. Climate Change Management. Springer, Cham. https://doi.org/10.1007/978-3-030-36875-3_10
DOI: https://doi.org/10.1007/978-3-030-36875-3_10

Published:

Publisher Name: Springer, Cham

Print ISBN: 978-3-030-36874-6

Online ISBN: 978-3-030-36875-3