Abstract

Extending the Shapley-Shubik power index to networks, we propose a new measure and numerical method to calculate the indirect influence of investors on companies: Network power index (NPI). While the original index, reflecting the characteristics of majority vote in a shareholders meeting, measures the direct voting power of a shareholder, NPI captures not only an investor's direct influence over a company but also indirect influence over this company's subsidiary. Since NPI is often incalculable in a large network, we present a new method to numerically compute NPI: label propagation. Applying this method to the global shareholding networks in 2016, we find NPIs and raw vote shares dramatically diverge for some investors and this discrepancy suggests the difference in investment strategies between governments and private financial institutions.
Keywords
The Shapley-Shubik power index

Complex networks analysis

Indirect control

Shareholding networks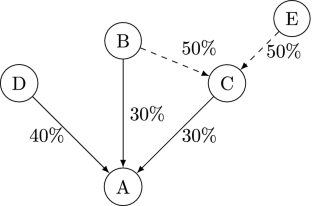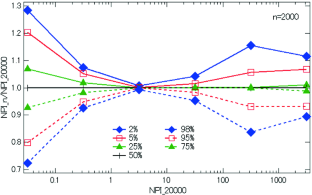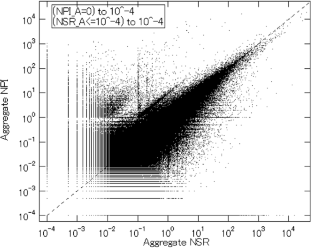 References
Bureau van Dijk's Orbis. https://www.bvdinfo.com/en-gb. Accessed 27 Apr 2019

Banzhaf III, J.F.: Weighted voting doesn't work: a mathematical analysis. Rutgers L. Rev. 19, 317 (1964)

Bertini, C., Mercik, J., Stach, I.: Indirect control and power. Oper. Res. Decisions 2, 7–30 (2016)

Crama, Y., Leruth, L.: Control and voting power in corporate networks: concepts and computational aspects. Eur. J. Oper. Res. 178(3), 879–893 (2007)

Crama, Y., Leruth, L.: Power indices and the measurement of control in corporate structures. Int. Game Theory Rev. 15(03), 1340017 (2013)

Dubey, P., Shapley, L.S.: Mathematical properties of the banzhaf power index. Math. Oper. Res. 4(2), 99–131 (1979)

Gambarelli, G., Owen, G.: Indirect control of corporations. Int. J. Game Theory 23(4), 287–302 (1994)

Karos, D., Peters, H.: Indirect control and power in mutual control structures. Games Econ. Behav. 92, 150–165 (2015)

Laffont, J.J., Martimort, D.: The Theory of Incentives: The Principal-Agentmodel. Princeton University Press, Princeton (2009)

Levy, M.: Control in pyramidal structures. Corp. Governance Int. Rev. 17(1), 77–89 (2009)

Levy, M., Szafarz, A.: Cross-ownership: a device for management entrenchment? Rev. Finance 21(4), 1675–1699 (2016)

Mercik, J., Łobos, K.: Index of implicit power as a measure of reciprocal ownership. In: Transactions on Computational Collective Intelligence XXIII, pp. 128–140. Springer, Heidelberg (2016)

Penrose, L.S.: The elementary statistics of majority voting. J. Roy. Stat. Soc. 109(1), 53–57 (1946)

Shapley, L.S., Shubik, M.: A method for evaluating the distribution of power in a committee system. Am. Polit. Sci. Rev. 48(3), 787–792 (1954)

Shleifer, A., Vishny, R.W.: A survey of corporate governance. J. Finance 52(2), 737–783 (1997)

Strøm, K.: Delegation and accountability in parliamentary democracies. Eur. J. Polit. Res. 37(3), 261–290 (2000)

Vitali, S., Glattfelder, J.B., Battiston, S.: The network of global corporate control. PloS One 6(10), e25995 (2011)
Acknowledgements

This work was partially supported by JSPS KAKENHI Grant Numbers 18H03627 and 16H05904.
Copyright information

© 2020 Springer Nature Switzerland AG
About this paper
Cite this paper
Mizuno, T., Doi, S., Kurizaki, S. (2020). Network Shapley-Shubik Power Index: Measuring Indirect Influence in Shareholding Networks. In: Cherifi, H., Gaito, S., Mendes, J., Moro, E., Rocha, L. (eds) Complex Networks and Their Applications VIII. COMPLEX NETWORKS 2019. Studies in Computational Intelligence, vol 882. Springer, Cham. https://doi.org/10.1007/978-3-030-36683-4_49
DOI: https://doi.org/10.1007/978-3-030-36683-4_49

Published:

Publisher Name: Springer, Cham

Print ISBN: 978-3-030-36682-7

Online ISBN: 978-3-030-36683-4