Abstract

Modeling a System is a challenging task, especially if more than one domain has to be considered. The scenario of Cross-Domain Modeling arises more and more in the future concerning Smart Cities, as the Electric Vehicle (EV) needs to be integrated into the Smart Grid (SG) and accordingly the Grid faces an emergent behaviour, regarding the energy-management. State of the art Frameworks like Smart Grid Architecture Model (SGAM), Automotive Reference Architecture Model (ARAM), or Reference Architecture Model Industrie 4.0 (RAMI 4.0) consider all these aspects and are used to model such systems, but the combination of these domains is still an issue. The Software Platform Embedded Systems (SPES) Framework provides a base for the modeling of systems belonging to certain domains and with proven modeling-theories a new approach towards the modeling of System of Systems (SoS)-Architectures is needed. Therefore, this paper concerns the problems of modeling SoS-Architectures and investigates the possibility to combine domains and to map them to the SPES-Framework.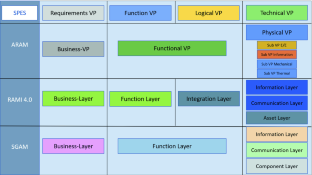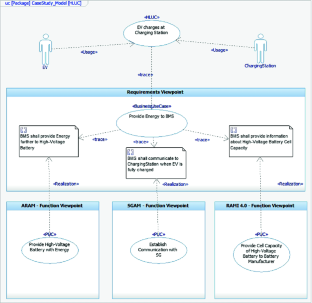 References
Alavi, A.H., Jiao, P., Buttlar, W.G., Lajnef, N.: Internet of Things-enabled smart cities: state-of-the-art and future trends. Measurement 129, 589–606 (2018)

Angelov, G., Andreev, M., Hinov, N.: Modelling of electric vehicle charging station for DC fast charging. In: 2018 41st International Spring Seminar on Electronics Technology (ISSE), pp. 1–5 (2018)

Balakumar, P., Sathiya, S.: Demand side management in smart grid. In: 2017 IEEE International Conference on Electrical, Instrumenation and Communication Engineering (ICEICE), Karur, India (2017)

Binder, C., Gross, J.A., Neureiter, C., Lastro, G.: Investigating emergent behavior caused by electric vehicles in the smart grid using co-simulation. In: 2019 14th Annual Conference System of Systems Engineering (SoSE), Anchorage, Alaska, USA. IEEE (2019, in press)

Binder, C., Neureiter, C., Lastro, G.: Towards a model-driven architecture process for developing Industry 4.0 applications. Int. J. Model. Optim. 9(1), 1–6 (2019)

Binder, C., Neureiter, C., Lastro, G., Uslar, M., Lieber, P.: Towards a standards-based domain specific language for Industry 4.0 architectures. In: Complex Systems Design and Management, Paris, France, pp. 44–55. Springer, Cham (2019)

Broy, M., Gleirscher, M., Kluge, P., Krenzer, W., Merenda, S., Wild, D.: Automotive Architecture Framework: Towards a Holistic and Standardised System Architecture Description. Technical report, Technische Universität München and IBM Corporation (2009)

Conboy, K., Gleasure, R., Cullina, E.: Agile design science research. In: Donnellan, B., Helfert, M., Kenneally, J., VanderMeer, D., Rothenberger, M., Winter, R. (eds.) New Horizons in Design Science: Broadening the Research Agenda, pp. 168–180. Springer, Cham (2015)

DeLaurentis, D.: Understanding transportation as a system-of-systems design problem. In: 43rd AIAA Aerospace Sciences Meeting and Exhibit, Reno, Nevada, p. 123 (2005)

Draxler, D., Neureiter, C., Lastro, G., Schwartzkopff, T., Boumans, M.: A domain specific systems engineering framework for modelling electric vehicle architectures. In: 2019 IEEE Transportation Electrification Conference and EXPO Asia-Pacific, Jeju, Korea (2019)

Flood, R.L., Carson, E.R.: Dealing with Complexity: An Introduction to the Theory and Applications of the Systems Science. Plenum Press, New York (1993)

Haberfellner, R., de Weck, O., Fricke, E., Vössner, S.: Systems Engineering - Grundlagen und Anwendung, 13 edn. Orell Füssli (2015)

Hankel, M., Rexroth, B.: The Reference Architectural Model Industrie 4.0 (RAMI 4.0). ZVEI (2015)

Lelie, M., Braun, T., Knips, M., Nordmann, H., Ringbeck, F., Zappen, H., Sauer, D.: Battery management system hardware concepts: an overview. Appl. Sci. 8, 534 (2018)

Maier, M.W.: Architecting principles for systems-of-systems. Syst. Eng. J. Int. Counc. Syst. Eng. 1(4), 267–284 (1998)

Nadeje, K., Strasser, B., Pichler, M., Wendt, A., Kiensberger, G.: Smart Grids - Modellregion Salzburg - Building to Grid. Technical report, Österreichische Forschungsförderungsgesellschaft FFG (2013)

Neureiter, C.: A Domain-Specific, Model Driven Engineering Approach for Systems Engineering in the Smart Grid. MBSE4U - Tim Weilkiens, Hamburg, Germany (2017)

Neureiter, C., Rohjans, S., Engel, D., Dänekas, C., Uslar, M.: Addressing the complexity of distributed smart city systems by utilization of model driven engineering concepts. In: Proceedings of VDE Kongress 2014, pp. 1–6 (2014)

Neureiter, C., Uslar, M., Engel, D., Lastro, G.: A standards-based approach for domain specific modelling of smart grid system architectures. In: Proceedings of International Conference on System of Systems Engineering (SoSE 2016), Kongsberg, Norway, pp. 1–6 (2016)

Office of the National Coordinator for Smart Grid Interoperability: NIST Framework and Roadmap for Smart Grid Interoperability Standards Release 1.0. Technical report, National Institute of Standards and Technology (2010)

Pohl, K., Broy, M., Daembkes, H., Hönninger, H.: Advanced Model-Based Engineering of Embedded Systems. Springer, Cham (2016)

Smart Grid Coordination Group: Smart Grid Reference Architecutre. Technical report, CEN-CENELEC-ETSI Smart Grid Coordination Group (2012)

The GridWise Architecture Council: GridWise Interoperability Context-Setting Framework. Technical report (2008). http://www.gridwiseac.org

Vemuri, V.: Modeling of Complex Systems: An Introduction. Academic Press, New York (2014)
Acknowlegdements

The support for valuable contributions of Robert Bosch GmbH and LieberLieber Software GmbH is gratefully acknowledged. The financial support by the Federal State of Salzburg is also gratefully acknowledged.
Copyright information

© 2020 Springer Nature Switzerland AG
About this paper
Cite this paper
Brankovic, B., Binder, C., Draxler, D., Neureiter, C., Lastro, G. (2020). Towards a Cross-Domain Modeling Approach in System-of-Systems Architectures. In: Boy, G., Guegan, A., Krob, D., Vion, V. (eds) Complex Systems Design & Management. CSDM 2019. Springer, Cham. https://doi.org/10.1007/978-3-030-34843-4_14
DOI: https://doi.org/10.1007/978-3-030-34843-4_14

Published:

Publisher Name: Springer, Cham

Print ISBN: 978-3-030-34842-7

Online ISBN: 978-3-030-34843-4

eBook Packages: EngineeringEngineering (R0)